Mowing your lawn during the growing season is incredibly important, as that can ultimately help you to improve your lawn's health and ensure it maintains a great grass quality throughout the entire season. That's when having a reliable lawn mower like the Toro Recycler 22″ SMARTSTOW comes in handy.
The Toro Recycler 22″ SMARTSTOW is a self-propelled gas lawn mower that can be used to achieve the perfect lawn during each and every growing season. Its clever design takes up to 70% less space in your garage or toolshed while its 11" rear wheels offer great traction.
Furthermore, its hassle-free oil maintenance wipes all worries about changing the oil, as all you have to do is simply check its oil levels and add some more whenever its needed. Lastly, its durable steel deck ensures the mower's longevity.
Now, let's have a more detailed look at this compact, yet high-end self-propelled gas lawn mower and check how its build as well as everything that it has to offer.
DESIGN & SPECS
First of all, the Toro Recycler 22″ SMARTSTOW features a super compact design, which is exactly what allows it to take up to 70% less space when compared to other lawn mower models, and that literally goes for wherever you decide to store it, including your garage, a tool shed, etc.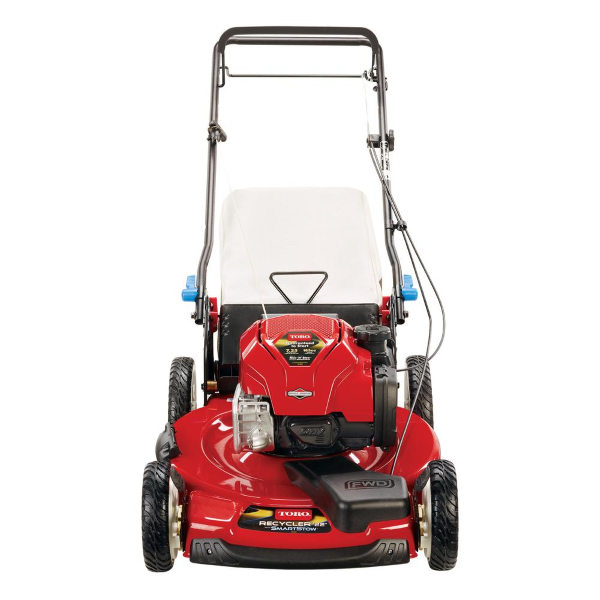 Ultimately, you're able to store the mower upwards after folding its height-adjustable SmartStow handlebar, which comes equipped with floor supports so that the unit can be stored vertically instead of horizontally, providing you with more floor space on your storage shed or garage to have a more easier time moving around. It's literally that simply; just fold the mower's handlebar, lock it, and store the mower vertically.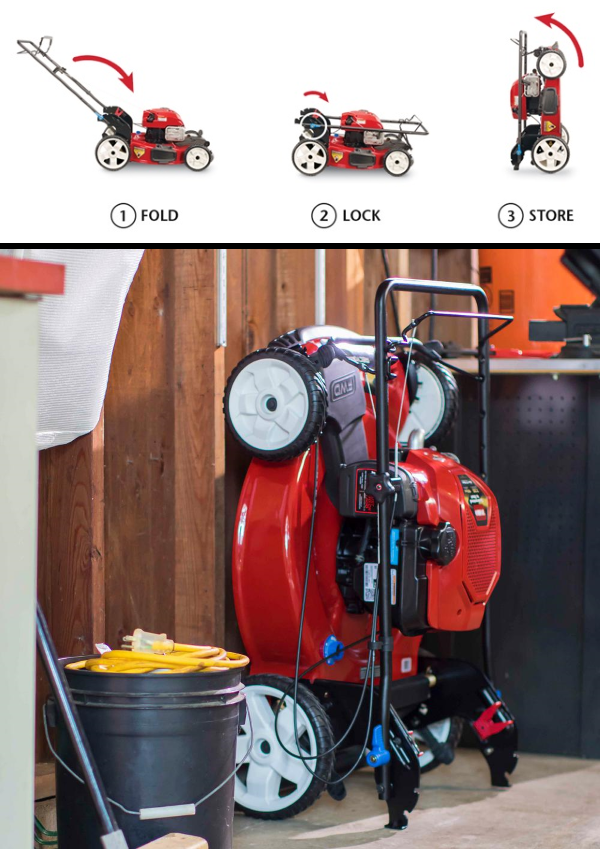 The mower's single-piece height-adjustable SmartStow handlebar can be very easily adjusted to 2 different handle heights without ever requiring the use of tools.
As any other lawn mower, the Recycler 22″ SMARTSTOW lawn mower from Toro is also quite bulky, weighing exactly 78 lbs. (35.4 kg), but that's not necessarily a bad thing, as that will give the entire unit some very needed stability, which will ensure that you can always have a good grip and a safe way to control it.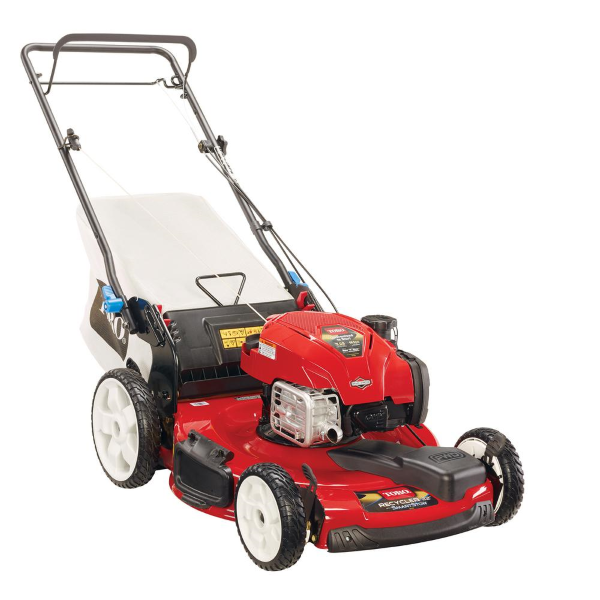 The lawn mower's body also integrates a highly-durable steel deck that ensures that the mower's internal components (motor, blades, etc.) are fully protected against any occasional accidental bump or flip, and that will ultimately allow you to enjoy and use the unit for quite a few years before even thinking about swapping it for a new mower.
Furthermore, this compact lawn mower also comes equipped with two (x2) reliable and highly-durable 11″ (27.9 cm) high rear wheels that work together with two (x2) variable-speed self-propelled 8″ (20.3 cm) short front wheels.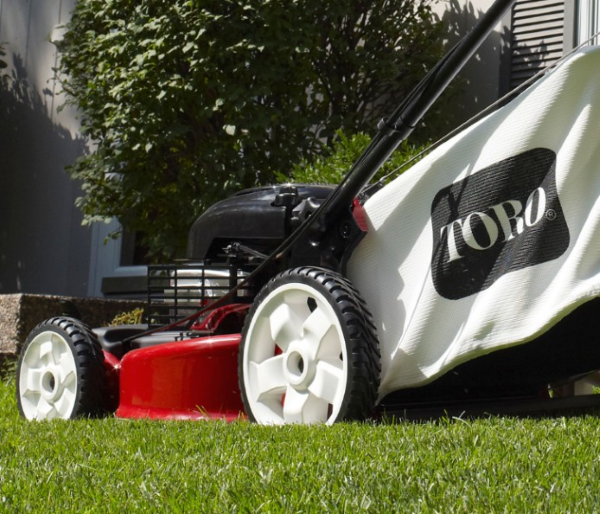 This 4-wheel setup ultimately allows the Toro Recycler 22″ SMARTSTOW to very easily tackle any and all uneven terrain. At the same time, the mower's two variable-speed self-propelled front wheels allow homeowners to always stay on the move while also ensuring that they can always mow in tight spaces when that's needed.
To be completely honest, all of the mower's 4 wheels (both the two rear and the two smaller front wheels) are of a much higher-quality than wheels from any other mowers of this size (small) and power.
Speaking of power, don't let this "small package" of a lawn mower full you, as the Recycler 22″ SMARTSTOW lawn mower can still offer quite a big punch.
That's because the mower comes equipped with a powerful Briggs and Stratton 7.25 ft. lb. Gross Torque 163cc OHV EXi engine that even offers a Ready-Start functionality (which offers users a very easy way of starting the mower). This ultimately means that you'll never again have the need to prime or choke the mower's engine, like its seen or cheaper standard mowers.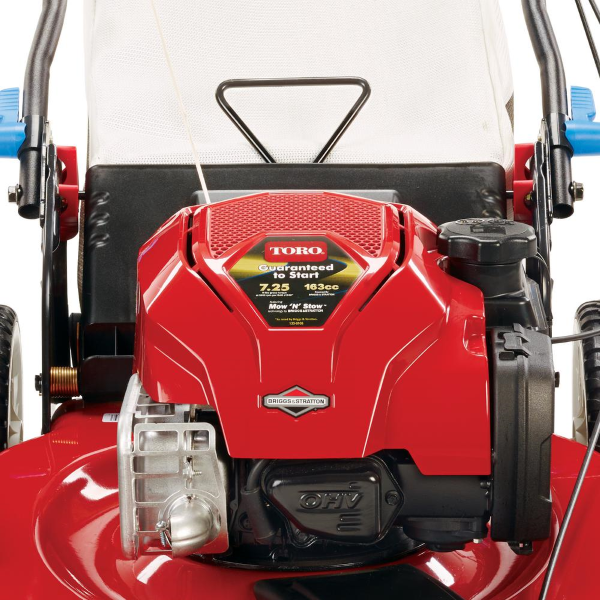 The mower's 7.25 ft. lb. Gross Torque 163cc OHV EXi engine can provide the unit with a maximum ground speed of 3.25 mph (5.25 km/h).
Furthermore, as mentioned before, you'll never have the need for any oil-changes, as the mower's engine system allow you to simply check its oil levels at any time and add some more oil when the engine starts running getting to a low oil level.
Now, moving on the mower's main component, "the cherry on top of the cake", which is none other than the mower's 22" Recycler Cutting Deck, which includes a single grass cutting/mowing blade. This highly-reliable and powerful cutting deck allows you to quickly cut more grass in much less time, while also letting you improve the health of your lawn with its larger 22" (56 cm) cutting width.
This cutting deck is completely based on Toro's renowned and innovative Recycling Mulching System, which allows most of the company's lawn mowers to easily mince grass clippings into fine particles, which are then put back into your lawn to ultimately give it a more healthy and lush look.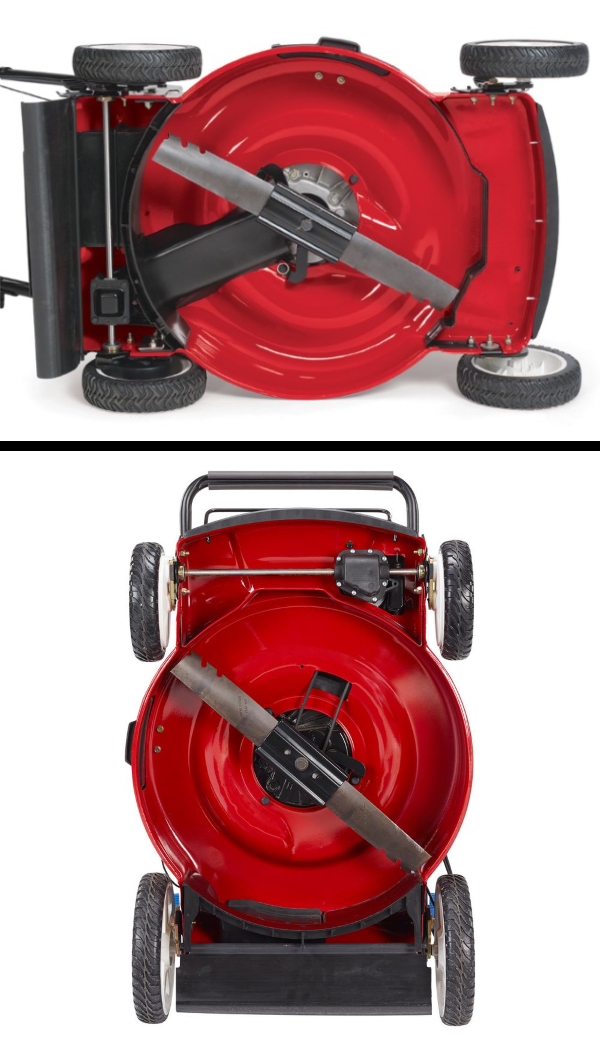 With the mower's 22" Recycler Cutting Deck, users can ultimately choose their desired height of cut, which can range from as little as 1.0″, all the way to 4.0″ (meaning between 2.5 – 10 cm). With the mower's versatile cutting deck you can easily manicure your lawn to your exact specifications.
Not only that, but you can even use the mower's cutting deck in a total of 9 different cutting positions with the already mentioned 1-4 in. cutting height range. Additionally, it's also worth to mention that thanks to the mower's Quick-Connect Bagging System, changing from bagging to mulching is fairly easy.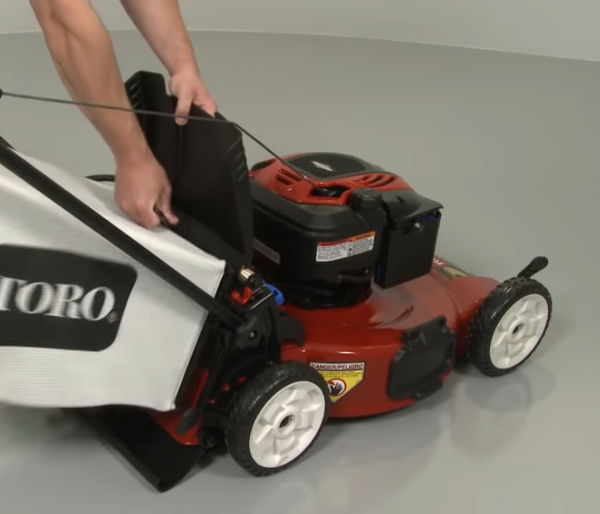 Lastly, the mower also integrates a standard Deck Washout Port that offers you a very convenient and easy way to clean the bottom of the mower's deck. Thanks to it, you can easily clean the underside of the mower's deck while also being able to maintain an optimum airflow for a constant high-performance.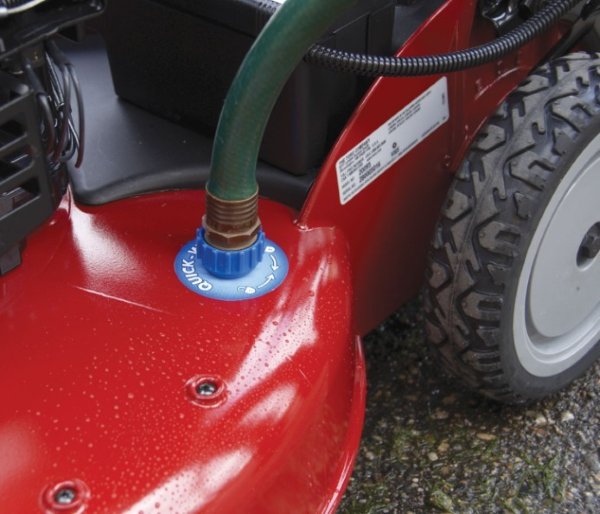 This is something that's also very easy to accomplish, as all you have to do is simply attach a hose to the mower's deck and start mowing.
FINAL THOUGHTS
The Toro Recycler 22″ SMARTSTOW is a self-propelled gas lawn mower that features a compact design and durable steel deck, high-quality 11″ rear- and 8″ front-wheels for great traction, a powerful 7.25 ft. lb. Gross Torque 163cc OHV EXi engine with hassle-free oil maintenance, a 22" Recycler Cutting Deck that can be used to get 1.0″ to 4.0″ grass cuts, a Quick-Connect Bagging System and a Deck Washout Port that makes it easy to clean tthe bottom of the mower's deck.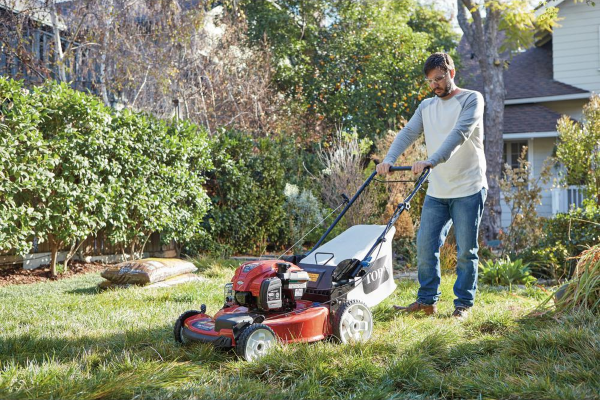 With this small, reliable and ultra-powerful lawn mower you can ensure that your lawn stays properly cut in order to ensure that it stays as healthy as you'd ever wanted it to be.
If you're interested in buying the Toro Recycler 22″ SMARTSTOW, each unit is currently going for $340, coming with a 2-Year Full Coverage Warranty that ensures that if anything goes wrong (under normal use and maintenance), the company (Toro) will fix your mower completely for free.
You can order yours right now, directly from Toro's official shopping page, which you can access via this link. However, if you'd prefer, you could also get it from different US retailers, like Home Depot for example.