Audio cassettes go way back, and are now a thing of the past. It all started with the very first mono-cassette player, which not only was introduced a long time ago (during 1968, to be more exact), but was in fact designed to be used in car dashboards. Just a few decades ago, between the early 1970s going all the way to the mid 1990s, cassettes were an amazing way of rocking to your favorite songs and artists, and at the end of their time, despite starting to become so old, audio-cassettes were still great to listen to audio content, as they were one of the two most common formats for prerecorded music, first alongside the LP record and later the compact disc (which is more commonly referred to as the "CD"). Sure enough, there were a few issues with audio-cassettes, as the sound quality offered by them was somewhat rubbish, you also couldn't skip between tracks back and forth, and cassettes would never last too long before, as they eventually became gobbled up by "the tape monster", which usually brought the cassettes' internal tapes some very messy and unexpected disasters. Despite all those issues, anyone that had the opportunity to enjoy audio cassettes could easily tell you how they loved listening to music or even children stories on them. Now, for any person that was already around during the audio-cassettes period (meaning between 1968 all the way up to the end of the 1990s), imagine if it was possible to bring back the magical music- and story-listening experience that cassettes were known to offer. This brings us to the Yoto Player.
Basically, the Yoto Player is an interactive cassette-like audio player that was designed to be used by kids that were born way after audio cassettes were actually invented. With this ingenious audio-player, children can ultimately go through that same music- and story-listening experience that audio cassettes were able to deliver back in their time.
Anyone who had the pleasure of enjoying audio-cassettes back in the day perfectly knows that there was something that was deeply satisfying about slotting those old-school cassettes into the player, pressing the play button and finally happily getting lost in the experience.
Now, back to the Yoto Player. While this innovative and ingenious audio-player can ultimately be seen as a modern-day equivalent to old cassette players, it's just as tactile and exciting as using those cassette players from 1990s with the old-school audio cassettes, with the slight difference that it sounds exceptionally better.
That basically means that any parents that decide to get one of these interactive audio players will ultimately be able to offer their kids a magical and interactive world that can potentially be filled with stories, music, activities, podcasts, radio and cool sound effects.
Now, let's take a more detailed look at the Yoto Player and see exactly how this interactive audio player for kids works and check everything that it has to offer them.
DESIGN & SPECS
Starting with the unit's design, the Yoto Player features a very appealing retro look to it. To put it in a more simple fashion, it's designed as an angular box shape with rounded corners. The unit is somewhat compact, and actually quite lightweight. It's made of durable materials, and so, it features quite a sturdy build, which means that you don't have to worry so much about your kids turning it over and carrying it around from room to room.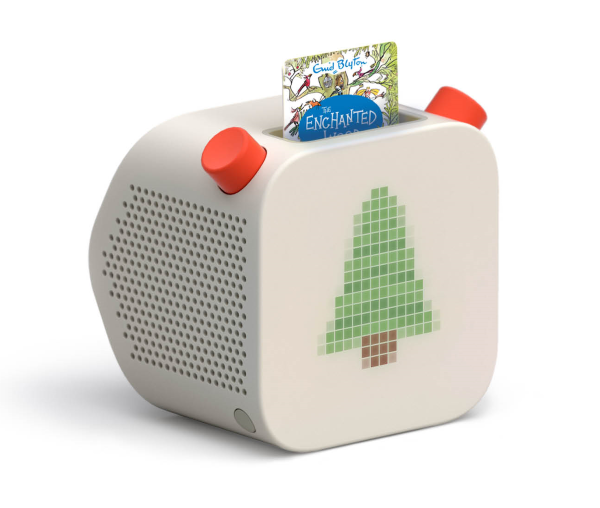 Furthermore, as this interactive audio player was designed to be used by kids, it also comes equipped with cheerful, colorful, and welcoming, large orange button-controls that are hard for children to resist twiddling with.
Then, instead of having the standard (and somewhat fragile) screen that we're used to see on several other devices that come equipped with display screens, the Yoto Player features a simple and cute pixelated display that can quickly draw your kids' attention.
The combination of this pixelated screen together with its chunky button-controls that can be used to adjust the player's volume and/or to skip between tracks makes the whole device completely kid-friendly. As such, even younger kids (including two-year-olds) are able to quickly and very intuitively understand how the unit functions.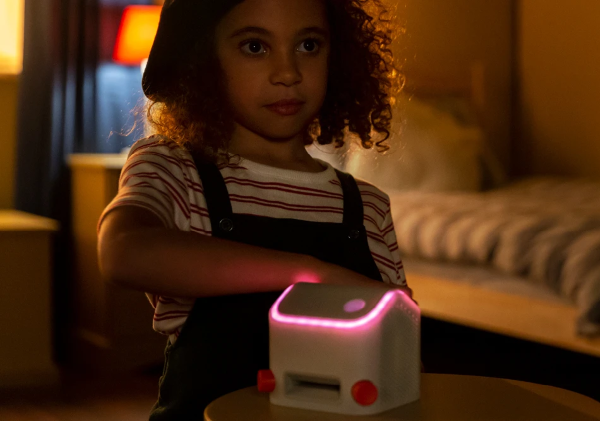 There's also a discreet power button located at the base of the unit, and a headphone jack too, for private listening.
Now, moving on to its main component, instead of using cassettes like those old-school cassette players from 1990s, this groovy little audio player works by slotting in its proprietary audio cards into its dedicated audio cards slot, and every single audio card contains a story that children can listen to.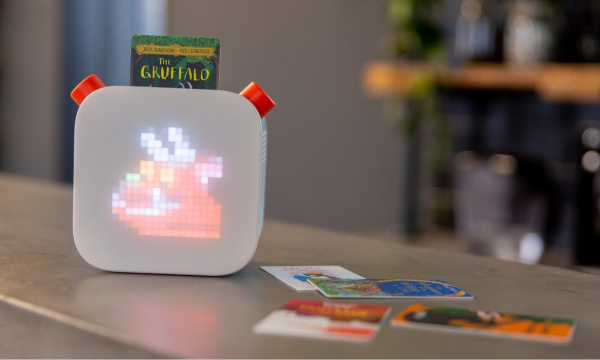 Moreover, there are loads of classic tales that parents and their kids can pick from, including stories like "The Gruffalo", as well as "Roald Dahl's Charlie and the Chocolate Factory".
There are even other cards that allow listeners to enjoy podcasts, radio and several playing activities, and all those different cards can be purchased separately, which basically means that parents won't ever have to "break the bank" (spend loads of money) to provide their kids with new entertaining audio content for their children to listen to on their Yoto Player.
Nowadays, keeping kids entertained without having to resort to Smartphone games, a tablet for kids, or even Video Games on a computer or console can be a struggle, but the Yoto Player is guaranteed to change that. Basically, the Yoto Player can be used as a great way (or even one of the better ways) to keep your children's little minds whirring and their imagination sparked.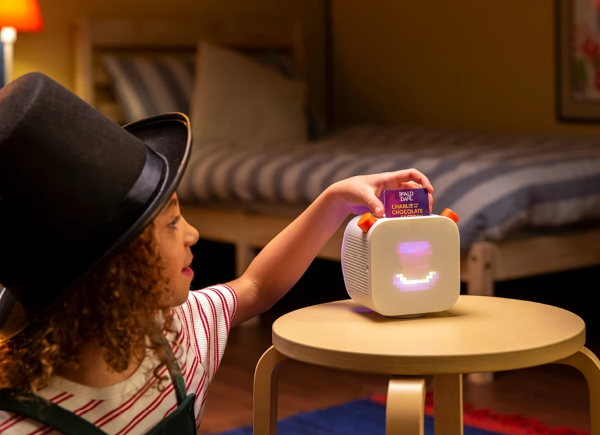 Ultimately, the Yoto Player allows parents to give their kids their own entertainment device without ever having their children directly facing the distractions of a device's screen or ever having to deal with the serious problems that are potentially associated with having them spend several hours using an internet connection (internet addiction, internet dangers, etc.).
CONNECTIVITY
The Yoto Player is an interactive cassette-like audio player for kids that works exactly as a regular Bluetooth Speaker, which means that it also features Bluetooth connectivity, which ultimately allows parents to connect their Smartphones to the device via the Smartphone App (more on that ahead).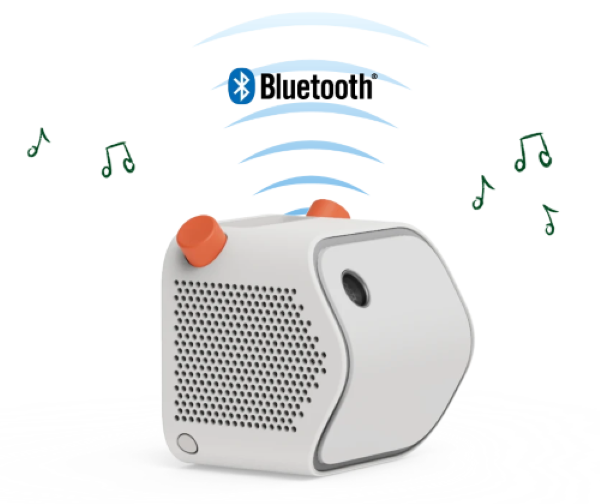 BATTERY & BATTERY LIFE
The Yoto Player also comes equipped with a standard built-in Lithium-Ion battery that ultimately makes the device portable for on-the-go audio play.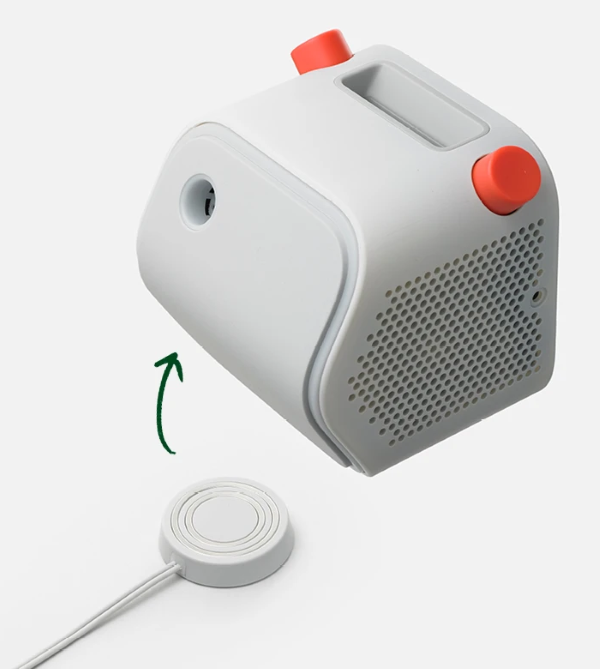 Furthermore, recharging its internal battery is also quite easy, as all you have to do is place the unit on top of its included Clever Magnetic Charging Dock to have its battery recharging back to a full charge.
WHAT'S IN THE BOX?
The Yoto Player and its few accessories all come neatly packed inside a simple, yet sturdy cardboard box.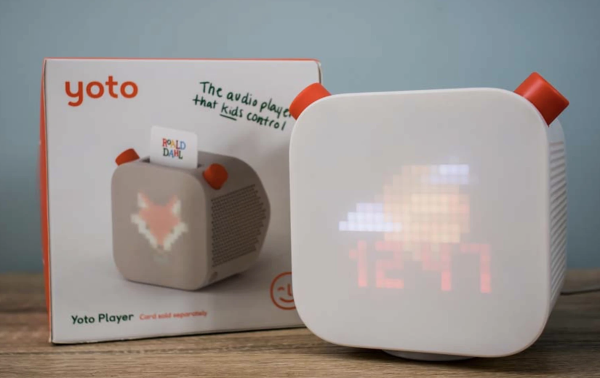 Inside each package users will find: their Yoto Player device, the included Clever Magnetic Charging Dock (to recharge the device's internal battery), a Welcome Card for new users (which can be used as a blank card to upload your content and make your own Audio Card), a Quick Start Guide, and a Safety Information Guide.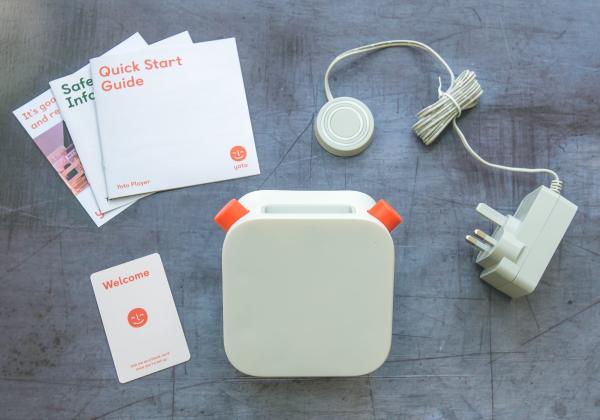 OTHER NOTABLE FEATURES
Free Daily Content
It's also worth to mention that every single day, parents can also have the device play the free daily content that's available for kids to listen to.
This includes podcasts, radio, and the company's very own Yoto Daily, which is basically a new piece of exclusive audio that's instantly delivered to the Yoto Player each and every day.
By simply pressing the right-hand button on your Player (with no card in), families can enjoy that same free daily content together.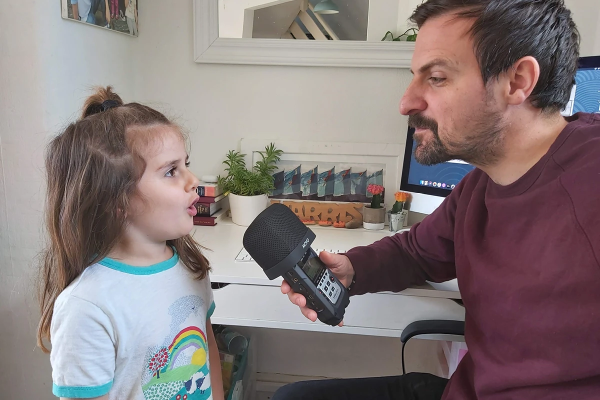 For the Yoto Radio specifically, this is the company's in-house kids radio station, which all Yoto users can listen to for free. All you have to do to listen to it and enjoy it is simply pressing the unit's right-hand button twice and the Yoto Radio will start playing.
Doubles as an Alarm Clock
Since the Yoto Player also doubles as an alarm clock for children, parents can choose together with their kids both a wake up time and a bed time alarms, which, mind you, can be very easily configured.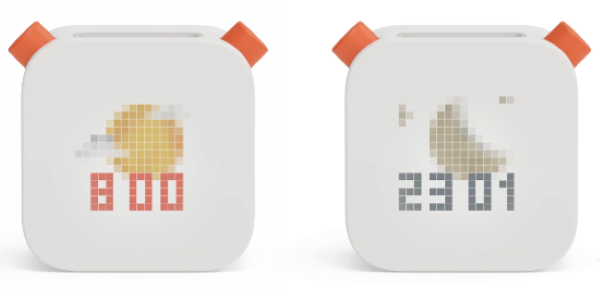 THE SMARTPHONE COMPANION APP – The Yoto App
Parents can download the Yoto App to their Smartphones for free, and the App is available to download for both iOS and Android devices.
In-App Parental Controls
Parents can use the App to set up and configure their kids' Yoto Player, as well as manage the device's audio content library, activate the player to play specific content, and even unlock a wide range of different exciting features.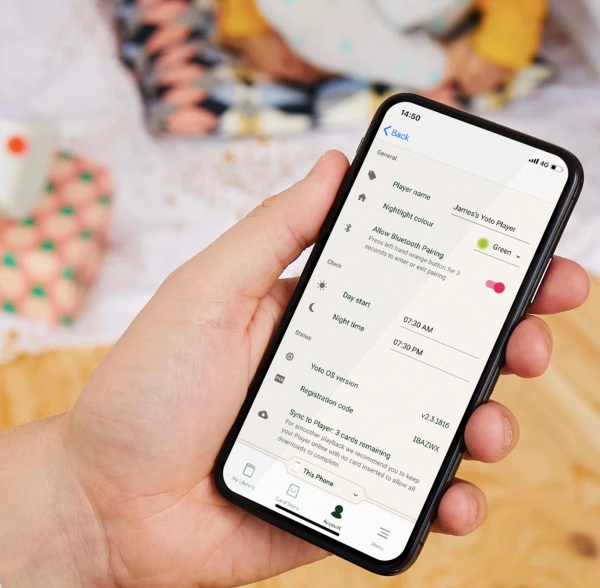 FINAL THOUGHTS
The Yoto Player is an interactive cassette-like audio player for kids that, instead of using audio-cassettes like old-school cassette players from 1990s, works with its proprietary audio cards, which contain a story for children to listen to.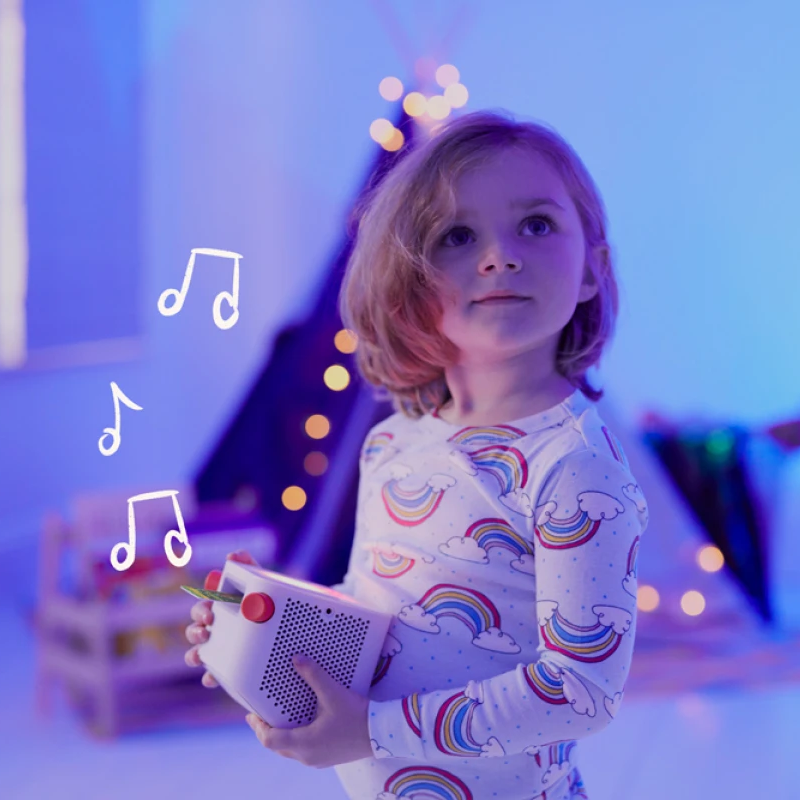 With it, parents can ultimately offer their kids a magical and interactive world that can be filled with stories, music, activities, podcasts, radio and cool sound effects.
If you're interested in buying the Yoto Player, each unit is currently going for around $100 (£79.99), and each Story Audio Card will cost you around $2.53 (£1.99).
As of July, for just around $16.50 (£12.99), the company also offers its users a monthly subscription package which, amongst other treats, sends two new cards to each subscribing family for them to listen to every month, as well as a postcard and even an ever-growing colouring art piece that allows children to keep their creative juices flowing.
You can place your order online right now and choose your favorite package by accessing Yoto's official shopping page, which you can access via this link.