While showering can be quite revitalizing and extremely refreshing for your body (especially on stressful days), showering can also be a really awful thing that you can do to your skin. That's because every time you shower you end up stripping your skin of its natural oils and consequently dehydrating it, as well as damaging its somewhat fragile proteins. Ultimately, all of that can lead to the degradation of your body's skin repair and replacement process. But fear not, as it doesn't have to be that way. By using natural products for an organic skincare experience, you can ultimately keep your skin nice and healthy. That's exactly why plant-based products manufacturer Indigo Wild came up with its Zum Bar Goat's Milk Soap.
Basically, the Zum Bar Goat's Milk Soap by Indigo Wild is a 100% natural product that's mainly composed of goat's milk, but that's also plant-based and even contains pure fragrant essential oils.
It's important to mention that natural products are extremely beneficial when it comes to organic skincare. By using natural products to take care of your skin you can ultimately keep an healthy skin while staying completely away from any harsh and unwanted chemicals, pesticides, and/or fertilizers, all of which are commonly used on several miss-labelled "natural" products.
As such, natural products greatly help to promote an organic skincare, which is not only better for your skin and overall health, but also better for the environment (more on those benefits up ahead). That's exactly what makes the Zum Bar Goat's Milk Soap one of the best natural products that are currently available for anyone that's passionate about organic skincare products.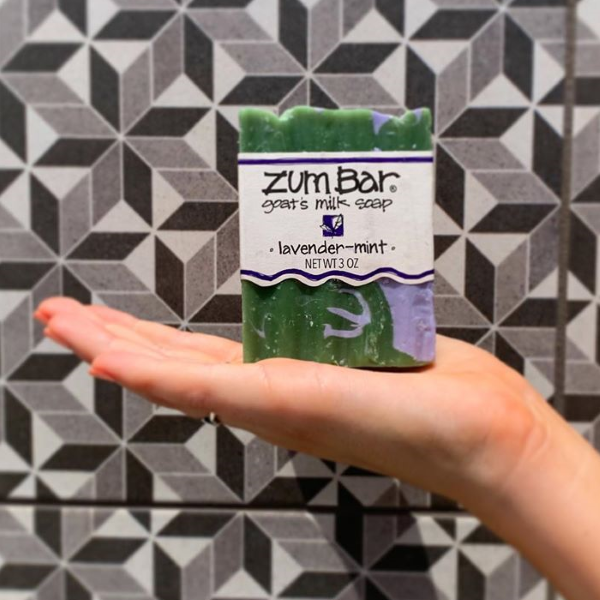 This ultra-fragrant 100% natural goat's milk soap can be used to turn all of your bathing sessions into a super relaxing experience that includes skin-nourishing oils, super-soft and hydrating goat's milk, and aromatic essential oils that help to create a very relaxing showering experience, starting right from your nose all the way down to your toes.
Now, let's take a more detailed look at the Zum Bar Goat's Milk Soap and check what it's all about.
DESIGN
The Zum Bar Goat's Milk Soap is a super emollient (softening / soothing the skin) and ultra-moisturizing goat's milk soap that's 100% handmade, without using any animal tallow and / or synthetic coloring's.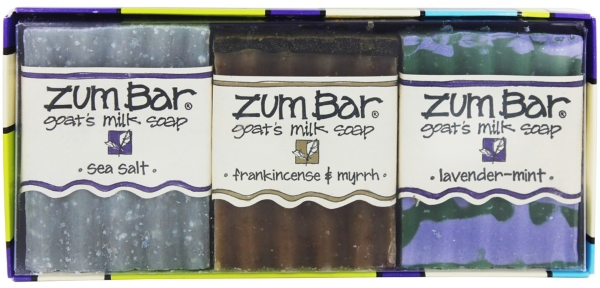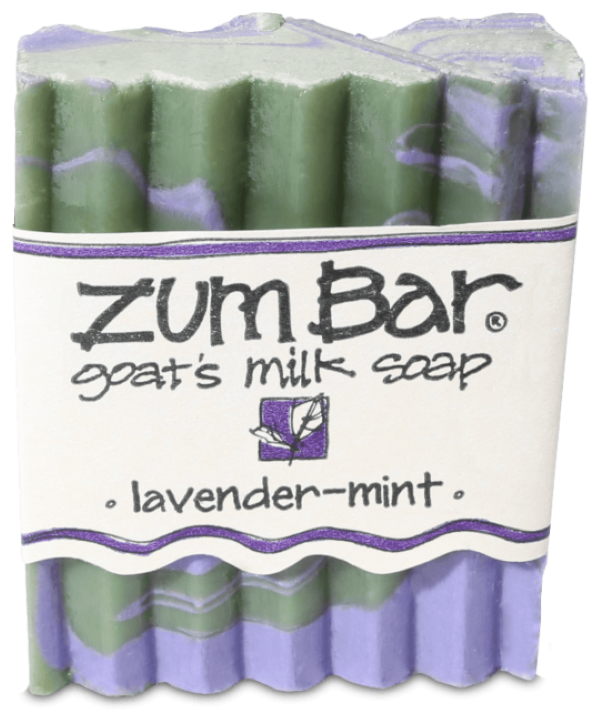 While the company (Indigo Wild) sells most of its Goat's Milk Soap Bars in smaller units, you also have larger units available, which the company simply calls "Zum Bulk Bricks".
With that said, the smaller Zum Bar Soaps can easily fit within your hand, measuring just 3.3 inches (8 cm) tall when standing up and weighing just a measly 3 oz. This smaller bar can last you around 1~2 weeks, depending on how often (and how many people use it).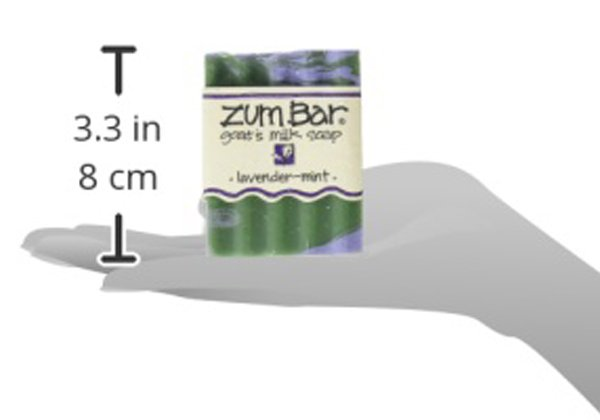 Contrarily to that, the company's much larger "Zum Bulk Brick" Soaps are much larger and can last you for a much longer period of time, as they weight a whopping 3 lbs.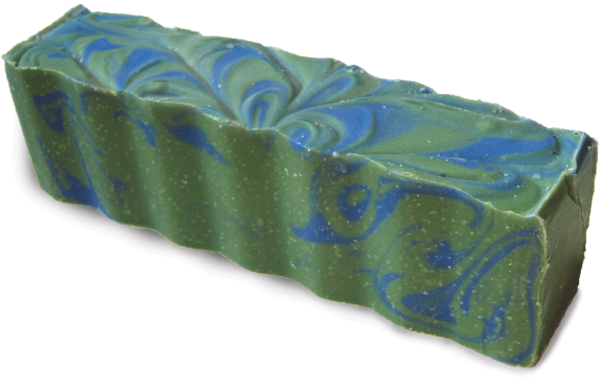 INGREDIENTS
While there are several different fragrance and different plant-based Zum Bar Soap units available (like Sea Salt, Frankincense & Myrrh, Lavender-Mint, and many, many more), all Zum Bar Soaps are basically made the same mean.
As a 100% handmade natural product, the Zum Bar Goat's Milk Soap is mainly composed of goat's milk (which is the products overall base), while also integrating food grade olive, as well as coconut, both palm and castor oils, a small amount of pure essential oils (to create an aromatherapy experience) and even a small amount of mineral pigments.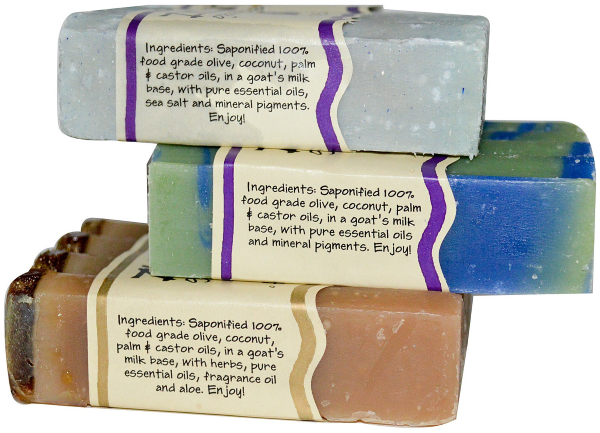 As mentioned before, these handmade natural soaps are made without ever using any animal tallow and / or synthetic coloring's.
HOW DOES IT FEEL?
Just like you would expect from most natural products for organic skincare, the Zum Bar Goat's Milk Soap is actually super emollient, making it extremely soft / smooth when rubbed against your skin.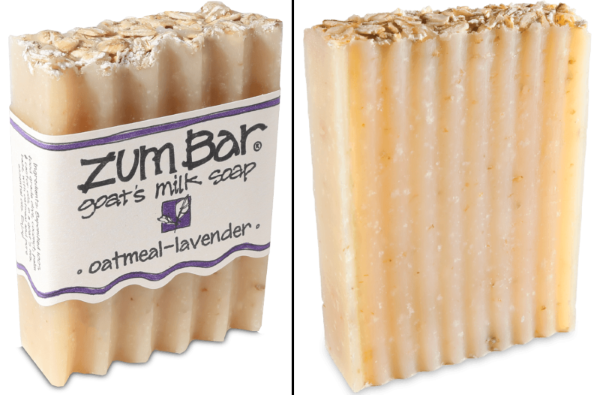 Right off the bat, as soon as you unpack your soap and start touching it / feeling it around, you'll be able to feel the smooth and silky essential oils that partly compose the Zum Bar Soap. Every hand- and/or body-wash with the Zum Bar Goat's Milk Soap feels as creamy as the Zum Bar Soap actually looks, and ultimately, the Zum Bar Soaps can leave your skin extremely soft and decently moist, which means that you won't have to deal with any dry skin issues ever again.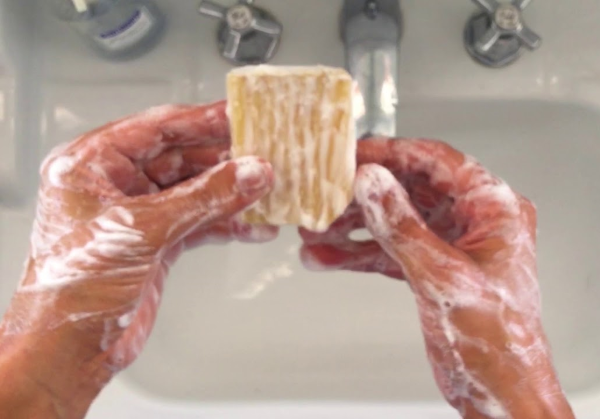 Furthermore, this ultra-moisturizing soap (which is great for your skin) is also very strong scented, but I do not mean that in a bad way. While several natural products with strong scents might cause users to feel a bit sick (meaning somewhat disturbed and/or nauseated) of their fragrance, that's not the case with the Zum Bar Soaps.
To be completely honest, most (if not all – depends on each person) of the scents that the company has available are actually unbelievably wonderful, and you'll most likely go crazy for them.
You'll smell extremely nice right after you shower with your Zum Bar Goat's Milk Soap. Not only that, but everyone will be able to feel and smell the extremely pleasant fragrance that the Zum Bar Soap leaves on your body / skin, which means that no matter if you're going to work or you're kicking back and relaxing at home, both your co-workers and other family members will most likely notice (and probably even compliment) about your nice perfumy / pleasent-scented fragrance.
The Zum Bar Goat's Milk Soap is so nice when it comes to its fragrance that you won't even have to use any extra product (like deodorant and/or perfume) to smell good.
With all that said, you'll most likely love this soap. Not only does it make you smell good, but also ends up leaving your bathroom smelling really nice between each and every shower you take with the Zum Bar Goat's Milk Soap. Heck, I even placed one of Indigo Wild's Zum Bar Soaps next to my kitchen sink to not only smell the soap's incredibly pleasant fragrance while washing the dishes, but also to wash my hands and re-hydrate their skin once I'm done using the dish-soap, mainly because dish-soaps have those unwanted strong chemicals that can be great to strip oil and grease off of your dishes, but sadly also do the same to your hands' skin.
Really, you'll simply love the Zum Bar Soaps.
MAIN BENEFITS OF USING NATURAL PRODUCTS FOR ORGANIC SKINCARE
Now, just like many other natural products out there, the Zum Bar Goat's Milk Soap ultimately promotes an organic skincare, thus making it so much better than chemical-based soaps. As such, this 100% all-natural ingredients soap is not only better for your skin and overall health, but also better for the environment.
Better for Your Skin
Organic skin care products (A.K.A. natural products) are made with ingredients that meet the same base standards as organic food, which basically means that no harsh chemicals, pesticides, or fertilizers are used to produce them.
Many chemical ingredients can be used as cheap fillers for skincare products, but those actually end up doing more harm than good to your skin.
In the long run, while your skin might look brighter for a couple weeks, using synthetic products for skincare can ultimately cause irritation, increased sensitivity, and even clogged pores.
That's why choosing natural products for organic skin care is much better for your skin, as you end up using products that are only composed of ingredients that work in harmony with your body, thus allowing your skin to better balance and mend itself.
Better for Your Health
Many conventional skin care products (those synthetic products that sadly are sometimes even labelled as "natural products) can contain endocrine-disrupting chemicals like phthalates, sodium lauryl sulfate, and parabens.
Those chemicals are often known as carcinogens, which can wreak havoc on a person's immune, reproductive, and endocrine systems.
That basically means that the more synthetic products you use, the higher toxic concentrations can enter and accumulate in your body, which can ultimately cause several potential health problems down the line.
That's just one other fact that proves that using natural products like the Zum Bar Goat's Milk Soap for organic skincare is much better for both your skin and health.
Better for the Environment
And lastly, we've reached the obvious one. As organic skin care products are only made with organic ingredients that are grown and produced using sustainable practices, natural products are much better for the environment than their synthetic counterparts.
Since there are no harsh chemicals in natural products, there is significantly less waste and toxins going down the drain and and back into the earth.
So, when you choose organic beauty products like the Zum Bar Soaps you are not only doing wonders for your skin and overall health, but also making a positive impact on our planet's environment.
FINAL THOUGHTS
The Zum Bar Goat's Milk Soap is a 100% natural product that's mainly composed of goat's milk, but that's also plant-based and even contains pure fragrant essential oils.
With this amazing natural product for organic skincare you can take both your showering and aromatherapy bathroom experiences to the next level. Ultimately, the Zum Bar Soaps feel good, smell good, and even do good for both your skin's health as well as your overall health.
Indigo Wild's Zum Bar Soaps are currently available in a ton of olfactory-awakening blends that can ultimately make you want to sing while you're in the shower. There are literally tons of different variations to choose, including Lavender, Grapefruit, Geranium, Citrus-Mint, Clove-Mint, Lavender-Mint, Cinnamon, Cedar, Almond, and many, many more.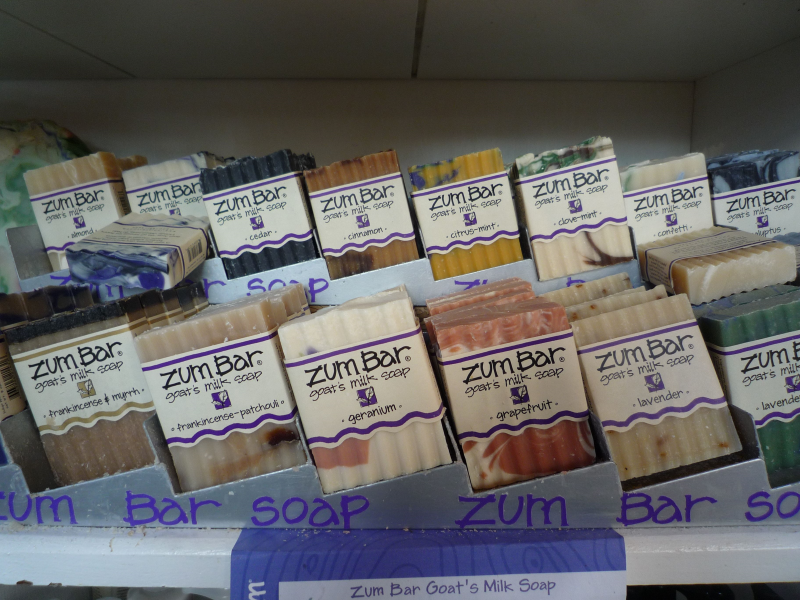 Remember, if you're interested in getting any of Indigo Wild's Zum Soaps, the company has a few options available for you. The company's smaller bars, called the Zum Bar Goat's Milk Soap go for $6.25 a piece, and you can choose your favorite fragrance by clicking this link.
Then, each of the company's bulkier and larger 3 lb. Zum Bulk Brick Soaps go for $75 each, and they can last you quite a long time (and I mean a really, really, really, long time). These are also available in a ton of different fragrance variations, so if you want to get one of these for your home, just click this link and choose your favorite one.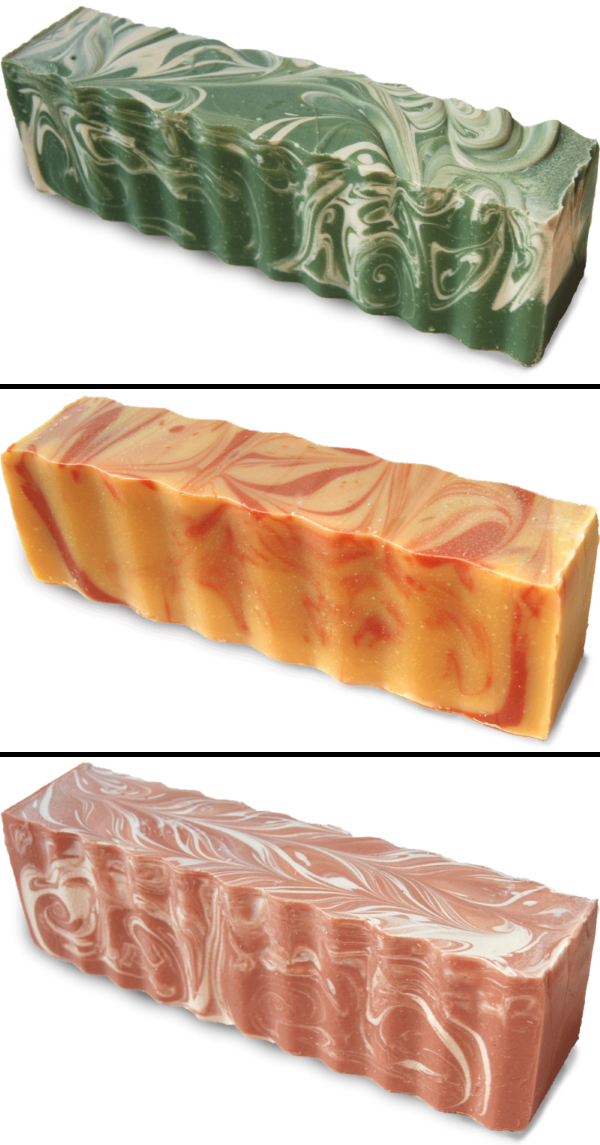 Lastly, the company also has some assorted bundles available for purchase, going for $9.95 each. Each small box contains a few different Zum Bar Soap variations that together make a total of of 9 oz. of soap, which is equivalent to getting around 3 standard Zum Bars. Clicking the following link will take you to the corresponding shopping page for the Assorted Zum Bundle in a Box.