One of the most famous and most entertaining toys to ever be invented is the renowned combination puzzle that's simply known as the Rubik's Cube. This simple, yet ingenious little cube is the world's best selling puzzle toy to ever exist and while it can be hard to learn how to solve it at first, staying dedicated and committed is what will ultimately allow you to solve its 6-sided puzzle  for the first time ever, and consequently master solving it by using different moves and combinations. While the old and now outdated models can make it a little bit harder for beginners to learn exactly how to solve the Rubik's Cube puzzle, there's a new innovative gadget out there that will allow literally anyone to learn how to solve a Rubik's Cube in a much easier fashion. Meet the GoCube Edge.
The GoCube Edge is an award-winning smart app-enabled Rubik's cube that can be connected to your Smartphone or tablet (via Bleutooth) to have its proprietary Smartphone Companion App tracking all of your moves to solve its Rubik's Cube puzzle in real time.
A LITTLE PIECE OF HISTORY
The Rubik's Cube is a small combination puzzle toy that was originally invented back in 1974. The cube was in Hungary, and was only commercially available 3 years later, starting from 1977. Since then, this simple, yet exciting puzzle toy has rocketed "sky-high" all the way to the top of the best-selling puzzle game list.
The activity itself, which is simply called "Cubing" — or the act of solving a puzzle cube — is a hobby that just about anyone can pick up and start learning. However, learning it can take you quite a bit of time before mastering one or even more ways of solving the cube.
Now, back to the GoCube Edge.
THE PURPOSE/GOAL OF THE GOCUBE EDGE
Thanks to this revolutionary and tech-packed Rubik's Cube model, anyone can now learn how to solve the Rubik's Cube in no time, all without having to follow those "old-school paper instruction sheets" with the necessary steps to solve the cube.
The GoCube is the perfect STEM toy (a toy that's based on Science, Technology, Engineering, and Math) to offer your kid(s). It is both educational and fun at the same time, and it can add tons of value to your kid's screen time when they spent some of their leisure time on their tablet (or Smartphone).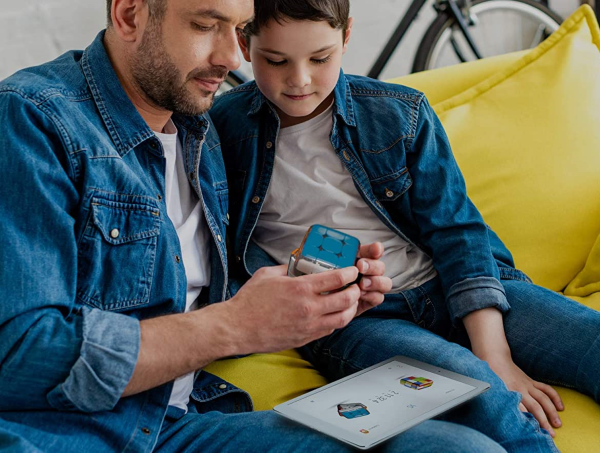 As such, the GoCube is the perfect gift for any family that's looking for a new, exciting and interactive way to engage with their kids in interesting, education and fun activities. This amazing little cube is the ultimate brain-teaser gadget for all ages and capabilities.
Now, let's have a more detailed look at it and check its design, see exactly how it works, and have a look at all the cool In-App functionalities.
DESIGN & SPECS
The GoCube Edge's is the second iteration of the company's GoCube Rubik's Cube-like toy, and as such, it was designed as a more advanced model that's packed with a ton of features.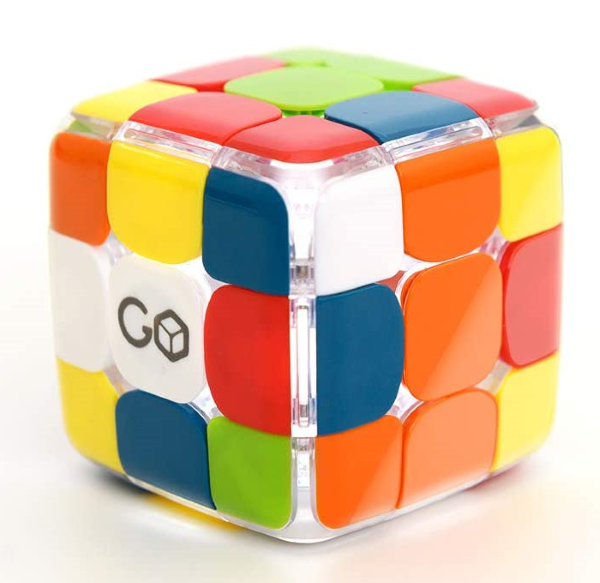 Starting of with its design, the GoCube Edge features really nice aesthetics. While its corners are slightly rounded – which makes it great even for younger kids to play with without getting hurt by "pointy" corners" – each of its colorful squares are solid-colored plastic squares that are actually quite durable.
The GoCube's size is a bit smaller than some older Rubik's Cube-like models that I've seen in the past, but the unit still features a very solid and reliable build.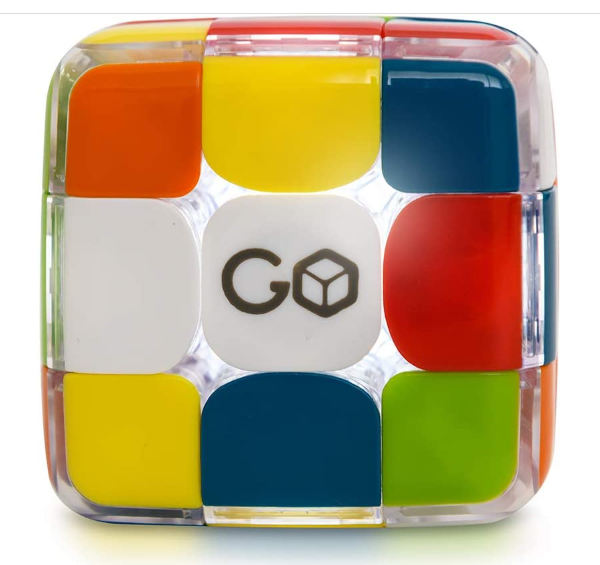 Ultimately, the GoCube Edge is super comfortable and fun to hold, grip, and play with, and thanks to its high-quality hinges, it offers its users an extremely fluid movement that comes accompanied by a near-silent operation.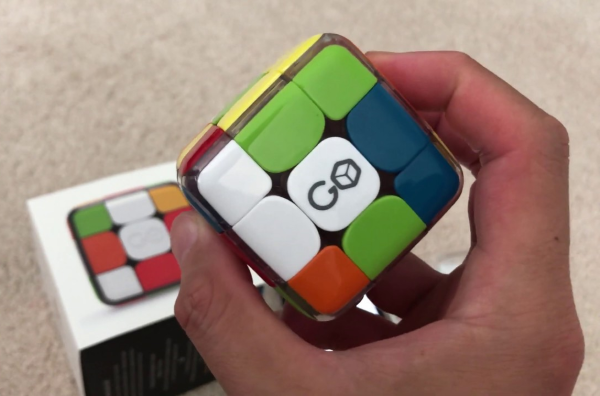 It's definitely smooth enough to be considered a speed cube, which I found helpful while learning how to use it.
Furthermore, contrarily to older Rubik's Cube models that can be somewhat "sticky" and/or begin to have multiple layers turned at once – which can make for slower solving of the cube's renowned puzzle or even cause some more mistakes from beginners all the way to experts due to the difficulty of moving the cube's several layers around – you won't ever experience any of those nuisances with the GoCube Edge.
HOW DOES IT WORK? (Connectivity & In-App Learning)
Since the GoCube Edge is Smart and App-Enabled Rubik's Cube model, it obviously utilizes Bluetooth (in this Bluetooth 5) to have the cube sensing its orientation, and then communicating it back to its proprietary Smartphone Companion App, which is simply called the GoCube App (discussed at the end of the article).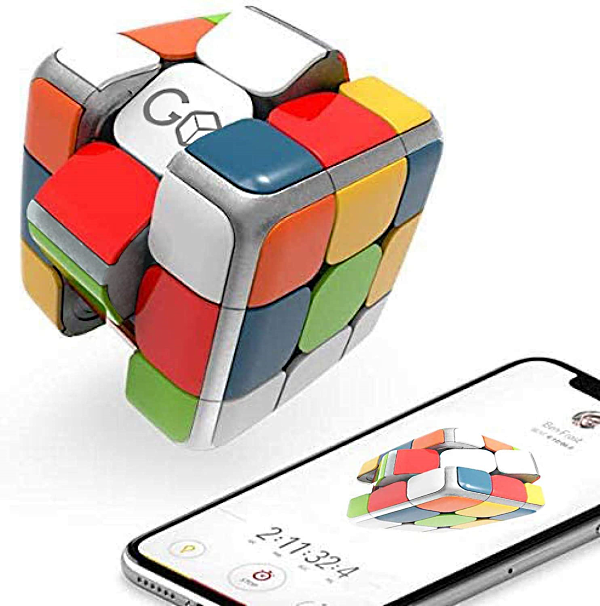 Then, while having a Smartphone (or tablet) side by side with the cube while users solve it, the app will display a 3D image of your GoCube Edge, which will be moving in real time alongside with you physical cube with each and every time you turn one of its layers around.
As such, if, for example, you decide to turn its left face counter-clockwise, that same movement will be copied and reflected by the 3D cube that's showcased within the App.
BATTERY & BATTERY LIFE
Just like any other Bluetooth-enabled device, the GoCube Edge is powered by a small built-in rechargeable battery in order to work and be used together with its Smartphone App.
Gladly, charging the GoCube is as easy as using it and learning how to solve it. As such, all that you have to do to recharge its battery back to "full juice" is place the unit directly onto its included charging stand and then align its center yellow piece with the built-in prongs of its included USB Charging Cable.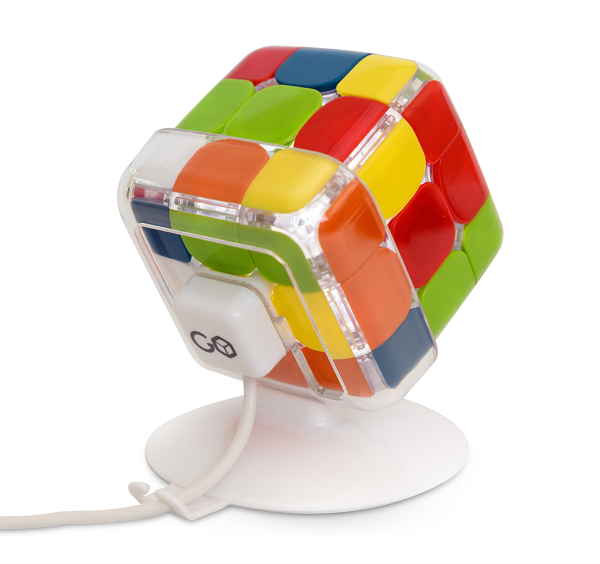 The GoCube never takes you too long to have it recharged back to a full charge and it will only take you around one hour and a half if its battery power is completely drained (meaning if its at 0% battery).
WHAT'S IN THE BOX?
Inside each package users will find: their GoCube Edge unit, the cube's included Charging Stand (which will also hold your phonel) and the device's Customized USB Charger with an included cable, and also a handy high-quality Carrying Pouch that can be used to take the cube with you while you're on-the-go.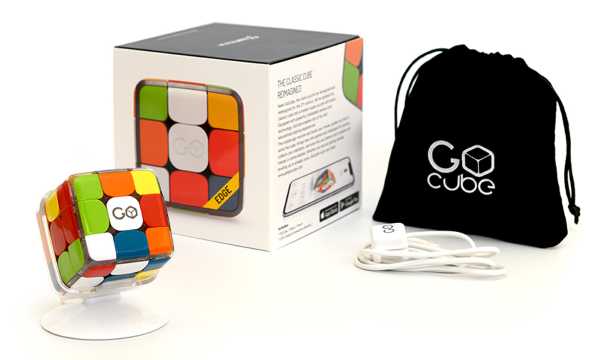 THE SMARTPHONE APP – The GoCube App
While the GoCube is the classic Rubik's Cube completely re-imagined and redesigned for the 21st century, its Smartphone Companion App, called the "GoCube App" is what really makes this combination puzzle toy shine.
The GoCube App is available to download for free for both iOS and Android devices.
The App is actually super simple and intuitive to use, and it even displays the cube's remaining battery power at the top right corner.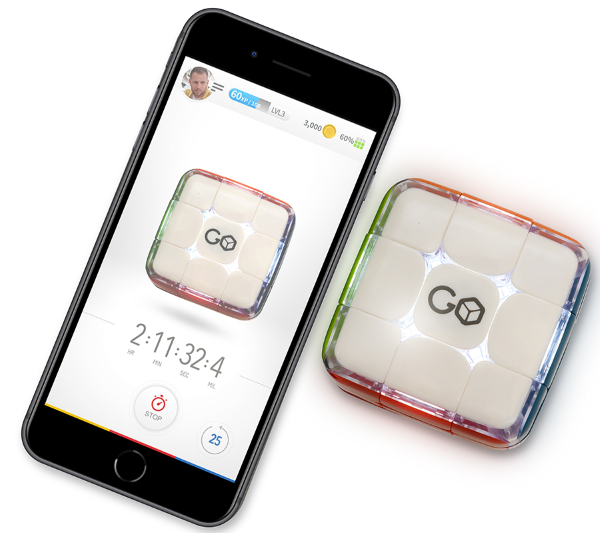 By using its App, even beginners can go from their very first learning experience to cubers (the people that play with the Cube as a hobby) all the way to becoming a Pro messing around with the cube, all in no time and with no difficulty whatsoever.
Thanks to the GoCube App, families can have all members of the family learning together exactly how to solve the cube in a fun and interactive way.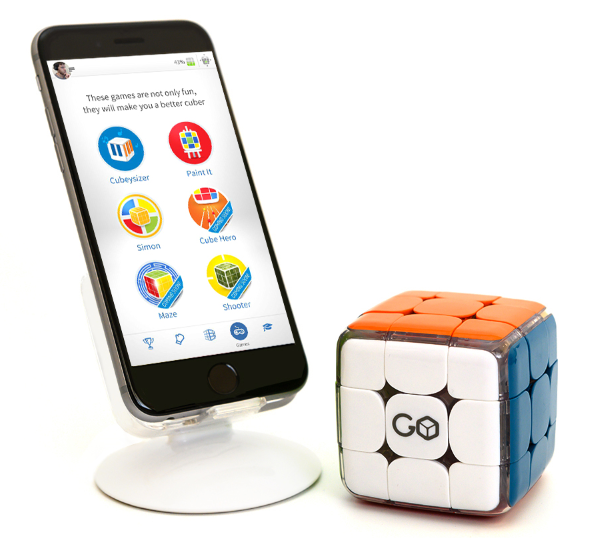 Whether it is learning, improving, battling against other App users or simply playing alone, the GoCube App is guaranteed to take your cubing to the next level.
Different Cubing Modes
The App can be used in three different Main Modes. The first, called "Go-Learn" (which was designed for beginners), offers users a fun and interactive tutorial that will safely guide them through the Rubik's Cube puzzle solving secrets.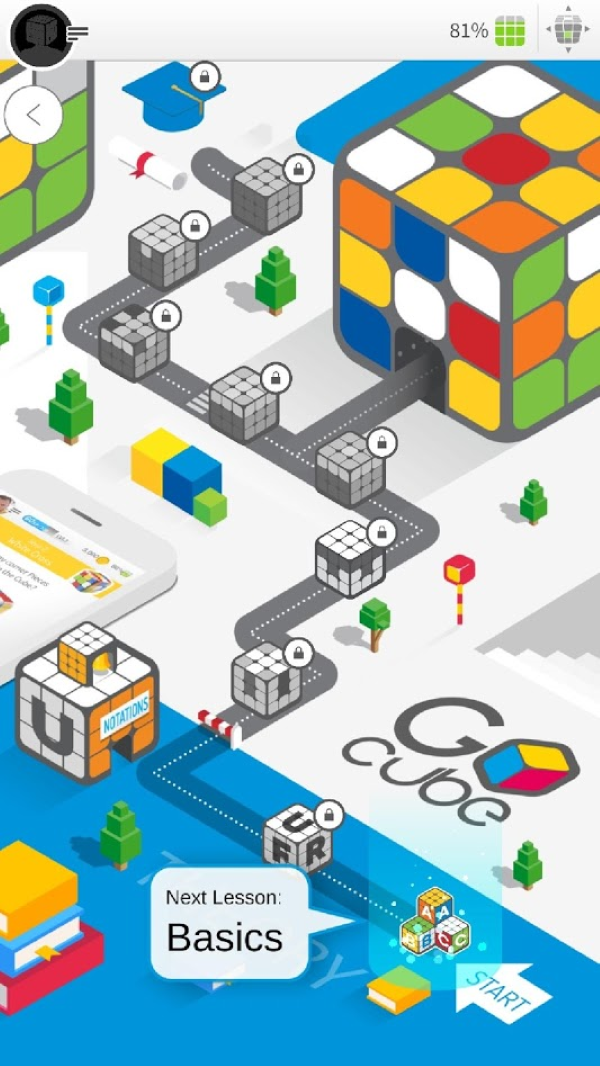 Secondly, another mode, called "Go-Improve" (which was designed to be used by intermediates and Pros) allows users to practice and monitor their progress with advanced stats and play analytics.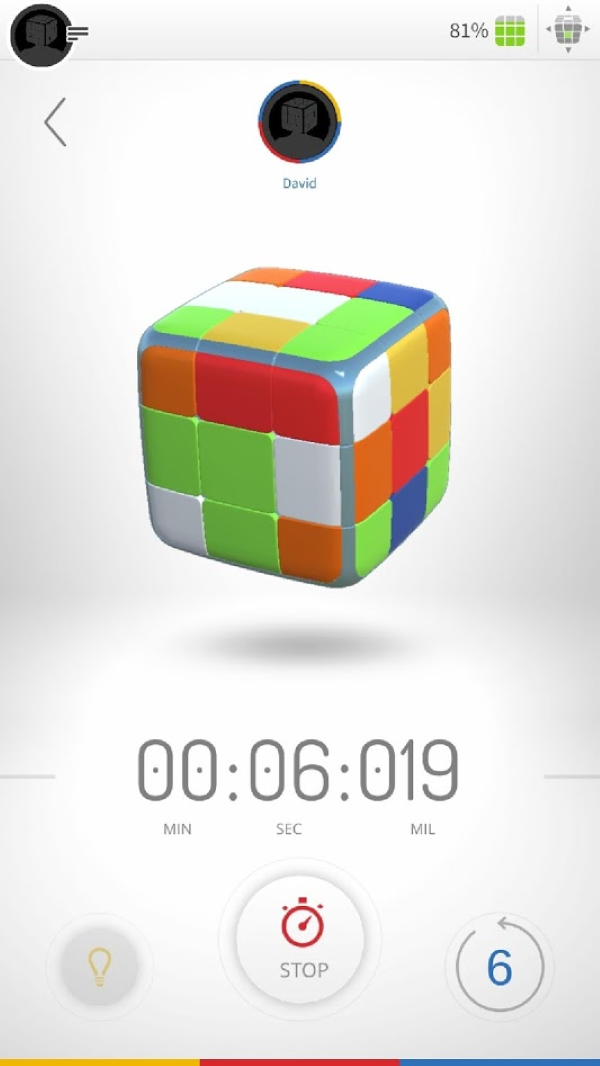 Lastly, the third and final Main Mode, which is called the "Go-Compete" (this one is supposed to be used by users of all levels), is the most complete mode, and it bring users several matches/rounds that include various playing modes, from fun scrambling competitions (spaceship racing for all levels) to pro's versus battle matches.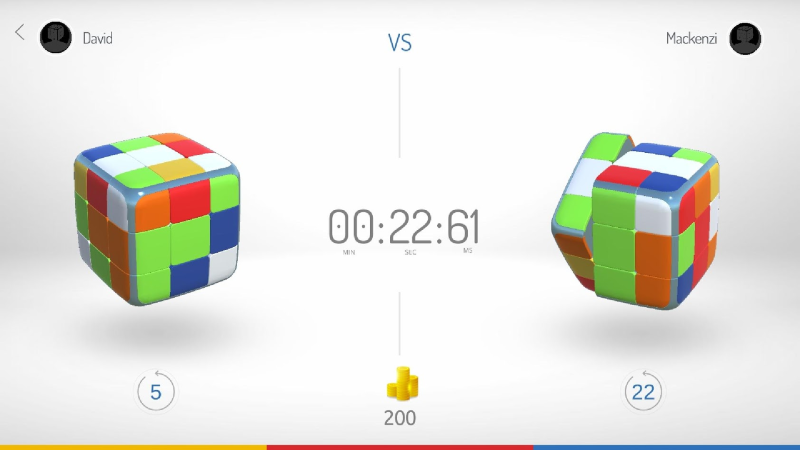 Extra In-App Features
Since the GoCube also features a built in "from-start-to-solve" timer, the App also offers its users a Time-Solving mode that can track their average solve time, a personal scoreboard so that users can try to top their personal best, access to global leaderboards so that users can compare their times with and ultimately try to top those as well by going head-to-head with other GoCube owners.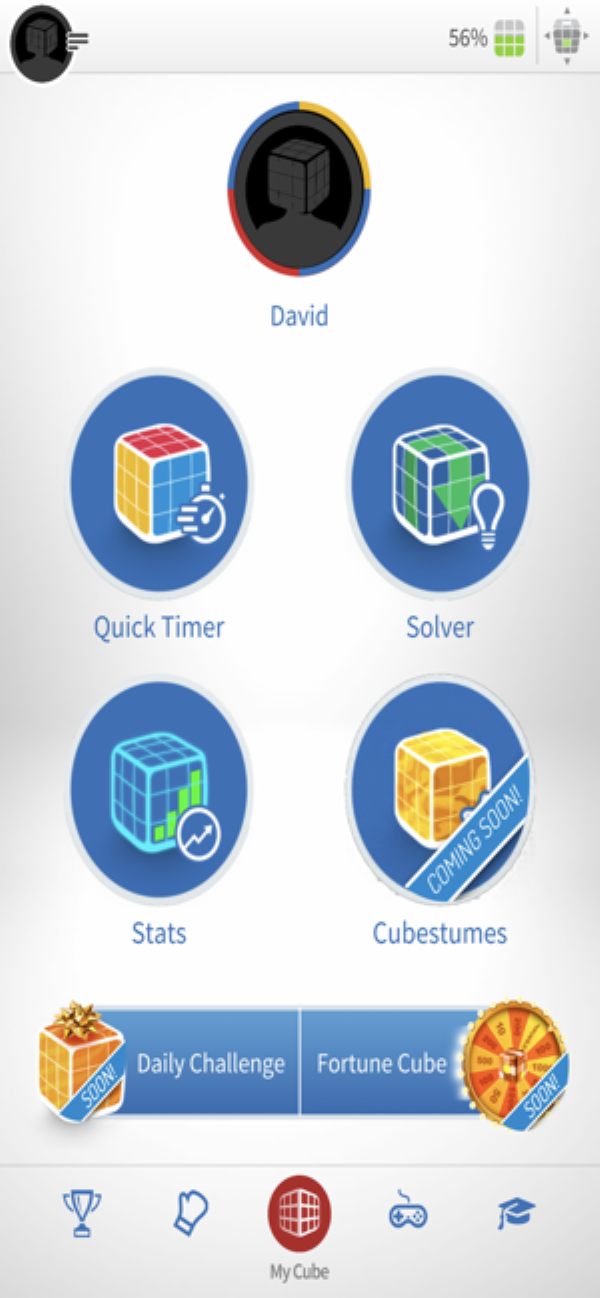 Lastly, the App also features several different In-App Mini-Games that are simple and fun to solve, as well as cubing missions, and even third party games that incorporate various aspects of cubing in order to help all users to improve both their cube handling skills as well as their solving instincts.
FINAL THOUGHTS
The GoCube Edge is a Bluetooth-Connected and App-Enabled smart Rubik's Cube that lets cubing enthusiasts of all levels learn and improve their cubing skills by solving the cube side-by-side with a Smartphone/tablet.
I have to say, thanks to the quality of the cube itself, as well as the easy-of-use of its Smartphone App, getting this cube is a no-brain deal. You're simply guaranteed to have a ton of fun. The cube moves well, its smart sensors that are connected to your Smartphone work great, and the App itself makes the learning curve for any users a really quick, nice and smooth learning experience.
Ultimately, this smart Rubik's Cube can be considered super easy and approachable for those who are starting, performing amazing each and every time, no matter what you're level of expertise is on solving the cube.
If you're interested in buying it, each GoCube Edge set (meaning the Full Pack) is currently discounted by $30 for a limited time, and is now going for just $70, which is even better than just getting it at normal price to learn how to solve the cube. You can order yours online right now, directly from GoCube's official shopping page, which you can access by clicking here.