As we now find ourselves relying heavily on our battery-powered devices to not only communicate with each other, but also to stay up to date with any possible content (includes news, Social Media, and more) as well as to get any potential work done, several tech. companies quickly came up with new charging solutions that allow us to easily charge of all of devices. Furthermore, because we strongly depend on those same devices, which includes our Smartphones, tablets, and even laptops, it's important to have a reliable way of recharging them. This brings us to the Mophie Powerstation XXL.
The Mophie Powerstation XXL is a powerful and portable 20,000 mAh universal powerbank that can be used as a reliable power source to carry around with you so that you can easily and conveniently recharge all of your battery powered devices at any time you need to do so.
Not only that, but since this powerbank comes equipped with a total of three (x3) USB ports that are ensured to always offer a peak performance and a safe operation, you can use the Powerstation XXL to quickly and simultaneously recharge Smartphones, tablets, a laptop's battery, and pretty much any other USB-enabled devices that you can think of.
Ultimately, users can either get more than seven additional charges for their Smartphone or get up to two extra charges for their tablet's rechargeable battery.
All of that basically means that this 20,000 mAh universal battery is packed with more power than most other portable powerbanks that you can currently find available on the market. By having such a powerful charging solution like the Powerstation XXL, you can ultimately use your battery-powered devices for longer periods of time so that you're able to talk, play and browse longer than ever.
Now, let's take a more detailed look at the Mophie Powerstation XXL's design and check everything that it has to offer.
DESIGN
Starting with the powerbank's size and design, the unit measures exactly 6.26 inches long by 3.05 inches wide by 0.91 inches thick (159 x 77.5 x x 23.2mm), and the powerbank is also quite lightweight, as it weighs just a measly 0.96 lbs.
As this powerbank is quite slim, its really easy to carry it around. At the same time, its compact design comes accompanied by a stylish fabric finish (visible at the top of the unit). Other than adding some style to the device, this premium fabric finish prevents the unit from suffering scuffs and scratches, and as such, it ultimately makes the device ultra-durable, thus ensuring it has a longer lifespan.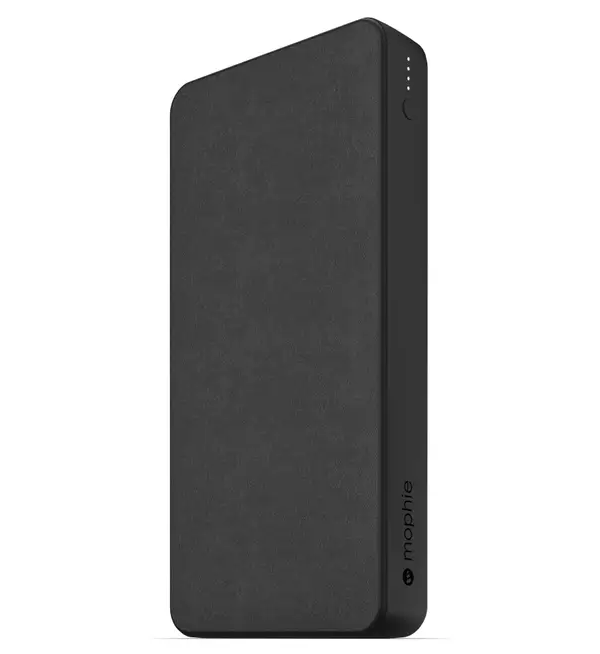 As mentioned earlier, the Mophie Powerstation XXL can be used to easily and quickly recharge all of your portable devices such as a Smartphone or tablet, your Smartwatch's internal battery, your laptop's battery, etc.
The Powerstation XXL features a High-Output Charging Power, which is exactly 2.1 amp of output power to be more precise. Thanks to its smart adaptive charging technology, this powerbank can accurately identify what types of devices are connected to its multiple USB-C ports as a way to always deliver a safe and efficient charge to those device's internal batteries.
It's also worth to point out that this portable powerbank also comes together with an included Quick Start Guide, but you shouldn't really need to read it in order to make it work. It's just basically there so that you can double-check any of the device's tech. specs.
INTERFACE
Moving on to the Powerstation XXL's interface, the unit features a very simple interface. There is a total of three (x3) USB Charging Ports located at the top of the powerbank, right above its four-light LED power indicator (covered in detail further ahead). This includes one (x1) single USB-C port and two USB-A ports.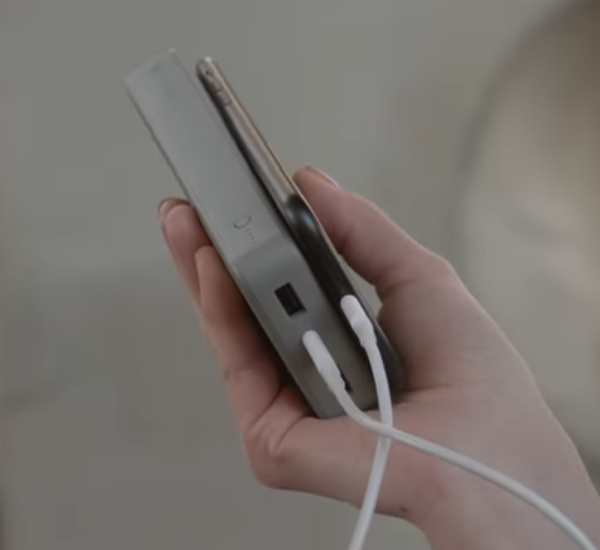 Thanks to its multiple USB-C Charging Ports, this high capacity battery pack allows users to quickly and simultaneously recharge multiple battery-powered devices while still they're on-the-go.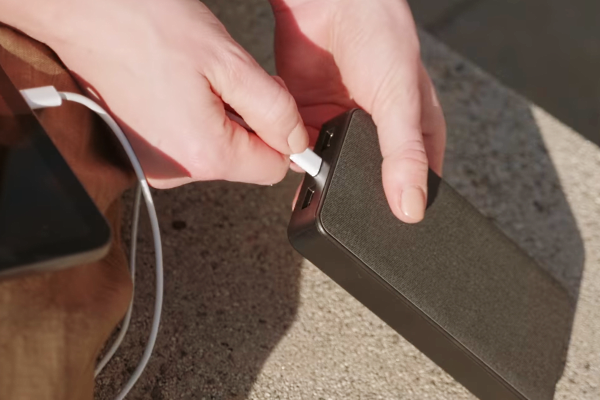 Moving just a bit down the unit, right under the device's four-light LED power indicator there's also a power button that can be used to activate or disable the unit's power charging operation (after having other USB devices connected to it).
BATTERY & BATTERY LIFE
As mentioned throughout the article, this powerbank comes equipped with a built-in 20,000 mAh rechargeable battery that can offer a total of 74Wh of power and up to 73 hours of power for when you need it most.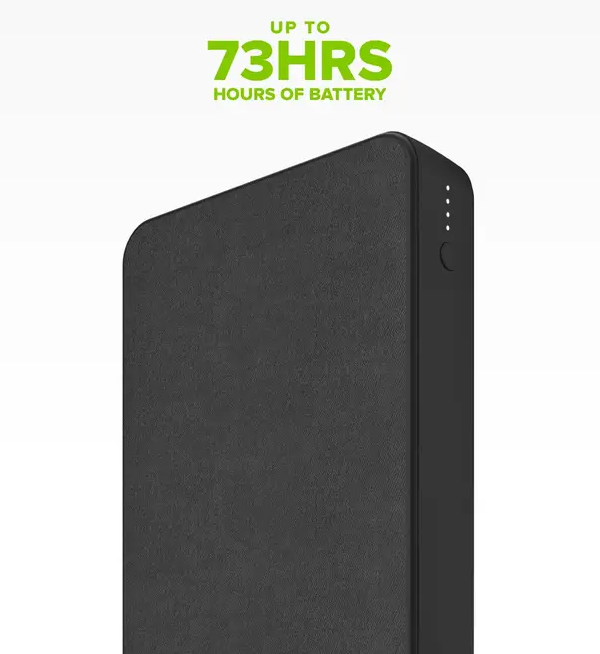 That's more than enough power to extend your smartphone's battery life close to 100 hours (its first full charge combined with the powerbank's total of 73 hours of battery life). Thanks to the powerbank's huge battery life, you can easily power multiple devices throughout your daily routine.
As mentioned earlier, you can get around seven additional charges on your smartphone or up to two extra charges on your tablet.
The powerbank's integrated four-light LED power indicator displays its current battery life as well as the device's charging status, and thanks to it, you can always know how much power the unit has left.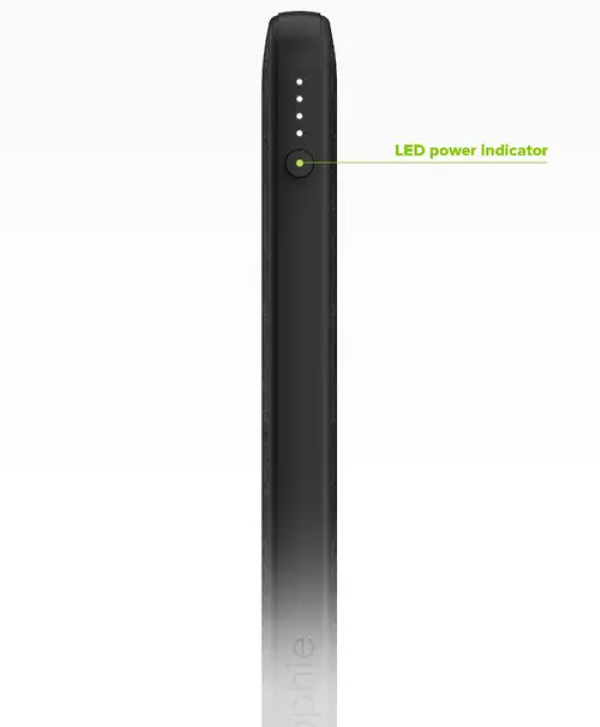 Since this 20K powerbank is actually quite large when it comes to its battery capacity, recharging the unit from empty to full will take you around 5 hours to 5 hours and 10 minutes.
Lastly, it's also worth to point out that the Mophie Powerstation XXL also features Priority+ Charging, which basically allows the powerbank to enable pass-through charging while having it connected to any power source.
Thanks to that, all of your connected battery-powered devices are ensured to be charged first, and only after all of those USB-enabled devices (up to x3 at a time) are all charged will the Powerstation XXL's battery start recharging itself.
FINAL THOUGHTS
The Mophie Powerstation XXL is a powerful 20,000 mAh Powerbank that's equipped with one USB-C and two USB-A Charging Ports.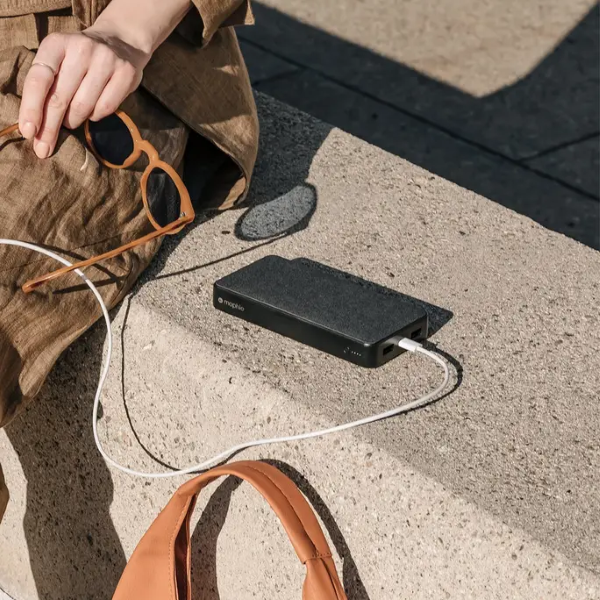 Its high-performance built-in 20K battery comes concealed inside a sophisticated and sleek design, which makes this portable charging solution the perfect accessory for any professional lifestyle.
If you're interested in buying it, each unit is currently going for $70 each. You can order yours online right now, directly from ZAGG's official shopping page, which you can access via this link.