This funny looking gadget is for anyone that's passionate about Sci-fi, technology and music. The combination of these three categories might end up taking even the "geekiest" tech lovers to a world where the renowned fictional superhero Iron Man (yes, the one from Marvel Comics) has its very own "robot- and futuristic-looking" Wireless Bluetooth Speaker. Meet the Zoeao Gravastar G1.
The Zoeao Gravastar G1 is a stylish and "robot-looking" high-quality Wireless Speaker that's unlike any other speakers that you've seen before. The design of this cool looking speaker was inspired by the futuristic science that's found in the most famous fiction movies and games.
Working flawlessly via Bluetooth 5.0 and accounting for a battery life that can last almost an entire day of constant music playing, this compact wireless speaker portrays a metal shell made of high-quality zinc alloy that's carefully designed with sleek rounded angles while also featuring built-in bright-green psychedelic lights to make you feel like your favorite tunes are coming to life.
With it, you can ultimately take your Sci-fi themed room to the next level and enjoy high-quality music in the easiest and most futuristic way possible; and that's obviously by controlling this cool stylish robot-looking wireless speaker with your Smartphone via Bluetooth.
Now, let's take a more detailed at the Zoeao Gravastar G1 and check everything that this Sci-fi themed Wireless Bluetooth Speaker has to offer.
DESIGN & SPECS
Starting with the speaker's size, the Zoeao Gravastar G1 has a diameter of 5.51 inches (140 mm) and features a radiator that measures exactly 3.15 inches (80 mm) in diameter.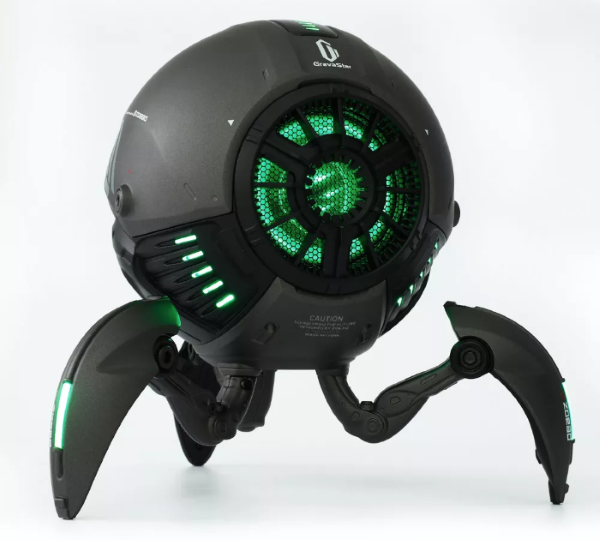 Furthermore, the unit actually has some weight to it, weighing exactly 4.62 lbs (2.1 kg), and tthat's because of its ultra-solid build. However, thanks to its somewhat bulky weight, the speaker is ensured to remain stable at all times when playing music, even when accounting for its punchy and heavy bass after setting it to play music at a high volume.
It's solid body is composed mainly of metal on the top side and a high-quality ultra-durable plastic on the bottom, which, overall, makes this a very sturdy build. The top side of the unit consists of a high-quality zinc alloy sphere that allows waves to resonate within its space.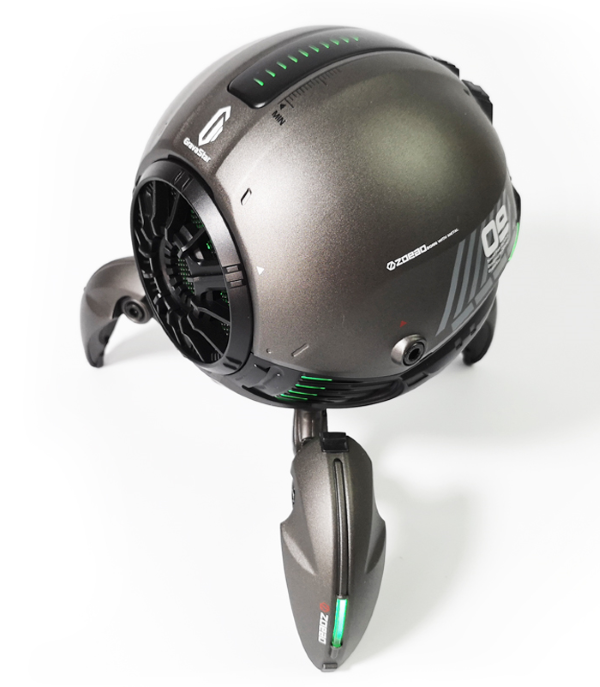 Going down just a bit, we can take a look at the front of the device, where users can quickly find the unit's built-in speaker, which is protected by its durable 3.15-inch radiator.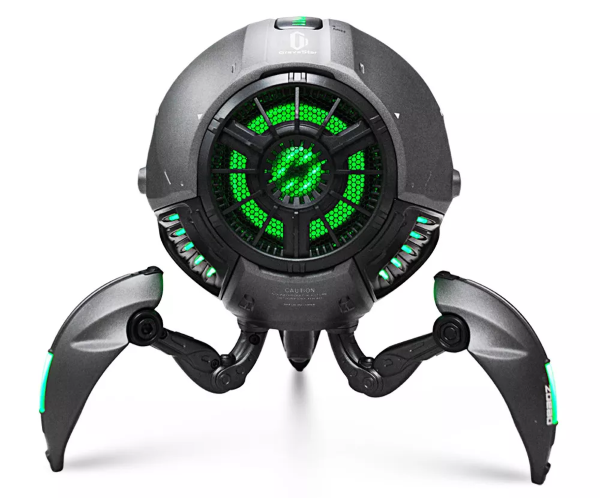 Rotating the device 180º degrees from its frontal side will have users notice that, sitting just oppositely to its internal speaker, is the Zoeao Gravastar G1's built-in subwoofer. This subwoofer is perfectly attached to the back of the unit with six (x6) high-quality screws display in a circular fashion that ultimately help to keep the entire built consistent and ensure that it never gets "shaky" / loose.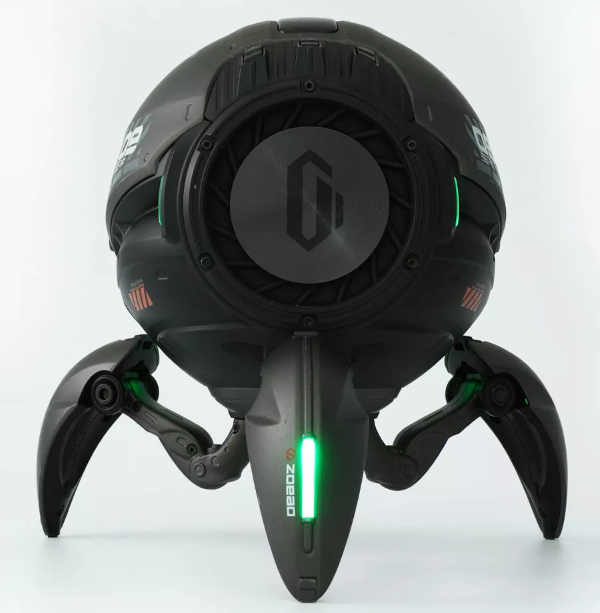 Going even further down, we can notice the Zoeao Gravastar G1's tripod legs. These three (x3) stable support legs come perfectly aligned in a triangular setup to ultimately give the device an ultra-stable support structure.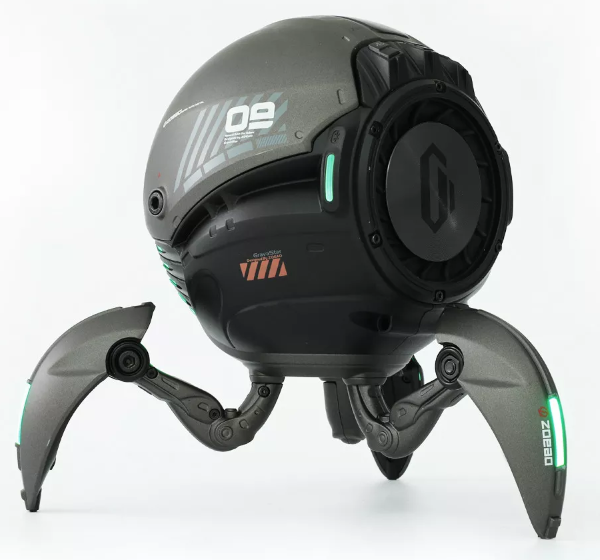 As such, just like the unit's somewhat bulky weight, having the device's support legs set in a triangular setup ultimately ensures that the GravaStar G1 Wireless Bluetooth Speaker always remains stable, even when playing music with its bass and volume set to the highest possible settings.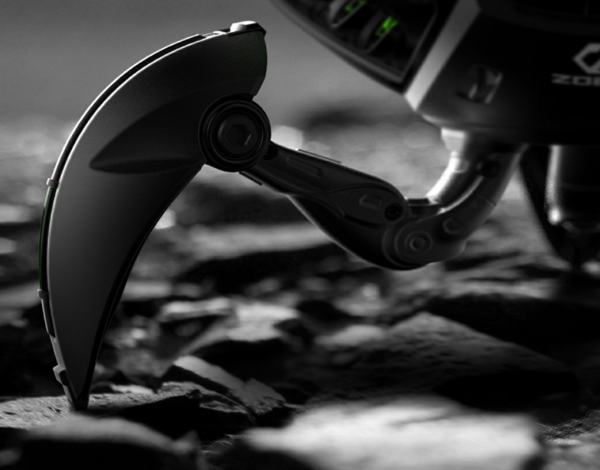 It's also worth to mention that all of the device's tripod legs come equipped with highly-durable hinges that ultimately allow users to easily fold each leg into the unit's bottom side, thus making it a bit more compact and ultimately portable.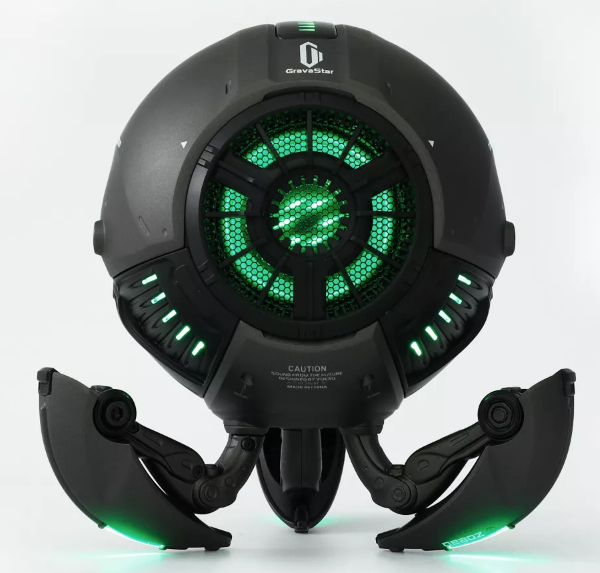 That feature is perfect for whenever you're looking to carry the GravaStar G1 with you, and thanks to that, you can always have this wireless speaker with you while you're on-the-go. it's worth to mention that the device's legs can also be folded while the unit is still powered on.
Lastly, there are also a couple of built-in Green LED Lights spread throughout the device. These can be found within the main unit itself (inside the central body piece of the speaker) and seen both from the unit's front side and with each and every gap of the speaker's frame and contours, which greatly highlights the GravaStar G1's built-in speaker.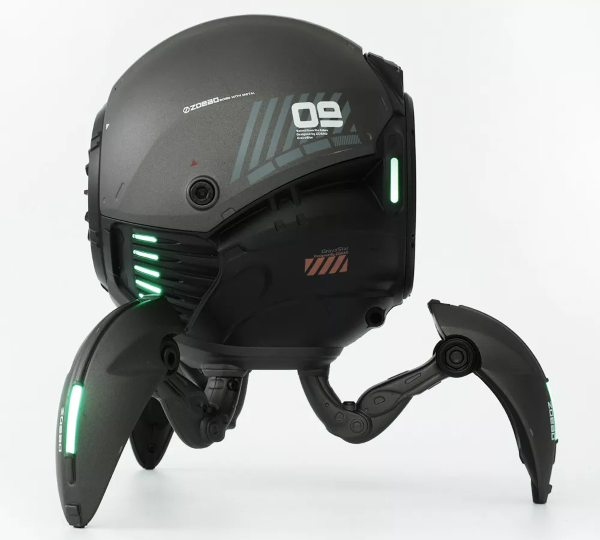 Additionally, there's also one small built-in Green LED Light on each of the device's leg supports and one side Green LED Light at each edge of the device's back side.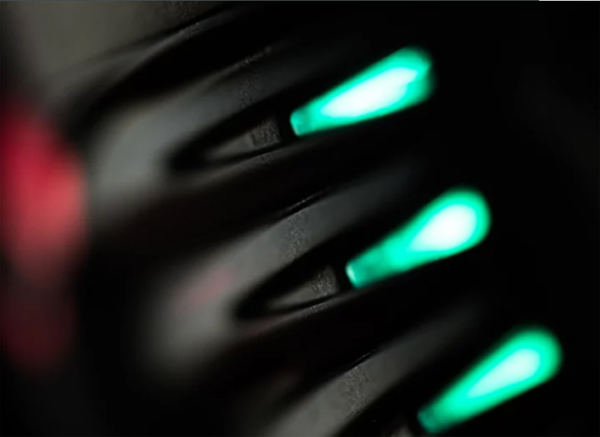 All of these built-in Green LED Light are supposed to work as ambient lights. Both the lighting and the shape of the speaker are perfectly combined to portray something like a living alien creature, which, for Sci-fi fans, is perfect to transform their room into their own personal little Sci-fi world.
INTERFACE
Now, moving on to the speaker's interface. At the very top of the unit, close to the back and just above its dedicated subwoofer, users can find a very simple and intuitive interface that's very easy to use.
The unit's control panel / interface consists of a total of three buttons. From left to right, those are a Light's Button, a Power On / Play and Pause Button (serves both functionalities), and a Bluetooth Pairing / Network Dual Pairing Button (this second functionality of this last button is discussed at the end of the article).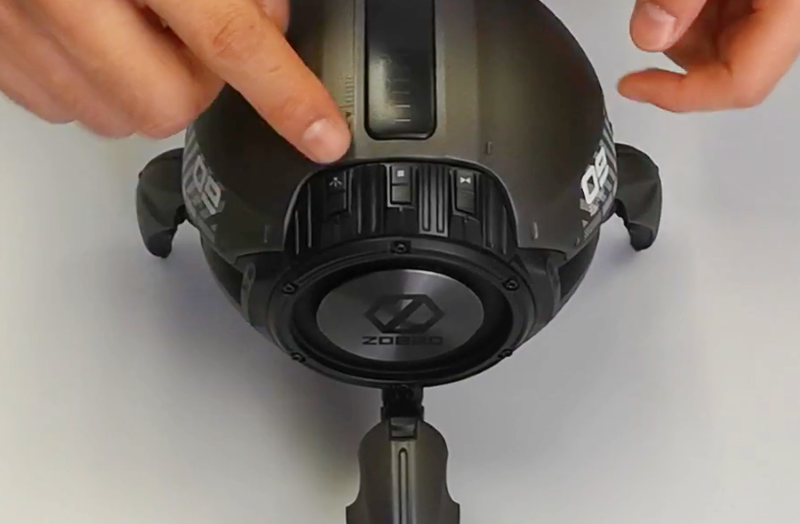 Pressing and holding the middle button (the Power On / Play and Pause Button) for a few seconds allows you to start (meaning "Power On") the unit.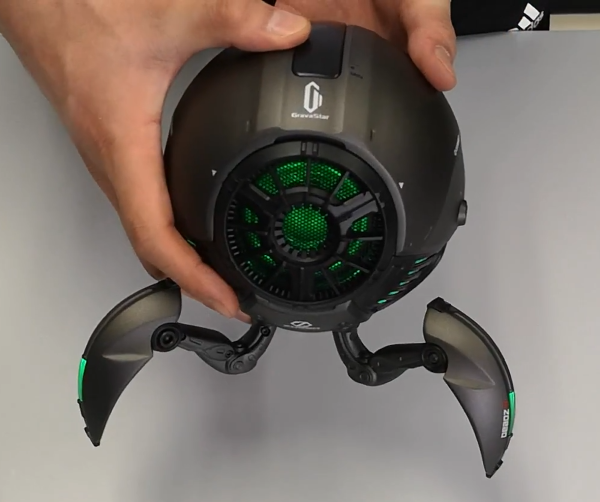 As soon as your Gravastar G1 Wireless Bluetooth Speaker is powered on, a cool and short "robot-like" sound will play, and then the unit's internal Green LED Lights will also turn on.
As we keep going through the unit's interface, we move to the very top of the unit, where we can find a quite large Volume Control Slider. This volume slider is highly sensitive to touch, and as such, it can ultimately make a user's volume adjustments both easy and fun.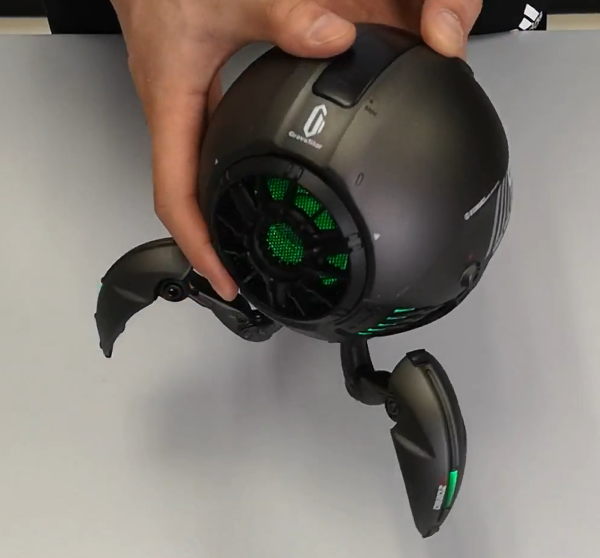 Furthermore, just like the speaker's central round body-piece, you can find even more built-in Green LED Lights that greatly highlight the Gravastar G1's Volume Control Slider.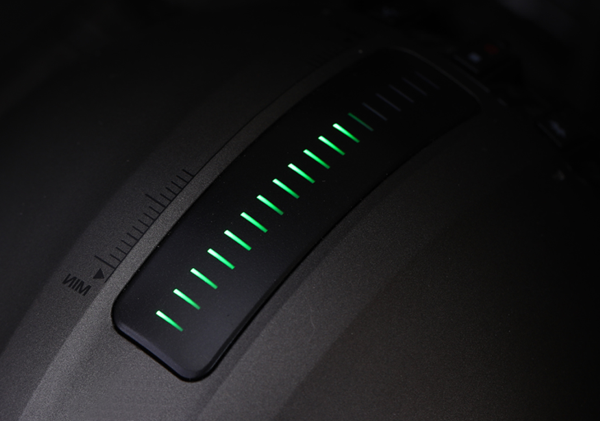 When using the unit's touch-sensitive volume control slider, while you freely adjust the speaker's volume, those same Green LED Lights will turn On or Off progressively to easily let you know what volume settings you currently have selected.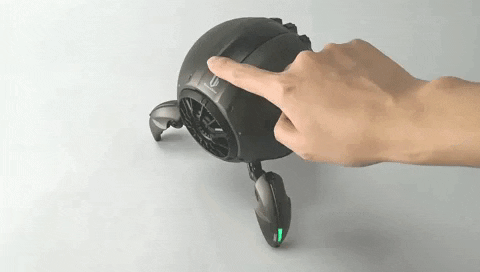 Lastly, at the bottom of the unit, users can also find both the device's dedicated USB-C Charging Port and its single Auxiliary Input Port, and the latter gives users an extra audio playback option, ultimately allowing them to also use a 3.5mm stereo audio cable with the speaker for another choice of audio sources whenever they want to you use a different one.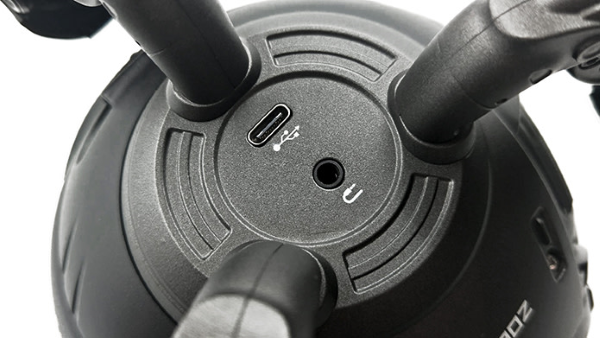 AUDIO QUALITY & AUDIO SPECS
The Zoeao Gravastar G1 Wireless Bluetooth Speaker comes equipped with a 20W full-range sound driver and a subwoofer driver that are bound to offer a crystal clear and distortion-free sound.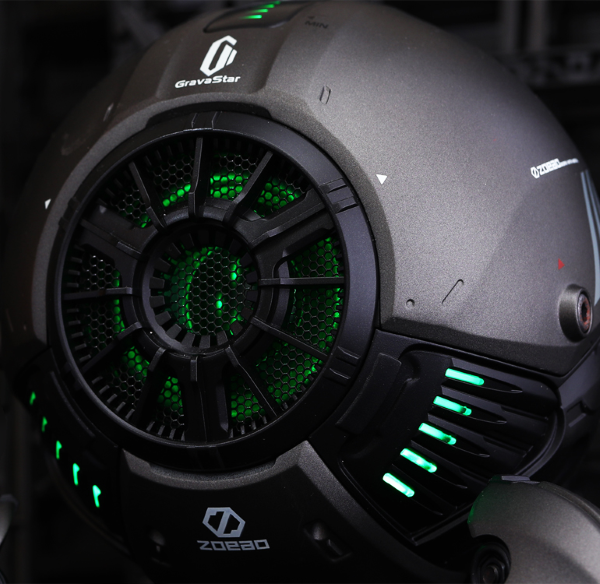 The unit's spherical diaphragm can accurately reproduce clear mids and crisp highs for a clear and smooth sound, all the way up to 20KHz.
While this metal and robot-looking Wireless Bluetooth Speaker's appearance might look cool for pretty much any Sci-fi fan out there, its spherical body is exactly what allows its built-in speaker's reproduced sound waves to resonate perfectly within the unit, and that ultimately enhances the Gravastar G1's audio.
Furthermore, the device's built-in large bass driver is equally capable of delivering a powerful bass that can fill up a room and ultimately enrich both your music and gaming experiences.
Ultimately, users can expect a high-sound quality from this Bluetooth Speaker as well as a deep, rich, and punchy bass.
CONNECTIVITY
As this is a Bluetooth-enabled Wireless Speaker, the unit comes equipped with a Qualcomm QCC3006 Bluetooth chip that runs Qualcomm's Bluetooth wireless audio codec, and so, the device can be easily connected to your Smartphone via Bluetooth 5.0. That can be done very easily by holding its Bluetooth Pairing Button for a couple of seconds.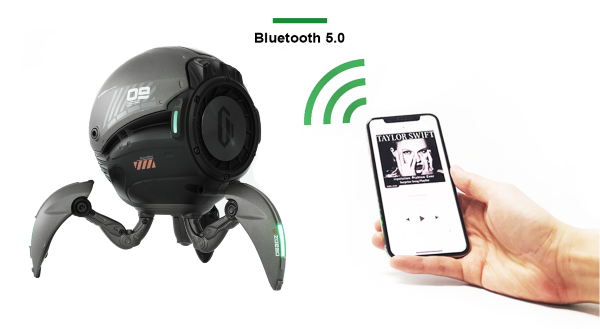 After a few seconds of holding that button, your Smartphone will quickly detect the device and you can then easily pair it.
Check out the video embedded below to check just how easy Bluetooth Pairing really is.
BATTERY & BATTERY LIFE
As mentioned earlier, the Zoeao Gravastar G1 Wireless Bluetooth Speaker can provide its users with a very long battery life, which can ultimately last you almost an entire day when playing music constantly (without ever stopping).
On average, the speaker's built-in rechargeable battery can offer you up to 20 hours of battery life (at the highest volume settings) for music playback, or up to 30 hours of music time when playing music at the lowest volume settings.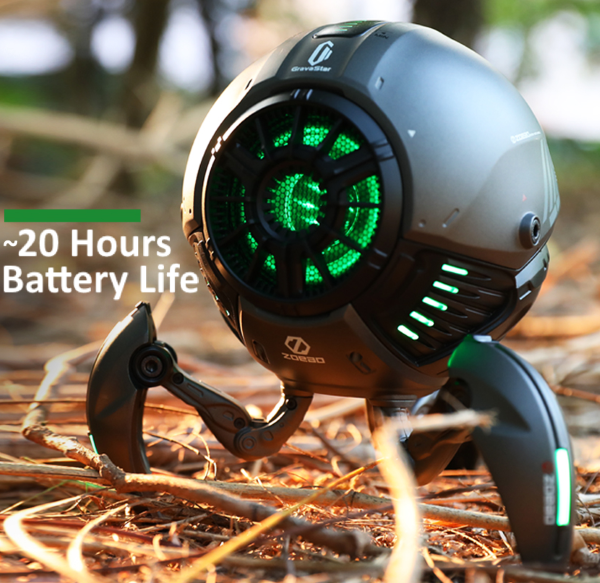 Recharging the unit's battery is also quite easy, as all you have to do is connect a USB-C Charging Cable to its USB-C Charging Port (located at the bottom of the unit, as mentioned earlier), which is equipped with high-quality connectors.
Lastly, since this Wireless Bluetooth Speaker also support Fast Charging, recharging the device's battery should only take you a couple of hours.
OTHER NOTABLE FEATURES
True Wireless Stereo Dual Pairing
It's also worth to point out that thanks to the speaker's featured True Wireless Stereo Bluetooth 5.0 technology, users can also pair up to two Gravastar G1 Speakers together to have them working simultaneously and create a true wireless surround sound system without any delay in both the speakers' sound transmission.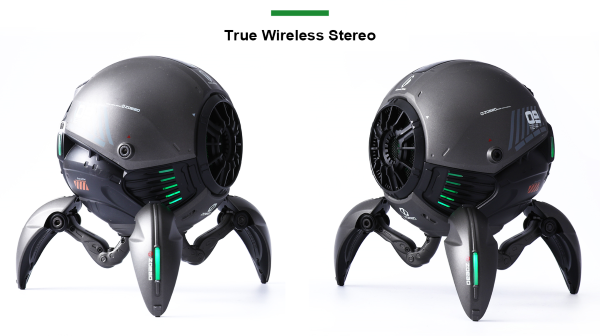 Pairing up two Gravastar G1 Speakers together is just as easy as turning on the device's Bluetooth Pairing feature.
All you have to do is press the first device's Network Dual Pairing Button and then hold that same button on the second unit (the second speaker), and then, within just a few seconds, both units will be paired together to work a a 2-in-1 true wireless surround sound system.
Check out the video embedded below to see how easy and how fast this can be done.
FINAL THOUGHTS
The Zoeao Gravastar G1 is a Sci-fi Themed Wireless Bluetooth Speaker that features a cool robot-looking design and solid build, a high-quality sound and a deep bass, Bluetooth 5.0 connectivity and Dual Pairing with a second unit.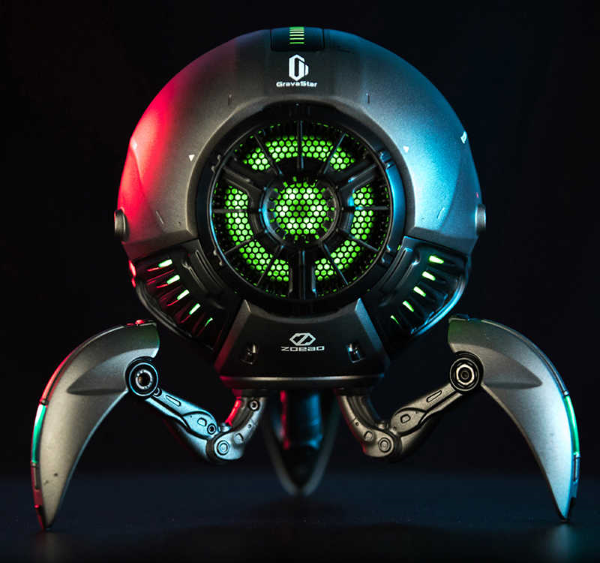 The Gravastar G1 Bluetooth Speaker is currently available in two different color models: Normal Gray (Gray and Black Chassis Body with Bright-Green LED Lights) and Normal White (White and Black Chassis Body with Bright-Purple LED Lights).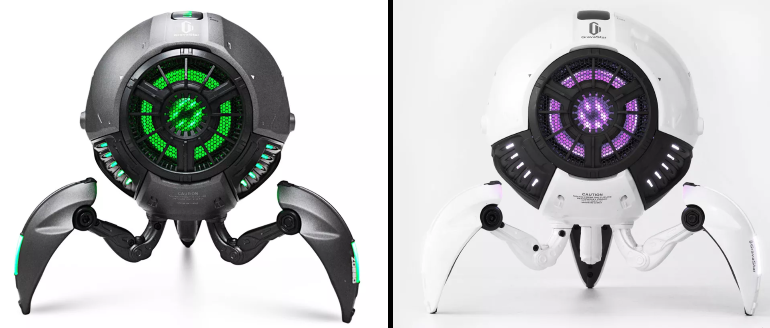 However, it's important to notice that if those weren't the colors that you were hoping for, the company is currently running a promotion for its new Sci-fi Blue color model.
If you're interested in buying the Zoeao Gravastar G1, each unit is currently going for $200. You can order yours online right now, directly from Zoeao's official shopping page, which you can access by clicking here.
Lastly, be aware that the company's special edition Sci-fi Blue color model will be launched in early October, and pre-orders will soon be available with 30% off the speaker's normal price as well as free shipping.