Whenever you're planning to go on an outdoors adventure, taking a reliable fire-starter gadget with you can be quite useful, and that's because having an easy way of starting a fire pit can ensure that you spend less time igniting your campfire and more time relaxing and enjoying your time with Mother Nature. Ultimately, having a reliable and safe way of creating a small and strong source of fire can completely change the feel of your outdoors camp and make your temporary outdoor living areas far more welcoming and intimate. This is where micro torches come in. Micro torches, which are also known as butane torches, are very reliable fire-starting gadgets that work by utilizing an internal disposable lighter to draw from its fuel and then turn the lighter's stored butane (the lighter's fuel) into a very usable flame. This brings us to the SOTO Pocket Torch.
The SOTO Pocket Torch is a very cool little micro-torch that's great to always have around with you, as it can easily be used both outdoors and indoors to quickly have a strong usable flame for starting a fire or finishing a Home Project / DIY Project.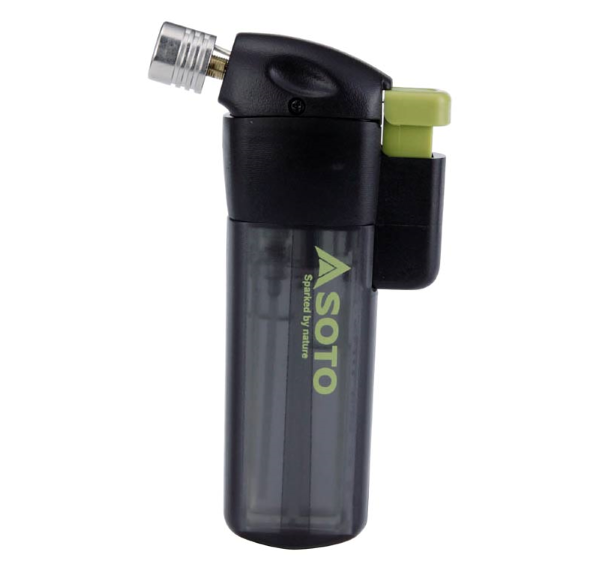 Not only that, but its also a great reliable fire-starting gadget to have around for some specific hobbies like paracording (hobbies and/or DIY projects that specifically rely on the use of rope).
However, these are not the only benefits of having a micro-torch around. For example, when compared to their lighter counterparts, micro-torches are a little bit more convenient to use than lighters are, as that's mainly because they're a little bit more windproof than standard pocket lighters (that goes especially for those cheap BIC lighters that can be purchased just about anywhere – a convenience store, gas station, etc.)
Lastly, while other micro-torches that are currently available on the market (from other brands, of course) tend to use a lot of fuel to get you a decent and reliable strong flame going. Furthermore, micro-torches from other brands also tend to come in bulkier sizes, which ultimately makes it extremely inconvenient for you to carry around. However, I'm glad to mention that that's totally not the case with the SOTO Pocket Torch, as this little micro-torch comes in a much more compact design.
Now, let's take a more detailed look at the SOTO Pocket Torch and have a look at its design and see exactly how it works.
DESIGN & SPECS
Since we were just comparing the SOTO Pocket Torch to micro-torches from other brands that are currently available on the market, let's start taking a look at the unit's design. This micro-torch measures exactly 2.3 inches long by 0.9 inches wide by  4.3 inches tall (60 x 23 x 110 mm).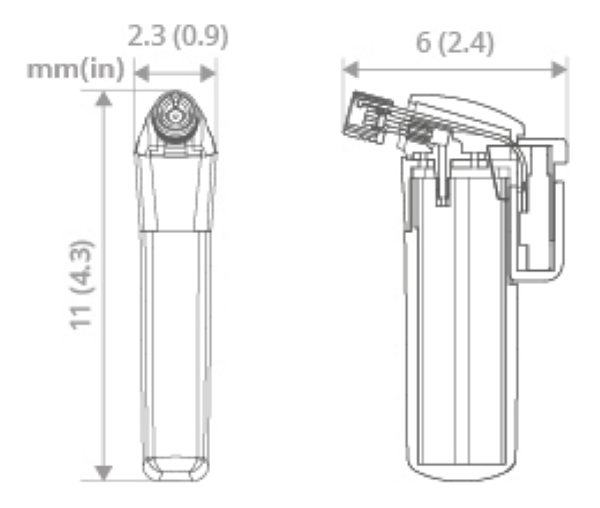 Not only that, but thanks to its already mentioned compact design (which makes it much better than most other micro-torch models out there, which tend to bulkier than this one), the unit is also quite lightweight, as it weighs just a measly 1.8 oz (50 g), but be aware that that's without accounting for its disposable lighter.
As such, this micro-torch obviously comes equipped with a disposable lighter unit that can be found within its fuel cartridge slot.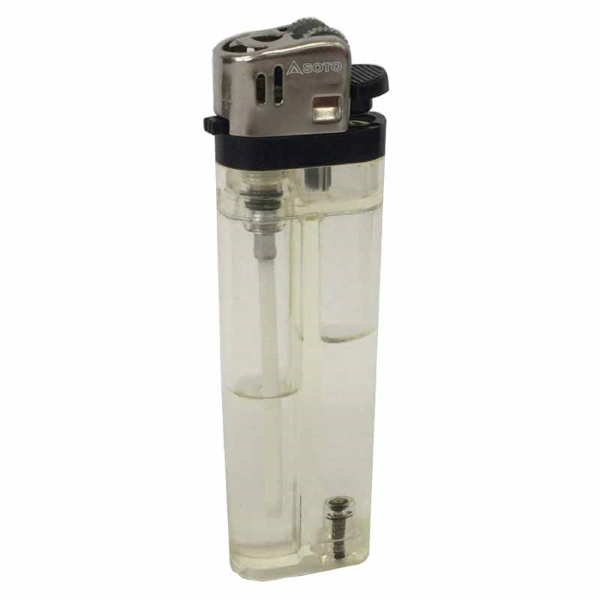 However, there's no need to worry at all, as we've all had a lighter on our hands already, and so, we all know that those things tend to be as light as a feather. In fact, when having its disposable lighter equipped within it, this micro-torch should weigh just a bit more than its normal weight, and so, you probably won't even notice that.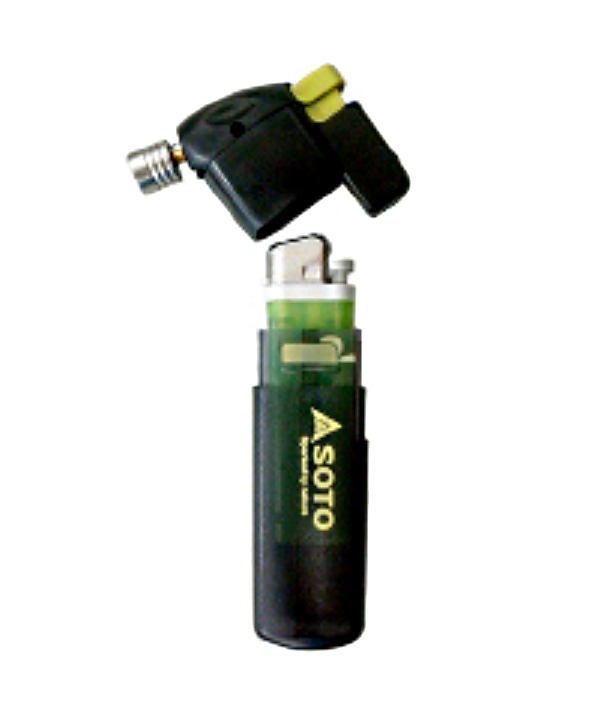 Now, moving on to the torches "flamy" parts. The micro-torch's integrated burner (meaning its frontal mouth part) features a total outer diameter of 0.55 inches (14 mm) and a total interior (or inner) diameter of 0.47 inches (12 mm).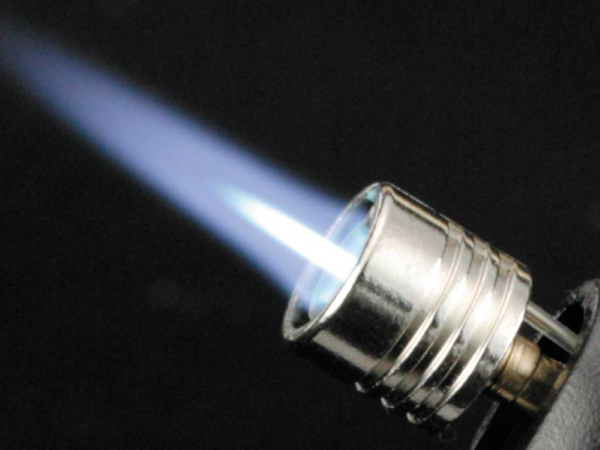 Ultimately, the torch's high-quality burner can produce a flame size with a maximum diameter of 0.1 inches by 0.47 inches (3 x 12 mm) and thanks to that powerful and very usable flame, it can burn up to a maximum temperature of around 2,372 °F (which is approximately 1300°C).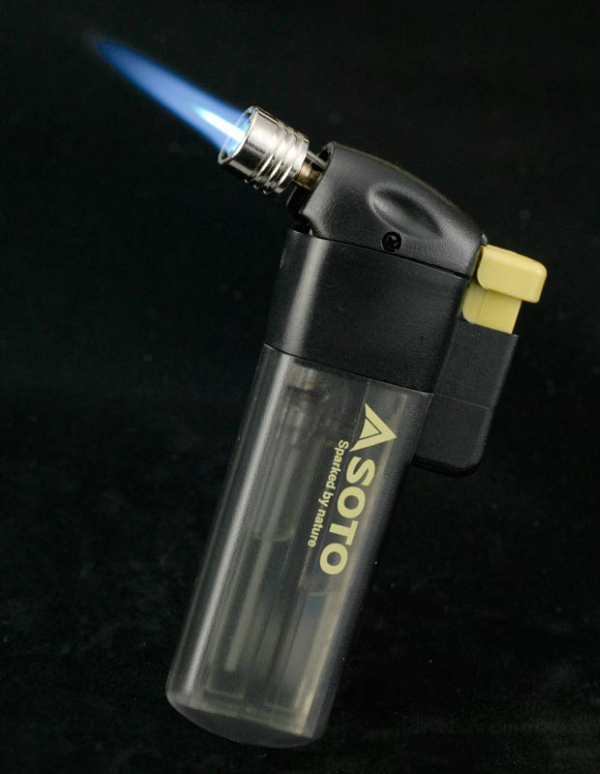 When considering the type of flame shape that you'll get, you'll notice a superfine centralized flame at the tip of the micro-torch's burner.
For each disposable lighter fill (having the torch's lighter completely filled up) users can get approximately 20 minutes of continuous (or spaced out) burn time.
POTENTIAL USES
Since this micro-torch can actually produce a strong and reliable usable flame, outdoors enthusiasts can easily use the SOTO Pocket Torch for igniting the flame of their outdoors cooking stove or to quickly and easily have some small burnable materials going and start their outdoors campfire at their campsite.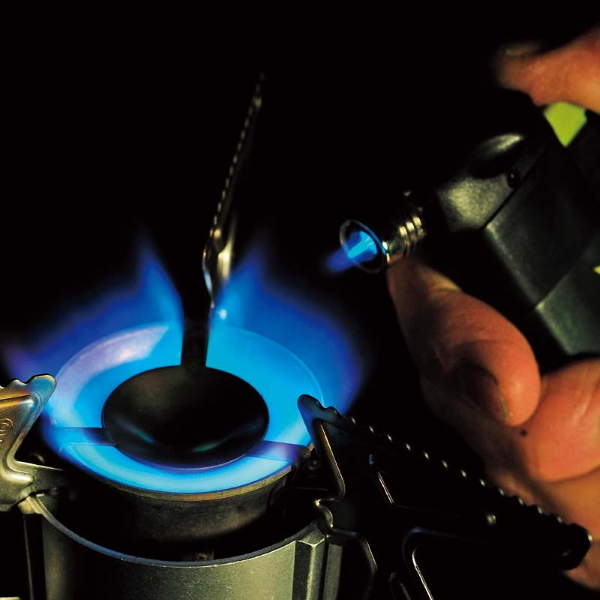 Furthermore, and as mentioned earlier, this micro-torch produces such a reliable strong flame that you could also use it for any of your Home Projects / DIY Projects to easily take care of something that's needs a little burning, like burning the tip of a large string or rope.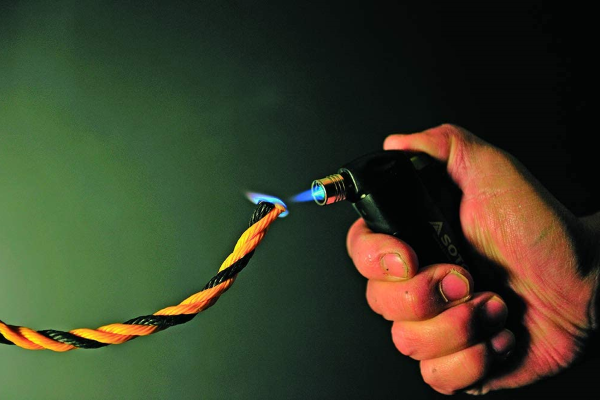 FUEL & LIGHTER COMPATIBILITY
Now, moving on to the compatibility side of things. Since the Pocket Torch actually utilizes a disposable lighter, it can work perfectly fine with standard lighter fuel, which is the type of lighter fuel that can be purchased from almost any grocery stores out there (and the same goes for your local outdoor store).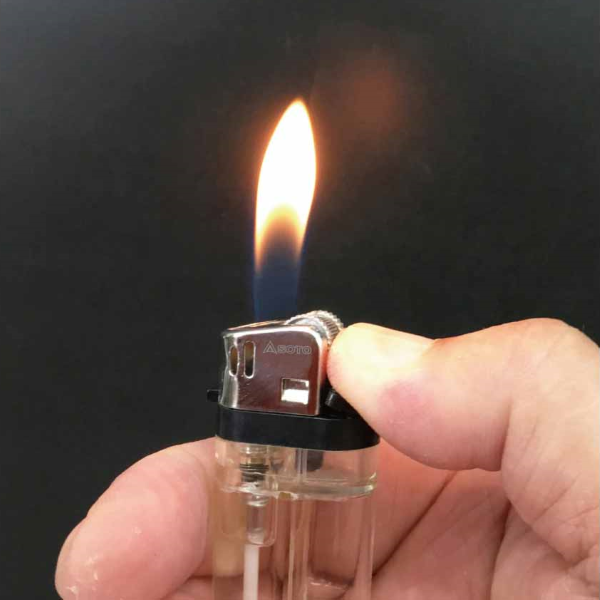 As such, there's no need to worry about having the unit running out of fuel, as getting its included disposable lighter refilled by using a fill adapter (be aware that this accessory doesn't come included) is a very easy task.
MAINTENANCE
Now, when it comes to the micro-torch's maintenance, just like using this micro-torch is easy, so is maintaining the unit on its best shape.
As this micro-torch works based on its included disposable lighter, it thanks to that same lighter that this micro-torch gets its lifespan increased by up to 60% when compared to other micro-torch models out there.
As such, you can combine both the SOTO Pocket Torch and its included disposable lighter and turn that same standard lighter to a strong and wind-resistant burner.
As mentioned before, once the micro-torch is out of fuel, literally all that you have to do is to refill its included cartridge (meaning its disposable lighter).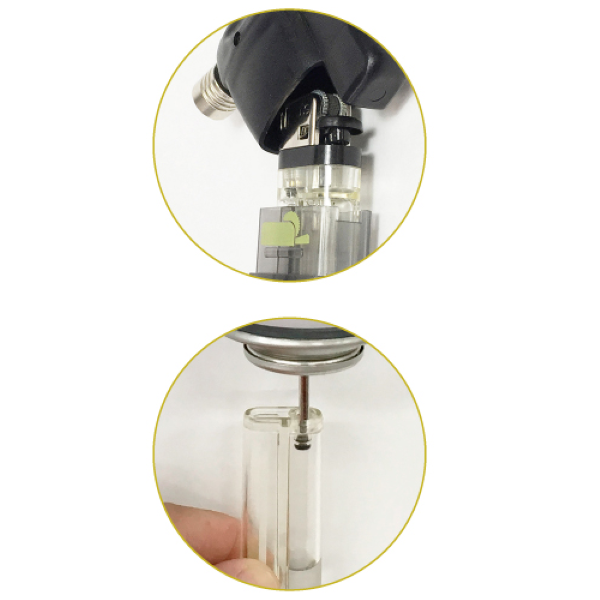 However, be aware that if you want the SOTO Pocket Torch to last you a long while (meaning for at least 10 years or more), remember to not refill its included disposable lighter with the cheaper-priced white label fuel (the cheap Chinese-made butane/fuel) that's commonly found in standard replacement lighters, or the micro-torch will ultimately end up getting its burner tip clogged up at a very quick pace.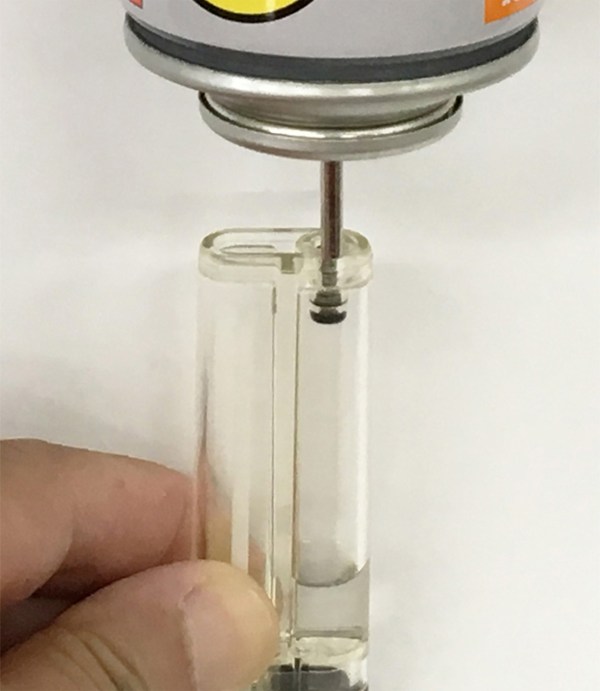 That being said, as long as you don't buy cheap fuel products to refill the micro-torch's disposable lighter, you're all good to go.
FINAL THOUGHTS
The SOTO Pocket Torch is a portable and reliable micro-torch that can produce a strong usable flame for starting a fire or finishing a Home Project / DIY Project.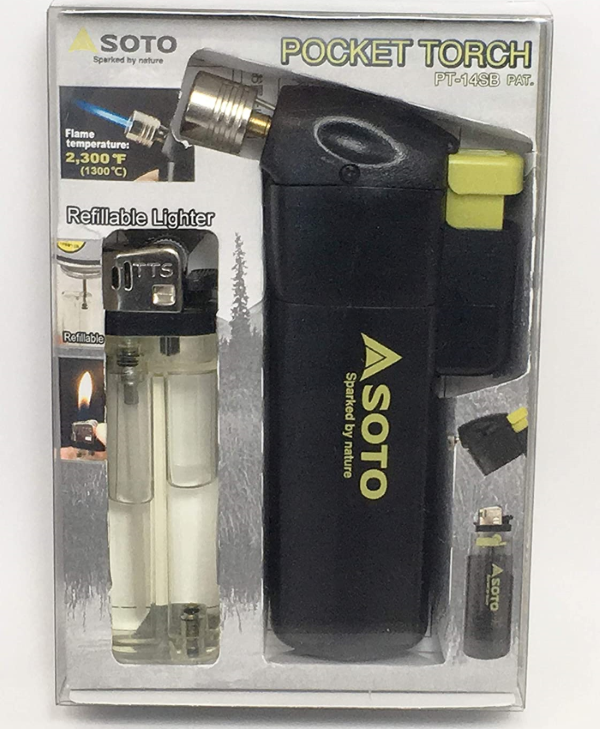 It can be easily used both outdoors and indoors. Overall, it's a great little fire-starting gadget to have around with on at all times so that you can easily have a reliable and easy-to-use fire source.
If you're interested in buying it, each unit is currently going for $20 only. You can order yours online right now, directly from SOTO Outdoors' official shopping page, which you can access by clicking this link.