Spinal health is a major dilemma that we've all face at some point in our lives within our modern society, and that goes especially for anyone that works at an office. While sedentary jobs like desk jobs are one of the main causes of getting stiff back muscles, you can also end up getting a sore back from facing the classic, yet demanding housework (i.e. completing house errands like cleaning, vacuuming, etc.). Lastly, one last very common spinal health problem is chronic back pain, which can be more commonly found among elders. However, in light of trying to solve all of these body health problems, top-ranked brand in massage and fitness equipment that's simply known as NAIPO decided to come up with a brand-new Health Gadget called the NAIPO oPillow.
The NAIPO oPillow is a compact, high-quality, versatile and customizable back massager that can be easily attached to pretty much any chair that you can think of. Whether that's a simple desk chair, a more ergonomic office chair, or even a gaming chair, the NAIPO oPillow's flexible design allows the pillow to easily be attached to any chair.
Not only that, but while its four centralized nodes move simultaneously to offer its users a deep kneading massage experience that greatly promotes muscle relaxation, the pillow's Innovative Heat Technology (its Heat Function/Mode) can be used to speed up a user's muscle recovery.
Basically, the company's brand-new and innovative NAIPO oPillow is a powerful and ingenious Health Gadget that completely rethinks all other pillow massagers that are currently available on the market. Because of that, this is the latest generation of massager technology that you can get right now.
Now, let's take a more detailed look at the NAIPO oPillow's design and also check everything that it has to offer its users.
DESIGN & SPECS
Starting with the oPillow's size, this Pillow Back Massager features a very compact and ultra-slim design. As such, the entire pillow measures just 12.20 inches long by 7.67 inches wide by 4.13 inches thick (tall) (or 310 x 195 x 105 mm).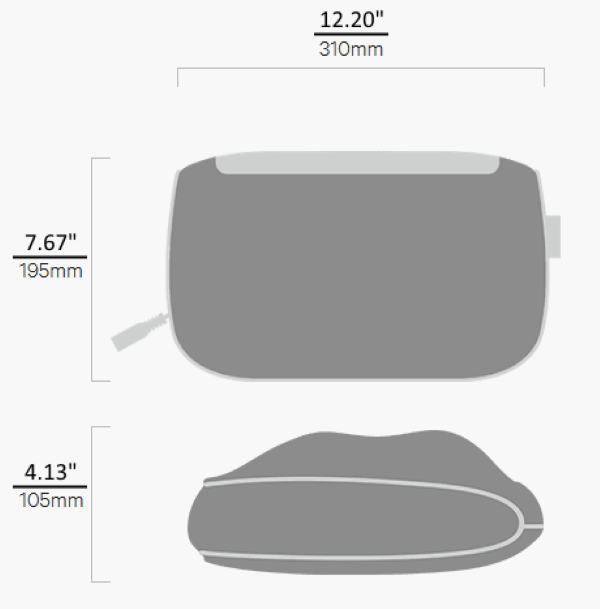 Thanks to its compact size and ultra-portable design, you can easily carry the NAIPO oPillow with you wherever you go next. No matter if you are starting your morning and heading to the office or going back home after a long day of work, bringing the oPillow with you back and forth is a piece of cake.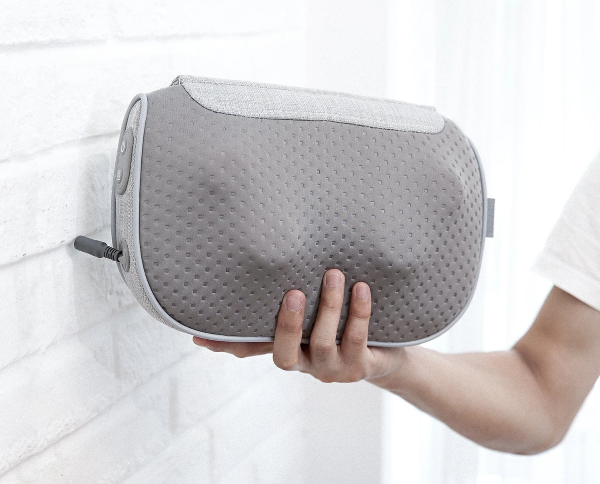 Furthermore, since the entire pillow is also made of premium wear-resistant materials, this not only makes the oPillow very lightweight and ultra-soft to touch, but also extremely comfortable as well as ultra-durable.
The unit's internal components (meaning its soft foam and its four centralized massaging nodes) are protected by two skin-friendly protection layers. These two durable support layers consist of a weather-resistant layer on the outer side, and a second breathable air layer under that first one.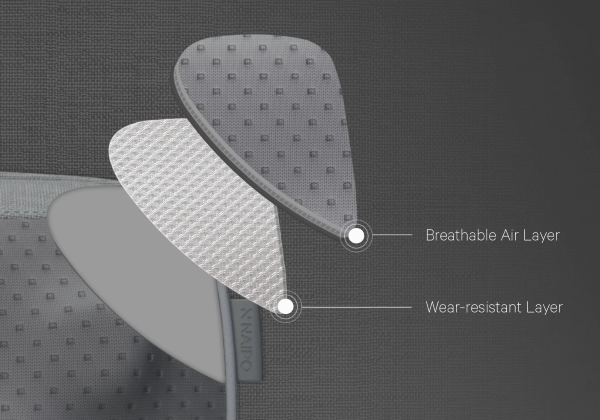 By having both layers combined, users are ensured to be able to transport their pillow between their home and their office place without ever having to worry about whether or not it's going to rain that day. Furthermore, these two layers ensure that you can always sit as comfy as ever when having the pillow's surface in contact with your skin.
However, it doesn't end here with just a simple pillow. While the NAIPO oPillow is actually what works as a back massager, the pillow unit itself also comes accompanied by its proprietary Adaptable and Adhesive Cushion Attachment.
This secondary attachment ultimately allows users to easily install the oPillow on pretty much any chair that you can think of (as mentioned before). This includes literally any type of chair, such as simple desk chairs, more ergonomic office chairs (the high-budget ones), or even gaming chairs.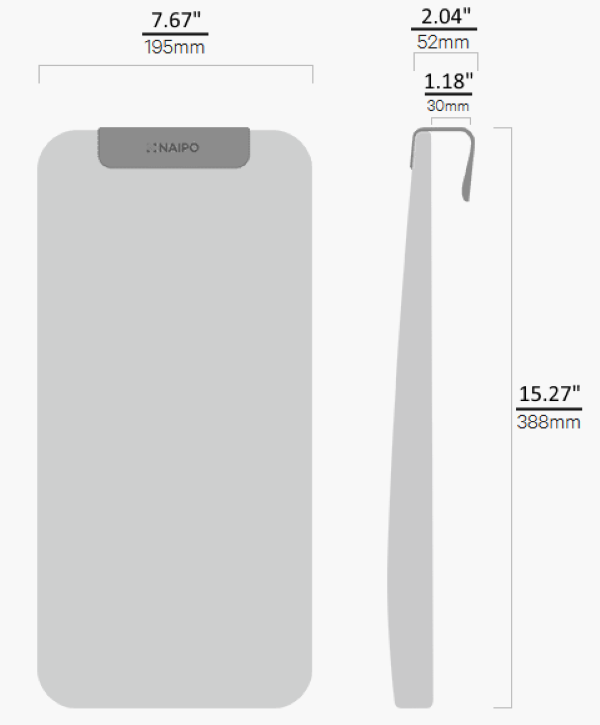 The oPillow's Adaptable and Adhesive Cushion Attachment measures exactly 15.27 inches long by 7.67 inches wide by just 2.04 inches thick (388 x 195 x 52 mm). As such, just like the pillow itself, the pillow's Cushion Attachment also features an ultra-compact and sleek design that makes it easy for users to carry it around.
Furthermore, this attachment was carefully designed to work perfectly for any chair that you decide to use the NAIPO oPillow with. While the attachment's hook top-part makes it very quick as well as super-easy to apply the oPillow's Adaptable and Adhesive Cushion Attachment to most office chairs, the attachment's curved design strategically helps to support a user's lumbar spine curvature with ease.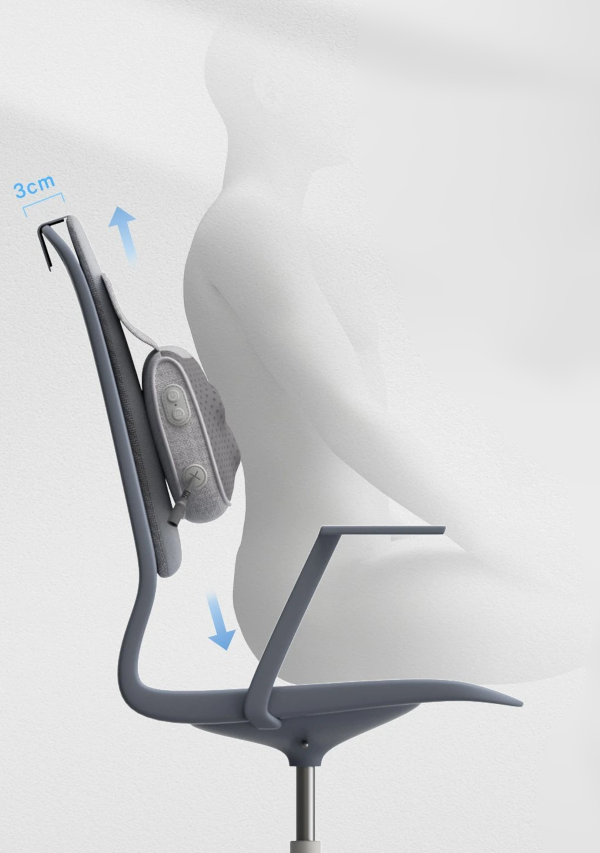 Lastly, the oPillow's Adaptable and Adhesive Cushion Attachment also integrates an outer adhesive layer that makes it easy for users to attach the NAIPO oPillow to its proprietary attachment. This adhesive material is of very high-quality, so you can really expect for your oPillow Back Massager to stick to it with ease and stay attached to it without ever falling off.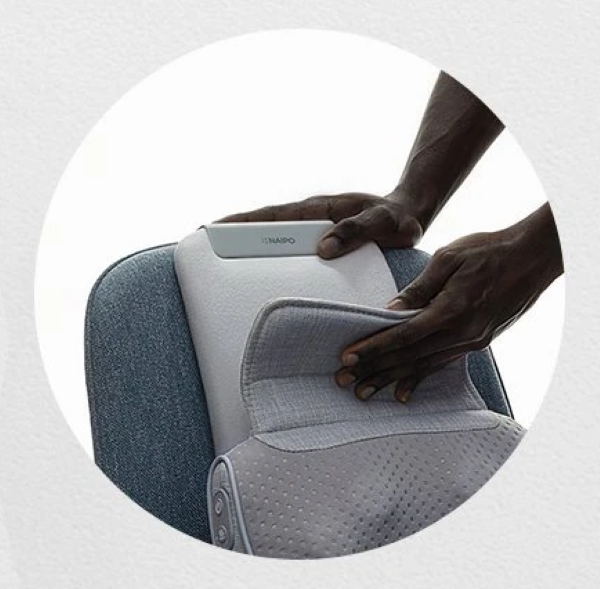 HOW TO USE / INSTALL IN A CHAIR?
Since the oPillow is the latest Health Gadget in the popular O Series of massagers from NAIPO, it comes equipped with the latest generation of massager technology that's currently available.
Thanks to that, whether you're still working at home or in the office, you can quickly and easily install the oPillow into your desk chair and let it go to work so that you can both take care of as well as avoid any back aches that you potentially might get and have to deal with within a long day of sitting throughout your office/desk work.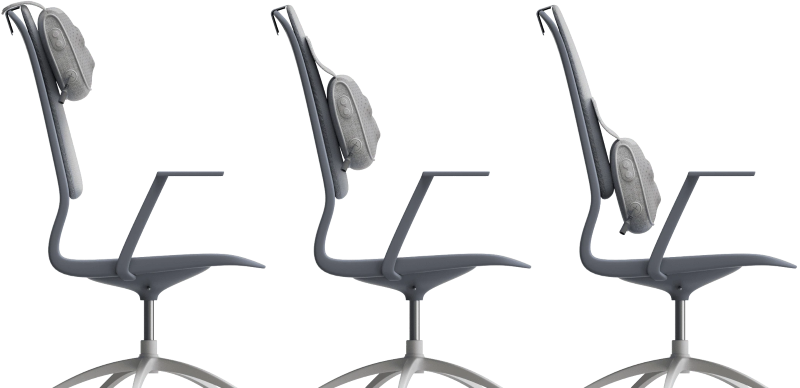 Since the oPillow's Adaptable and Adhesive Cushion Attachment fully integrates a ultra high-quality outer adhesive layer, users can choose to install the NAIPO oPillow anywhere within their chair's back support. That includes installing the oPillow at the very top of their chair's back support, at the very middle, or even at the bottom.
THE PILLOW'S FOUR MASSAGE NODES (Massage Mode)
As mentioned before, the oPillow also comes equipped with four centralized massaging nodes which move simultaneously by creating a rotational movement that reproduces the feel of an in-person massage.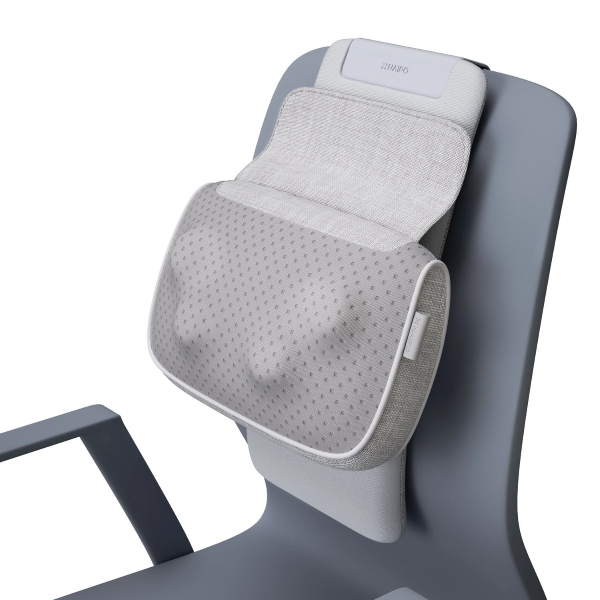 The nodes circular massage movement is based on Palm Pressure Therapy and by adding pressure to targeted regions of your body that might be suffering from muscle pain, the NAIPO oPillow can accurately re-create the same type of deep-keading massage experience that you'd get from a normal Palm Pressure Therapy massage session from a professional massage therapist.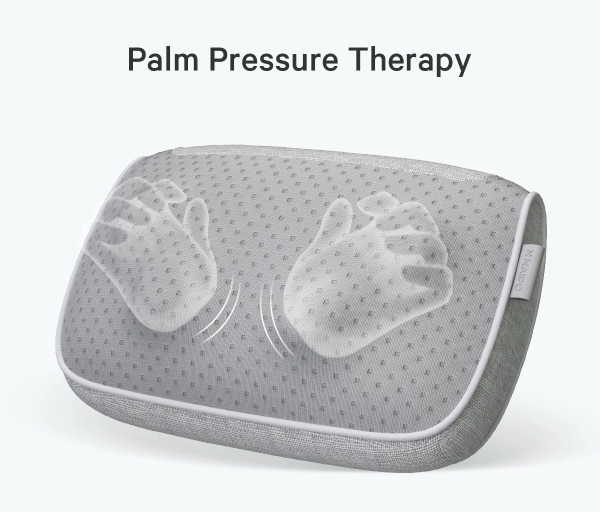 While the pillow's four nodes' rotational movement allows the device to reproduce the feel of a professional massage, the unit's advanced smart controls allow you to fully-personalize your massage experience so that you can perfectly target the right spot with each and every single use. Thanks to that, the oPillow's Massage Mode can ultimately be used to relieve aches, knots and muscle tension, as well as to promote muscle relaxation.
INNOVATIVE HEAT TECHNOLOGY (Heating Mode)
In addition to its Massage Mode, which perfectly reproduces Palm Pressure Therapy, users are also offered a Heating Mode thanks to the oPillow's featured Innovative Heat Technology.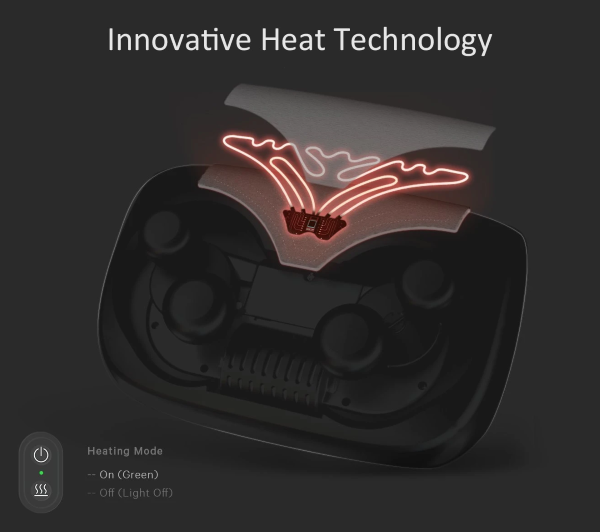 While the pillow's high-quality Heat-Resistant Outer Cotton Layer ensures that the device's heat emission is fully-controlled, the pillows Internal Constant-Temperature Heating Film provides users with a safe and warm massage in whatever part of their body their looking to target.
INTERFACE
The NAIPO oPillow Back Massager also features a very, very simple interface. Really, it couldn't be more simple and intuitive than what it already is.
At the top right side of the pillow you have a small vertical Control Panel that integrates a Power Button (at the top) and a Heat Mode Button (at the bottom).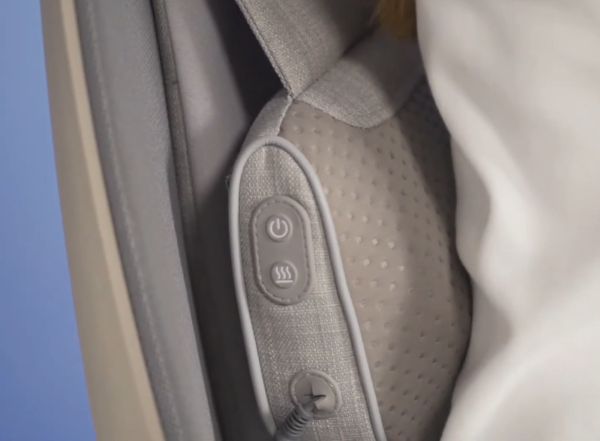 Under these two buttons we can find the unit's Power Adapter Port, which will obviously be connected to the pillow's included Wall Adapter / Power Cable.
Pressing the unit's Power Button turns on the device and starts its Massage Mode, while pressing its Heat Mode Button turns on the unit's Heating Mode.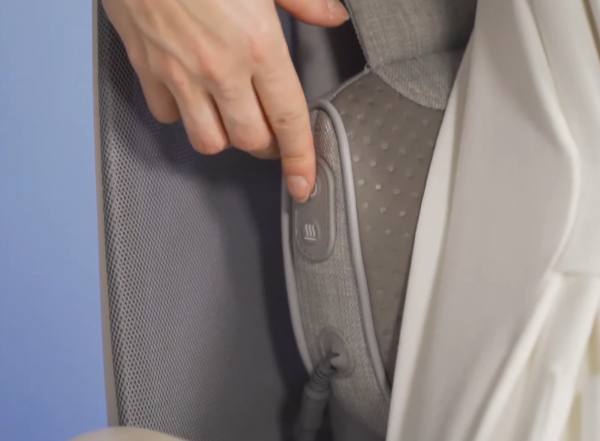 MAIN ADVANTAGES
By combining the NAIPO oPillow with its Adaptable Cushion Attachment, users are offered an ultra-versatile and customizable Health Solution that they can ultimately use to ease pain all over their body, including having the oPillow behind their necks or under their calves while lying down to respectively ease neck pain or calf pain or installing the oPillow on their office chair to ease back and/or waist pain.

Using the oPillow while having it installed on a chair allows you to get an awesome Back Massage, while contrarily to that, using it under your neck and/or calves while you're lying down allows you to respectively get a really nice Neck or Calves Massage.
Thanks to the oPillow's Arc Design, perfectly fits 35º~45º Spinal Cervical Curves (for the Neck Massage Case) and also allows the pillow to perfectly sit under your calves and accurately and deeply massage your calf muscles to their core.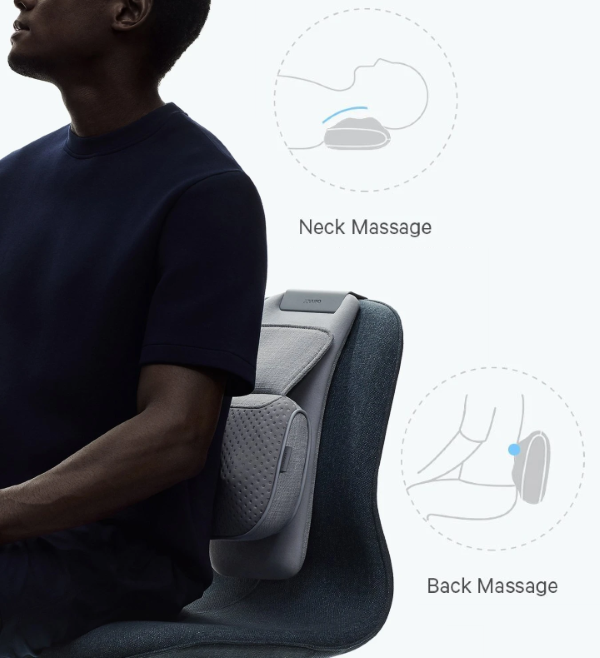 Ultimately, the oPillow combines multiple functions to offer you the best possible massage at any time and any place, and thanks to that, this innovative Health Gadget is perfectly able of treating any sore muscles and/or muscle pain within your neck, back, waist and calves. As such, the oPillow is equally effective for standalone use or for targeting multiple areas on the same day.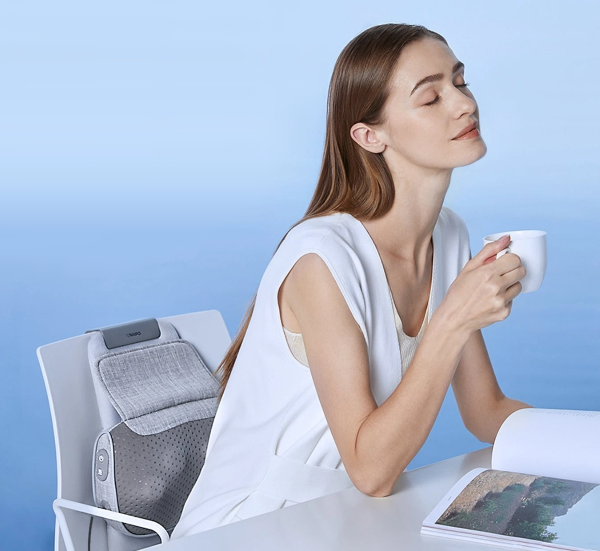 WHAT'S IN THE BOX?
Inside each package users will find: their NAIPO oPillow Back Massager, the unit's proprietary Adaptable and Adhesive Cushion Attachment, and one included Wall Adapter, which is used to power the unit.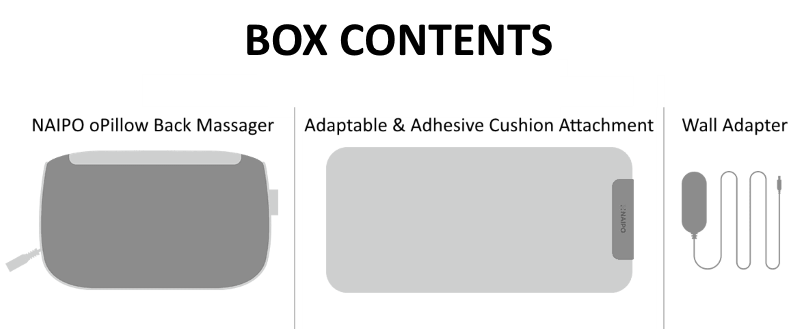 FINAL THOUGHTS
The NAIPO oPillow is a compact, versatile and customizable back massager that can be attached to any chair, and it features both a Massage Mode and a Heating Mode.
It can either be installed on chairs or simply placed under your neck or calves while you're lying down, and it's perfect to get a nice heated or non-heated massage to get rid of any soreness and/or muscle pain within your back, waist, neck, and/or calves.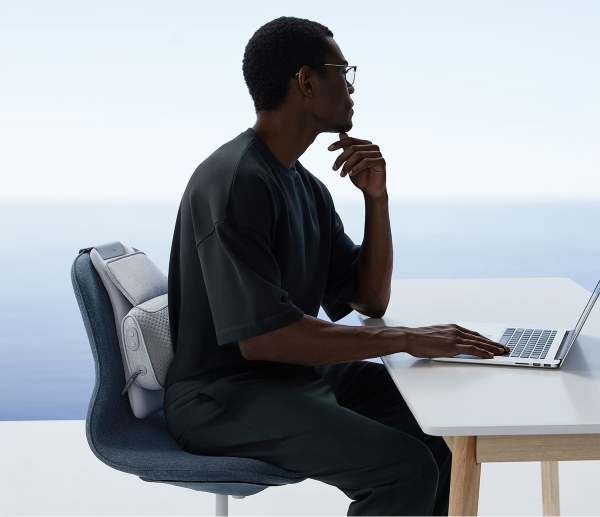 Thanks to that, instead of having to schedule an appointment with a masseuse, by having a NAIPO oPillow around you can quickly take care of any muscle soreness problems that are commonly associated with the long hours of having to sit at an office chair.
If you're interested in buying it, know that you can already pre-order the NAIPO oPillow for just $40, which is exactly 33% OFF of its future retail price (which will be $60 total in the nearby future). While every purchase gets a 2-year Warranty, pre-ordering the oPillow right now will get you an additional bonus of an extra 1-year Warranty, thus accounting for a total of a 3-Year Warranty Period.
You can pre-order your oPillow online right now, directly from NAIPO's official shopping page, which you can access by clicking here.