Unlike window, through-the-wall, or central air conditioning units, portable air conditioners are mobile AC units that do not require a permanent installation. Furthermore, portable ACs are also relatively lightweight, only measure around 28″ to 34″ tall, and even come equipped with durable caster wheels for easy portability. Ultimately, portable air conditioners allow homeowners to cool the temperature of one room at a time (or more rooms with multiple units), and thanks to their portability, its quite easy to change these units from room to room when needed. In the long run, this ends up making portable AC units much more affordable to chill an entire house than having to install one wall-mounted AC unit per each room. This brings us to the Honeywell Zeta Personal Air Cooler.
The Honeywell Zeta is a 3-in-1 personal and portable AC unit that works as an evaporative air cooler, as a fan and as a humidifier. Ultimately, this brand-new personal air cooler is the best-in-class across three dimensions different dimensions.
Not only does it feature a stronger airflow that can cool you down faster than conventional tabletop air coolers, but it can also work at a further air distance than any other standard air cooler model that's currently available, allowing you to feel its refreshing breeze up to 15-feet away.
Lastly, the Zeta Personal Air Cooler by Honeywell even comes equipped with a bigger tank than most other personal air coolers that are currently available on the market, and thanks to that, users can ultimately get up to 10 hours of cool air on a full water tank.
Now, let's take a more detailed look at the Honeywell Zeta and check just about everything that this 3-in-1 Personal Air Cooler, Fan, and Humidifier has to offer.
DESIGN & SPECS
Starting with the portable personal air cooler's unit's size, the Honeywell Zeta measures exactly 7.9 inches long by 8.7 inches wide by 12.2 inches tall, making it one of the most compact portable air cooler units that you'll be able to currently find available on the market.
Furthermore, its compact, ultra-sleek and very slim table-top design also make the unit quite portable, as it weighs just a measly 6.6 lbs. (2.99 kg).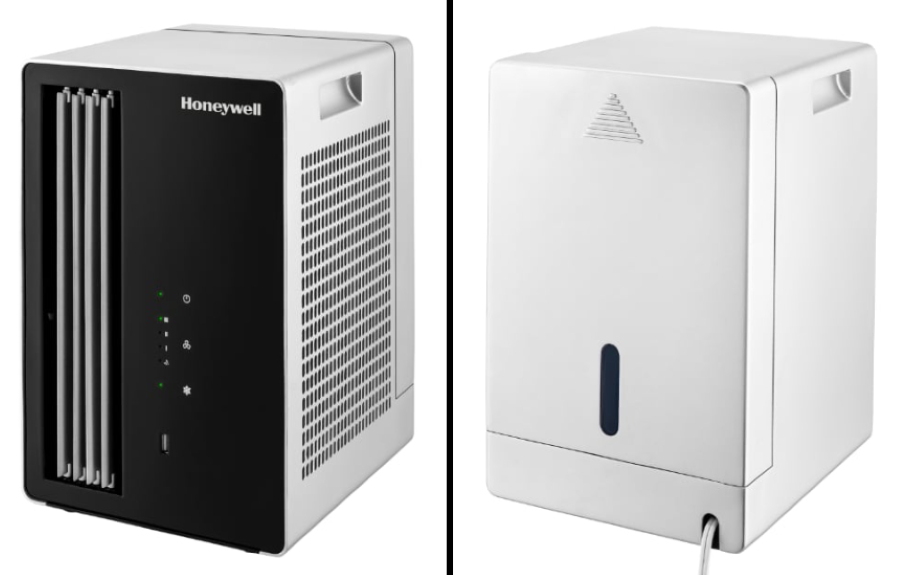 Additionally, this portable 3-in-1 air cooler also comes equipped with a Noise Reducing Absorption Base and a set of four (x4) highly-durable feet that can ultimately keep the unit extremely stable during its use while also preventing it from sliding away when moving objects around it.
This portable air cooler also comes equipped with two easy-to-grip Carrying Handles at each side of the unit (close to the top) as well as a Removable Dust Guard, and even features Adjustable Louvers that can be slightly readjusted. The Zeta also comes equipped with a large Detachable Water Tank that features a Maximum water Capacity of exactly 0.5 gallons (1.89 L).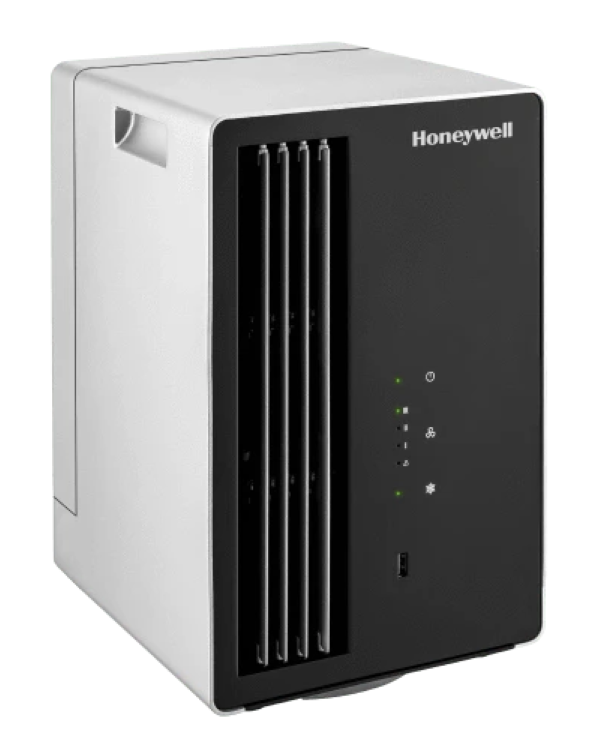 As this portable air cooler is electric powered, it also features a Amperage of 0.7 A and a Voltage of 110V-120V at a 60Hz Frequency during its operation, with a Noise Level of exactly 47.3 dBA. As such, this portable air cooler model is actually quite silent during its use.
Not only that, but thanks to its compact size, users can easily save up on the energy spent to refresh their rooms within their house. As such, it's worth to mention that the Honeywell Zeta only consumes around 50 watts, which in fact, is less than a light bulb.
Thanks to that, users can save on the electricity bills by moving the ZETA around with them from room to room, like using it at the home office while their doing some desk work and then moving it to kitchen to refresh the room while their cooking a fresh, hot meal, or ultimately, to the back patio during a hot summer day.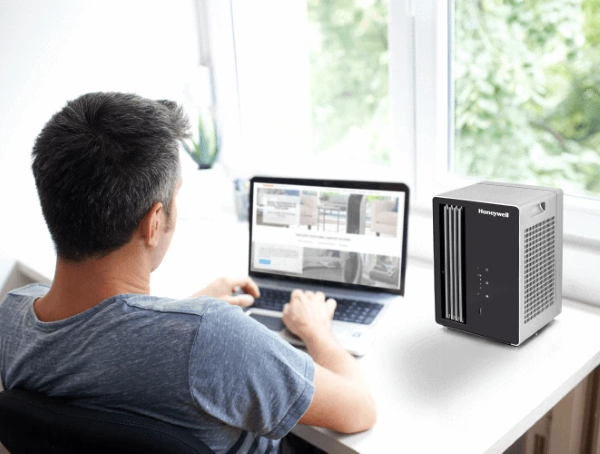 Furthermore, this model also features a Safety System that offers its users a Heat Protection Safety Feature, which works for both the air cooler's motor and pump. As mentioned before, the Honeywell Zeta 3-in-1 Personal Air Cooler features a Full Tank Run Time of exactly 10 hours.
Right under its high-quality and ultra-durable Dust Guard, the Honeywell Zeta 3-in-1 Personal Air Cooler also comes equipped with Honeycomb Cooling Pads, which come with an Antibacterial Treatment that ultimately makes them up to 99% effective in killing certain types of bacteria through 48 hours of continuous use.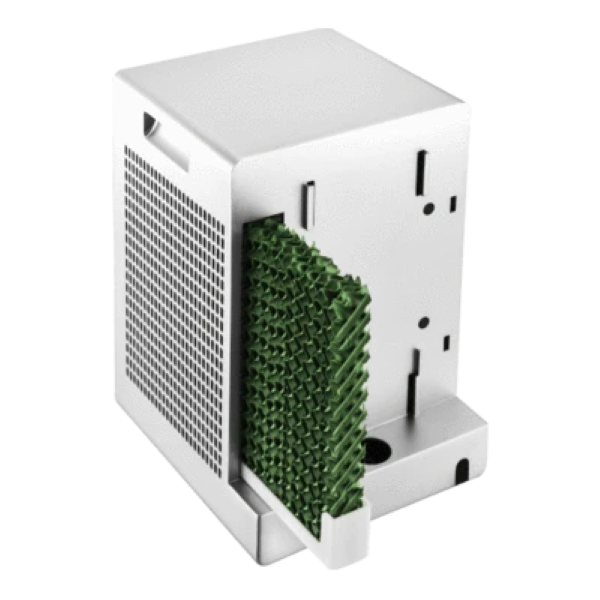 Furthermore, these Honeycomb Cooling Pads are made from composite fibers and feature a unique beehive design that ultimately allows the air cooler to retain more water than standard air cooler models, thus offering an unrivaled cooling experience.
The Fans & Fan Only Mode
Since the Honeywell Zeta is a 3-in-1 Personal Air Cooler, Fan and Humidifier, this portable air cooler also comes equipped with a powerful high speed blower that can offer a powerful air flow that can cover exactly 173 CFM (cubic feet per minute) to produce up to 9.8 ft. of airflow.
Thanks to that, this portable air cooler can offer its users a Maximum Coverage Area of 60 sq. ft and up to 15ºF of temperature reduction.
As mentioned before, you can use this compact and portable air cooler to easily create a large personal cooling area within whatever room your currently at so that you can feel the cooler's refreshing breeze from up to 15-feet away, which ultimately makes it perfect for any larger rooms, even when having the unit standing at the center of a living room.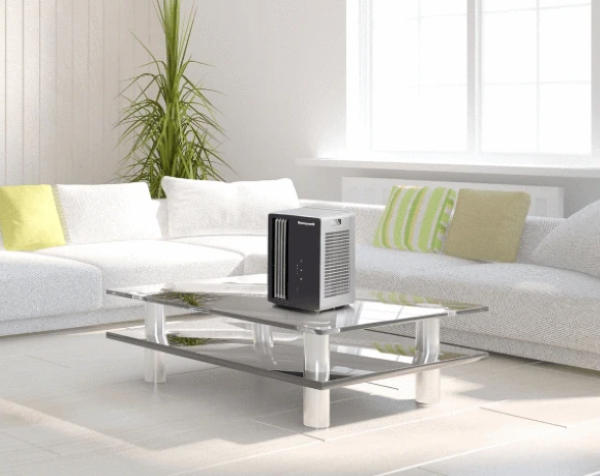 When using this portable AC unit in its Fan Only Mode, users can set the unit to work with one of three (x3) different Fan Speeds, (Low, Medium, and High) and that can be done via the unit's interface, where you'll find its soft-touch digital / electronic controls.
INTERFACE
Speaking of interface, both the air cooler's Digital LED Display as well as its Control Panel (which incorporates the cooler's previously mentioned soft-touch digital / electronic controls) can be found right at the center of the unit.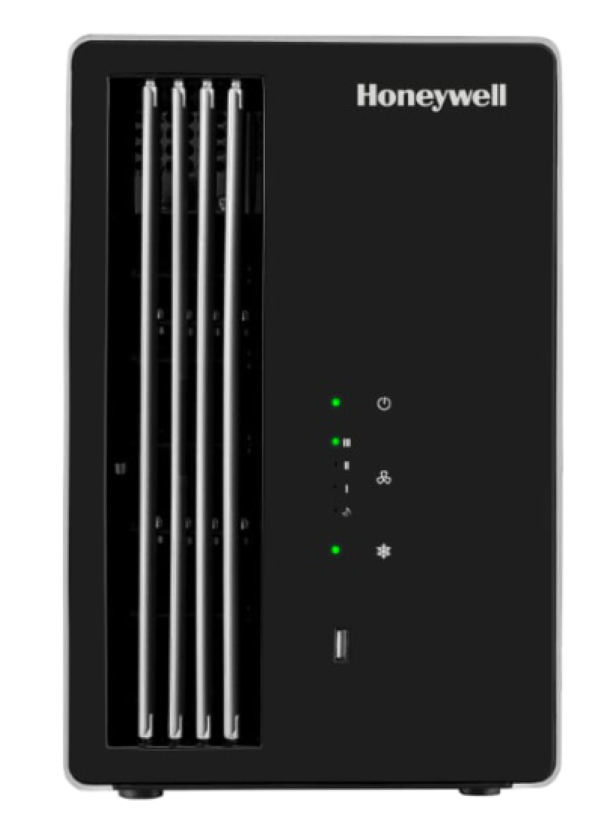 The unit's interface is very simple, which makes it super intuitive to use.
It's also worth to mention that this portable air cooler also features a USB 2.0A Charging Port that makes it super convenient to easily recharge any of your USB-enabled devices, including both Smartphones and Tablets.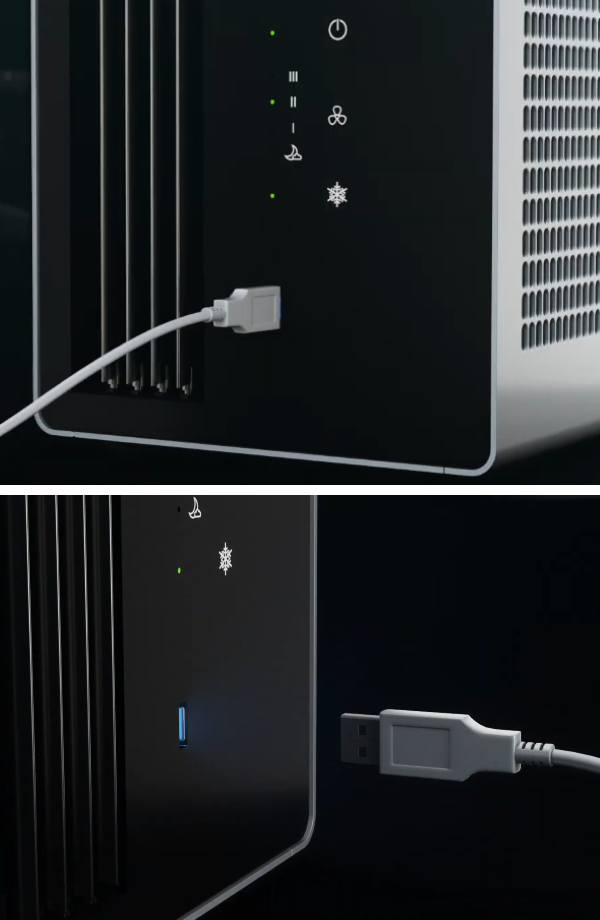 WHAT'S IN THE BOX?
Inside each package users will find: their Honeywell Evaporative Air Cooler (Model Nr. #DCS2AE) and the product's included User Manual, as well as its Warranty Guide.
OTHER NOTABLE FEATURES
Sleep Mode
The Honeywell Zeta 3-in-1 Personal Air Cooler also features a Sleep Mode function, and this is an operation setting that's designed to optimize slumber, which ultimately allows users to have an easier time resting at night.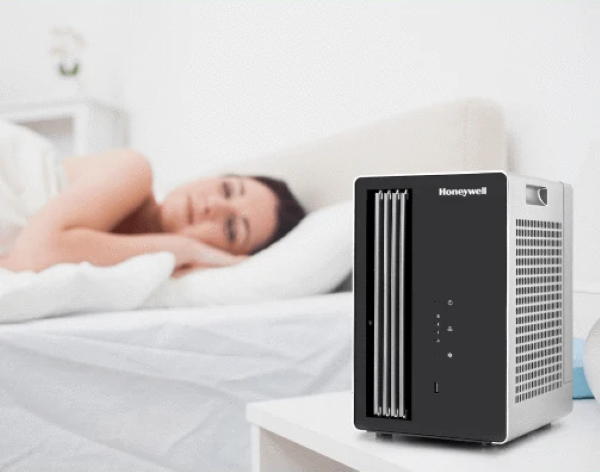 While the air cooler already consumes very little energy, its Sleep Mode ensures that it runs at even lower power, having the unit operating just a bit slower to make it a bit more quiet, which ultimately ensures that it can run for up to its maximum 10 hours of use without a refill.
FINAL THOUGHTS
The Honeywell Zeta is a 3-in-1 personal and portable AC unit that works as an evaporative air cooler, as a fan and as a humidifier, featuring up to 10 hours of run time, a Heat Protection Feature, and even a Sleep Mode.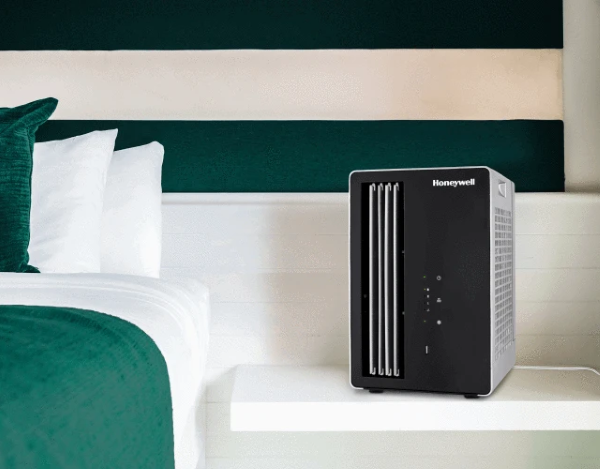 Overall, I really enjoy having this product around and using it to refresh whatever room I'm currently in. The cooler's compact design makes the entire unit extremely portable, and very, very easy to carry around from one room to another.
If you're interested in buying the Honeywell Zeta, each unit is currently going for $200, also is currently also coming with a 1-Year Limited Warranty. You can order yours online, directly from Honeywell's official online shopping page, which you can access by clicking this link.