Nowadays, getting healthy sleeping schedules can be a hard thing to achieve, especially when accounting for all the hours we spent staring at our smart devices' digital screens (including PCs, Smartphones, tablets, etc.). While exposure to all colors of light (the sunlight) can help you regulate your natural sleeping and waking up cycles (your body's circadian rhythm), our digital devices emit a blue light that can mess with your body's ability to prepare for sleep. That's because that blue light blocks a hormone called melatonin, which is exactly what makes you sleepy. Studies suggest that 60% of people spend more than 6 hours a day in front of a digital device, and that goes both for younger (teens and "Millennials") as well as older generations. However, while our digital devices can be potentially disruptive for our body's circadian rhythm, there's a gadget out there that can be used to help you relax during your sleep time so that you can start getting a perfect night's sleep each and every single night. Meet the Somnox Sleep Robot
The Somnox Sleep Robot is a Robotic Stress Reliever and Sleeping Aid Device that can be used to guide a user towards relaxation while also improving the person's sleep by simply slowing down their breathing.
Basically, this little fuzzy robot promises to help its users to fall asleep quicker, as well as sleep more deeply, and even wake up more refreshed by using sleep science and effective relaxation techniques, but the best part is that literally all a user has to do is to simply cuddle with it.
All that makes the Somnox Sleep Robot the perfect solution for all your sleep problems, coming in one compact and easy-to-use product that can be used to ultimately achieve a healthy sleeping routine without the use of sleep medication. With it, you can easily achieve a more healthy sleep schedule to feel well-rested and revitalized throughout your daily routine each and every single day.
Now, let's take a more detailed look at the Somnox Sleep Robot and see exactly how its built and how it works.
DESIGN & SPECS
Starting with the Somnox Sleep Robot's size, the unit measures exactly 17.7 inches long by 9.5 inches wide by 8 inches tall (when having it standing horizontally flat).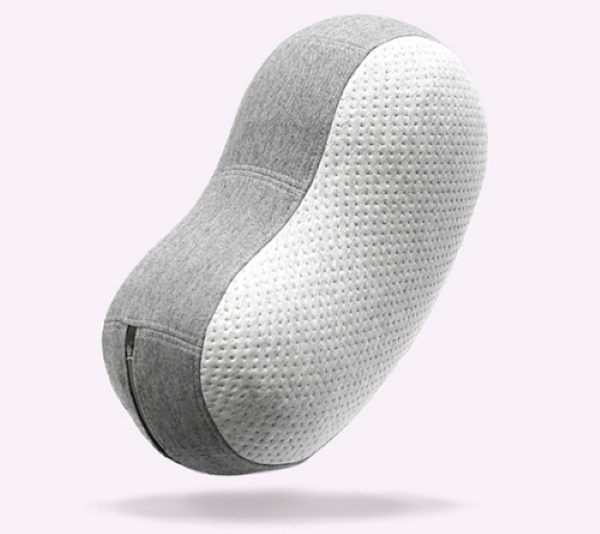 It's important to mention that while this kidney-shaped robotic sleep aid pillow / cushion device can trick you to thinking that it is quite lightweight due to its somewhat plushy and fluffy look, the Somnox actually weighs a total of 6.2 lbs., which is something that I really didn't expect.
However, by having a nice weight to it, the unit actually works a bit better to fulfill what it promises to deliver, as you'll have a slightly more bulky sleeping buddy / companion to hug during your sleep.
Furthermore, the unit's compact and kidney-shaped design also makes it ultra-portable. Thanks to the Somnox's small size, this sleep aid device is small enough to fit into your suitcase so that you can always get a good night's sleep, no matter where your daily schedule takes you next.
Moreover, the robot's ergonomic shape perfectly matches your body's shape so that you can more easily snug to it when you take it to bed with you, while its compact design makes it less intrusive within your bed space, and that goes especially for anyone that shares their bed with a partner.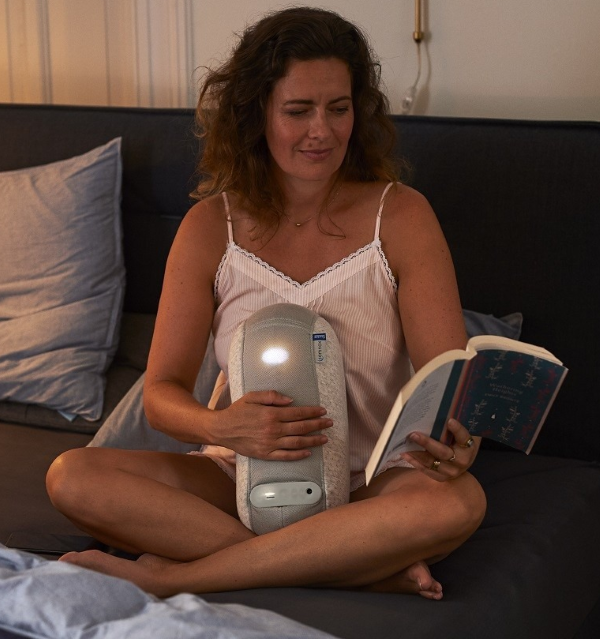 Thanks to that you can easily hug it to either relax, or ultimately, to get some nice quality sleep without having it become a nuisance within your sleeping space.
Additionally, the robot's soft and natural two-toned grey fabric material is very, very soft, which helps to provide its "sleepy" users with unmatched comfort during their sleepy time.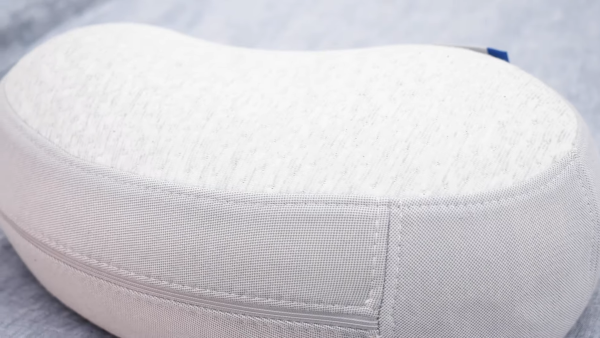 The unit's outer cover is made of a sustainable and recycled 'ticking' fabric that's commonly used in thousands and thousands of high-quality mattresses.
Moreover, the Somnox also comes with its own included Protective Grey Sleeve that's made from cotton and that's also completely machine washable.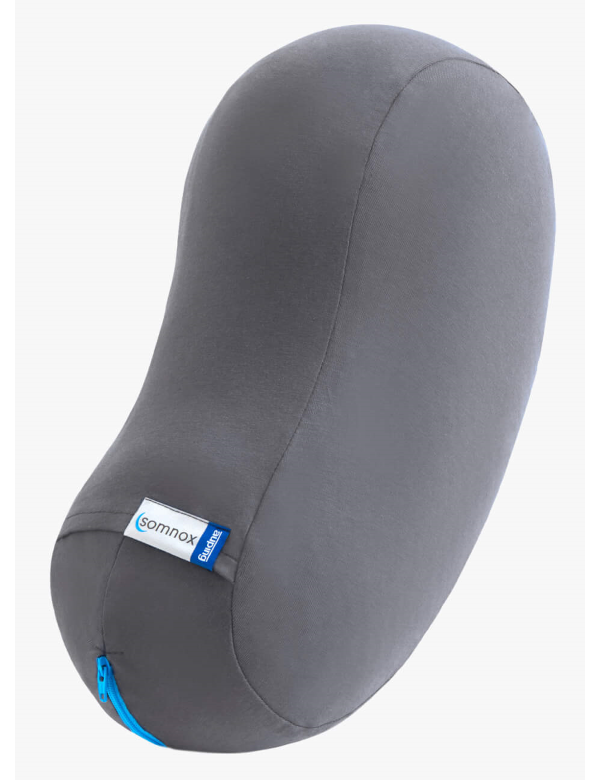 With it, you can easily keep the main unit perfectly clean and prevent it from ever getting dirty, and since it's so easy to install thanks to its cool-looking light-blue zipper, you can quickly put it on and off the robot.
Unziping the unit's main cover will allow you to see the unit's hidden inside, where you'll find a thick layer of high-quality memory foam that surrounds the robot's hard shell, which is located somewhat deep beneath all that foam.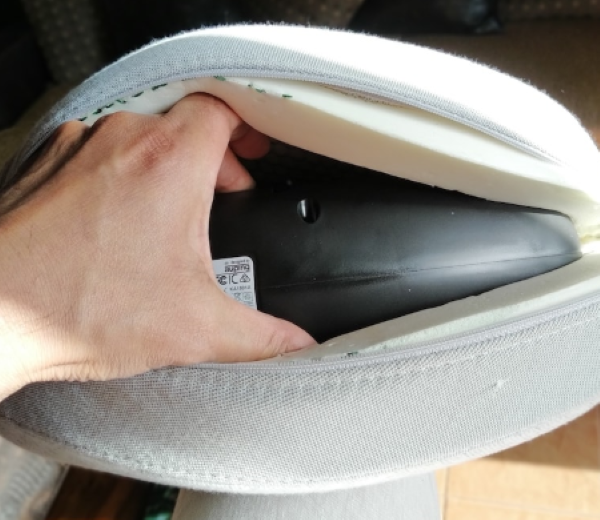 The robot's large black bean shaped shell contains all of its mechanical and electronic components, and these are what consist of the clever proprietary technology that sets the Somnox apart from other sleeping devices.
HOW DOES THE SOMNOX SLEEP ROBOT WORK?
As these are hectic times that we live in, with ultra-busy daily routines, it is no longer enough to simply pull up the covers, close your eyes, and wake up eight hours later.
Just like other sleeping aid gadgets in the category of sleep tech, the Somnox makes us understand that we could all afford to improve our sleep quality and sleeping routines. However, unlike other sleeping aid gadgets out there like headbands that mess up with your brainwaves or mattresses that automatically regulate their temperature throughout the night, the Somnox Sleep Robot offers its solution with minimal intervention.
The Somnox works in a very simple manner, and that's by simulating a user's breathing rhythm. Because your breathing naturally adjusts to another breathing pattern, this robotic sleep aid device is able to slow down your own breathing as you hug it, and that ultimately allows you to feel more relaxed which then in turn makes it easier for you to fall asleep.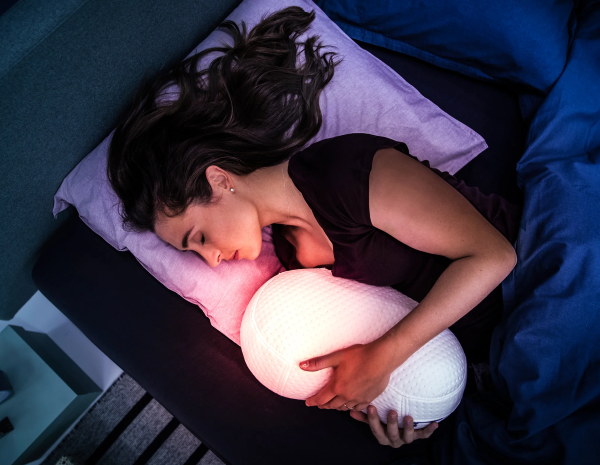 As such, all you have to do to use it before you go to sleep is to simply turn on the device, hold it against your chest, and snuggle with the Somnox to relax yourself to a deep and relaxed sleep state.
Additionally, the Sleep Robot can also function as an external point to focus your thoughts on as well as to clear your head of unwanted thoughts and stress. Lastly, the unit can also play some very soothing sounds that are used to help you fall asleep, and those sounds will always turn off automatically as soon as you are asleep.
You can also customize the robot with your personal preferences by using the Somnox's proprietary Smartphone Companion App (the Somnox App – discussed at the end of the article) to ensure that you get a tailored approach to a good night's rest.
INTERFACE
Moving on to the Somnox's interface, the Somnox features a very minimalist interface that's very intuitive to use.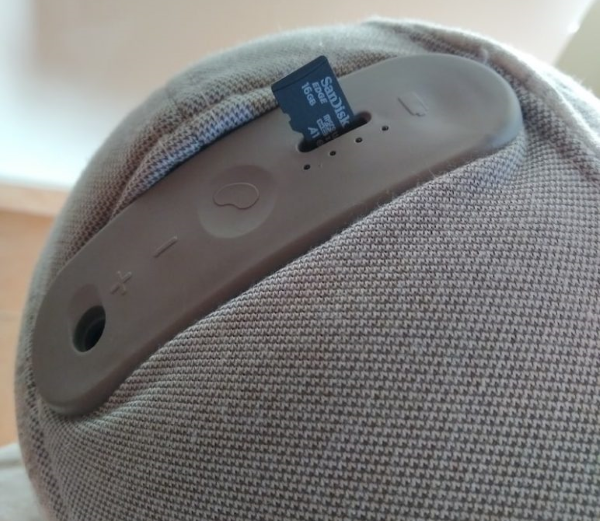 Starting from the left side of the unit and going all the way to the right, the first thing you'll find is a micro-SD memory card slot. Above that same micro-SD slot, there are a few LED Lights that consist of four small status LEDs to display the unit's battery-status.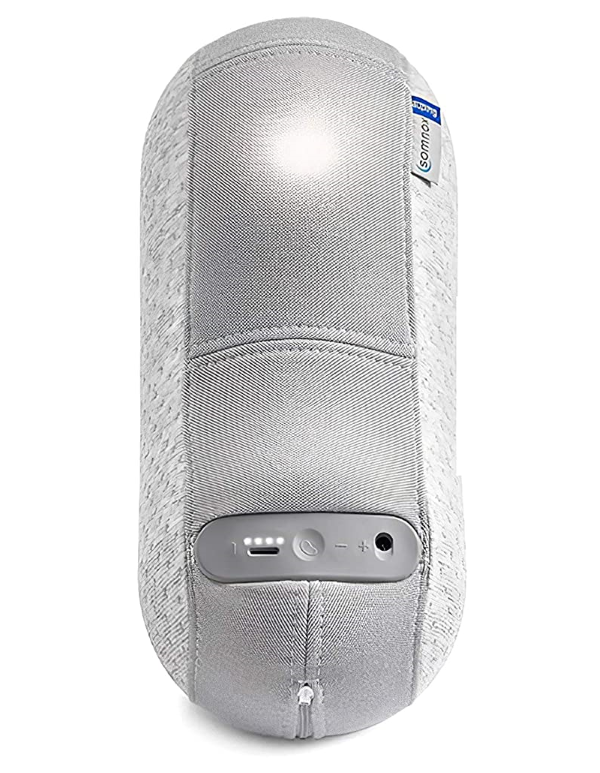 Then, further to the right, you'll notice an On/Off button, as well as some simple and easy-use-to-use quick-touch Volume Buttons to increase and decrease the unit's reproduced soothing sounds, and these Volume Controls also double up as Skip / Rewind Buttons for those same soothing sounds.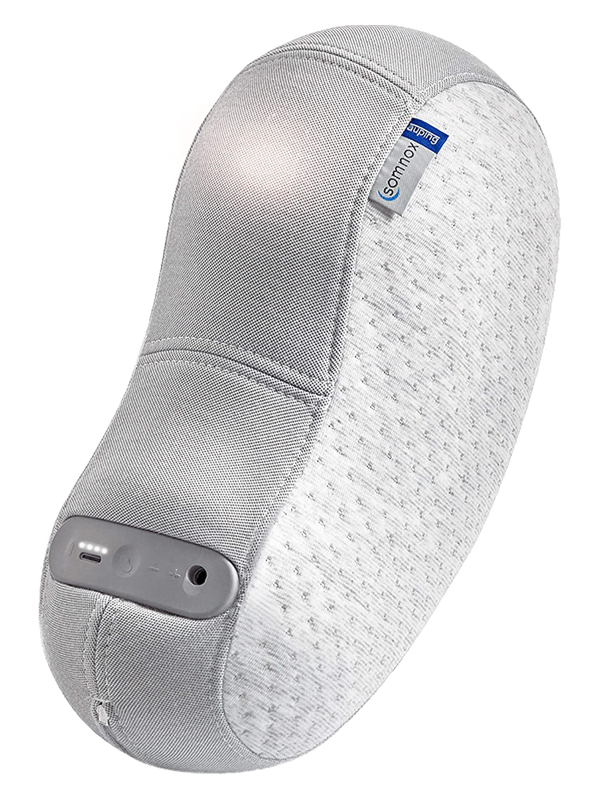 Then, reaching the end of the unit's Control Panel, right at the right side of it, there's only one single connection port, which is a DC power socket that unfortunately is not a USB connector, and that's most likely because the unit's breathing motor is more power hungry than most other sleeping aid gadgets out there.
This DC power socket is used to recharge the unit's built-in battery.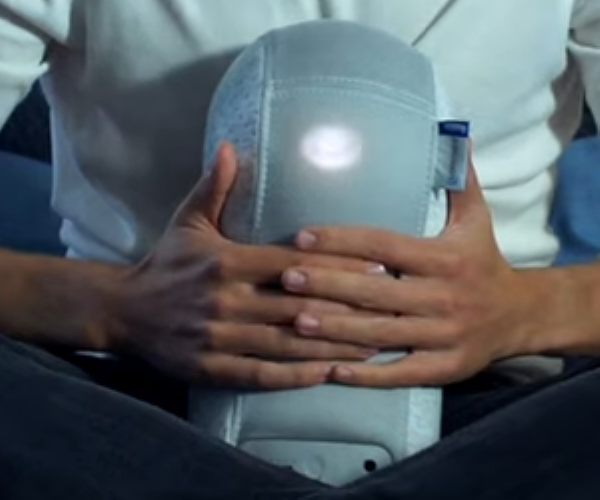 Lastly, at the top of the unit users will find the robot's larger built-in Pulsating "Heartbeat" LED Light, which is activated in perfect synchrony with the robot's breathing rate.
CONNECTIVITY AND COMPATIBILITY
Since the Somnox Sleep Robot also features Bluetooth Connectivity (Bluetooth 4.0 Low Energy), that also makes this sleeping aid device fully compatible with both iOS and Android devices.
BATTERY & BATTERY LIFE
As mentioned a bit before, the Somnox Sleep Robot also comes equipped with a built-in rechargeable battery, which is what powers up the robot's "breathing" motor.
This is a built-in Li-ion 2900mAh rechargeable battery that can offer up to around 10 hours of battery life (with the robot's in-out breathing settings set to a 1:1 rating).
By conneting the robot's included power adapter to its DC power socket, you can easily recharge the unit's internal battery, and that should take you around 3.5 hours of charging time.
WHAT'S IN THE BOX?
Inside each package user will find: their Somnox Sleep Robot, its included washable grey sleeve, one 16 GB micro-SD card, a power adapter / charger of your choice (depending on what part of the world you live in), and the unit's included Quick Start Guide.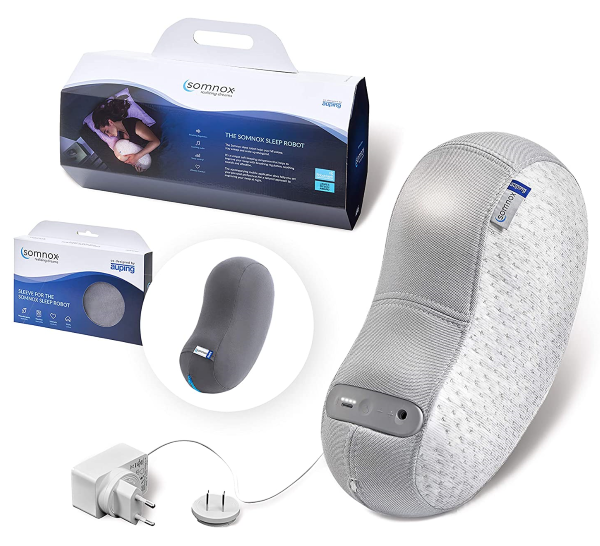 NOTABLE FEATURES
Fall Asleep Faster
Since the Somnox Sleep Robot can help you fall asleep faster by stimulating and regulating your breathing rhythm by having you slow down yours and mimic its own as well as reducing your heart rate and blood pressure for optimal hibernation, the Somnox is the perfect sleeping aid device to have at your bed with you when its time for you to go to rest.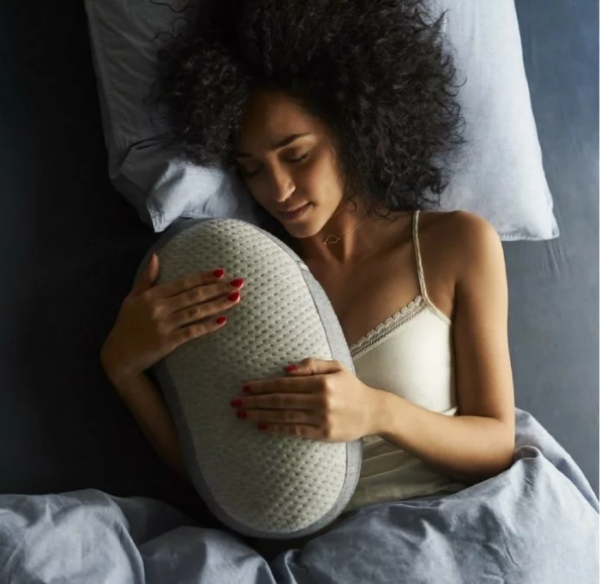 Relaxing & Soothing Noises for Longer Sleep Periods
At the same time, the robot also provides its users with very soothing / relaxing sounds, and that type of slow-paced and relaxing audio is scientifically proven to stop unwanted sleep disruptions.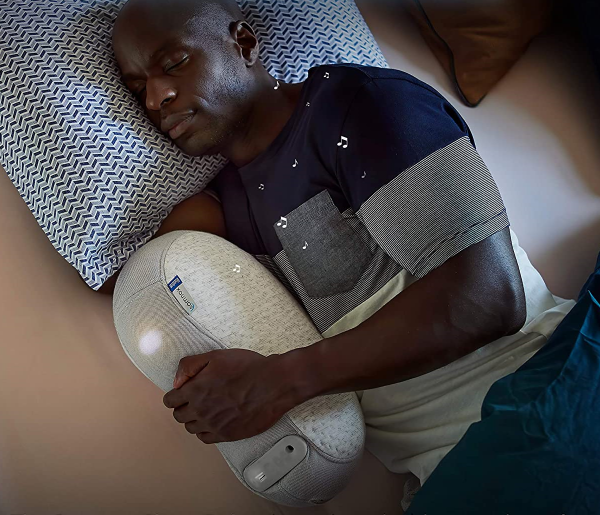 Thanks to that, you can easily get into a relaxation mode while listening to its reproduced slow-paced music, which is there to encourage each user into a semi-hypnotic or meditative state, and that can even help users to reduce their stress levels.
The soothing sounds include the sound of a slow-paced heartbeat, or ultimately, just a simple background white noise.
THE SMARTPHONE COMPANION APP – The Somnox App
As mentioned before, you can customize your unique sleep program by using the robot's proprietary Smartphone Companion App, which is simply called the Somnox App. The Somnox App is available to download for free for both iOS and Android devices.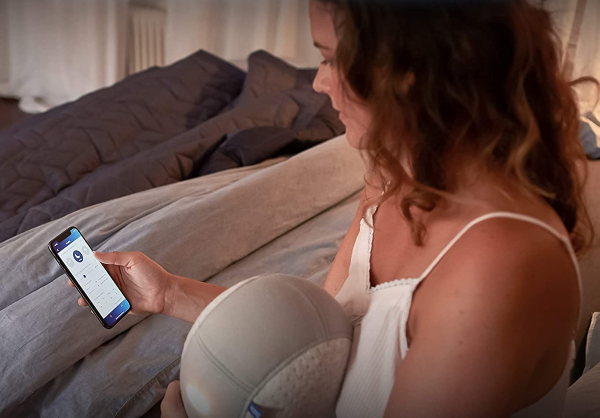 The App can ultimately be used to create your own breathing exercises for both relaxation as well as to have an easier time falling asleep at night.
Users can choose from a variety of breathing rhythms, as well as create their own relaxing audio playlists, and even listen to audiobooks or podcasts while using the robot's slow breathing pattern to simply relax throughout the day.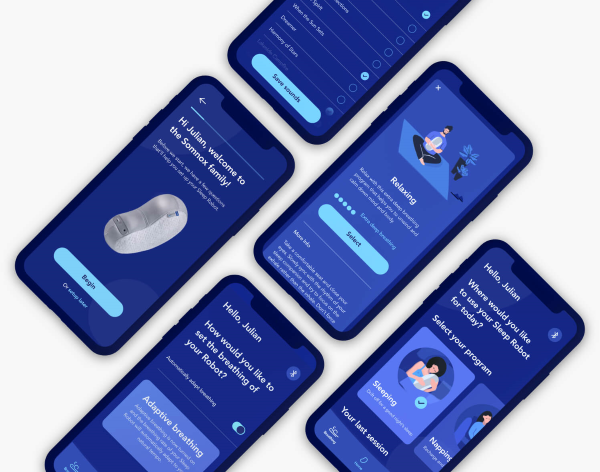 Specifically for the robot's customizable breathing rhythms,  there are a total of three different "breathing" programs that differ slightly from each other, and you should select the most suitable one for you according to whether you want to fall asleep, take a power nap, or pause during the day for a relaxation or a meditative moment.
While those three programs are similar to each other, the main difference between them is their differing breathing ratios for the robot's simulated inhalation and exhalation motions. Users can choose between a Sleep program with a featured 1:2 deep breathing ratio, a Nap program with a featured "calm breathing" inhalation and exhalation ratio of 1:1.5, or a Relaxation program that's based around "Extra deep breathing", which makes the robot's breathing patterns 2.5x longer than your inhalations.
FINAL THOUGHTS
The Somnox Sleep Robot is a Robotic Stress Reliever and Sleeping Aid Device that can be used to guide a user towards relaxation while also improving the person's sleep by simply slowing down their breathing.
This compact kidney-shaped robot can help you fall asleep quicker and sleep more deeply, and even wake up more refreshed by using sleep science and effective relaxation techniques.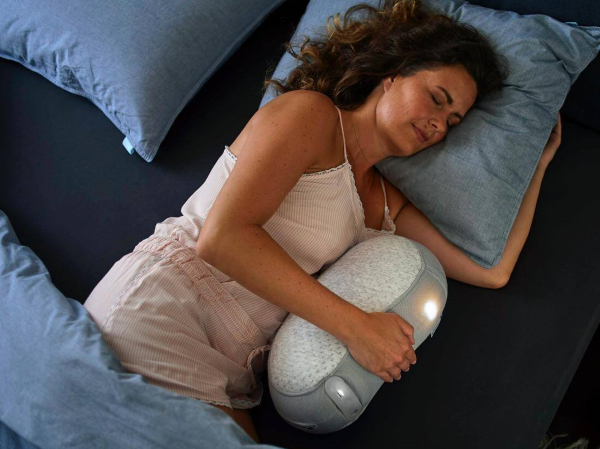 It's extremely easy to use as all you have to do is simply cuddle with it during your time sleeping at night. Overall, the Somnox Sleep Robot is a great solution for all your sleep problems, and it can be used to achieve a healthy sleeping routine without resorting to any sleep medication.
If you're interested in buying it, each unit is currently going for $600 and comes with a 30-Night Trial period, a 2-Year Warranty period, and included free shipping to both Europe and the US. You can order yours online right now, directly from the company's official shopping page, which you can access by clicking this link.