If you spend a lot of time at the desk, you know how important it is to have an ergonomically designed gaming setup!
You have to take care of your back, neck, hands, legs, and eyes. For all that, you'll obviously need a comfortable arrangement where you will never feel exhausted.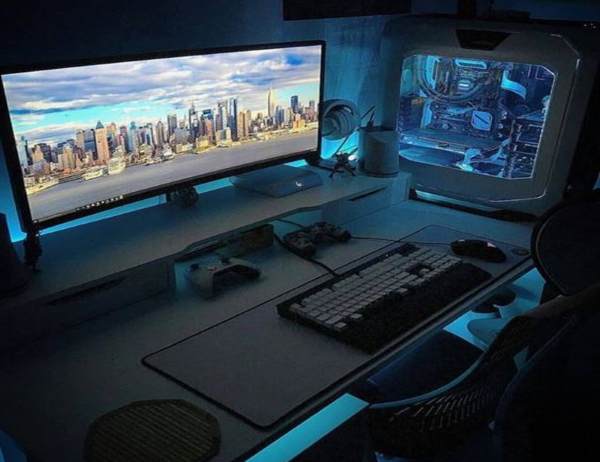 However, there are a lot of aspects to be considered while designing a proper PC setup, and both comfort and functionality are chief among them. Without further ado, lets discuss all of those aspects in detail.
Ergonomics of the Gaming Setup Matters
You should pay primary attention to the ergonomics of the system. Ergonomics is the science of enhancing human convenience and efficiency. A setup where you have to spend lots of time should be ergonomically correct in order to reduce the risk of any related health hazard. As far as the gaming set up is concerned, ergonomics decide how our physical existence interact with the technology. It's true that preference for a setup id different from one person to another but there are some common aspects as well that you cannot ignore. Above all, accessibility without triggering pains in the neck, back, and waist matters the most.
A Decent Gaming Setup
A gaming setup comprises of a gaming chair, a desk, a computer system, some chords with plug points for power supply to the computer system. Some avid gamers keep two monitors as well instead of one.
Gaming Chair – A gaming chair like Respawn are specially made keeping in mind the gamers. It allows you to sit and move with utmost comfort even when you are in the midst of excitement having no consciousness of the surrounding environment.
Though a gaming chair cannot ensure your win, it surely ensures the health of your spine and back muscles. As happens to every gamer, it's hard to fix the time while fighting a fierce battle or piloting an airplane or participating in a racing competition, you should invest in a comfortable and long-lasting gaming chair.
Gaming Table – It is feasible to buy a gaming desk only after buying other units like chairs and computer systems. The table needs to be adjustable with the chair and spacious enough to accommodate the computer system. A cup holder and a hole for managing the chords will be an added advantage. The table also needs to be adjustable to the room as well. You can choose a rectangular or L-shaped table as per the space available for the gaming system in the room.
Gaming Monitor – It needs your maximum attention like the chair. Your eyes will be fixed on it for hours. An ideal gaming monitor size is above 21.5 inches or more. Experienced gamers prefer 27 inch and even 31.5-inch monitors. Elevate the monitor to the height of your eyes.
Gaming Mouse and Keyboard – Gaming keyboard need not be a larger one but you must keep enough space for mouse movement. On the keyboard, you need some keys repetitively but in maximum games, the mouse plays a vital role.
Gaming Audio – Gamers want engaging audio. Many monitors are available with the in-built audio system but that might not be sufficient for a great gaming experience. In that case, you need an audio system. Once again, this external unit will take some space. You must buy the table accordingly.
Gaming Headsets – The best gaming headsets are an essential part of an awesome gaming experience. However, if you are not using the audio system, then you can think over that or keep both the systems just use then alternatively.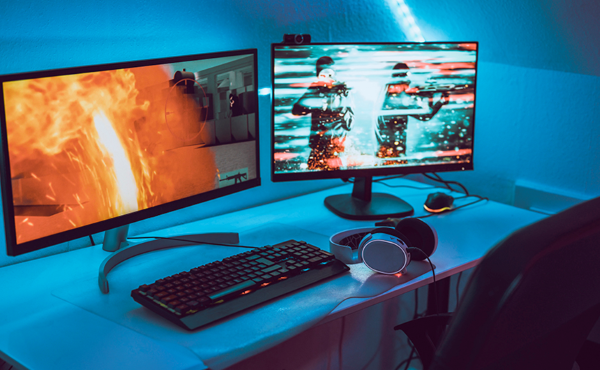 CONCLUSION
When all these are arranged together, you get a perfect gaming setup where you can spend hours amid the ultimate excitement of different interactive games available for the game-loving population.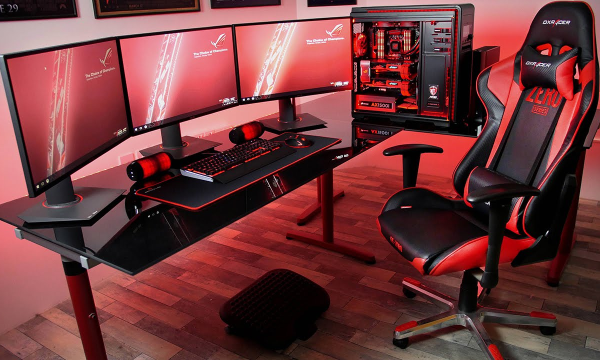 With the right gaming chair like Respawn go on playing and experiencing the games you like the most.