Nowadays, Smartphones are more powerful than ever, as they come equipped with state-of-the-art internal components that are the new standard for 2020. However, that also ends up making newer Smartphone models somewhat more expensive, and as such, they come at a slightly higher price tag than older and now outdated Smartphones. As such, keeping your Smartphone protected is now more important than ever before, so, it would be ideal to have some improved rugged Smartphone models that are designed for the classic hard-working lifestyle. That brings us to the CAT S42 Rugged Smartphone.
The CAT S42 Rugged Smartphone is the perfect choice for an ultra-tough, go-anywhere Android Smartphone. Not only does it feature an ultra-resilient and water- and dust-proof body, but is also comes packed with an ultra-responsive 1.8GHz Quadcore Processor. Additionally, its 32GB of Storage Space (which is in fact expandable, mind you) offers you more than enough memory for all of your Mobile Apps, while its 3GB RAM keeps everything running smoothly on Android 10.
Lastly, the CAT S42 Smartphone also features both Bluetooth 5.0 and Dual-Band WiFi Connectivity (2.4 GHz + 5 GHz).
Clearly, this recently released Rugged Smartphone model is completely prepared for the modern and digital lifestyle of 2020, while also featuring an ultra-resilient design that makes it perfect for any type of work that you can think of. It's perfect for industrial works that wish to stay connected to their loved ones, for outdoors enthusiasts and for pretty much anyone else out there.
Now, with all that said, let's take a more detailed look at it and check everything that this ultra-rugged Smartphone has to offer.
DESIGN & SPECS
Starting with the CAT S42's size, this ultra-rugged Smartphone measures exactly 6.35 inches long by 3.04 inches wide by 0.5 inches tall / thick. While the Smartphone has in fact a very resilient non-slip rubberized TPU body (mainly thanks to its extra-tough rubberized outer casing), the phone only weighs a total of 7.76 oz., so you really don't have to worry about it over-weighing your pocket.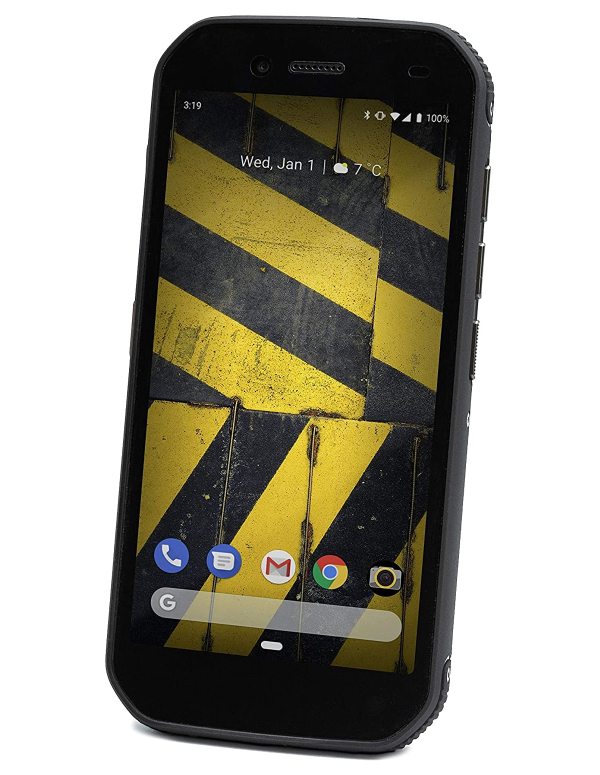 As mentioned earlier, the CAT S42 Smartphone features an ultra-resilient body that qualifies the Smartphone as MIL-SPEC 810H, as well as IP68 Water- and Dust-Proof, making it decent enough and perfectly protected to take it with you for any type of activity; even outdoors explorations near bodies of water (lakes, rivers, etc.). Overall, the Smartphone can stay submerged underwater up to 4.92 ft. (1.5 m) for a maximum of 35 minutes.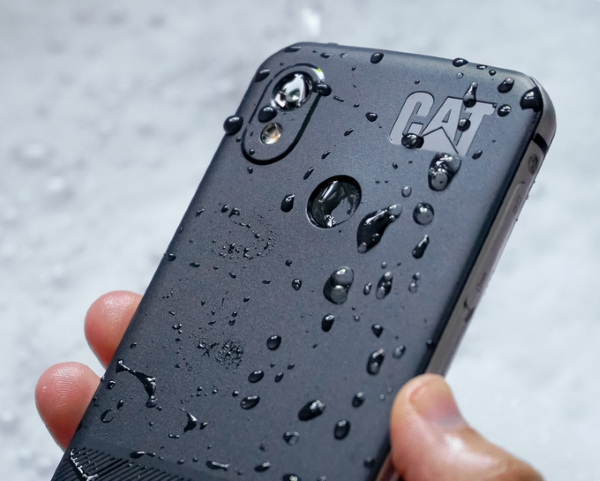 The phone's ultra-resilient body frame even features highly-durable corner bumpers that are designed to offer the phone some extra protection against any accidental and/or unexpected drops.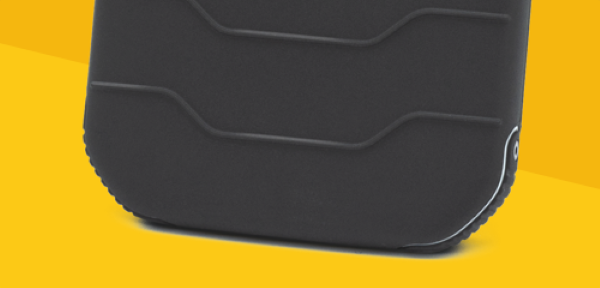 Thanks to its rugged body, the Smartphone can also withstand drops from a maximum height of 6 ft. (1.8 m) onto harder surfaces (like steel, for example).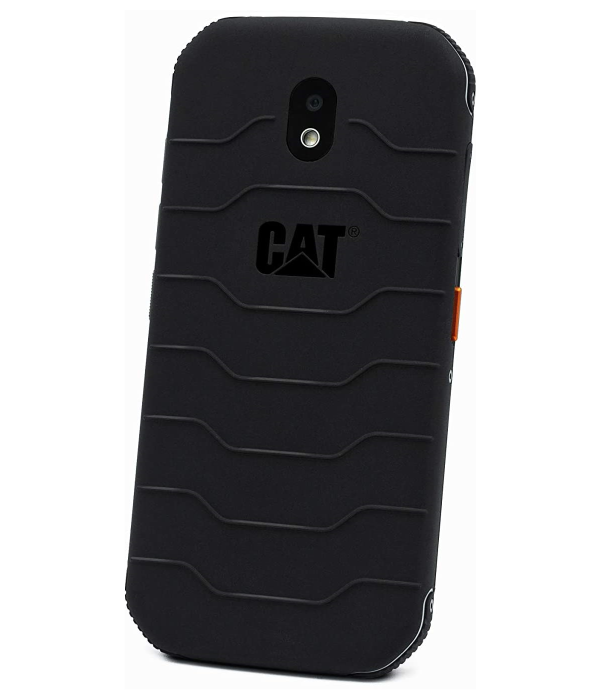 Additionally, the phone's MIL SPEC 810H rating ensures that the CAT S42 Smartphone is also protected from any potential thermal shocks, which basically means that the phone can also handle low to high temperature differences that can go between -22°F (-30°C) to 167°F (75°C), and for both its minimum and maximum supported outer temperatures, the phone can withstand those for up to 30 minutes.
The Smartphone also comes equipped with a built-in super-bright 5.5″ HD+ Display that features a 1440 x 720 resolution and is perfectly readable under direct sunlight (this a really nice feature to have). The phone's super-bright 5.5″ HD+ Display screen is protected by a high-quality Corning Gorilla Glass 5 screen cover and even works when using work gloves (factory gloves, outdoors rugged gloves for outdoor activies, etc.).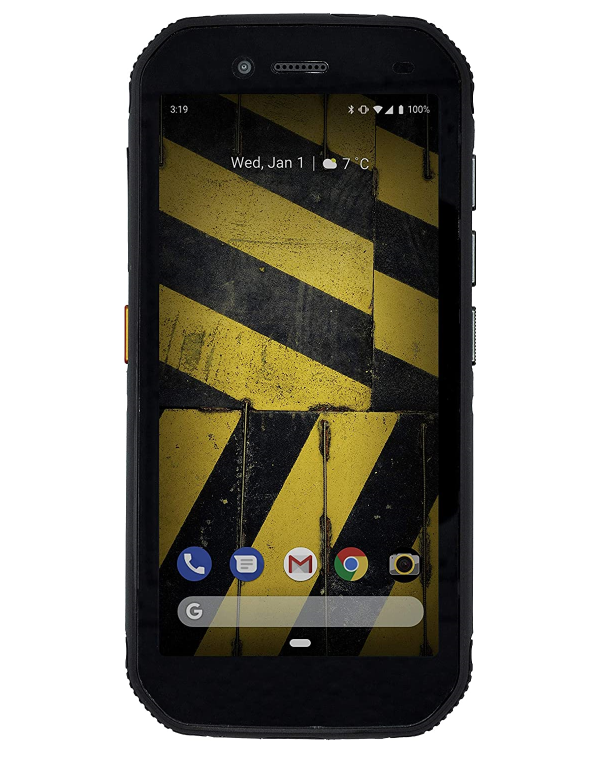 Regarding the phone's internal components, everything is powered by an ultra-responsive 1.8GHz Mediatek Helio A20 MT Quad-core Processor that can manage pretty much any task from any Mobile App you install on the phone.
Then, as mentioned earlier, you have a standard total of 32GB of Storage Space for all of your files (music and other data files, like .pdf Documents and more) and Mobile Apps, but that can actually be expanded up to 128GB by using a microSD card (separate microSD ™ and SIM slots).
The phone features a total of 3GB RAM, which offer more than enough processing power for it to run everything smoothly on the phone's Operative System, which, as mentioned earlier, is Android 10.
INTERFACE
Regarding the phone's interface, the CAT S42 Rugged Smartphone features a 3.5mm AUX port that's fully waterproof, as well as a USB 2.0 port (USB-OTG) for charging the phone's internal battery. There's also a Dual Nano SIM card slot.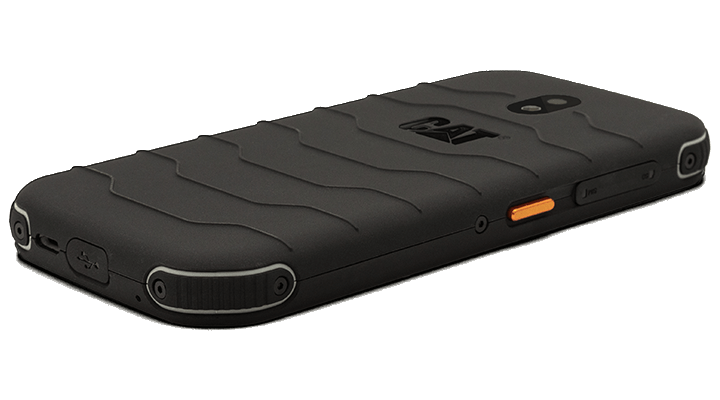 At the right side of the Smartphone, going from top to bottom,  we can find its two Volume Increase and Decrease Keys, as well as the phone's dedicated physical Power Button.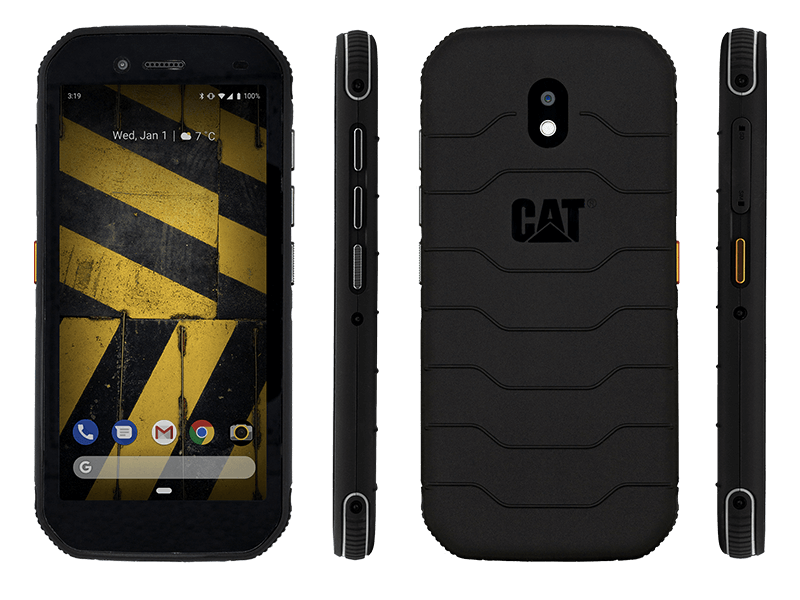 Then, on the phone's left side, we can find its dedicated card slot, which can accommodate both dual Sim Cards as well as a MicroSD Card. There's also a small Yellow Button / Key that can be configured by users (or ultimately, used for PTT – Push To Talk during voice calls).
The Smartphone also integrates a LED Notification Light that will blink in two (x2) different colors, and that will depend on what type of notification users get.
Lastly, the phone also integrates a GPS sensor, which includes GPS, AGPS, Glonass, BeiDou (variant dependent), and Galileo. There are also your standard additional internal sensors, like an Accelerometer, a Proximity Sensor, a Ambient Light Sensor, an E-Compass, and a Gyroscope.
CAMERA SETUP & CAMERA SPECS
While this is by no means a high-end Smartphone in terms of its Camera Setups (front and back), the Smartphone still packs quite decent camera lenses / sensors.
At the front of the phone, users can find a front-facing 5MP Camera Sensor.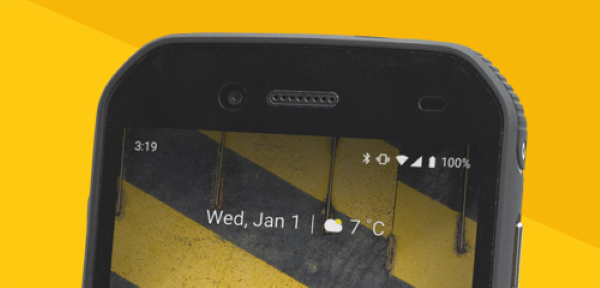 Then, at the back of the Smartphone, users can find its rear-facing 13MP Camera sensor (f/2.0, PDAF).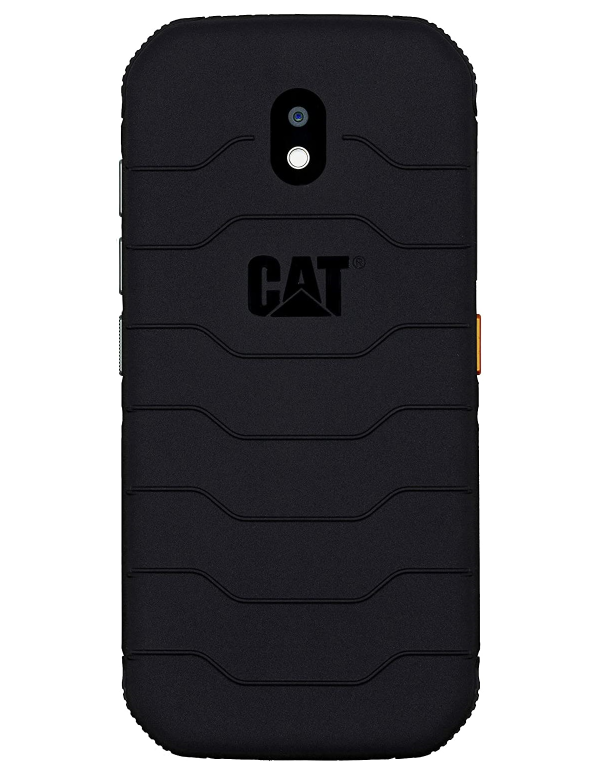 CONNECTIVITY
Moving on to the Smartphone's connectivity features, the CAT S42 Smartphone supports Bluetooth 5.0 connectivity as well as Dual-Band WiFi Connectivity (802.11 a/b/g/n/ac) for both 2.4 GHz + 5 GHz frequencies.
BATTERY & BATTERY LIFE
As this Smartphone was mainly designed to support literally any possible lifestyle, it comes packed with a powerful 4200 mAh  Lithium-Ion battery that can offer its users up to 48 hours of battery life.
PRE-INSTALLED APPS
It's also worth to mention that the CAT S42 Rugged Smartphone already comes pre-installed with a few standard Mobile Apps, including Office Suite, File Commander, App Toolbox, and OnGuard.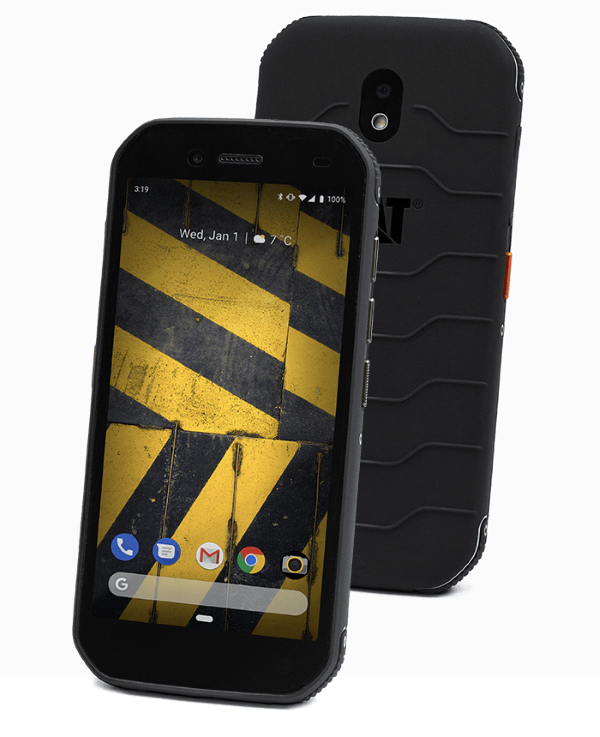 FINAL THOUGHTS
The CAT S42 Rugged Smartphone is an ultra-resilient Smartphone that's both water- and dust-proof, featuring a super-bright 5.5″ HD+ Display, 48 hours of battery life, and both Bluetooth 5.0 and Dual-Band WiFi Connectivity (2.4 GHz + 5 GHz).
You also get a standard of 32 GB of Storage Space (which is expandable up to 128GB) and 3GB of Ram, while its powerful 1.8GHz Quadcore Processor runs smoothly on Android 10.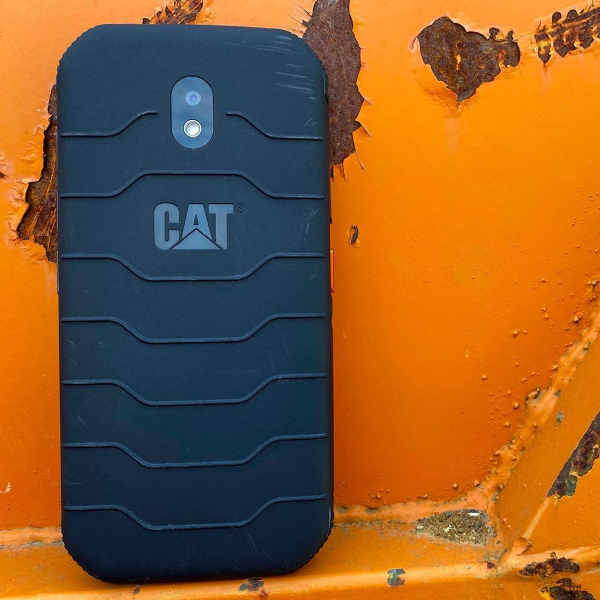 All that makes the CAT S42 Rugged Smartphone a remarkable workhorse, and the perfect choice for an ultra-tough, go-anywhere Android Smartphone.
Overall, this is a pretty nice Smartphone to pick up, especially if you're in the police force, or if you're a first responder that works hard and on-the-clock to keep all citizens safe. The same goes if you're a construction worker or if you work in any job that's part of the Industrial Sector or ultimately, if you're passionate about the outdoors lifestyle and outdoor activities.
If you're interested in buying it, each unit is currently going for just $299. You can order yours online, directly from CAT PHONE's official shopping page, which you can access by clicking this link.