For anyone that loves to blend smoothies on a daily basis, blending can be a real mess. While standard blenders quickly allow you to blend delicious smoothies of your choice of foods (i.e. sliced up bananas, strawberries, veggies, etc.) and ultimately get your "packable liquid meal" for when you're on-the-go, this comes with a catch. Since you have to transfer your source of liquid protein to one extra portable container after blending your mix, you obviously end up wasting time and money (as you need to buy a portable container for your smoothies). Not only that, but you can even potentially make a mess on your kitchen if you're not extra careful and end up knocking over (or spilling) your blender. However, by using a special blender like the Blendjet 2 you can ultimately avoid all those nuisances.
Basically, the Blendjet 2 is a portable powerful rechargeable (USB-charging) blender that was designed for anyone that loves to have a better way of preparing and transporting their protein shakes, smoothies (or even other things like healthy soups) despite spending a lot of their time on-the-go.
After originally releasing the BlendJet One Blender, which was simply born with the goal of taking the benefits of a standard / traditional blender while still allowing smoothie-lovers to constantly stay on-the-go, the company (BlendJet) behind the BlendJet One (its first generation blender) now decided to come up with a second-gen model, which is basically an improved version of the BlendJet One.
Basically, the company's second-gen blender – the Blendjet 2 – features two main upgrades, going from the older models' 5V electrical motor to a more powerful 7.4V electrical motor that spins at exactly 275 times per second, while also accounting for exactly double the battery capacity from its predecessor (going from a built-in 2000mAh rechargeable battery to a built-in 4000 mAh rechargeable battery).
All that makes the BlendJet 2 exactly five times more powerful than BlendJet One, and ultimately, the perfect and most powerful device to have around whenever you're looking to quickly and easily prepare fresh smoothies, shakes, healthy soups, or even blend some baby food while you're on-the-go, no matter where you are.
Now, let's have a more detailed look at the BlendJet 2 and see exactly how this blender works, as well as take a look at what it has to offer.
DESIGN & SPECS
Starting with the BlendJet 2's ultra-portable design, just like the first model (the BlendJet One), the entire blender is just as compact, as well as extremely lightweight, all while also featuring a very sturdy construction. All that makes it the perfect portable blender to go jetting around town.
Thanks to its super compact design, you can easily fit the BlendJet 2 within most standard size cup holders, but the blender is still large enough for you to prepare any and every single one of your favorite blended meals.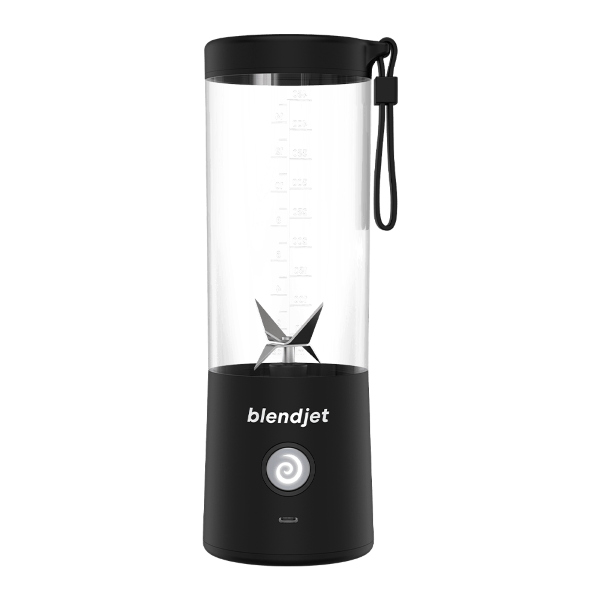 Just like the company's first-generation blender, this second model also comes equipped with an ultra-durable built-in carrying strap.
Not only that, but the company's second-gen blender features exactly 16 oz. capacity, which means it can also hold up to 33% more content than the first-generation blender, which ultimately allows you to prepare some larger shakes / smoothies.
Furthermore, just like the BlendJet One, the BlendJet 2 is also made from BPA free food-safe materials, which makes it great to not only prepare smoothies, shakes and soups in no time, but also blended baby food.
Now, the first main difference between the company's first blender model and this second-gen model is that the BlendJet 2 comes equipped with a slightly more powerful 7.4V electrical motor that spins the blender's built-in 6-point stainless steel blades at exactly 275 times per second.
The blender's patented TurboJet technology can power through anything in no time, including pieces of fruit, leafy greens and veggies, as well as frozen fruit, or even ice. Thanks to that, in just 20 seconds you can have a perfectly fresh and ultra-healthy smoothie, anytime, anywhere.
While the first-gen blender's 5V motor was already decent enough, the BlendJet 2 can break up ice cubes even better than the first model.
Once again, just like the first-generation blender, this newer model also comes with the same safety-features, which basically prevent the blender's internal motor from overheating and its motor's blades from spinning whenever the jar isn't connected to its proprietary electric base.
Moreover, just like the first-gen blender, this second model also features its own self-cleaning function, which allows the blender to practically clean itself. Thanks to that, all that you have to do is to simply add a small amount of water and an optional drop of soap, and run the blender's blending cycle until its jar is completely clean.
Lastly, it's also worth to mention that the BlendJet 2 is completely waterproof, so you can even have it with you by the poolside, and if you ever happen to accidentally drop it into the water, there's absolutely nothing to worry about.
BATTERY & BATTERY LIFE
As mentioned earlier, when comparing the BlendJet One with the BlendJet 2, this second model comes upgraded with a built-in 4000 mAh rechargeable battery that offers exactly double the battery capacity from its predecessor, and thanks to that, users are offered up to 15 blends per battery charge.
Keep in mind that the number of blends per charge could vary depending on what you're looking to blend. Basically, if you fill the blender almost all the way up to the top with pieces of fruit and such, the blender will obviously take more time to blend your mix, which basically means that it will spend more battery power per cup / blended mix that you're looking to prepare.
However, contrarily to that, if you just decide to fill the blender up to around half of its jar with your choice of sliced fruits and/or veggies with some milk or juice for example, that'll obviously take you less time, which means that the blender will require less energy from its internal battery to blend your mix. (This also goes for baby formulas when prepping a nutritious meal for newborn babies, since its so quick to prepare, so you won't be spending much energy from the blender's battery).
Recharging the blender's built-in rechargeable battery is also very easy, as all you have to do is connect the blender's Micro-USB Charging Port (which is also water-resistant) to its included USB Charging Cable and then connect the other end to a standard USB-Charger.
Depending on its missing battery power, charging the unit will take you more or less between 1 to 3 hours.
FINAL THOUGHTS
The BlendJet 2 Blender is a 2-in-1 portable rechargeable blender device that also doubles as a portable storage container for your blended mixes, shakes, and smoothies.
With it, you can easily prepare and carry with you your favorite blended recipes, including things like smoothies, shakes, healthy and delicious soups, or even blended baby food for newborn babies. With this super convenient 2-in-1 portable blender you'll be able to experience the freshest and most amazing flavors while you're on-the-go.
Thanks to that, you can use the BlendJet 2 to quickly and conveniently prepare your favorite blends and mixes while you're traveling and instantly enjoy a perfectly blended smoothie, shake or healthy soup without having to go through the hassle of having to transfer your mix to another cup.
Lastly, for people that are particular about their style and fashion, the BlendJet 2 Blender is currently available in 16 different color models, so literally all tastes are covered.
If you're interested in buying the BlendJet 2, each unit is currently discounted from its normal price of $99.95, now going for just $49.95 each (saves you $50), no matter what color model you decide to go with. Furthermore, each purchase also comes accompanied by a 30-Day Money Back Guarantee. You can order yours online right now, directly from BlendJet's official shopping page, which you can access by clicking here.