When it comes to business meetings, video-conferences are definitely the best solution for two business groups (either two companies or two groups of the same company) to trade business and/or marketing ideas with one another. However, finding a reliable videoconferencing solution isn't always that easy. When looking for a videoconferencing solution, business owners should always go for reliable and already well established brands, like Polycom for example, which is a renowned name in the videoconferencing industry. It's important to note that this brand was aquired by Plantronics, and since then, the brand is now simply known as Poly. Right after purchasing Polycom and renaming it to Poly, Plantronics came with a innovative USB 4K Video Bar as one of its new products to be launched. Meet the Plantronics Poly Studio.
The Plantronics Poly Studio is a sleek USB video bar that's ready-to-go out of the box, thus bringing very convenient 4K videoconferencing functionalities to smaller businesses.
The main appeal behind this USB 4K Video Bar is that specifically for small businesses, the unit comes at a very affordable and super-tempting price tag. Secondly, it's ease-of-use makes this videoconferencing solution one of the best that's currently available on the market.
Basically, since the Poly Studio works like a fully-integrated unit (meaning it comes prepared with both software and ready-to-go drivers), the unit features almost no cables or connections to mess with. As such, users can simply and very conveniently plug it into any of the latest Windows or MacOS computers and have their operating system immediately finding and loading the appropriate device drivers to quickly run the video bar.
Now, without further ado, let's have a more detailed look at the Plantronics Poly Studio and check everything that this USB-enabled 4K Video Bar has to offer.
DESIGN & SPECS
Starting with the video bar's actual size, the Poly Studio measures exactly 27.3 inches long by 4.2 inches wide by 2.8 inches tall (700 x 105 x 70 mm), weighing exactly 5 lbs and 2.6 oz (2.34 kg) without its proprietary stand. However, if you decide to set up the unit with its proprietary stand, the video bar will ocupy just a bit more space to its front and back, measuring exactly 27.3 inches long by 6.2 inches wide by 2.8 inches tall (700 x 156 x 70 mm), weighing exactly 6 lbs. and 4.7 oz. (2.85 kg).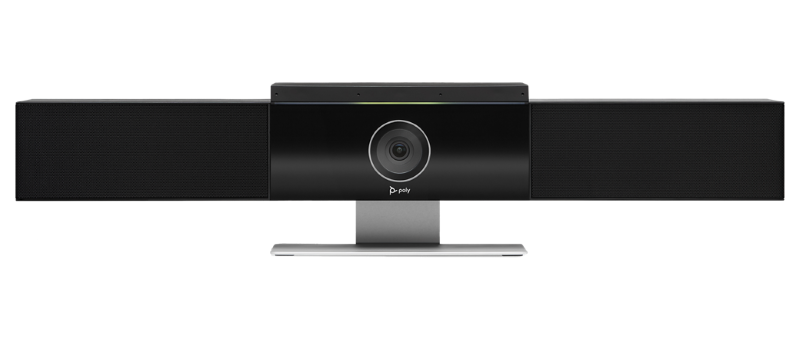 The Poly Studio Video Bar features a very sleek and ultra-discrete design, and thanks to that, the unit can easily blend in with whatever type of decór business owners decide to have at their huddle spaces (meeting rooms).
This USB Video Bar comes equipped with a centrally mounted high-end camera that features a 120-degree FOV and an amazing UHD 2160p sensor to achieve a 4K capture resolution.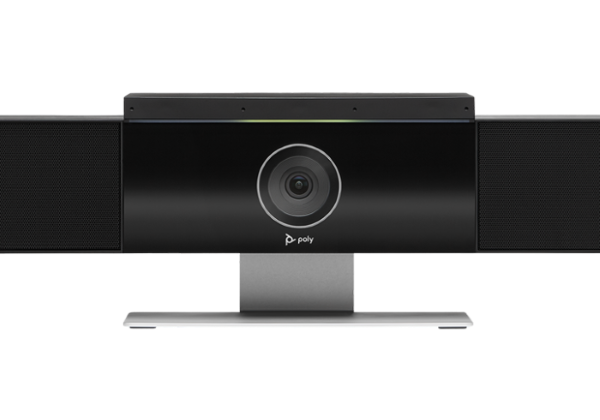 Since the video bar's base allows for tilting, users can very conveniently place the unit's camera at a higher or lower height to be able to get the required framing of their meeting room.
Not only that, but if users find that a desk is not the ideal place for their Poly Studio, they can instead remove the video bar's proprietary stand and easily replace it with the included wall-mount to ultimately have a more permanent fixture at their meeting room.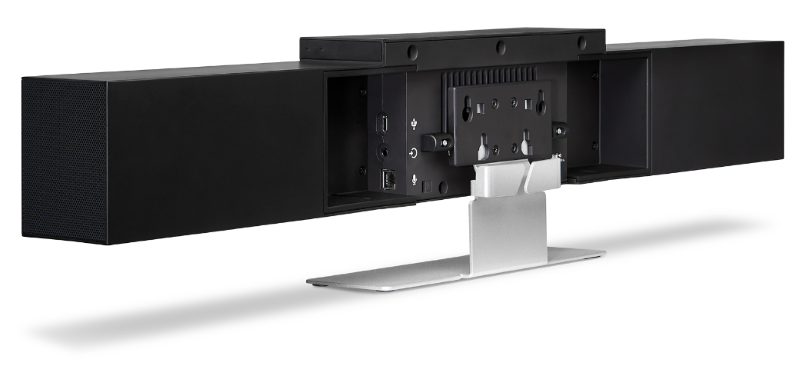 It's also important to note that the camera also features 5x Zoom / EPTZ functionalities, as well as Automatic People Framing & Speaker Tracking (this works together with the video bar's built-in microphone, which we'll discuss right ahead), and a total of Two Camera Presets.
Lastly, the Poly Studio requires at least 12VDC/5A (@100~240VAC, 50/60 Hz) of power to run.
AUDIO SPECS & AUDIO QUALITY
Now, moving on to the video bar's audio specs, this video bar comes equipped with a built-in 6-element beamforming microphone array, which is located right above its built-in camera, as well as a set of dual high-quality stereo speakers throughout its 27.3 inches length.
This 6-element microphone array works at a 120 Hz–16 kHz frequency response and features a 12 ft. (3.65) pickup range, meaning that it can easily pick up a normal speaking voice (no need to force and/or raise your voice at all) at decent sound quality at a maximum 12 foot distance. That's great for almost any meeting room, even somewhat larger ones.
However, the best feature here is that since the video bar's camera features an Automatic People Framing functionality, the video bar's 6-microphone array can not only be remotely controlled, but also automatically managed by the video bar itself to frame any person that's currently speaking within the bar's camera 120º FOV.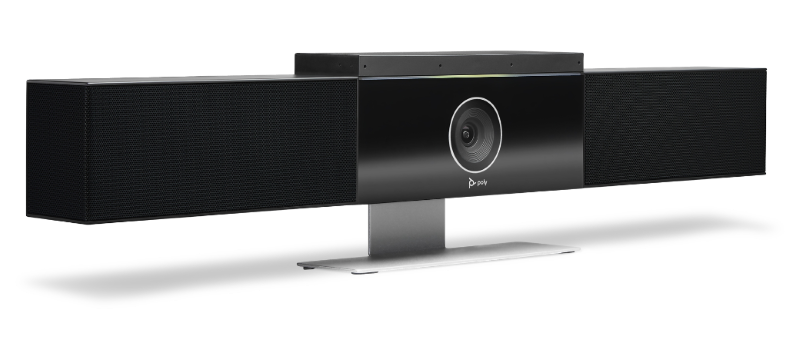 Additionally, the video bar's built-in Stereo Speakers also offer users a great sound quality output, featuring a Frequency Response of 100 Hz–20 KHz and a Audio Output that's equal to 90 dB (@ 0.5m).
Lastly, the video bar runs multiple technologies to give its users the best possible videoconferencing full-duplex experience (both high-quality video and audio).
Starting with its Poly Acoustic Clarity Technology, which provides users with full-duplex conversations, as well as Acoustic Echo Cancellation via its Poly Acoustic Fence Technology (great for somewhat empty meeting rooms when it comes to furniture / decór) and background noise suppression via its Poly NoiseBlock Technology (perfect for companies that have a more noisy environment right outside their meeting room).
COMPATIBILITY & SYSTEM SECURITY
System Compatibility
Moving on to the video bar's System Compatibility, the Poly Studio supports both Windows (versions 7, 8.1, and 10) as well as MacOS (versions 10.12, 10.13, and 10.14) operating systems. Thanks to that, no matter what your preferred OS is, your business meetings are always covered.
As soon as I plugged the video bar into a Windows 10 PC, the operating system immediately found and loaded the appropriate device drivers, which made it very easy and super convenient to set up the video bar.
The bar also comes running cloud-based management tools, which let IT push software updates and make settings changes without ever leaving their desk. This centralized management and high-scale deployment ultimately helps IT to eliminate "sneakernet."
Furthermore, this specific video bar model also features support for standard audio and video device drivers, including UAC 1.0 Audio, UVC 1.1/1.5 Video, and HID 1.11.
Lastly, when it comes to the "Security" side of things, all your business meetings are perfectly private, as the video bar also features 802.1x support (this is a decent network authentication protocol that opens access ports after the company authenticates a user's identity, which is determined based on their credentials or certificate – confirmed via a RADIUS server). Lastly, the system runs one extra security feature, and that is Certification Management (this manages all users' digital security certificates).
Application Compatibility
The video bar also features a wide compatibility with several different Voice and Video Applications / Platforms, meaning that it is compatible with any application that supports standard USB audio and video drivers, so you can be sure that this video bar is a designed as a future-proof solution. This includes:
Compatibility with Microsoft Teams and Skype for Business;
Zoom;
LogMeIn GoToMeeting;
BlueJeans Network;
Google Hangouts Communication Platform;
Amazon Chime;
Cisco Webex;
VidyoDesktop;
Polycom RealPresence Desktop;
and more.
CONNECTIVITY
The Poly Studio USB Video Bar also features both Bluetooth 4.2 connectivity as well as 802.11ac Wi-Fi wireless networking for the video bar's manageability (IEEE 802.11a/b/g/n compatible).
INTERFACE
Now, moving on to the bar's actual connectivity side of things. Just like its ultra-modern and minimalist design, the bar also features a very sleek and simple interface.
At the top left of the video bar's interface / connectivity panel there's one USB 3.0 Type-C port (which also features 2.0 compatibility), the video bar's  Power Connection port, and an external microphone port (completely optional to use if you have a pro-grade microphone instead of using the video bar's built-in 6-mic array).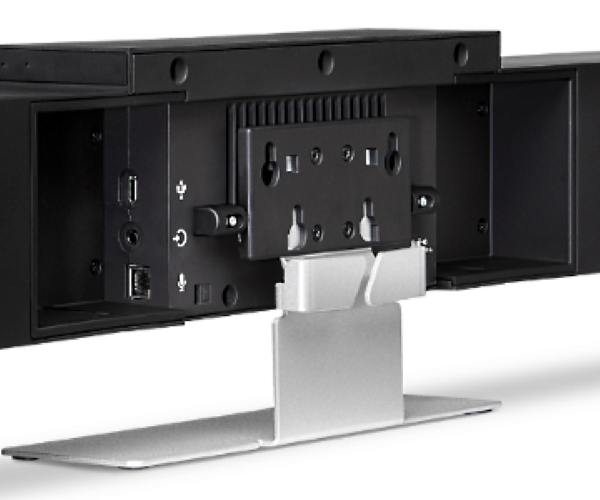 The video bar also features a 3.5 mm Stereo Audio Input port and a Kensington Security Lock, as well as easy-to-use Mute/Unmute Controls.
CONTROLLING THE VIDEO BAR
Controlling the video bar can be easily done in one of multiple ways. Users can either use the video bar's dedicated Polycom Companion App (compatible with both Windoes and MacOs PCs), use RealPresence Resource Manager, a Device Management Service, or ultimately, by simply using the included remote control.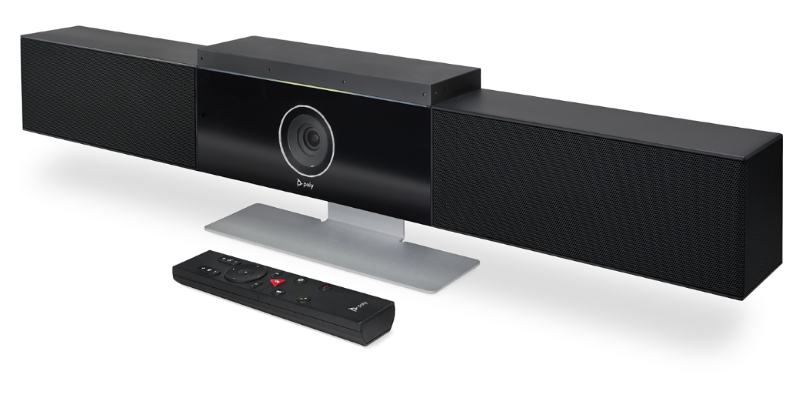 The video bar's included proprietary remote control is ultra-lightweight, measures exactly 7.2 inches long by 1.6 inches wide by 0.75 inches tall / thick, and features a very simple interface that makes using the remote a very intuitive experience.
WHAT'S IN THE BOX?
Inside each package, users will find: their Poly Studio USB Video Bar, the unit's included Power Adapter, the video bar's proprietary Remote Control with two (x2) AAA batteries included, one (x1) included 5 m USB 2.0 cable (Type-C to Type-A), a wall mount kit (for anyone that prefers or needs to have the video bar wall mounter rather than sitting on a table with its proprietary stand), and the video bar's Setup Sheet.
FINAL THOUGHTS
The Plantronics Poly Studio is a sleek USB video bar that's ready-to-go out of the box, featuring a camera that records 4K video and a high-quality 6-mic array for all your videoconferencing needs.
This video bar features both USB, Bluetooth, and Wi-Fi connectivty options, making it the perfect videoconferencing tool for any smaller businesses, but also working great for medium to large companies with huddle rooms in need of a simple plug-and-play solution.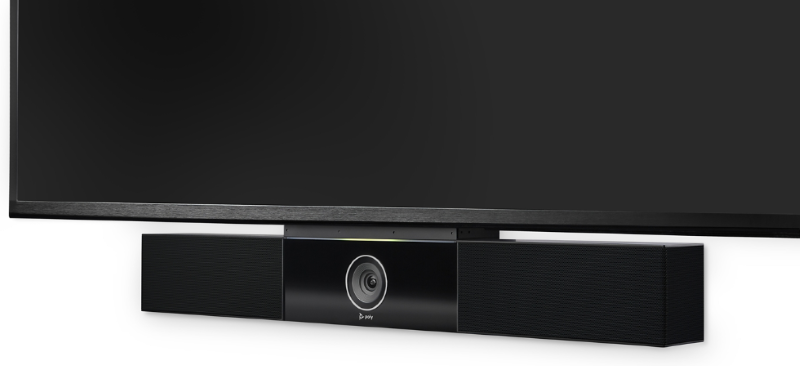 I simply loved this device, as the video bar featured a great audio pick up, even when deployed in an open office. Everything worked really well, both the 4K video recording and the audio-quality were great when testing it with another party.
Lastly, the versatility of the Poly Companion App made both managing and controlling the video bar's settings a very easy task.
If you're interested in buying it, each unit is currently going for $949, also coming with a 1-Year Limited Hardware Warranty. You can order your video bar unit online right now, directly from Plantronic's Poly official website, which you can access via this link.