When it comes to cooking at home, kitchen gadgets are definitely useful tools to have, as you can use them to have an easier time cooking your favorite recipes/meals. Some kitchen gadgets allow you to slowly cook your meals (i.e. slow cookers) while you stay focused on other home tasks like cleaning, doing laundry, or even doing some office work at home. Other kitchen gadgets like handheld mixers make it much easier and much quicker for you to finish any mixing and/or  baking activities. That goes especially for cordless handheld mixers, which make it really easy and convenient for you to mix any pre-baking batches by not having a cord getting in the way and ending up tangled up in everything. Speaking of cordless handheld mixers, take a look at the brand-new KitchenAid Cordless 7-Speed Hand Mixer.
The KitchenAid Cordless 7-Speed Hand Mixer is a compact and reliable battery-powered handheld mixer that features a total of 7 different interchangeable speeds, making it great to mix just about anything.
While its compact size makes it very easy to hold and control, its cordless design makes it much easier for home cooks to mix anything with zero concerns of ending up with tangled wires.
Lastly, its powerful internal rechargeable lithium-ion battery is exactly what allows this brand-new and recently released cordless hand mixer to deliver you both an optimal performance and run time. Thanks to all of its convenient features, you're offered a reliable cordless handheld mixer that lets you cook whatever you like, whenever and wherever you want, and however you choose.
Now, let's have a more detailed look at this cordless handheld mixer and check everything that it has to offer.
DESIGN & SPECS
Starting with the mixer's design, this cordless handheld mixer comes in a somewhat compact size, measuring exactly just 10.47 inches long by 7.72 inches wide by 5.12 inches tall. Not only that, but the mixer itself is also quite lightweight, weighigh exactly 2.89 lbs, and that makes it even very convenient as well as quite easy for users to hold it and control it around their mixing batches.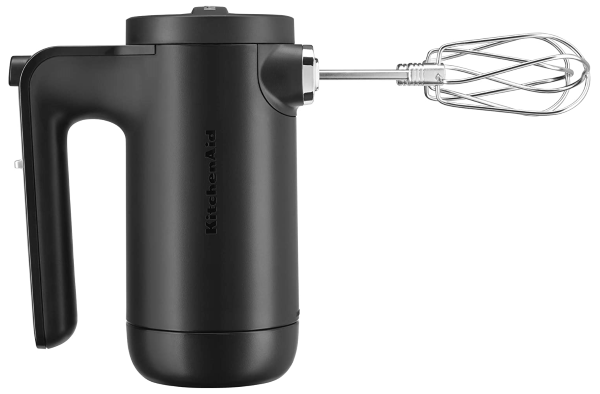 The KitchenAid Cordless 7-Speed Hand Mixer features a very high-quality and ultra-durable build, coming equipped with both a really nice and sturdy handle as well as a set of two (x2) really high-quality stainless-steel beaters.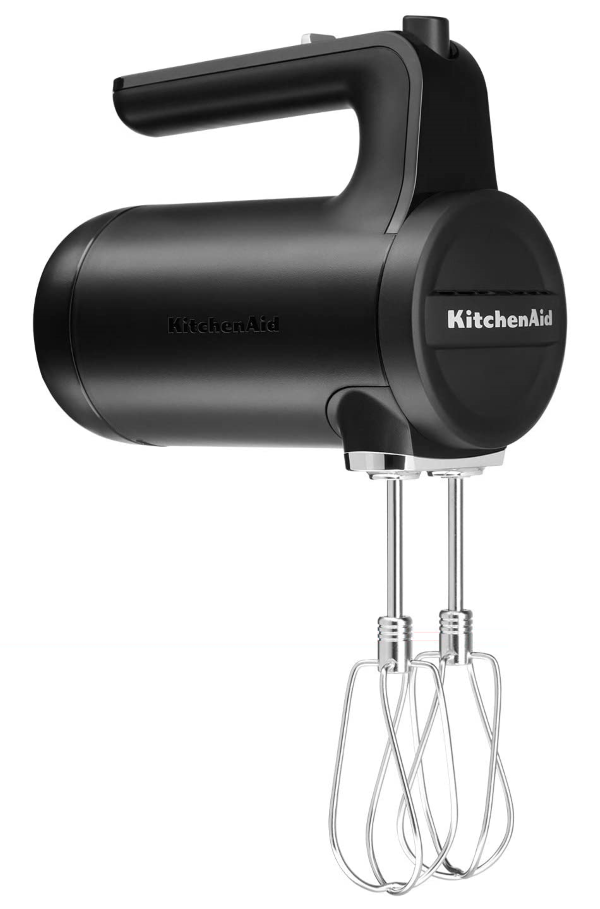 This high-quality cordless handheld mixer is also designed with a perfectly flat base that allows the unit to stand still all on its own, and that can be easily achieved by simply lifting the mixer's beaters up and out of your mixing bowl and/or cooking space within your kitchen countertop.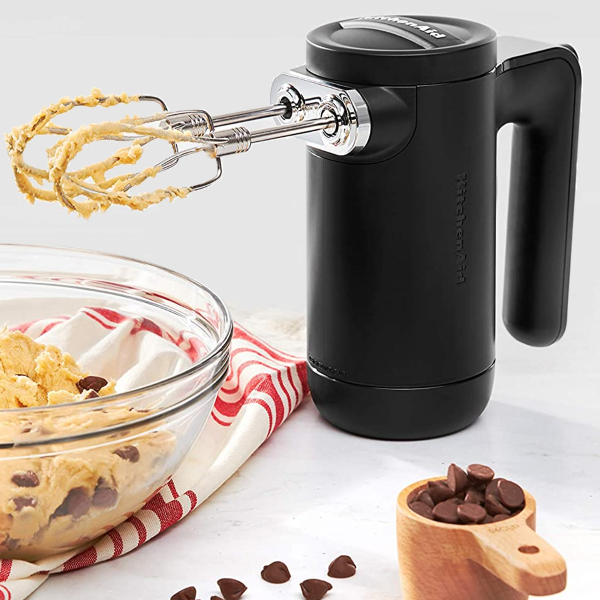 INTERFACE / CONTROL PANEL
Moving on to the mixer's interface / control panel. The mixer features a built-in speed-control button that can be conveniently used to swap between 7 different speeds.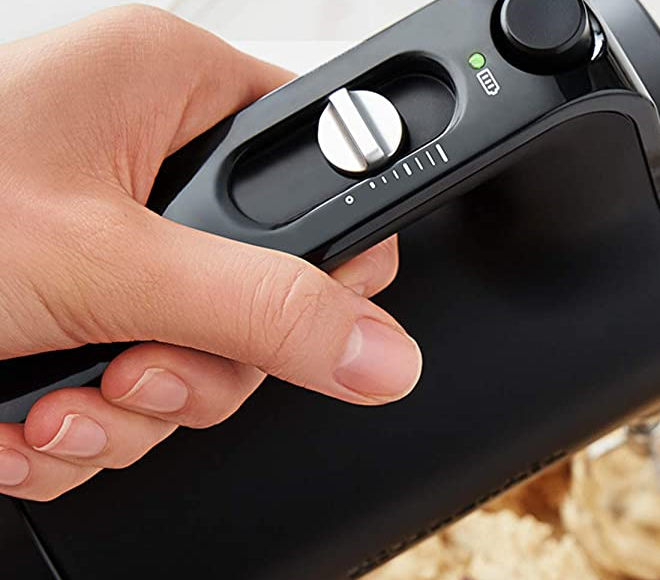 These 7 Speed Levels allow users to change the mixer's mixing speed levels to either stir, mix, or even whip all of their favorite recipes.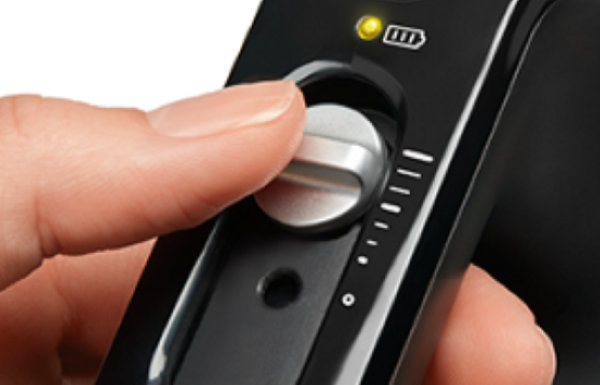 As such, you can set the mixer's mixing speed to work from a slow stir (for chunky ingredients), to medium (recommended for creaming butter and sugar), and ultimately, to high speeds (which can be used to whip egg whites and/or heavy creams).
BATTERY & BATTERY LIFE
Since this is a cordless handheld mixer, the KitchenAid Cordless 7-Speed Hand Mixer is obviously powered by an internal rechargeable Lithium-Ion battery. The mixer's battery offers its users enough power to make up to 200 cookies on one single full charge (keep in mind that these numbers are based on 4 batches of chocolate chip cookies, and not more than that).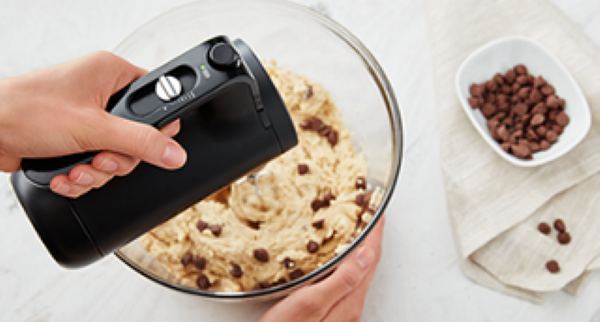 The mixer's internal rechargeable battery works perfectly fine, with no flaws or "chokes" (meaning brakes) at all, working at an optimal performance and delivering a really decent battery run time per each full charge.
It's also worth to mention that right above the mixer's built-in speed-control button, there's also a Battery Indicator LED Light that informs users about when it is time for them to recharge the unit's battery.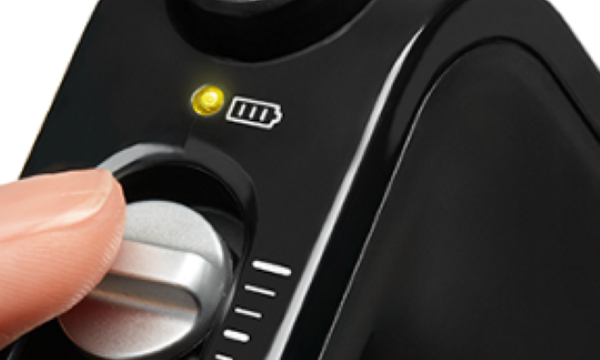 Conveniently, since the mixer also comes with an proprietary battery charger included within its package, it's very easy for you to recharge its internal battery, which, mind you, should only take approximately 2 hours to have its internal battery going from a flat 0% back to a full charge (100%).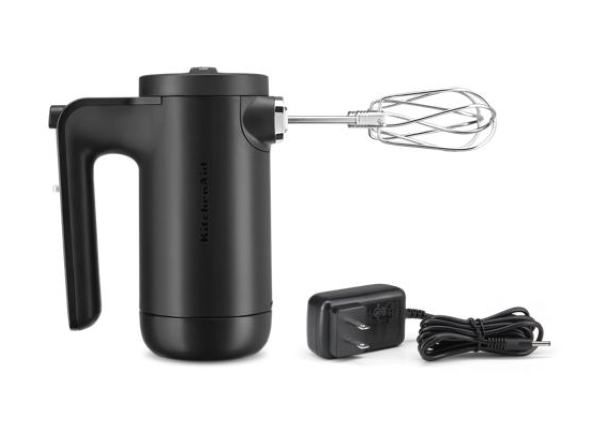 Lastly, the mixer also supports Quick Charging, so going for a Quick-Charge of 10 minutes alone will allow you to have enough battery power to stir up a cake batter recipe (as long as you get your hands to work and not play with your mixing batter, of course).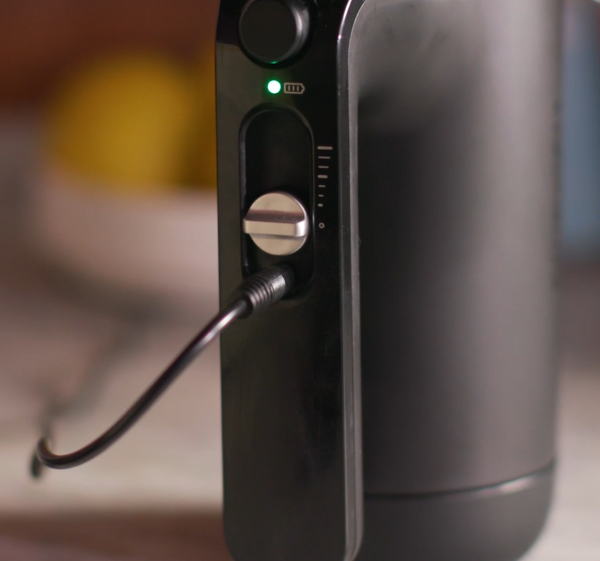 OTHER NOTABLE FEATURES
Soft Start Functionality
It's also worth to note that this cordless handheld mixer also integrates a Soft Start Feature that slowly and gradually brings the unit's beaters up to a user's selected end-speed, and this smart feature ultimately helps users to help prevent their ingredients from splattering out of their mixing bowls.
FINAL THOUGHTS
The KitchenAid Cordless 7-Speed Hand Mixer is a compact and reliable battery-powered handheld mixer that features 7 different interchangeable speeds, making it great to mix just about anything.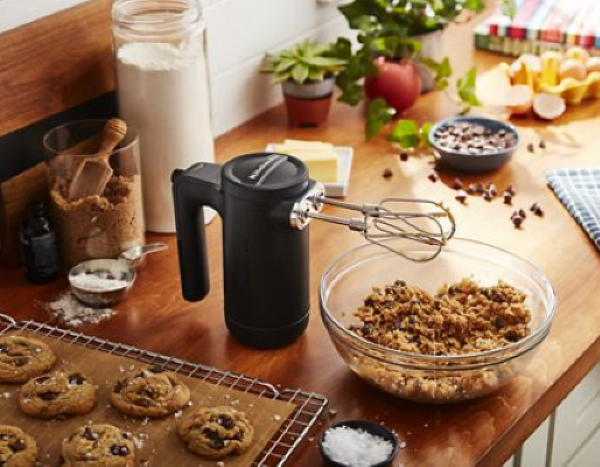 This cordless handheld mixer is currently available in eight (x7) different color models: Black Matte (Soft Black), Matte Charcoal Grey (full Silver), Empire Red (Dark Red), Onyx Black ("Glossy" Black), Passion Red (Bright Red), Blue Velvet (Light Blue), and White.
If you're interested in buying it, each unit is currently discounted from its normal retailing price of $99.99, now going for just $69.99 (saves you $30). You can get yours right now, directly from KitchenAid's official shopping page, which you can access via this link.