When it comes to losing digital data, a lot of people think that once their digital data is lost, it's gone for good. Digital data can include all sorts of digital files, including word documents (.docx) and PDF documents (.pdf), as well as all types of media files (like photos, video, and audio), and even partitions or full drives. While not everyone out there is tech savvy, anyone who has experienced the loss of digital data will surely tell you that it is not a fun experience. If that's your case, you might not know that there's an easy way of potentially recovering your lost digital data, and that's by using a reliable data recovery software like the Remo Recover Windows Pro Edition.
The Remo Recover Windows Pro Edition is a reliable and easy-to-use data recovery software that provides users with an outstanding platform for data recovery in any Windows PCs.
Basically, the Pro Edition of this data recovery software combines the features undelete software with partition recovery software, thus allowing you to conveniently recover a wide variety of "potentially lost" digital data on your Windows PC.
The Remo Recover Windows Pro Edition is a very competent recovery suite, as it offers its users the ability of full data recovery, which ranges from simple undelete operations all the way to the recovery of lost partitions and logically corrupted hard drives, while also giving you the intermediate option of recovering lost media files (like photos, videos and music files).
Thanks to all of that, this high-end data recovery software is not only capable of recovering deleted files – like files from an emptied recycle bin, any data lost during uneven shutdown, any data lost during transfer, and much more – but also competent enough to restore any lost data from deleted and/or missing partitions or re-partitioned hard drives.
With all the features offered by the Remo Recover Windows Pro Edition, digital data recovery will no longer a myth for anyone, even for someone that doesn't consider themselves a tech savvy person.
Now, without further ado, let's have a more detailed look at the Remo Recover Windows Pro Edition and check exactly how this data recovery software works and see all the cool features that it has to offer you.
THE SOFTWARE
As mentioned earlier, this data recovery software was developed for Windows PCs. Remo Recover Windows is a solid data recovery software, featuring an easy-to-use interface and offering users a lot of useful features. The Remo Recover Windows software helps you to recover your lost digital data in a simple three step process: Scan-Preview-Recover.
In this review, we'll be taking a look at the software's more complete version, which is called the Remo Recover Windows Pro Edition.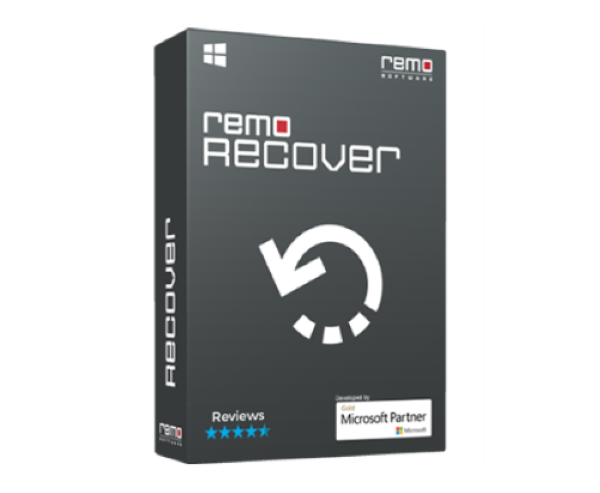 When it comes to the edition (or version) that you'll be using / purchasing, the Pro Edition is definitely what you should be aiming for, as it's the only one that can perform a more advanced data recovery (which allows you to recover raw data, partitions, and so on).
BASIC EDITION VS PRO EDITION (FULL COMPARISON)
The Remo Recover Windows is available in three (x3) different editions (versions), but as said, you'll definitely want to consider purchasing the Pro, as you'll feel much safer knowing that you can recover just about any type of lost digital data.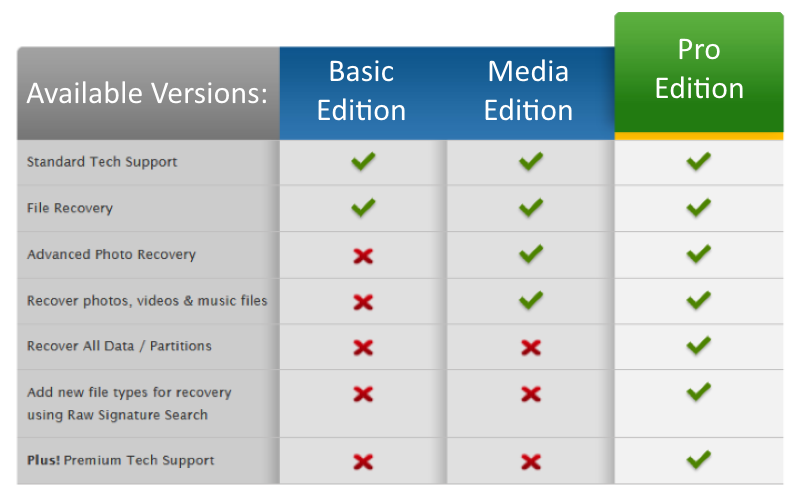 Basic Edition
Starting with the Remo Recover (Windows) Basic Edition, you're offered the ability to recover:
Files accidentally deleted using "Shift + Delete" key combination
Files emptied from Windows Recycle Bin
Files lost due to power surge
Accidental deletion of Photos, Music and Videos
Photos, Music and Videos getting deleted by third party tools
Photos deleted during transfer from one device to another
Accidentally deleting photos from the digital camera by pressing the Delete All button while previewing the photos
At times using memory card in various digital cameras may cause data loss
Switching off the camera during transfer of photos
Potentially captured photos that were lost when your camera was low on battery
Files deleted using Windows command prompt or when they are lost while using Windows Cut and Paste command
Those are the basic file recovery options that the Basic Edition has to offer you, and you also get the company's Standard Tech Support.
Media Edition
There's also the Media Edition, which is a version that's specifically focused on recovering media files. Compared to the Basic Edition, this Media Edition version of the software includes everything previously mentioned, with the added features of:
Advanced Photo Recovery (a more thorough search is done by the sofware to specifically search any lost media file)
Recover all types of photos, videos and music files (this includes all media file types that you know, no matter how uncommon)
In sum, the Media Edition is a decent recovery software tool for those that have a job in the media world – like professional photographers, digital media artists (animators, etc.), as well as people that work with digital images (using photoshop, etc.), and more.
Pro Edition
Lastly, the Pro Edition – which is the version we're using for our review – is the most complete version of this data recovery software, which not only offers you everything mentioned above for both the other two version, but also includes several professional data recovery features, including:
Recover All Data and All Partitions previously lost
The ability to add new file types for future recovery searches by using Raw Signature Search (you can add literally any file type to future searches)
Premium Tech Support with Advanced Remote Data Recovery Assistance (your submitted support tickets are prioritized over anyone with the Basic or Media Editions of the software and the company's tech supports even offer you remote assistance)
In sum, the Pro Edition, which is the more complete package version of the software provides you with the normal file system based recovery module, as well as an Inbuilt Smart Scan Technology that can quickly locate files despite corruption in your file system, an Inbuilt Disk Imaging Option that helps you with recovering your lost digital data (even when your drive presents itself having Bad Sectors / Partitions), and a Signature Search Technology that helps you recovering files based on their unique signatures (the Pro Edition version of this software comes with an inbuilt database that includes up to 300 different file types).
All of that makes the Pro Edition the best solution for anyone whose file system is either corrupt or has severe corruption and their RAW data still needs to be picked up.
INTERFACE
The Remo Recover Windows data recovery software features a very simple and clean interface, that makes it very easy for literally anyone to use this software.
Within the main menu, users are simply offered three (x3) different recovery options for recovering their lost digital files/data.
3 DIFFERENT RECOVERY OPTIONS
The Remo Recover Windows Pro Edition offers its users a total of three (x3) different Data Recovery Options, and those are: Recover Files, Recovery Photos (which is basically recovering any media files), and Recover Drives.
Recover Files
The Recover Files option allows you to quickly recover any deleted files, while also giving you the ability to choose and recover lost files by using the previously mentioned Raw Signature Search Option (by selecting the file type and searching solely and specifically for that file type alone).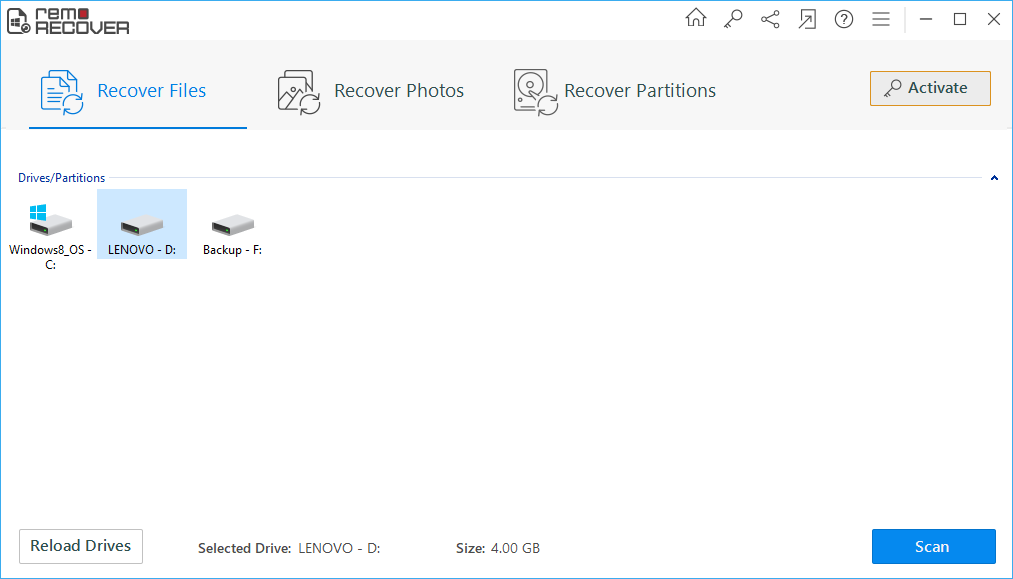 Recover Photos
The Recover Photos option allows users to recover any type of media file, including photos, video, audio files. When selecting this option, users are also offered an advanced feature that allows them to support the recovery of their lost media files.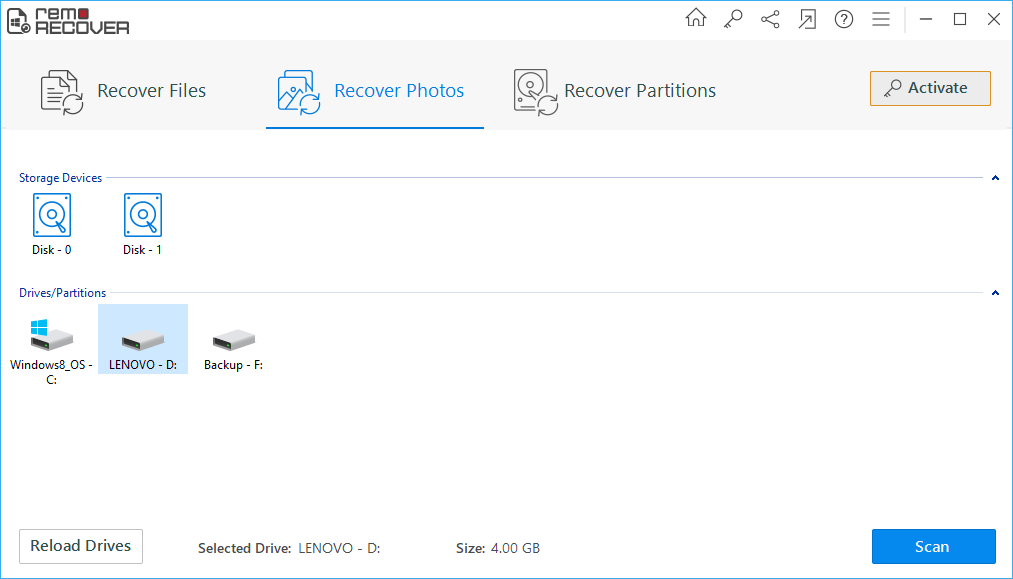 Basically, this special feature can be used for recovering any accidentally deleted media files from your camera's memory card, from a USB drive, or from any other type of flash memory storage devices.
Recover Drives
Lastly, the Recover Drives option provides users with all the necessary advanced data recovery components to recover any important files from either missing partitions, deleted partitions, or even formatted, re-formatted partitions, as well as from re-partitioned drives.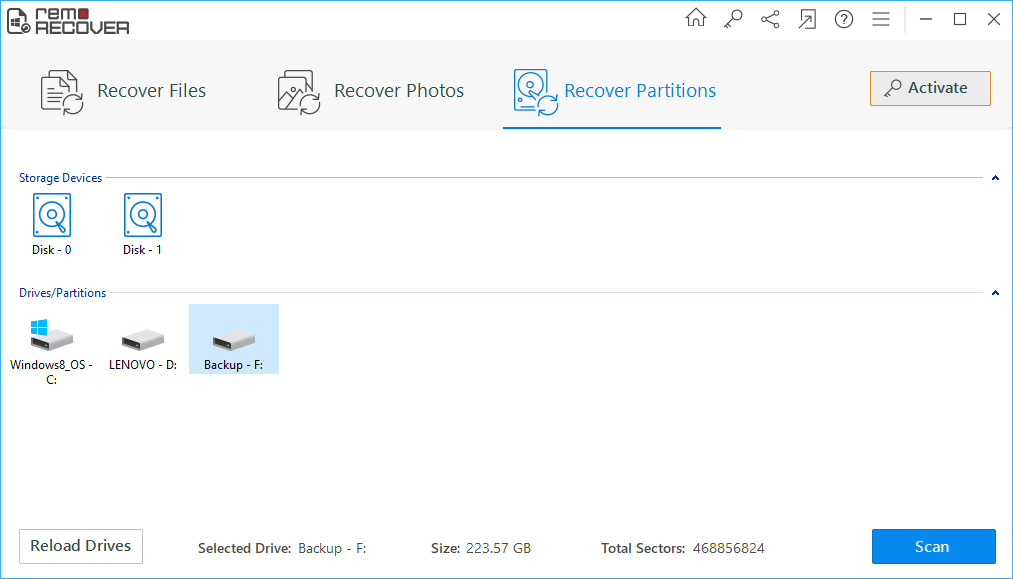 This includes safely recovering data even from crashed (unintentionally shut-down computers, i.e. due to power-outs, etc.) or corrupt hard drives. This last option supports data recovery across several different file systems, including ExFAT, FAT32, FAT16, NTFS, NTFS5.
HOW DOES IT WORK & HOW TO USE?
Since you're offered three (x3) different complex data recovery options, so you can conveniently choose which one best suits your needs for what file types you want to recover.
For our example demonstration of the software, we'll be using the Recover Photos option. After selecting your preferred option of data recovery, the software will open up a new screen (like the one you see in the image below), which lets you choose from two different recovery methods.
You can choose to either Quickly Recover deleted files (in this case it's Photos, Video, and Audio Files), or you can choose to Perform an Advanced Recovery of lost files.
For that second option (Perform an Advanced Recovery of lost files), unlike many of the other data recovery software tools available on the market, Remo Recover Windows will go into detail and it will "dig" a lot deeper within your drives, memory cards, or whatever other type of file storage system that you have connected to your computer and it will try to recover and extract those files that have been deleted or lost.
For this example, we'll go with the Quickly Recover deleted files.
You start by choosing the drive / partition that you want to recover files from.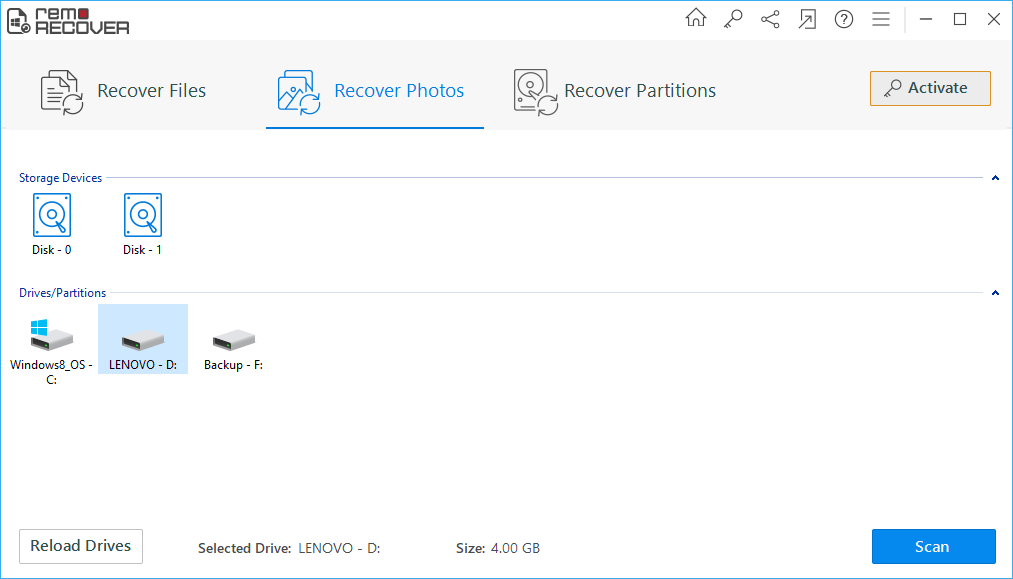 Then, the software opens up an informational window that lets you know that you can quickly choose the file types that you're looking to search, and that's easily done by easily selecting their file extension types.
That's done by selecting the type of files that you're looking to recover.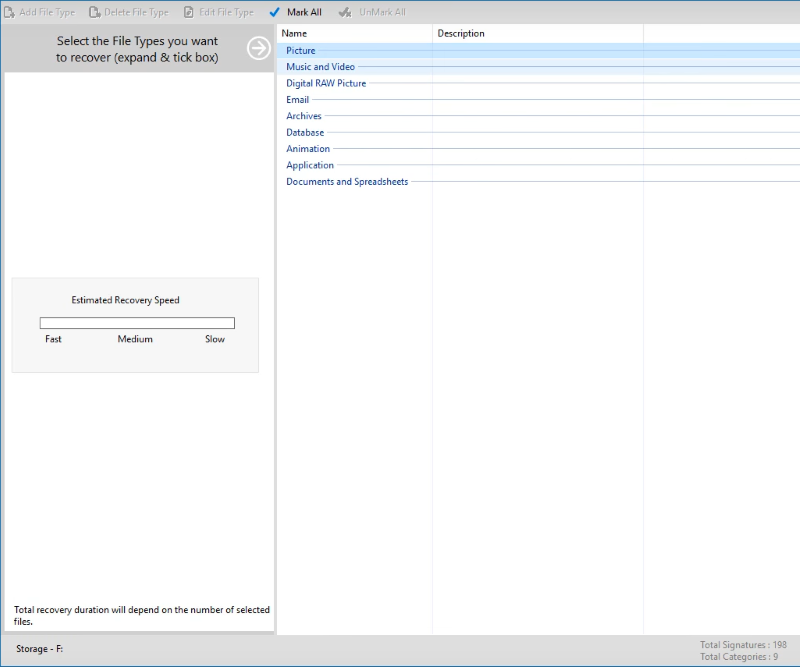 After choosing something from the software's simplified list of file types, users are allowed to select the specific file extension type that they want to search and potentially recover if they know exactly what those file extensions are.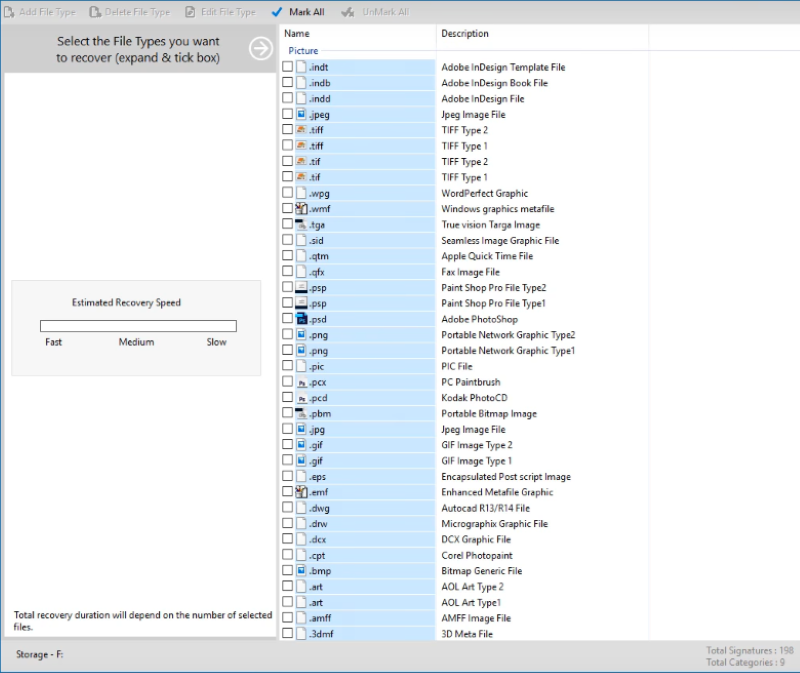 After that, users just hit Skip or Next and the software will begin to search for their selected lost data files (and file types, if selected).
Lastly, the software will display all folders containing lost data as well as any additional lost files recovered after the program runs its advanced file recovery scan, and those separate files are displayed separately by file type.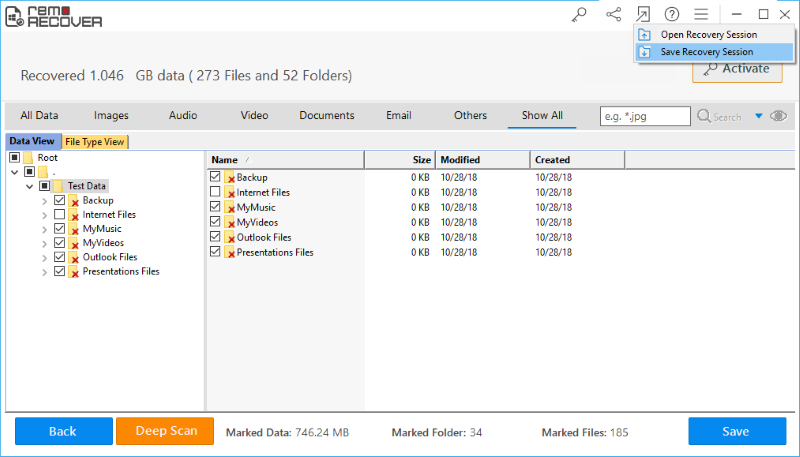 Then, all that's left for you to do is to tick the box that corresponds to the folder and/or files that you want to recover, click Next and save those recovered files to your selected choice of Output Folder (or CD / DVD).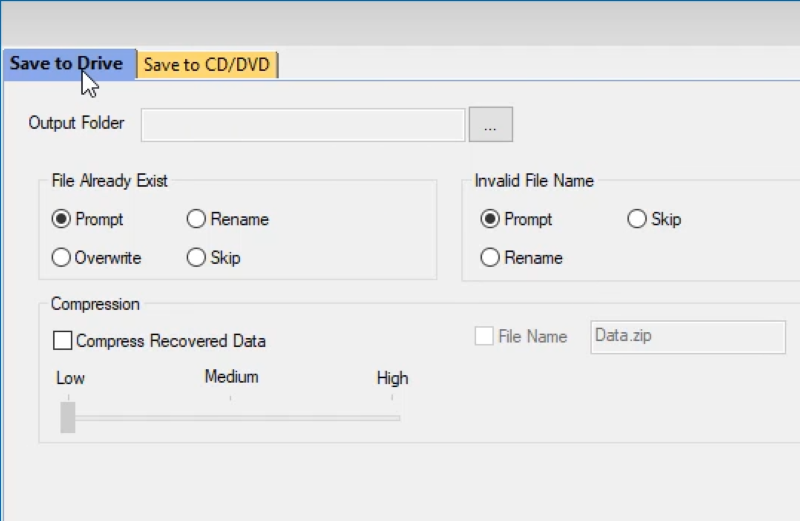 FINAL THOUGHTS
The Remo Recover Windows Pro Edition is a reliable and easy-to-use data recovery software that provides users with an outstanding platform for data recovery in any Windows PCs.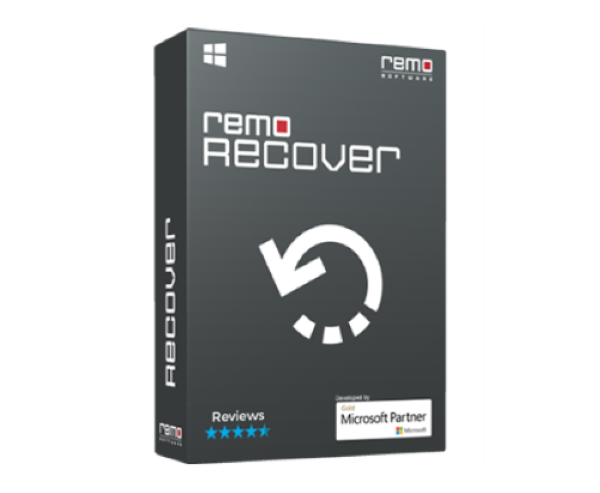 Without any doubt, this is one the best-in-class data recovery software programs that are currently available on the market, featuring many different easy-to-use data recovery features that you can use after severe data loss scenarios as well as compatibility with several hard drive types.
If you're interested in buying it, the Remo Recover Software Windows Pro Edition is currently discounted from its normal price of $99.97, now going for just $79.97 per purchase (saves you $20). Each purchase also comes with a Lifetime User License, so once you buy it, it's yours forever.