You either love or hate hammocks. While some campers don't see a need for it, others swear by it and even sleep in one instead of a tent.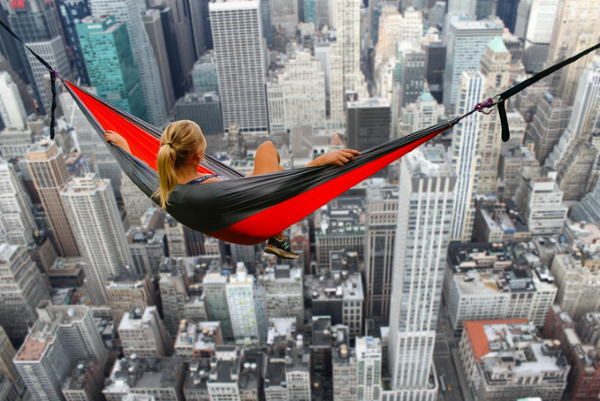 If you belong to the latter group, here is a list of some of the best hammocks on the market. Just be sure to pack some sleeping bags just in case it rains during your camping trip.
1. ProVenture Double Camping Hammock
Made from the fast-drying 210T parachute nylon, this hammock has 400 pounds of weight. It measures 10' 6" in length, 6' 6" in width, and weighs 35 ounces. The two-person hammock is great for two people or tall campers and it costs only $6 more than the one-person hammock. The ProVenture Double Camping hammock is adjustable to suit your preference and comes with a high-quality bag and carabiners.
The hammock features thick tree-safe straps that ensure safety and durability. You can get this hammock for just $30. Buyers can get a full refund if the hammock ain't cutting it for them. That said, a 400-pound capacity is not quite enough for two.
2. Gold Armour Double Camping Hammock
The Gold Armour Double Camping Hammock weighs 1.5 pounds and measures 10.4' and 6.5' in length and width respectively. The 210T nylon fabric, two heavy-duty carabiners, triple-stitched seams, and the 10' tree-safe straps with a whopping 32 loops make this a highly durable hammock that is adjustable, strong, and very safe to use.
This hammock supports a recommended weight of 500 pounds and is available in multiple colors and designs. Because of the 32 loops straps, setting the hammock up is easy. Furthermore, they offer a 15-year warranty and full refund that allows buyers to keep the hammock. 5% of the profit goes to planting trees and reinstating forests everywhere which is an awesome cause to support.
3. Legit Camping Portable Double Hammock
The Portable Double Hammock is made of 210T nylon fabric that comfortably fits two with a weight limit of 400 pounds. With just $30, you can get this hammock that comes with heavy-duty carabiners, tree-safe straps, a carry bag, and a heck of an easy time setting it up.
Although there is a lifetime warranty that comes with this hammock, again, the weight limit might be insufficient for a two-man hammock.
4. Honest Outfitters Camping Hammock
The Honest Outfitters Camping Hammock comes in single (9' length x 4.5' width) and double (9.8' length x 6.5' width) sizes. The former supports 400 pounds of weight while the latter supports 500 pounds. Both models are made with 210T nylon and are available in eleven colors.
Their hammocks come with two 10.5' straps, two heavy-duty carabiners, a high-quality carry bag, and triple-stitched seams that prevent tears.
5. MalloMe Portable Double Hammock
The MalloMe weighs one pound, measures a generous 10.5' by 6.5', and has two heavy-duty straps that allow it to support up to 1000 pounds. That's right, 1000! It also features a carry bag that is attached to the hammock so users don't lose it.
For the quality and high weight limit of this hammock, the price point of this hammock is shockingly affordable. The one-man hammock costs less than $20 which is the most affordable hammock on this list. We don't really have any complaints about this hammock.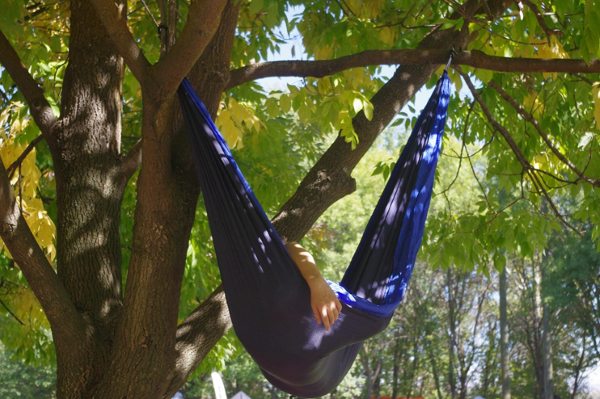 6. Winner Outfitters Pro Camping Hammock
The Pro Camping Hammock comes with two tree-safe straps and two aluminum carabiners that make setting up quick and easy. Moreover, the straps are much stronger and safer than traditional ropes. It also features a comfortable fabric that allows ventilation so that users stay cool during hot weather. The best part is, you get a full refund if you aren't satisfied with the hammock plus, you still get to keep the product!
This hammock comes in a single and double model. The single model weighs 2.1 pounds and can support 400 pounds of weight. Its straps are 9.8' each while the length and width of the hammock are 9' and 4.6' respectively. The double model weighs 2.4 pounds and supports up to 500 pounds of weight. It is 9.8' in length and 6.5' in width and comes with two 11.4' straps.
7. Wise Owl Outfitters Camping Hammock
Wise Owl hammocks are easy to set up and offers good customizability because of the 9' straps with 5 loops and the included carabiners. The SingleOwl Hammock is 9' by 4' 6" and weighs 1 pound. The DoubleOwl Hammock is 10' by 6.5' and weighs 1.6 pounds. Both have a weight capacity of 500 pounds.
Other than the long strap and carabiners, another plus point is that the carry bag is sewn to the hammock so that it doesn't get lost. The SingleOwl model is also available at just $30 which is amazing for the quality that you're getting.
Tips on Choosing a Hammock
On top of some of the obvious things like weight limit and dimensions of the hammock, there are plenty of other factors that might not seem as obvious but can really make your hammock experience go from a ten to a hundred.
The weight of the hammock when it is packed matters a lot, even if it's just a pound or two of difference. If you're into backpacking, we definitely recommend getting a lightweight one for the best experience.
How easy it is to set up the hammock is a factor that might not matter to some but is of paramount importance to another. Weigh how important this factor is to you so you know how much you're willing to pay for it.
Ideally, the hammocks should include straps and carabiners because it can be hard to get ones that match the hammock separately. It is also important to look out for tree-safe straps that protect the tree barks when you set up your hammocks.
Some hammocks come with a mesh storage pocket at the side for users to keep their belongings instead of letting them fall out and get lost in the hammock itself. This feature can be a real lifesaver.
Extra Information on Hammock Camping
People who enjoy hammock camping enjoy sleeping in their hammocks instead of tents and sleeping bags. It is logistically simpler, lighter, and more fun. Generally, hammocks can support anywhere between 300 to 1000 pounds of weight. So, if you find a suitable hammock, rest assured that you will find them comfortable to sleep in like the majority of campers do.
In fact, hammocks make for a better sleeping posture than beds because sleeping on your backs in the hammock puts your head in a slightly higher position which is good according to experts.
An exclusive tip is to lay at a slight angle instead of straight in the middle of the hammock. This not only prevents the sides from wrapping you up but it also divides your weight effectively so that your weight is supported throughout.
To maximize your comfort, get bug nets instead of relying on bug sprays because the latter just doesn't cut it. Also, consider getting sleeping pads to really seal the deal as they really elevate the comfort level of your hammocks.
CONCLUSION
Regardless of your priorities, there should be a hammock from our list that floats your boat. For instance, if you love having control over the height and tautness of your hammock, the Wise Owl Outfitters Camping Hammock is great for you.
We hope that this list not only makes hammock shopping a lot easier but also eventually enhances your camping experience.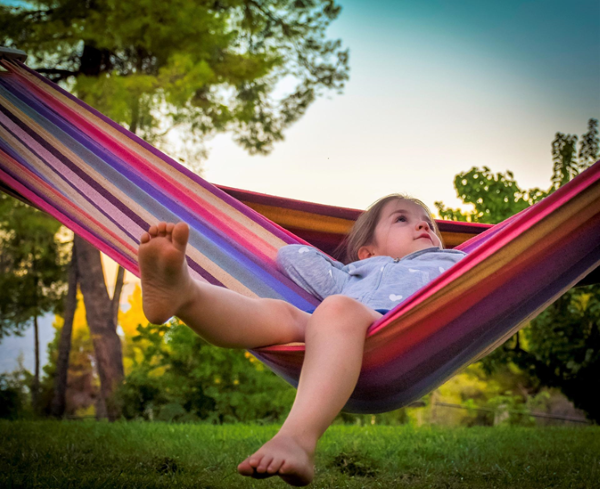 And who knows? You might find some of these so comfortable that you no longer want to sleep in a tent.