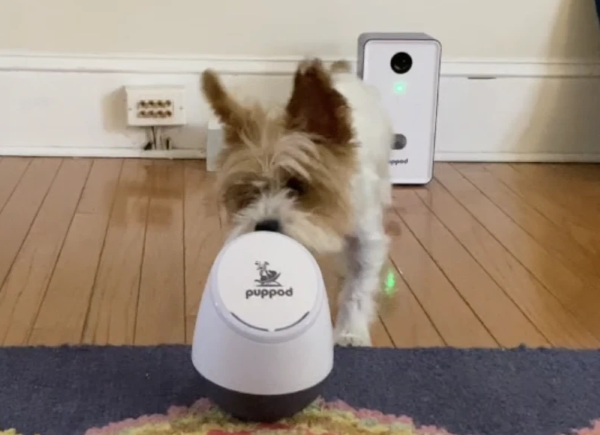 This next gadget is perfect for dog lovers who are looking for a reliable way of keeping their pups active whenever they're busy with work. As all dog owners should know, anxiety can cause an excess of energy on dogs. Because of that, encouraging your dog to move around a bit and do a quick exercise routine can be quite helpful to help your four legged friend(s) to better deal with anxiety. Not only that, but some physical exercise can also help dog owners keep their dogs mentally healthy, as well as with a better mood, and ultimately, happy. This brings us to the PupPod Rocker with Feeder.
The PupPod Rocker with Feeder is a 2-piece App-enabled enrichment puzzle toy system for dogs that provides dog owners with a powerful tool to encourage their dogs to stay active and healthy.
Basically, this App-enabled interactive puzzle system for dogs works as an automated clicker training canine game. Still, this is so much more than just a smart and App-enabled dog toy. It's the perfect tool for dog owners that are momentarily busy with office work (either at home or at the office) or other important tasks but still recognize the importance of physical exercise for their pups.
With the PupPod Rocker with Feeder, dog owners can easily encourage their pups to move their bodies a bit and exercise their legs and paws by using the system's audio and physical (and brain) stimulation games for dogs.
Now, let's have a more detailed look at this 2-piece App-enabled enrichment puzzle toy system, where we examine the PupPod Rocker with Feeder's design and also check out exactly how the system works.
DESIGN & SPECS
As mentioned earlier, this is a 2-piece puzzle toy system for dogs, composed by both a small smart toy unit equipped with a speaker (for the system's sound game) and an automated doggy feeder.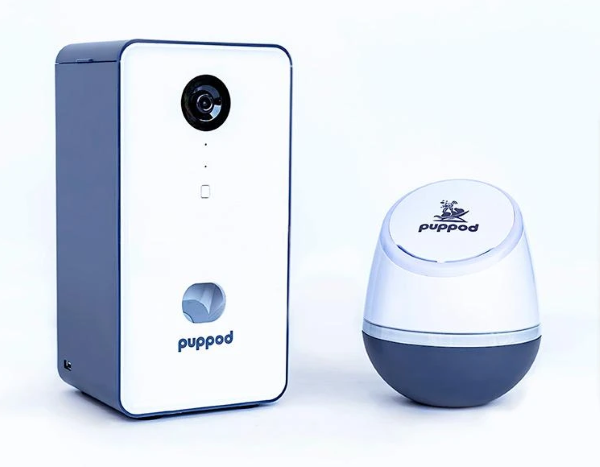 Starting with the system's main piece – which is what makes this doggy puzzle game possible – we have the PupPod Rocker, which is basically designed like a small smart pod unit that's somewhat spherical at the bottom part and flat at the top. The unit's spherical base is a weighted base, which ultimately allows the PupPod to "rock" and bounce around, making the unit super funny and very interactive for your dog(s) to push around with their paws.
The PupPod is designed exactly in this compact shape to ultimately minimize tooth holds during the time that dogs are playing around with it.
The system's PupPod also comes equipped with a special Light Ring (around the top of the unit) that highlights with either red or green whenever your pup pushes the pod after respectively hearing a correct (green light) or incorrect (red light) sound. The PupPod also comes equipped with a small built-in speaker that's automatically triggered via its smart algorithm (but owners can also activate the PupPod's interactive puzzle sounds via the App – discussed at the end of the article).
Lastly, the PupPod is powered by 2 D-size batteries. This pod unit is what dogs will be touching and pushing around with their paws whenever they hear the correct interactive sound to trigger the system's treat dispenser (more on that in a bit).
Now, speaking of treat dispenser, that's what the system's second piece / unit is. This treat dispenser (or automated dog feeder) comes equipped with a built-in 1080p camera that features a 160° field of view and also night vision (which makes the system's proprietary App great for using at night too).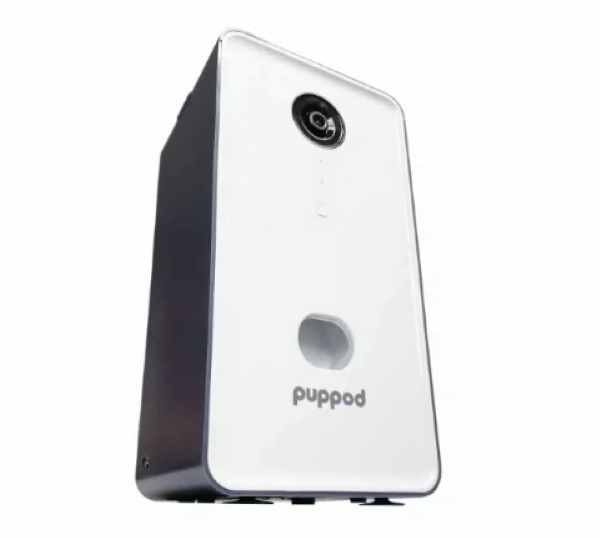 The treat dispenser's built-in camera allows dog owners to stream live video directly to the system's proprietary App (covered at the end).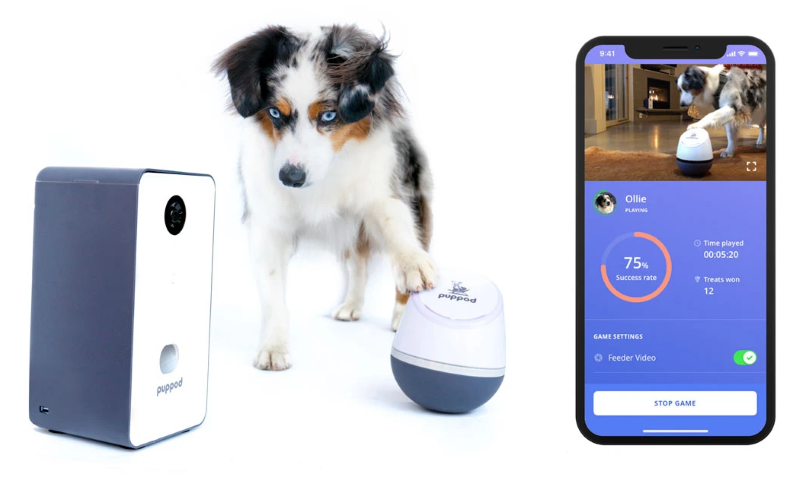 Additionally, at the bottom of the system's treat dispenser there's a somewhat large treat-dispensing slot, which is where the system will slowly shoot out doggy treats from to feed you dog(s) with a snack after he / she / they correctly play the system's sound-based puzzle game.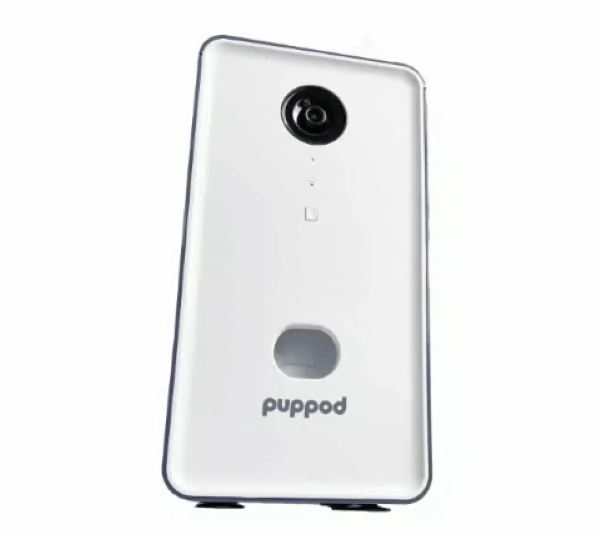 Lastly, filling up the system's treat dispenser unit is also quite easy, as all you have to do is to carefully remove its sliding top cover and fill it up with a decent amount of your dog's favorite doggy treats.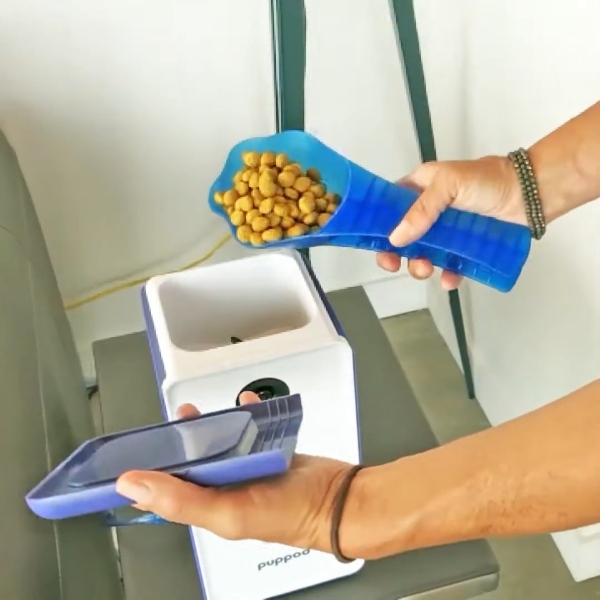 HOW DOES THE SYSTEM WORK?
So, at this point, you probably already figured out exactly how the system works. After you setup this dog toy / puzzle system for the first time, you use the App to start it up and configure it.
This dog puzzle toy system is a high-tech interactive game for dogs that uses a combination of sounds and lights to ultimately encourage your dog to use his / her brain to solve a puzzle.
The system's audio-based game is simple at first, and starts at a low level (level 1), simply playing the correct sound cue (a squeaky sound – associated with the pod's light ring lighting up with a green color) for a few times so that your dog gets easily accustomed to it to have an easier time understanding the game and recognizing what the system's correct sound to touch the pod with their paws is.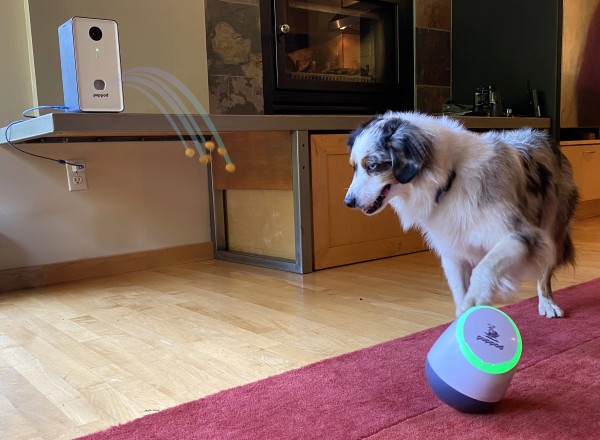 However, after your dog's first successful attempts, the game gets slightly harder as your pup gets smarter. This is when the system will start trying to trick your dog a few times with an incorrect sound (a cat meowing – associated with the pod's light ring lighting up with a red color). Most likely, the very first time your dog listens to this sound, his / her curiosity will get the best of him / her, and will get your pup to simply touch the pod once.
As expected, nothing will happen with the system's treat dispenser when your dog touches the pod after hearing the incorrect sound for the very first time. But worry not, as we all know that pups are extremely smart animals. Probably after the first (or second or third) incorrect sound, your dog will easily start understanding exactly how the system works.
The system's treat dispenser gently shoots out your choice of doggy treats after each time your dog solves the system's brain game / puzzle.
It's important to note that the company highly recommends that dog owners use uniform-shaped doggy treats (like a sphere for example), which will be dispensed more consistently, contrarily to doggy treats that come in irregular shapes (like "bone-shaped" treats), which might just fall through the hopper inconsistently because depending on their orientation.
If you still need to watch the system operating, here's the company's official demonstration video of dogs playing with the PupPod Rocker, where you can see exactly how this interactive puzzle toy system for dogs works.
MAIN BENEFITS
Dealing with Anxiety via Physical Exercise
When it comes to a dog's mental health, dog anxiety is definitely one major concern. With physical exercise being one of the best solutions to solve that problem, having the PupPod Rocker unit slightly split from the system's second piece (meaning the automated dog feeder) will encourage your dog to move around a bit after correctly solving the system's puzzle game.
In fact, many dogs actually love to work for their food, so the game keeps them happy AND healthy after solving its audio-cue puzzles each and every time. Ultimately, this 2-piece interactive puzzle game for dogs is the perfect way of turning your dog's snack time into a fun physical activity.
Keeping your Dog Happy with Mental Exercise
As we all know, dogs are very active animals. However, their huge amount of energy needs to be taken care of with a healthy balance of both physical as well as mental activities. Since your dog also needs mental exercises in order to stay happy, the PupPod Rocker is in fact one perfect way of addressing that issue.
What makes this product great is the fact that it gives pups a mental challenge. Sure enough, the first game levels are easy, but after the system recognizes that your dog got through the first few easy levels, making it slightly harder and causing one or two mistakes for your dog to solve is exactly what will make your dog super happy in the end after solving the system's game mysteries.
THE SMARTPHONE COMPANION APP – The PupPod App
Lastly, we'll talk a bit about the system's proprietary Smartphone Companion App, which is simply called the PupPod App and is available to download for free for both iOS (iOS version 12.0 and newer) and Android (Android version 7.0 (API 24) and newer) devices.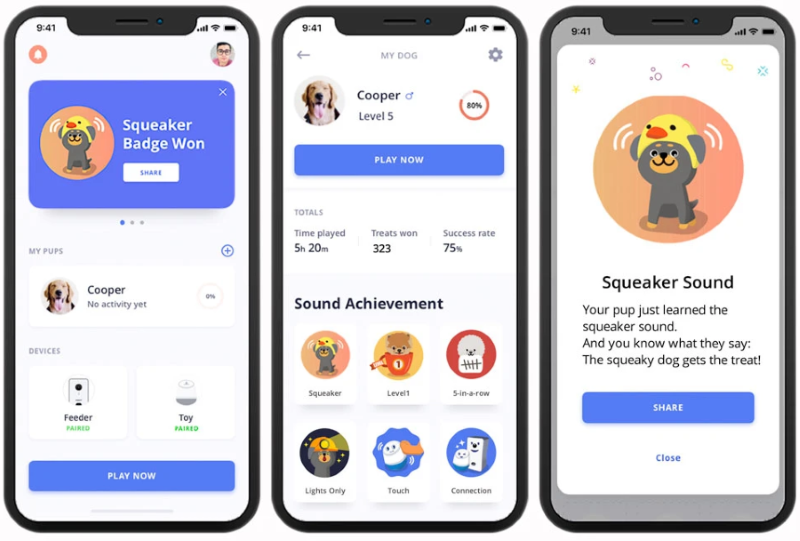 Dog owners can conveniently use the PupPod App to configure the system's game level difficulty by picking between various game levels and settings to keep their pup thinking. The App allows dog owners to fully configure the system's brain-game cues, which can either be sounds or lights (or both) and the puzzle can play according to a pattern or ultimately be random to increase the difficulty.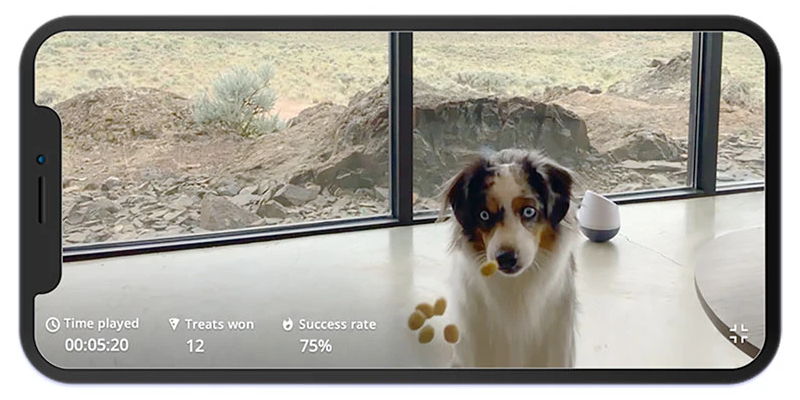 Not only that, but dog owners can also choose to simply take control of the game themselves and have a fun time interacting with their dog while watching them live via the interactive feeder's 1080p video camera, which streams video live on demand.
FINAL THOUGHTS
The PupPod Rocker with Feeder is a 2-piece App-enabled enrichment puzzle toy system for dogs that provides dog owners with a powerful tool to encourage their dogs to stay active and healthy.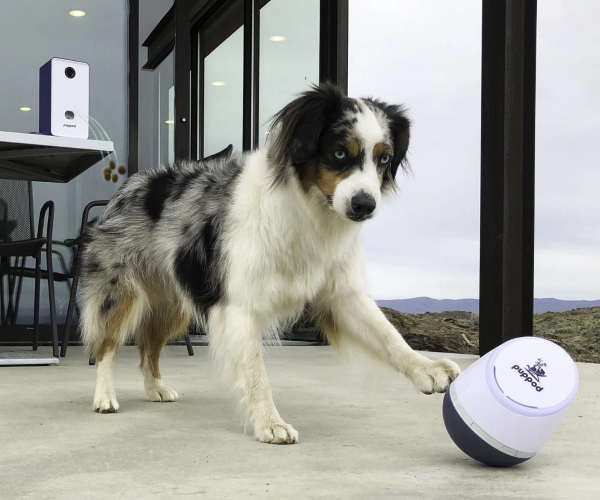 Overall, I had a blast trying this out with my dogs at home. This system is definitely a must for anyone with pups that are highly sociable.
What I mean by this is for anyone that comes home from work (or school) at around the classical 5 PM (or later) and still needs another hour (or two) or peace-of-mind to finish some office work (or homework) this system can easily keep your dog happy, healthy, and entertained.
This is, without a doubt, a great App-enabled pet gadget to pick up by any dog owner that wants to keep their dogs healthy and happy, as well as entertained with a fun and challenging activity.
If you're interested in buying it, each pack is currently going for $199.00. You can order yours online right now, directly from PupPod's official shopping page, which you can access by clicking this link.