When shopping for your next pair of wireless Bluetooth headphones for everyday use, it's important to stick to reliable audio brands that you know you can trust, like trustworthy audio brands that make the highest quality products on the market. However, when it to high-quality products, some companies tend to over-charge you for their products. As such, it's important to search the web enough so that you can get the best of both worlds. With that said, if you're searching for a high-end and reliable pair of wireless Bluetooth headphones for everyday use that comes at an affordable price, then the Bose QuietComfort 35 II Wireless Bluetooth Headphones might very well be your best choice to go with.
The Bose QuietComfort 35 II are a pair of high-quality wireless Bluetooth headphones that feature an outstanding sound quality with a Volume Optimization EQ, an ANC functionally, support to voice calls and Voice Assistant compatibility, as well as 20 hours of battery life.
This second-generation model of wireless headphones is based on the company's original Bose QuietComfort 35, which were originally announced on June 6, 2016. The QC35 II Headphones have the same outstanding performance and features of the original QC35, as they deliver the same industry-defining noise cancellation experience, a great audio performance, and a long-lasting battery life.
With these wireless Bluetooth headphones, you get everything you need for the modern world, and that obviously includes their Voice Assistant support to both Google Assistant and Amazon Alexa (the headphones' only brand-new, yet ultra-convenient functionality), which ultimately provides you with instant access to millions of songs, playlists and more, all in a convenient hands-free manner.
Now, you might be wondering if these are indeed the right wireless Bluetooth headphones for you, right? If that's the case, then join us on our detailed review of the Bose QuietComfort 35 II, where we check out every little thing that these high-end wireless headphones have to offer you.
DESIGN & SPECS
Starting with the headphones size, the Bose QuietComfort 35 II measure exactly 6.7 inches long by 3.2 inches wide by 7.1 inches tall. Not only do these headphones come in a reasonably sleek and compact design (which makes them ultra-portable and easy to carry with you), but they're also extremely lightweight, weighing just a measly 8.3 oz. (235.30 g).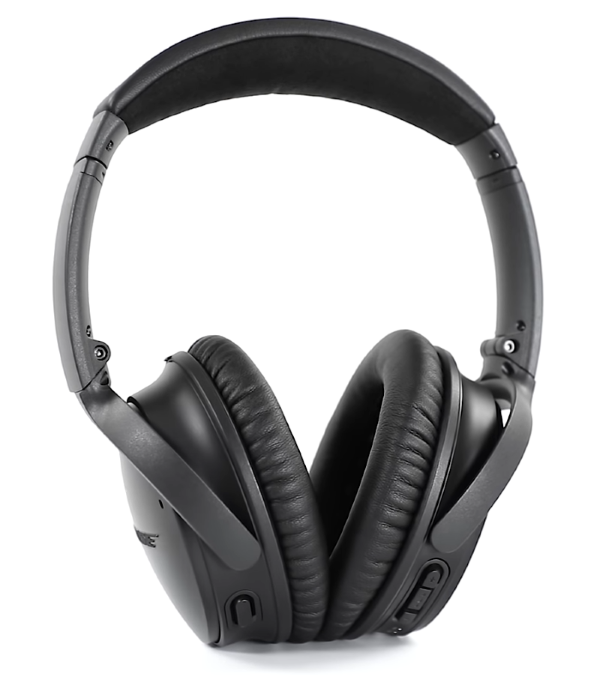 These wireless Bluetooth headphones are made of really high-quality and strong materials that ultimately give the headphones a very durable build, while also making them corrosion resistant.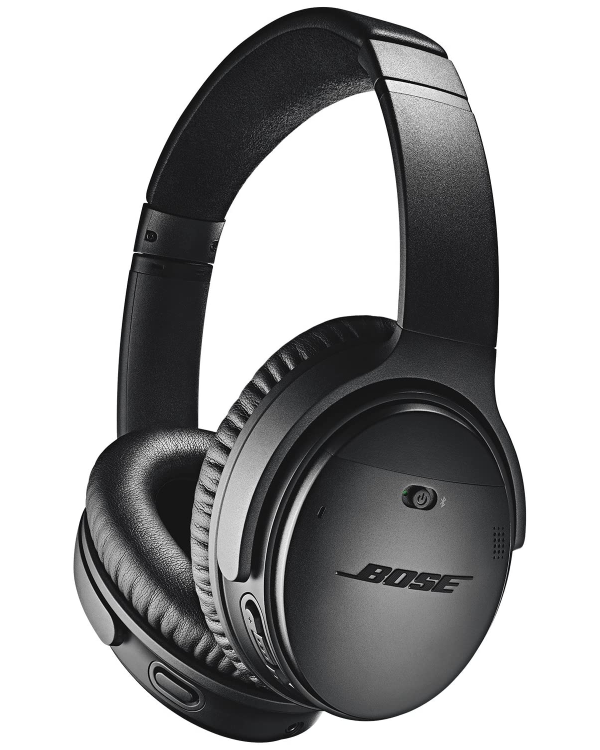 Right at the top of the headphones, there's a high-quality, thick and super-soft foam Alcantara Cushion Headband that makes wearing these headphones a very comfortable experience, and simply great for all-day wear.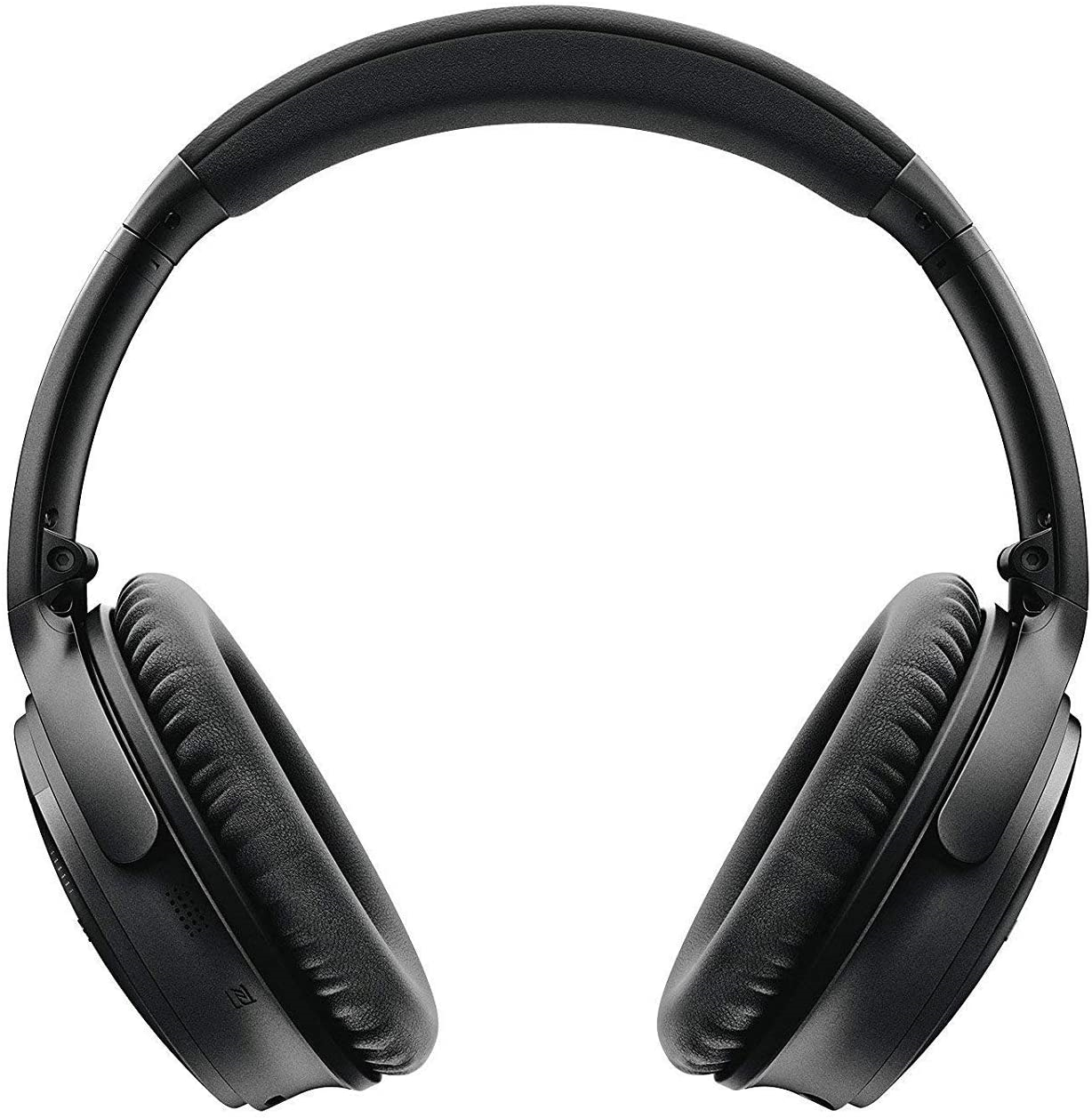 Furthermore, just like the headphones' alcantara cushion headband, you can notice that the Bose QuietComfort 35 II also integrate extra-thick and ultra-soft leather earcushions within their earcups, which just adds to the comfort level that these have to offer you. Seriously, they're great, and thanks to their Over-Ear design, they're also very, very immersive when it comes to their sound quality (more on that just ahead).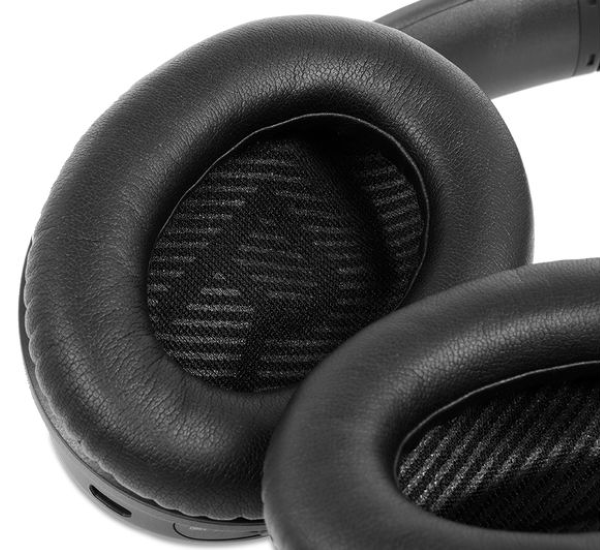 Within each earcup there's a clear, yet gently faint marking of the respective ear side that each earcup should be worn on. Additionally, each earcup also comes equipped with an integrated swivel that allows users to fully-rotate the headphones' earcups to have a better time adjusting them to their head.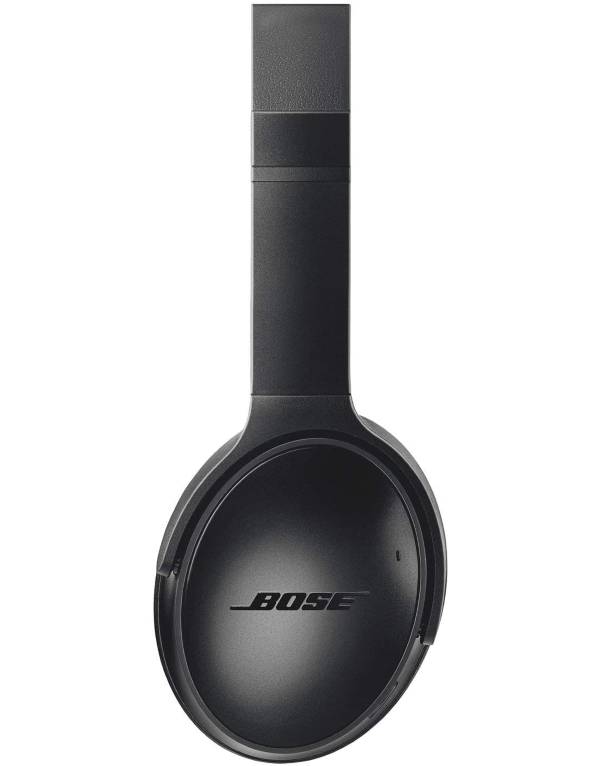 The headphones construction is very, very rigid, as you can stretch their extremely flexible padded headband to a major extent, all without having to worry about damaging or even breaking the headphones' headband.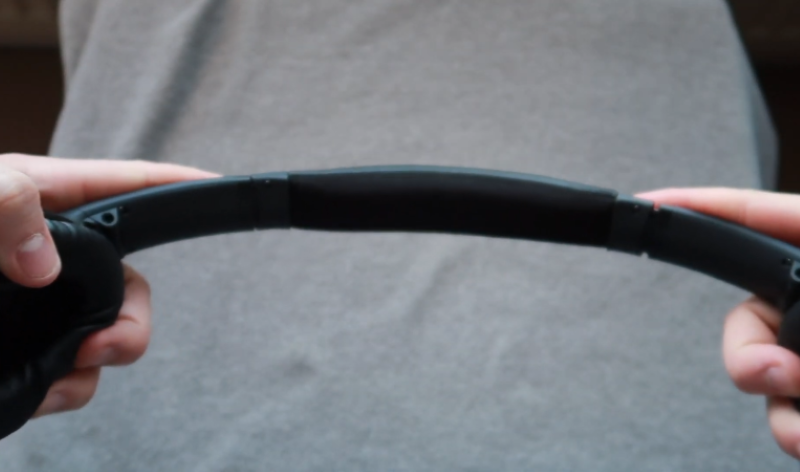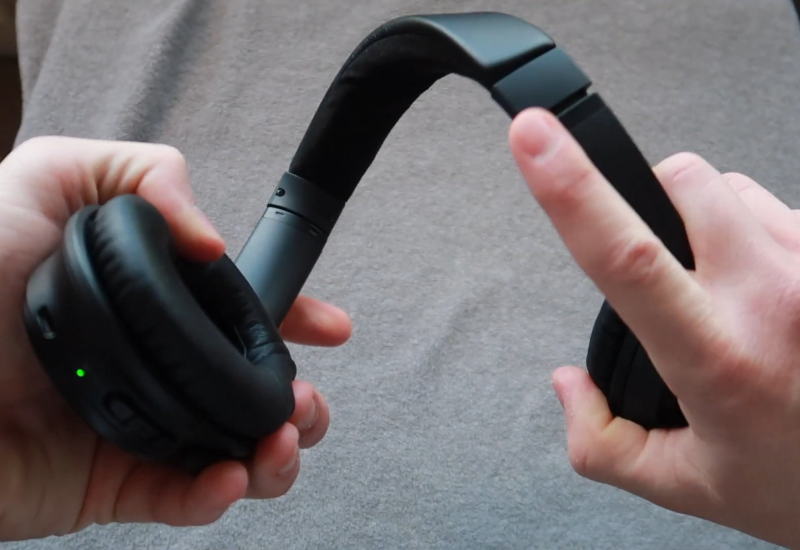 Lastly, since the headphones' ultra-durable headband is composed of really sturdy materials, it is designed to perfectly handle the "on-the-go lifestyle". You can trust me on this.
The headphones' headband as well as their construction overall are so durable that you can even carry them by their headband if you simply don't want to have to take out their included ultra-sturdy Carrying Case every time that you're not wearing them.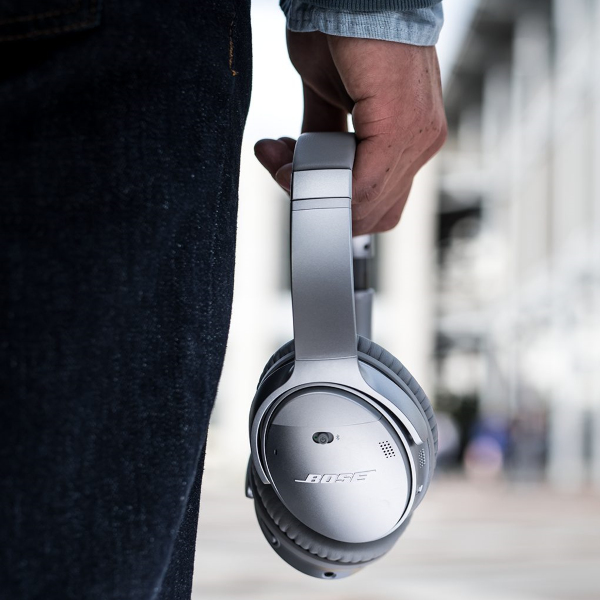 Speaking of the headphones' carrying case, the case has the exact space needed for storing the headphones when you're not wearing / using them, and its ultra-sturdy construction keeps them safe from any harm, while at the opposite side you have a small elastic storage space for the headphones' Analog Audio Cable and USB Charging Cable.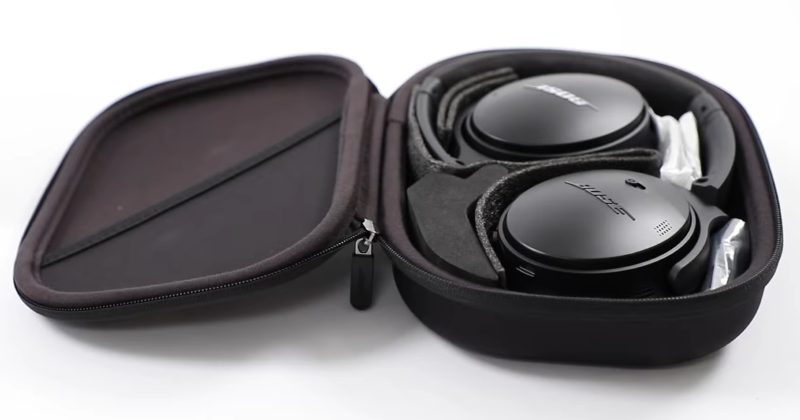 There's also an elastic pouch integrated at the back of the case that allows you to carry one or two of your personal everyday carry items (like your Smartphone or keys for example).
AUDIO SPECS & AUDIO QUALITY
Now, moving on to the headphones' overall sound quality. Since these are based on the original Bose QC 35 Headphones, they also come equipped with high-quality sound diaphragms that ultimately offer the end-user a really nice sound quality.
After testing them out while listening to a few different music genres, I can safely say that the treble (high-sounds) was accurately represented with crisp notes, and the same goes for the mids (mid-range sounds), and the bass (low-sounds). Specifically for the headphones' reproduced bass, it was reasonably punchy, and ultimately offered songs with a heavy beat a nice rhythm to them.
Moreover, the Bose QuietComfort 35 II also feature a very neutral frequency response, which is great for any sound tinkerers out there.
Not only that, but this second-generation model of the Bose QuietComfort 35 headphones also supports AAC (thankfully), which for any iOS users will be a major benefit, and you're also guaranteed to NOT experience a bad latency as well.
Even thought these wireless Bluetooth headphones don't offer support to LDAC, aptX, and aptX HD codecs for higher-quality audio streaming via Bluetooth, the lack of high quality codecs doesn't necessarily mean that these headphones are bad, as the average person will probably find them more than great.
It's also important to note that while these are wireless Bluetooth headphones, they also come with an included 47.2-inch Analog Audio Cable, which you can use whenever you're connecting the Bose QuietComfort 35 II to a non-Bluetooth device to use the headphones as a wired connection, or ultimately, for any other time where the headphones' internal battery is completely depleted (meaning having 0% charge).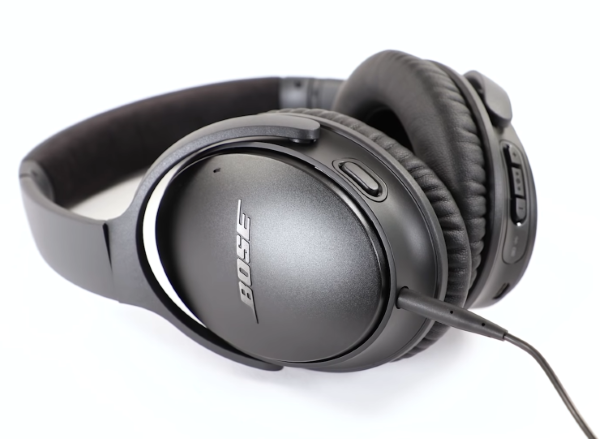 The headphones also come equipped with built-in high-quality microphones, which are integrated both inside and outside the earcups. These microphone arrays are used by the headphones for anytime that you're looking to be on a phone voice-call or on a conference call, as well as to use the headphones' new Voice Assistant functuionality (discussed in detail further ahead). These microphones actually handle the voice band reasonably well. They're not great for full-band recording, but they obviously do their job really well when it comes to capturing your voice with remarkable accuracy for calls or for Voice Assistant commands.
ANC Feature
As mentioned earlier, these wireless Bluetooth headphones also feature a really nice ANC (Active Noise Cancellation) functionality, which is boasted by their built-in microphone arrays.
The headphones' microphone can accurately sense and measure any unwanted sounds from your surrounding environment, and then send those same unwanted sounds to to two proprietary digital electronic chips – one for each ear – which respond with a precise, equal and opposite signal in less than a fraction of a millisecond.
Thanks to that, you'll never have to hear the annoying rumble of the subway station, a car, plane engine, or even the loud noise of a busy crowd within the rush hour. By using the headphones' ANC functionality you can easily stay in silence or hear to your favorite music more clearly. Lastly, the App also features a customizable EQ that can be used to further balance the headphones' sound to your needs, equally at every volume and for any music genre.
Just like its predecessor, the QC35 II's noise cancellation is fully activated whenever you have the headphones turned on, but via the Bose Connect App (discussed at the end of the article) users can choose to keep the ANC function on High, turn it down to Low, or have it completely disabled (turned Off).
INTERFACE & TOUCH-CONTROLS
Just like the original model, the Bose QC35 II Headphones offer you simple and easy-to-use touch-controls. That being said, the headphones' touch-controls have remained exactly the same as in the original QC35.
Starting with the right earcup's outer side, there's an On/Off Button that can be used to easily turn the headphones On or Off.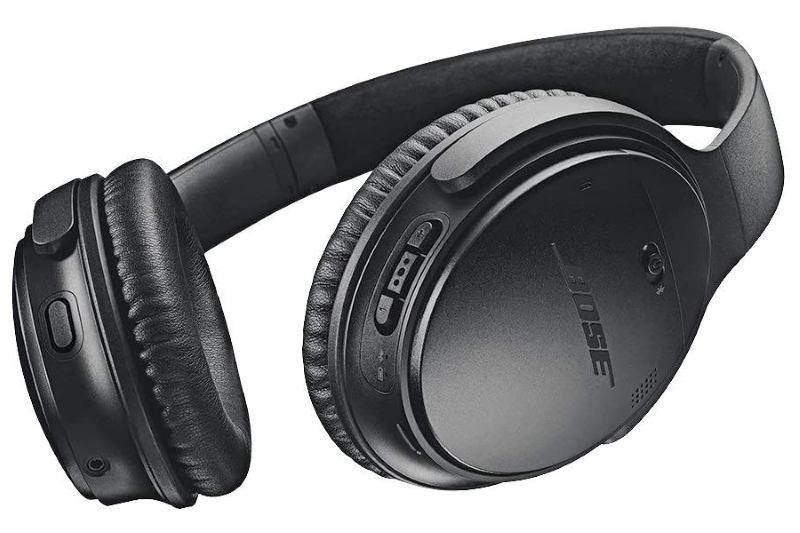 Then, at the back side of the right earcup you'll find Increase and Decrease Buttons to easily adjust the headphones' volume, and at the middle of those, there's a Multi-Function Button that's used to initiate Play, Pause, and some other soundtrack controls.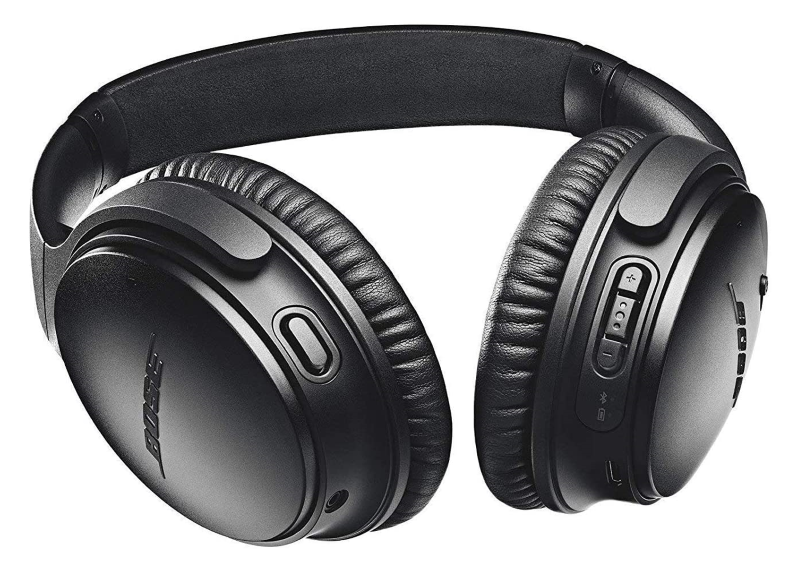 Under these three buttons there's both a Bluetooth LED and a Battery Life Status LED, which are there to inform users about the headphones' Bluetooth connectivity status as well as the headphones' remaining battery life.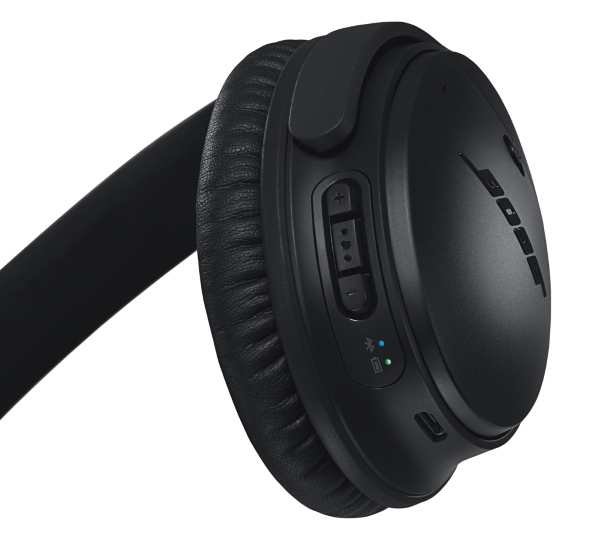 Additionally, close to those informational LEDs, there's also the headphones' dedicated USB Charging port, which can be used to conveniently recharge their internal battery.
Moving on to the opposite earcup (the left side earcup), users will find a the headphones' brand-new Action Button, which can be used to connect the headphones to your Google Assistant in a hands-free manner, meaning without having to grab your phone, unlock it, and find the App.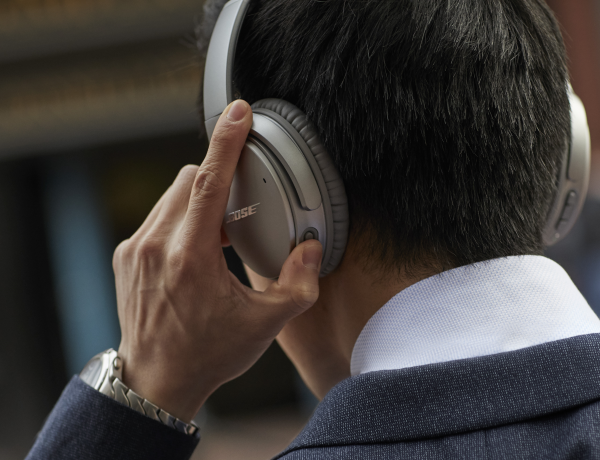 CONNECTIVITY
These wireless Bluetooth headphones feature a reliable Bluetooth connectivity, and can offer you a strong and consistent wireless connection anywhere, and at any time while using Bluetooth or NFC.
BATTERY & BATTERY LIFE
As mentioned earlier, the Bose QuietComfort 35 II Headphones come equipped with a rechargeable Lithium-Ion battery that can offer you up to 20 hours battery life for both your music listening and voice calls needs, and thanks to that, you can easily keep this pair of wireless Bluetooth headphones going all day long.
By using the headphones' included 12-inch USB Charging Cable you can easily recharge them at home, at work, or even at a coffee shop or while you're waiting for your next flight at the airport.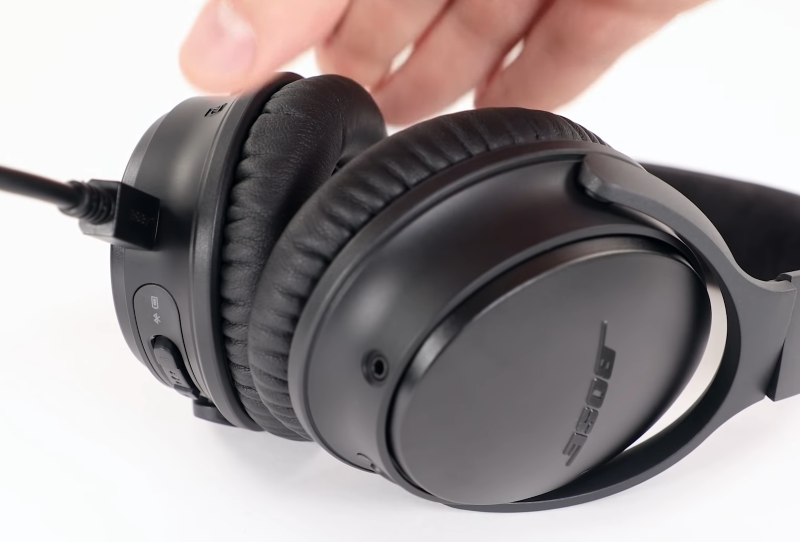 I'd also like to mention that these wireless Bluetooth headphones also support Fast Charging, and thanks to that, a quick 15-minute charge can gives you another 2.5 hours of battery life whenever their battery is about to run out.
OTHER NOTABLE FEATURES
Voice Assistant Support (Google Assistant & Amazon Alexa)
With both Google Assistant and Amazon Alexa built-in, the Bose QuietComfort 35 II give you an easy way of having instant access to millions of songs, playlists and more, all in a completely hands-free way.
It's important to note that for this new feature, Bose worked together with Google on this exclusive feature for this second-generation of their QC35 Headphones (the QC35 II), making this the very first integration of Google Assistant in a pair of wireless headphones.
By simply pressing and holding the left earcup's Action Button, your own personal Google Assistant is activated and ready to help, and thanks to that, you won't have to wait, look, swipe, or even type for anything you need.
You simply have to start talking and the Google Assistant will help you manage your music as well as help you to get any other things done (like adding appointments to your Google calendar). Thanks to that you can always stay connected – from simple things like making a call, getting instant audio notifications about incoming messages, events and reminders, which are all read back to you.
Lastly, you can also use the Google Assistant to answer any questions or to find information. Check a sports score, the latest headlines, whether your flight's on time, what movie's playing downtown, and more.
THE SMARTPHONE COMPANION APP – The Bose Connect App
The Bose Connect App, which is available to download for free for both iOS and Android devices is what allows you to use all the features offered by these wireless Bluetooth headphones, including managing your Bluetooth connection and the headphones' Volume Optimization EQ, or even using functions like volume control, buttons customization and more.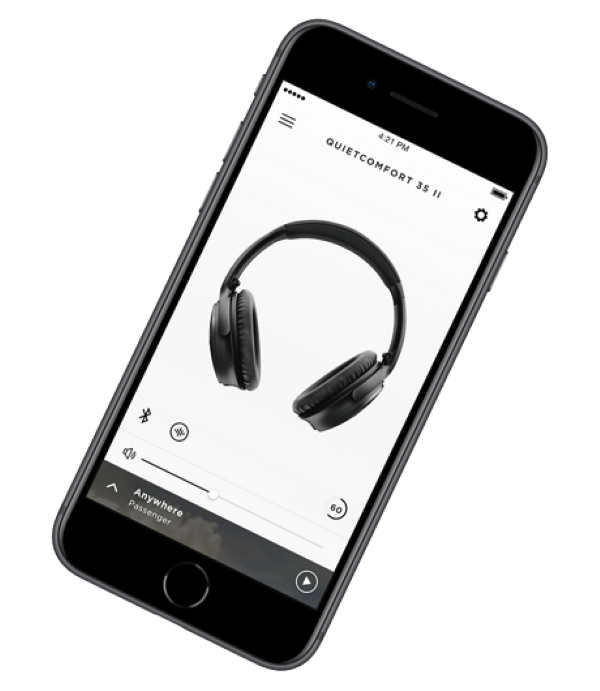 Lastly, the Connect App also allows users to change the left earcup's Action button's functionality, so you can control the noise settings from the earcup when you want, as well as switch back to your Google Assistant whenever you need to do so.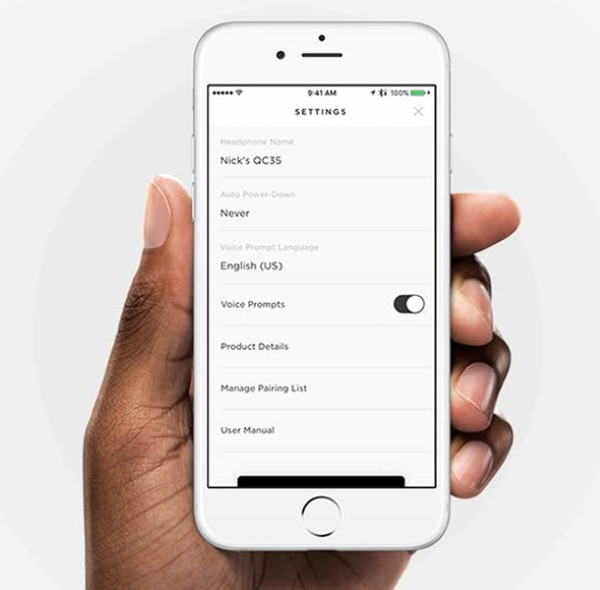 WHAT'S IN THE BOX?
Inside each package, users will find: their pair of  Bose QC 35 II Wireless Bluetooth Headphones, the headphones' included Audio cable and USB Charging Cable, the headphones' proprietary Carrying Case, a Quick Start Guide, Safety Instructions, and Warranty Card.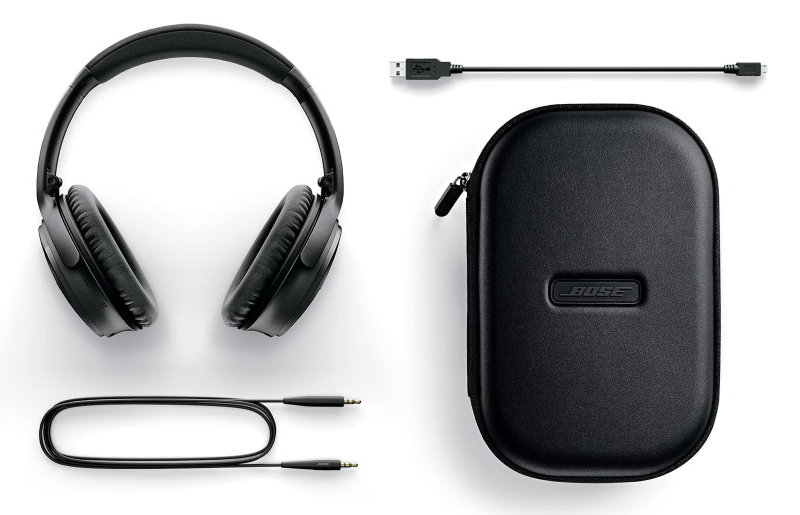 FINAL THOUGHTS
The Bose QuietComfort 35 II are a pair of high-quality wireless Bluetooth headphones that feature an outstanding sound quality with a Volume Optimization EQ, an ANC functionally, support to voice calls and Voice Assistant compatibility, as well as 20 hours of battery life.
After testing these out for a few days, I'm very pleased to say that these are some of the best (if not the very best) wireless Bluetooth headphones that I've had the pleasure of testing out. The sound quality is great, the Bluetooth connectivity is flawless, the ANC function works really well for crowded areas, and the built-in quick-touch controls make it super easy to control the headphones' many functionalities, including using the Google Assistant.
The Bose QC 35 II Headphones are currently available in two standard color models: Silver and Black. However, paying a $50 extra fee will allow customers to fully customize the headphones' look to a more colorful design. For that last option, there are 17 different colors to choose from, with an included 5 different options for types of metallic paint and 5 other different options for the headphones' premium metal finish.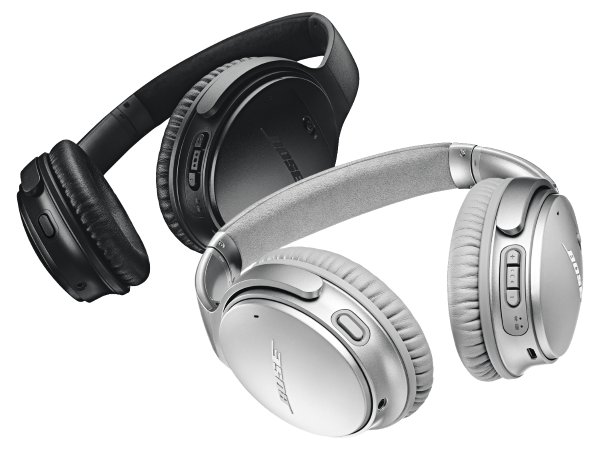 If you're interested in buying these awesome wireless Bluetooth headphones, they're currently discounted from their normal price of $299.00, now going for just $269.00. You can order yours online right now through Staples.com, which you can access here.
Staples offers curbside pickup in stores, same-day delivery via Instacart, as well as free next day delivery to ensure a safe and convenient shopping experience. For customers who can't travel home this holiday season, Staples is offering 25% off expedited UPS shipping services in-store (11/1/20-1/2/20) so all your gifts arrive to loved ones on time.