This next line of kitchen gadgets is perfect for any cooking enthusiast that loves to spend their time in the kitchen preparing awesome meals for big dinners with friends or family events. Meet the Dreamfarm Kitchen Gadgets Line.
The Dreamfarm Kitchen Gadgets Line includes the world's best kitchen tools that you can find, all featuring unique designs and serving specific purposes.
This awesome collection of essential kitchen tools will quickly change the way you spend your time cooking in the kitchen, making it much easier for your to do several of your meal-prepping tasks without any hassle whatsoever.
For "at-home chefs", switching to a completely brand-new line of cooking gear that they never heard of before can be a hard choice to make. Nevertheless,  between all the steam mops, ab rollers and steak knives, there's a whole lot of junk out there, and not all collections of kitchen gadgets can do exactly what they promises to achieve.
That is… unless you go for a collecting of kitchen tools and gadgets like the Dreamfarm Kitchen Gadgets Line, of course.
DREAMFARM – COMPANY STORY
The company behind this awesome and ingenious collection of kitchen tools is an Australian design company called Dreamfarm. The company integrates a reasonably small team of genius minds that are always one step ahead of the rest of the world, as they envision their ground-breaking ideas from the ground up to reinvent amazing new kitchen tools.
Thanks to their hard work, the brilliant minds at Dreamfarm come up with revolutionary kitchen gadgets that are guaranteed to change the way and time you spend in the kitchen.
Now that we've got your attention, if you're interested in knowing what these incredible kitchen gadgets are and exactly what they can do, then join us in our detailed review for some of the Dreamfarm Kitchen Gadgets.
Dreamfarm Scizza Pizza Cutter
This one is specially made for pizza lovers. The Dreamfarm Scizza is a unique and ultra-reliable pair of curved scissors that works as a specialized pizza cutter, perfectly cutting slices from one end to the other.
This unique pizza cutter can perfectly slice any pizza, on any surface, and even allows you to serve those freshly cut slices too.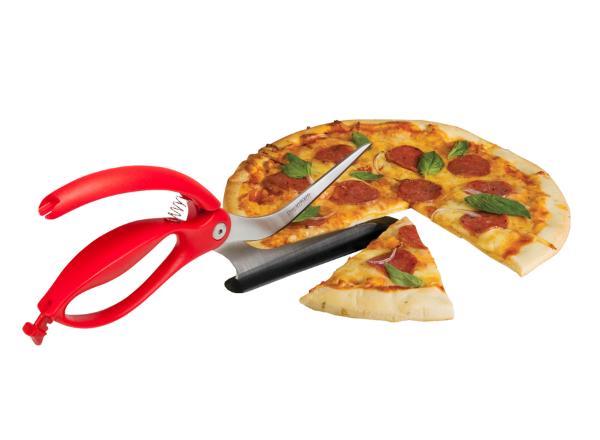 Thanks to it, you'll never again have to depend on a blunt pizza wheel cutter, so throw that old and outdated one in the bin and consider getting the Scizza, which, without a doubt, will make all of your future pizza nights stress-free, so that you can have more time and energy to focus on what really matters… spending time with family and friends and enjoy a good slice of pizza!
This awesome kitchen tool comes at just $34.95 per unit. You can get yours directly from this page.
Dreamfarm Tapi Tap-Attachment
The Dreamfarm Tapi is a tap-attachment that lets water pass through it normally until its squeezed, conveniently transforming your tap into a drinking fountain.
It's the perfect little thing to have around when your cooking boiling hot meals or preparing your family's lunch on a hot Summer day, as you'll most likely need to cool yourself off by drinking a bit of fresh water.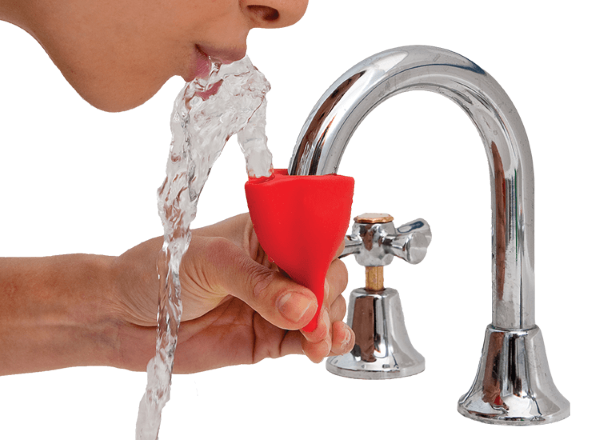 Ultimately, the Dreamfarm Tapi saves you on both time and hassle, as all you have to do is have installed in your tap, open the tap water, and give it a squeeze to quickly and very conveniently turn your tap into your personal drinking fountain. Thanks to it, you can stay more focused on your recipes without ever having to worry about grabbing a glass of water when you need to quench your thirst.
This cool kitchen attachment comes at a very, very affordable price, costing you just $5.95 per unit. You can get yours from this page.
Dreamfarm Jot Suction Hook & Countertop Organizer
This is yet another of Dreamfarm's ingenious kitchen attachments that's bound to make your cooking experiences much, much easier. The Dreamfarm Jot is a suction hook attachment that comes with together with adhesive plastic discs to easily hang on to anything you want it to, including painted walls, melamine wall panels, wooden walls with a varnish coating, glass (so it also works in your kitchen windows), and standard kitchen tiles.
With it, you can easily keep stuff like extra kitchen gadget cables nice and tidy, and ultimately out of your way. Thanks to its minimalist design and ingenious functionality, the Dreamfarm Jot ultimately allows "at-home chefs" to have more space within their kitchen counters.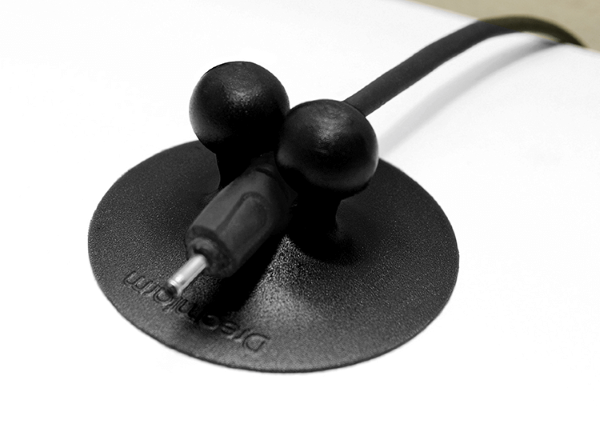 Definitely, this one is a must for anyone that has a lot of wired kitchen appliances at the top of their kitchen countertop, as it will help them to clear up all that mess to make up for more meal-prepping space.
This set of small kitchen attachments is also very affordable, costing you just $11.95 per each set of four (x4). You can order yours online directly from this page.
Dreamfarm Smood Lite Potato Masher
This next kitchen gadget from Dreamfarm is for those that simply love mashed potato recipes. The Dreamfarm Smood Lite is an awesome nylon potato masher equipped with a powerful spring that can quickly flatten your sliced and cooked potatoes through the thin gap in its coils to create a smooth and fluffy potato mash in just one single press.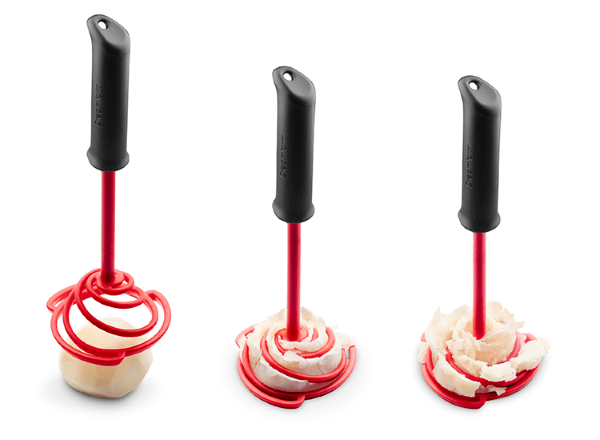 Its integrated handle is quite sturdy, yet still very comfortable to hold, and so, you don't have to be ultra-gentle about it when you're looking to squash down your next batch of freshly cooked tatters.
This awesome potato masher comes at the very low price of just $14.95 for each unit. You can get yours online right now by clicking this link.
Dreamfarm Supoon Universal Spoon
This one is perfect for those who use lots of spoons for their recipe measurements but still hate to have so many dirty spoons at the end of their meal-prep.
Meet the Dreamfarm Supoon, a simple, yet ingenious kitchen tool that works as a universal spoon for every purpose, featuring a flat squeegee tip, a deep scooping head, and ultra-flexible sides that ultimately allow you to measure teaspoons and tablespoons as well as easily scrape your pan or bowl clean.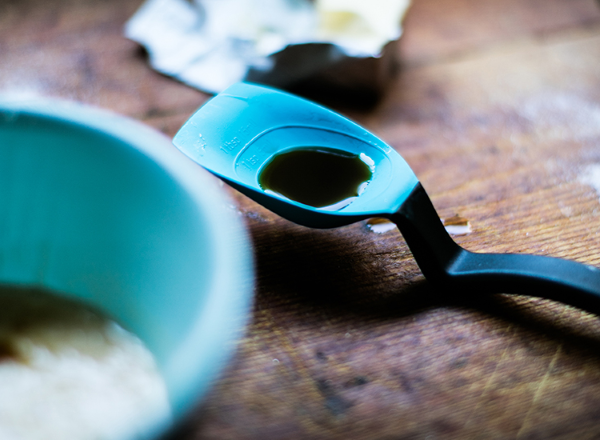 Additionally, it's unique clever-handle design allows the spoon to easily rest sitting upwards, which enables you to conveniently set it down without having to worry about it dancing on top of your kitchen countertop and end up making a mess.
Last but not least, the Supoon also features ultra-reliable measurement markings within its spoon head that are very easy to see and read, and that ultimately makes it easier for you to use it for one of its secondary purposes, which is measuring different amounts of food-additives
This ultra-versatile spoon will cost you just $9.95 per each piece. You can purchase via this link.
Dreamfarm Garject Handheld Garlic Press
This next kitchen tool is the perfect gadget for those that hate to finish preparing garlic cloves and leave with their hands extra dry, sticky, and smelling like their kitchen's garlic keeper.
The Dreamfarm Garject is a versatile and ultra-reliable handheld garlic press that can conveniently press unpeeled garlic, while also scraping itself clean and ejecting all the garlic peels, ultimately leaving your hands perfectly clean after your done prepping your garlic cloves.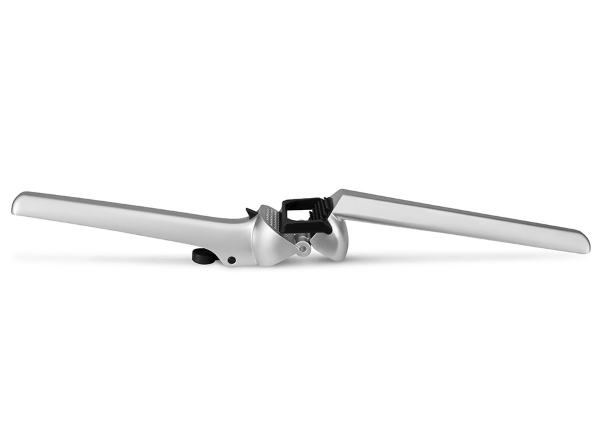 By using this revolutionary handheld garlic press, all of the garlic ends up in your meal, your hands don't stink and you even have no need to worry about cleaning the tool, as the Garject practically cleans itself in the process.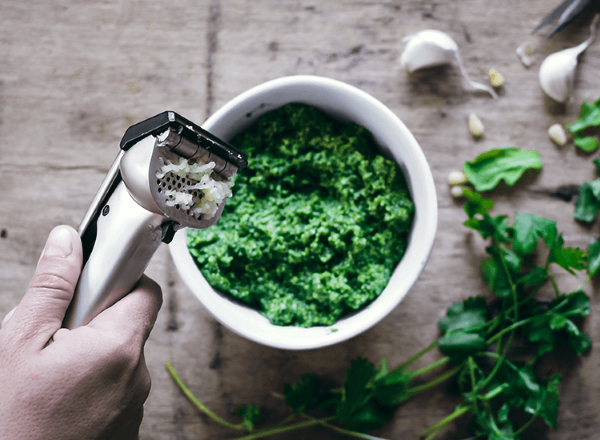 If you're interested in buying this cool kitchen tool, each Garject garlic press comes at just $49.95. You can get yours by accessing this page.
Dreamfarm Clongs Lockable Kitchen Tongs
This next little tool is perfect for those that love to cook pasta, prepare salads, or any other recipe that requires tongs to be served with ease.
Meet the Dreamfarm Clongs, a pair of click-lock tongs that can sit up thanks to their unique design, which integrates a clever bend within the handles.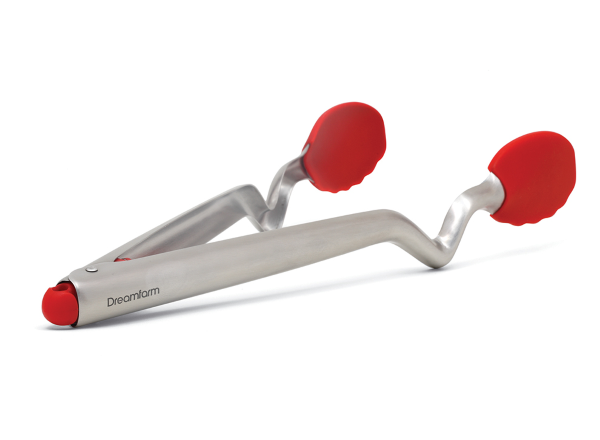 These simple and versatile tongs work just like a retractable "clicky" pen, and can be easily opened with the push of a click-button, but they can also be easily locked closed by pushing that same click-button a second time.
If you're looking to get these cool and versatile clongs, each pair comes at just $24.95. You can order them by clicking this link.
Other Dreamfarm Kitchen Gadgets
If you're interested in knowing what are the other cool and ingenious Dreamfarm Kitchen Gadgets that the company has available for you, then head on to their Products Page to check out everything else they have in store.
Simply click the provided link to go to the company's corresponding product page.