This next gadget is perfect for those that love to do some gardening and landscaping. Whether you're a simple homeowner looking for an easier and better way of taking care of your home garden or a professional landscaper looking for new and revolutionary tools that can help to make your work much easier, you'll probably know just how hard of a task both gardening and landscaping really are. With that said, for anyone that loves to spend their free time doing gardening work or for anyone that's looking to take their gardening business to the next level, the RotoShovel is an amazing piece of equipment.
The RotoShovel is a 22-inch battery-powered shovel that doubles as a handheld auger/drill, working both as a simple handheld shovel and as a powerful electric auger for precision digging.
This 3-in-1 solution brings you a powerful electric auger, a precision digging tool, and a handy shovel that come integrated together all inside one single lightweight and battery-powered handheld powerful digging tool. In fact, this is the world's first lithium-ion battery-powered automatic handheld shovel that's equipped with an auger.
With it, you can halve any gardening excavation time while simultaneously staying safer and cleaner than when using a traditional shovel. As such, this innovative gadget can take most of the work out of gardening and landscaping, thus making it a great tool for both homeowners, DIY gardeners, and landscaping professionals.
Now, without any more delays, let's have a more detailed look at the RotoShovel and check out everything that this cordless battery-powered shovel and handheld auger/drill has to offer you.
DESIGN & SPECS
Starting with RotoShovel 's exact size and weight, the whole unit comes in a very compact form, measuring exactly 22 inches long by 5 inches wide and weighing just 7 lbs. The unit's handle is made of high-quality hard plastic but it is still reasonably comfortable to grip, and its plastic handle measures exactly 10 inches long.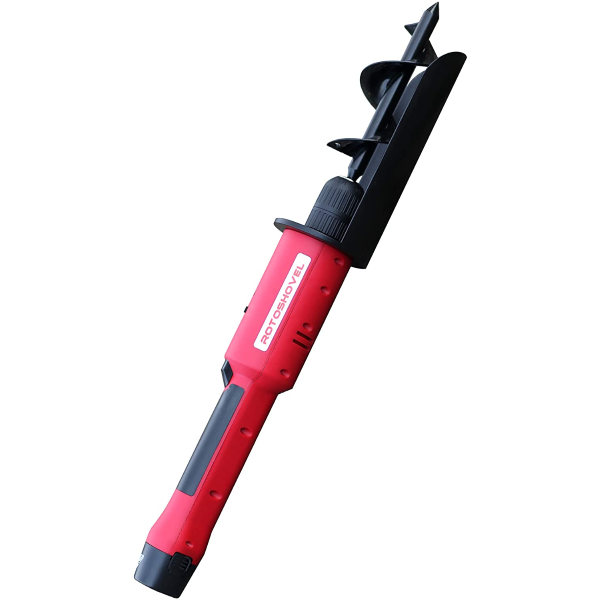 Moving on to the RotoShovel's shovel and auger parts, both its built-in Shovel Blade and Battery-Powered Auger feature a very sturdy construction, as their both made from high-quality aluminum and steel metals, so this awesome digging tool definitely has a lot of durability when handling all of the grunt gardening work.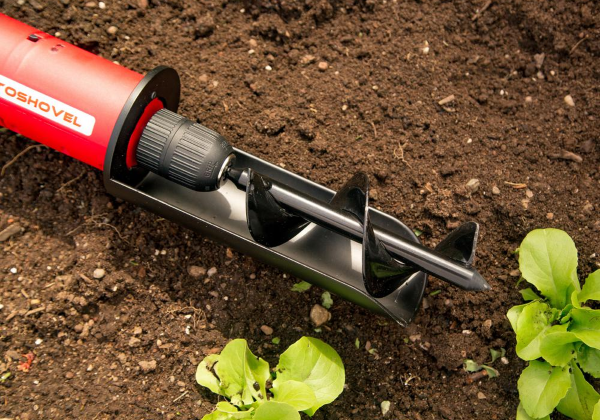 The RotoShovel's built-in Shovel Blade measures exactly 8 inches long by 4 inches wide. Right above the blade we can also find the RotoShovel's Battery-Powered Auger, which measures 7 inches long by 3 inches in diameter.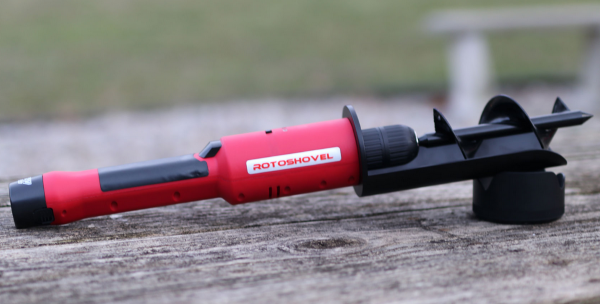 I'd also like to note that the RotoShovel also comes with its very own included Carrying and Storage Case, which comes padded internally with some nice and high-quality memory foam to keep all of the unit's components perfectly stored and protected during transportation.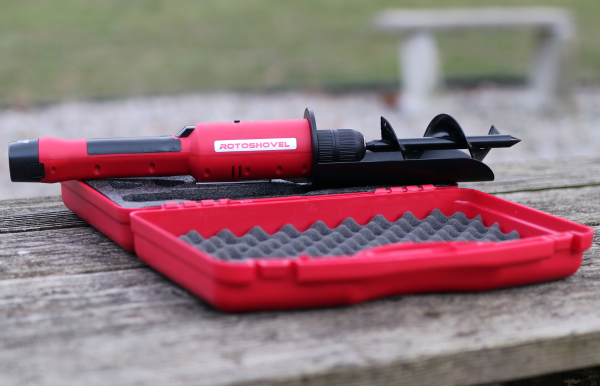 HOW DOES IT WORK?
As mentioned earlier, the RotoShovel reinvents your traditional shovel and takes the work out of gardening and landscaping. Thanks to the RotoShovel's all-in-one functionalities, users can use this awesome gardening tool for both digging and scooping.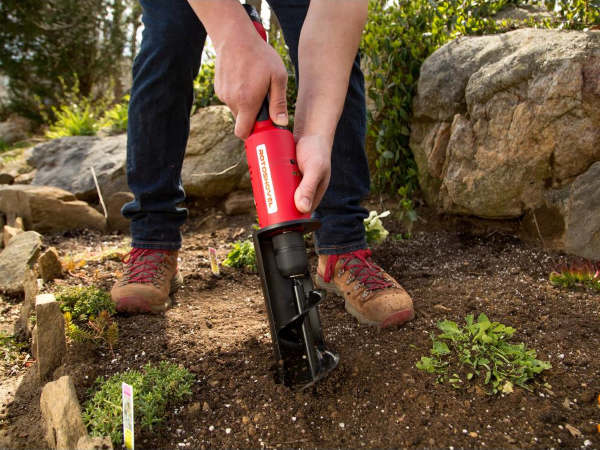 Whether it's planting flowers and bulbs, or digging a hole for a new small tree plant (or even a hole for your mailbox), this battery-powered shovel and auger can the job done in mere seconds.
Built inside the unit, we also have a powerful motor that's responsible for providing power to the unit's electric auger/drill. Thanks to that same high-speed motor, you can rely on the RotoShovel to maximize your time working on your garden / backyard by halving all of your planned gardening work.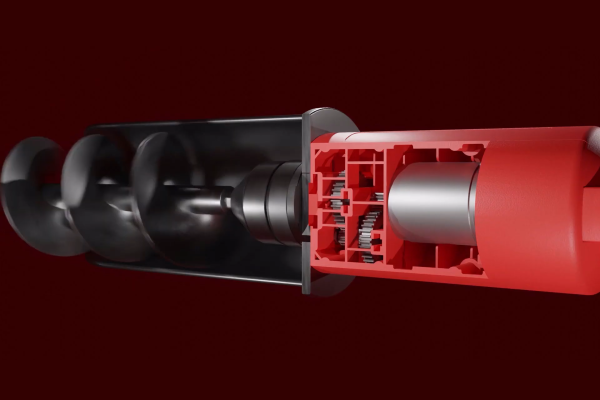 Since the RotoShovel can be used as a small gardening drill for digging holes, this battery-powered gardening tool is ideal for planting vegetables, installing annual flowers, and pretty much anything else that you can think of.
At the center of the unit's, users have a built-in On / Off Power Button that allows them to start the unit's motor and battery to have its built-in electric-powered auger drilling one or more holes in absolutely no time.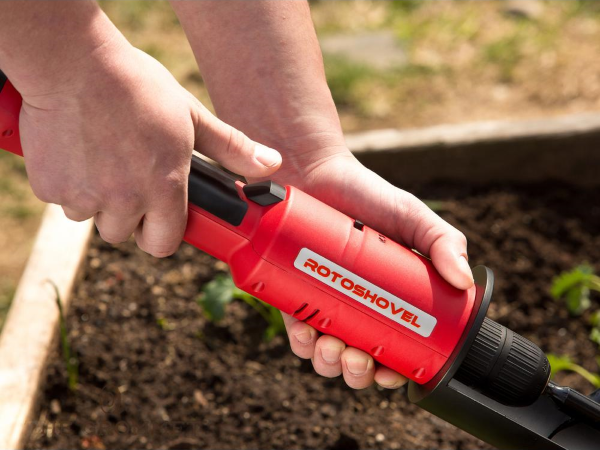 BATTERY & BATTERY LIFE
Now, what makes the RotoShovel work as a Battery-Powered Shovel and Handheld Auger/Drill is none other than its built-in rechargeable 12V Lithium-Ion battery, which can offer you up to 2 hours of continuous use on a single charge.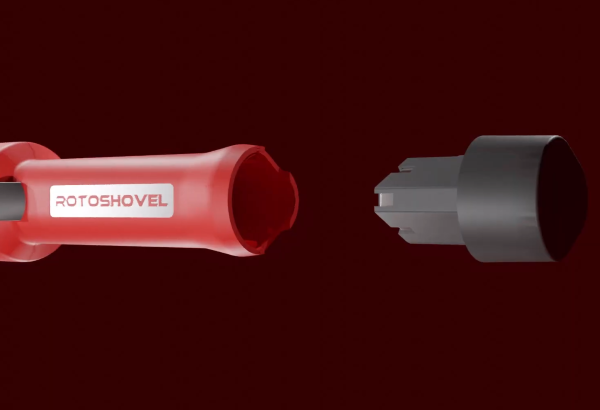 Overall, that will basically give you plenty of time to accomplish any gardening tasks that you've got planned.
OTHER NOTABLE FEATURES
Auto Safety Shut-Off
There's also one other cool feature that I'd like to point out, and that's the fact that the RotoShovel also has an Automatic Safety Shut-Off feature that will be automatically activated if the unit's auger ever happens to hit a rock or root, as well as if you accidentally let go of the thumb trigger and end up dropping the unit on the floor.
WHAT'S IN THE BOX?
As mentioned before, the RotoShovel comes with its very own Carrying and Storage Case, which packs all of its components and accessories together in one sturdy, compact and safe place.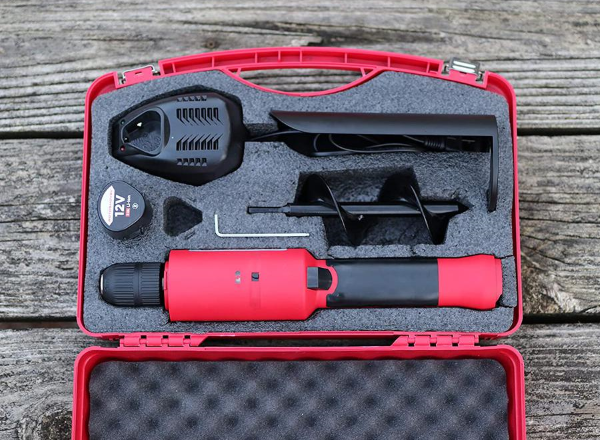 Inside each package users will find: the RotoShovel's Electric Handle, its Auger Attachament, its Shovel Attachament, a detachable and rechargeable 12V Lithium-Ion Battery, the unit's proprietary Power Adapter / Charger, and a small wrench to have an easy time putting the unit's attachments all together into one piece.
FINAL THOUGHTS
The RotoShovel is a 22-inch battery-powered shovel that doubles as a handheld auger/drill, working both as a simple handheld shovel and as a powerful electric auger for precision digging.
With it, you can perform digging and scooping tasks with ease and take all of the work out of any basic gardening tasks, and as such you'll be able to avoid getting dirty during any gardening days while also having some more free time to relax after you're done planting on your garden.
If you're interested in buying it, each unit is currently going for just $139.99. You can either get it online from the RotoShovel's official website, or alternatively, you could order it from Amazon, from The Home Depot, or even from Walmart.