This next cooking gadget is perfect for those that love to bake their own home-made pizzas, as well as to prepare and follow multiple grilling recipes, or even to cook any other type of delicious meals. Meet the Capt'n Cook OvenPlus Salamander Grill.
The Capt'n Cook OvenPlus Salamander Grill is a 3-in-1 multi-function kitchen appliance that can be used as a pizza oven, as a smokeless grill and as a gas cooker.
Thanks to its multi-functional design, you can conveniently use the OvenPlus to easily prepare any dish and to ultimately take your culinary endeavors to the next level.
Now, without any more delays, let's have a more detailed look at this awesome multi-function kitchen gadget.
DESIGN & SPECS
Starting with the unit's exact size, the Capt'n Cook OvenPlus Salamander Grill measures exactly 13 inches long by 20 inches wide by 20 inches tall.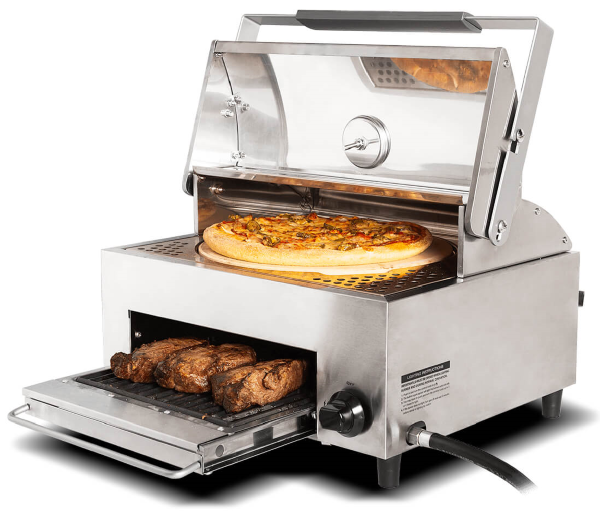 Thanks to its ultra-compact design, this multi-function Salamander Grill is also very easy to carry around. Starting right at the top of the unit, we have its built-in Stainless Steel Carrying Handle, which makes the OvenPlus ultra-portable, thus allowing you to take it with you everywhere you want. Thanks to that, you can easily organize backyard cookouts for family and friends and throw the best yard parties with deliciously cooked food, or ultimately, take it with you on any future camping trips to grill the perfect snack while you enjoy the outdoors.
Not only that, but this multi-function Salamander Grill also comes equipped with a Detachable Grease Draining Tray that ultimately makes it much easier for you to clean the unit after your done cooking with it.
Now, as stated before, the Capt'n Cook OvenPlus Salamander Grill is designed as a 3-in-1 multi-cooker, bringing you the perfect combination of a pizza oven, a smokeless grill and a gas cooker, which can all be used at the same time. Thanks to that, you can cook pretty much anything on it, whether that's a pizza, some nice grilled steaks, or even some seafood risotto. That ultimately makes the OvenPlus your best choice for an everyday- grill.
Furthermore, while the OvenPlus is only ⅕ in size comparing to any standard American outdoors grill, this multi-cooker is still way more versatile and can still offer you way more cooking functionalities than any traditional outdoors grill.
Energy Efficient Thermal Flow Design
Starting right at the center of the OvenPlus, we have its Butterfly Burner, which comes integrated right above its grilling grids, basically working as the heart of this amazing Salamander Grill.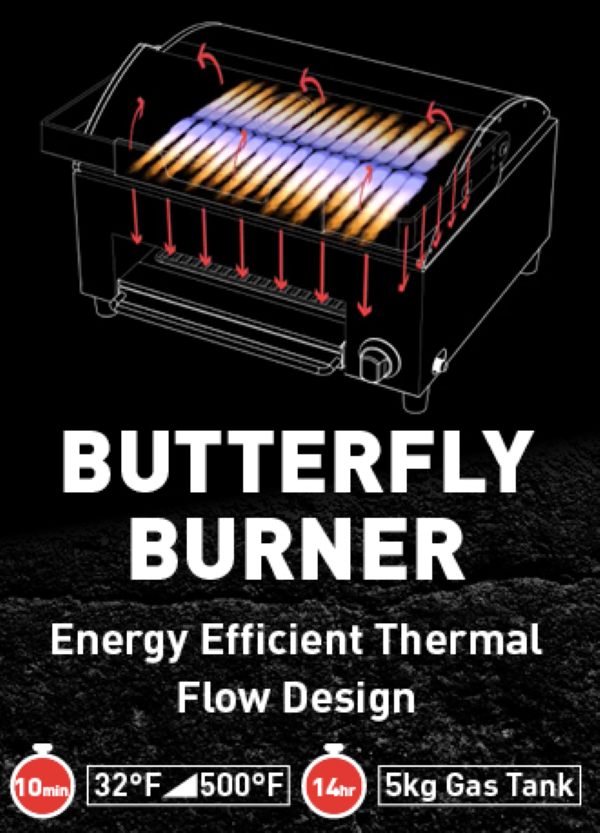 Unlike traditional tubular burners, this special Energy Efficient Thermal Flow design helps to enhance the unit's cooking functionalities for better performance and higher quality food, and so, it brings you two main benefits – it makes the unit's grill function virtually smokeless – so that you can cook with a peace of mind without ever having to experience the harmful effects of smoke and fumes – while also offering you a smarter way of grilling your food.
Since the multi-cooker's Butterfly Burner features a horizontal orientation of the fire, it helps to minimize the fire contact with your food to give you an increase on both cooking performance and quality.
Secondly, since the OvenPlus' inner structure is designed to enhance its thermal convection, that also helps to maintain the temperature within the grill, which ultimately ensures that all the generated heat is spread nice and evenly while also helping to reduce any cold (or colder) spots. Thanks to that, you can always get great quality cooking for your everyday recipes, meaning that no matter if you're cooking steak or salmon, you're guaranteed to always be able to get great tasty meals fresh off the grill with perfect sear marks.
Thermal Efficient Body
Additionally, since the unit's body is mainly made of 430 Stainless Steel, that not only gives it a lot of durability, but also helps the unit to contain its inner heat for whenever you're cooking while using any of its three (x3) cooking-functionalities (Pizza Oven, Salamander Grill or Gas Cooker).
Total Cooking Area
When it comes to its offered cooking space, the combination of the Capt'n Cook OvenPlus' Pizza Oven, as well as its Salamander Grilling Grid and its Gas Cooker Stove area bring you a total cooking area of exactly 275.6 sq. inches, which, if you ask me, is more than enough space to feed a small group of family members and/or friends while still being able to always have more delicious food cooking while you continuously keep serving everyone at your private picnic.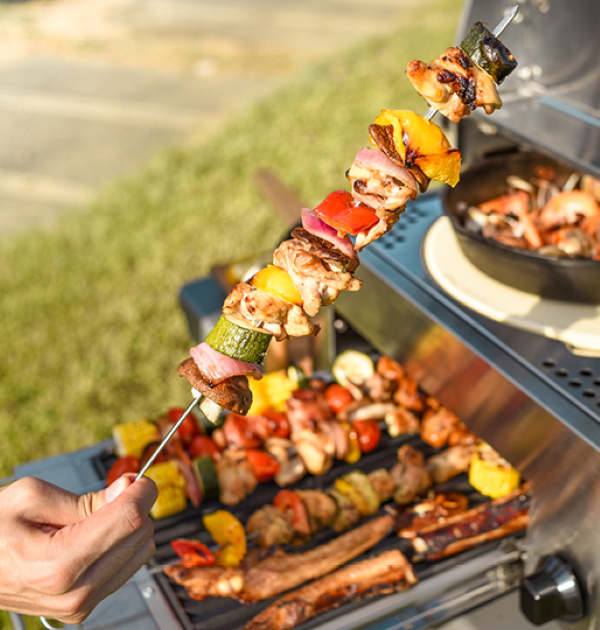 I'd also like to note that the OvenPlus' Cast Iron Steel Cooking Grid for its bottom-side (meaning its Salamander Grill bottom-part) features a beautiful black porcelain finish that keeps any cooking mess barely visible.
Temperature Specs & Gas Tank Run-Times
The multi-grill can quickly raise its inner generated heat up to 500°F within 10 to 15 minutes and can also maintain your selected temperature to bring you an unparalleled cooking experience. Ultimately, the unit's fuel-efficient system can get its Pizza Oven to go up to 800°F.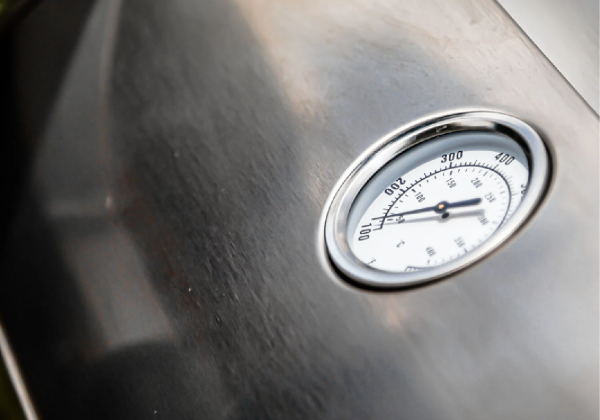 Another really cool thing that I should definitely mention is that the Capt'n Cook OvenPlus Salamander Grill can be easily hooked to your existing propane tank, which, as a matter of fact, you'd probably already be using for another oven grill.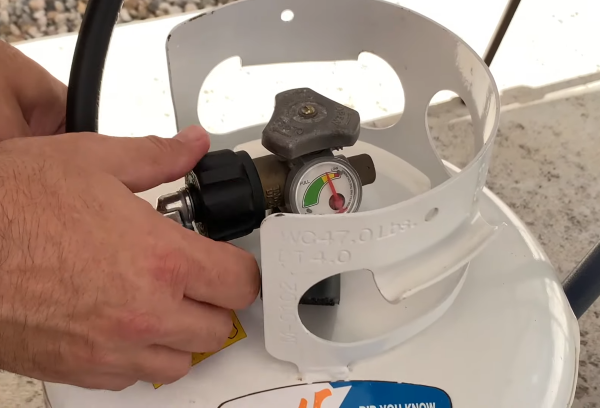 With that said, a 11 lbs. (5 kg) natural gas tank can be used for up to 14 hours of cooking, while a slightly larger 20 lbs. gas tank can be used to support your cooking dreams for up to 26 hours of fueling the unit's gas cooker functionality. So, no matter the meal or event, fuel insufficiency will definitely not be an issue when cooking with the OvenPlus.
Lastly, it's also worth to point out that the OvenPlus' Aluminized Steel Body with a Porcelain Finish and its Butterfly Burner can generate a total of 13,000 BTU/HR (3.8Kw) (when combined, that is).
ADDITIONAL FEATURES
Upper Ceramic Tray
Other than all of the grill's already mentioned super-cool features, the unit's upper ceramic tray (and ceramic pizza stone) can also withstand up to 840ºF, so you can either use the unit's Pizza-Oven top-part to cook pizzas that measure up to 12″ in diameter, but also, to do much more crazy-cooking recipes than just baking the perfect pizza.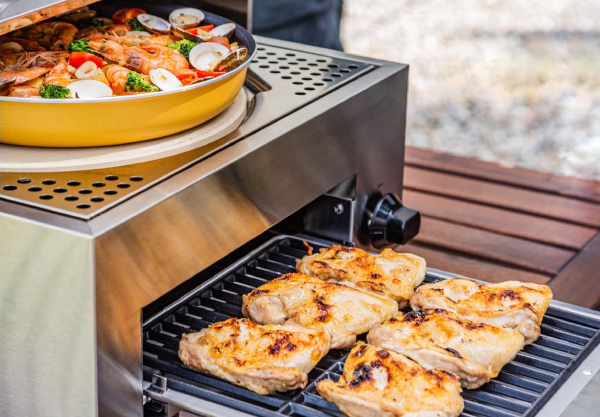 So, with that said, by simply setting a cast-iron pot (or skillet) on the unit's top ceramic tray, you can also use it as your go-to regular gas cooker, thus allowing you to cook just about anything, whether you're craving for some sunny-side-up eggs, some freshly cooked vegetables, some seafood risotto, or even fish, lobster, or just some nicely cooked potatoes.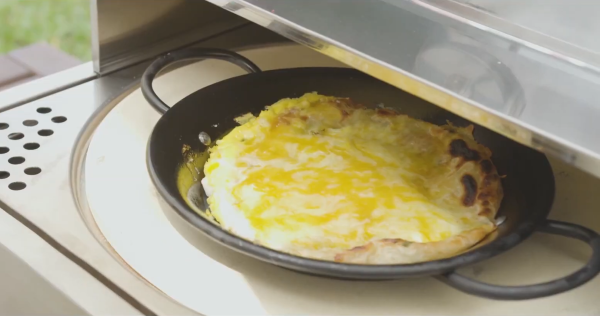 ADDITIONAL ACCESSORIES
Other than the unit itself, the Capt'n Cook OvenPlus Salamander Grill also comes with a few free accessories include, and those are: a ceramic pizza stone, a pizza-cutter and peel.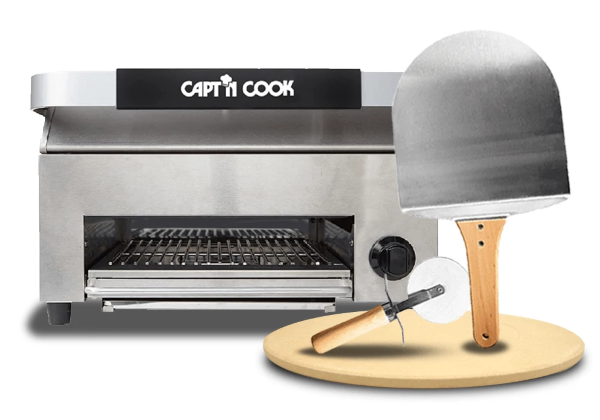 SET UP / INSTALLATION
Setting up the OvenPlus Salamander Grill is extremely easy, and so, the whole process shouldn't take you more than 15 minutes (maximum).
FINAL THOUGHTS
The Capt'n Cook OvenPlus Salamander Grill is a 3-in-1 multi-function kitchen appliance that can be used as a pizza oven, as a smokeless grill and as a gas cooker.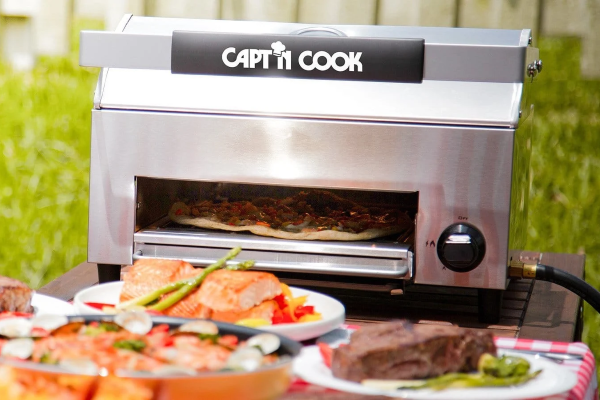 This is the perfect combination of a pizza oven and a smokeless grill, working as an oven, grill, and gas cooker that can all be used at the same time. As such, it's a great cooking gadget to have around at any time, whether you're looking to grill a steak and enjoy your weekend alone, to cook and bake some pizzas or to steam a nice seafood risotto for family and friends, or even to take with you on a nice camping trip so that you can quickly cook some delicious meals while you enjoy the outdoors.
If you're interested in buying it, each unit is currently discounted from its normal price of $399, now going for just $299 each (saves you $100). You can order yours online right now, directly from Capt'n Cook's official shopping page, which you can access by simply clicking here.