If you're looking to choose a new TV during these "ultra-modern" days, you might end up feeling uncertain about what type of TV you should go for. While LCD or LED screen TVs create a single backlight that flows through a series of filters and polarizing layers, OLED TVs (A.K.A. Organic Light Emitting Diode TVs) on the other hand are a different type of TVs that are powered by a unique OLED technology, which basically energizes and lights up each individual pixel independently. To put it simply, this one-by-one approach to lighting the screen helps OLED TVs to deliver rich contrast and an outstanding color spectrum. Ultimately, that's exactly what makes OLED TVs the best way to go for picture quality, and that even includes gamers. This brings us to the VIZIO OLED65-H1.
The VIZIO OLED65-H1 is a 65" 4K HDR Smart TV that features ultra-vivid color tones from up to a billion colors, as well as great shadows and brightness levels, all coming with extreme details in a 4K Ultra HD quality.
In fact, this is VIZIO's latest OLED Smart TV to be released for 2021. Featuring a gorgeous 65″ inch screen that boasts a whooping 3840 x 2160 resolution, the ability to deliver a cinematic color volume with over a billion hues of vibrant color and the possibility to recreate detailed highlights at a default of 400 nits of brightness (can go up to 650 nits) in Dolby Vision HDR.
With that said, this Smart TV comes with everything you need for watching your favorite content in 4K quality during the upcoming years.
Furthermore, this Smart OLED TV also brings VIZIO's Smart Cast 3.0, which is what will allow you to easily stream and share your favorite content, and since this new system is also fully compatible with most Voice Assistants, like Amazon Alexa, the Google Assistant, and even Siri, you can simply use your voice to control the system (via easy-to-use Voice Commands) in a completely hands-free fashion.
Lastly, there's also Chromecast built-in for a multi-screen experience, as well as support to Apple Airplay 2, which, in case you are not aware of, are two similar technologies that allow you to respectively use your Android or iOS devices to stream movies, shows, music, and photos from any compatible Apps (in iOS' case it would be iTunes, Apple TV and other Airplay) to the VIZIO M65Q8-H1 Quantum 65″ 4K HDR Smart TV.
So, without any more delays, let's dive into our detailed review, where we have a more thorough look at this feature-packed Smart OLED TV and check out everything that the VIZIO OLED65-H1 has to offer you.
DESIGN & SPECS
Starting with the Smart TV's size, when accounting for its integrated stand (meaning its centralized support base), the VIZIO M65Q8-H1 Quantum 65″ 4K HDR Smart TV measures exactly 57.03 inches long by 35.52 Inches tall (32.69 without the stand) by 11.29 inches thick (1448 x 902 x 286 mm), which makes it somewhat large, meaning that you'll only be able to fit it on reasonably wide countertops.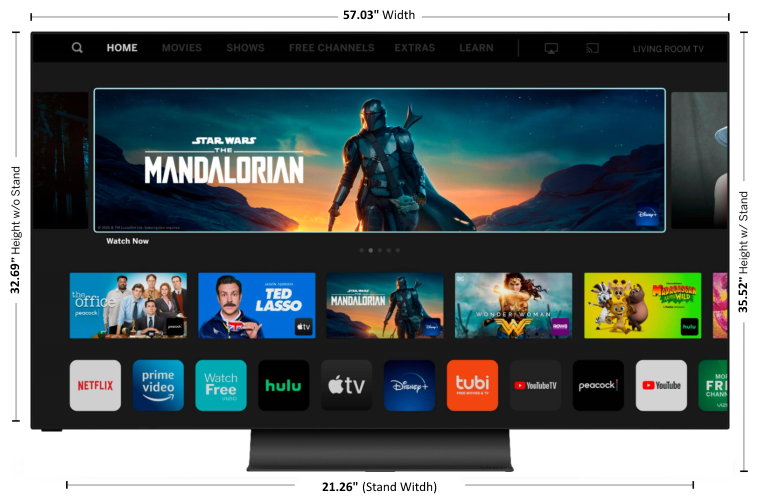 I'd also like to note that for the TV's weight, when accounting for both the screen and its integrated stand, this Smart OLED TV weighs exactly 70.99 lbs. (32.20 kg), so remember to be extra careful when carrying it around. While the TV's weight is not "monstrously" heavy, it's still something that you should be mindful of.
Despite its somewhat large dimensions, the VIZIO OLED65-H1 still features a very simple and minimalist look thanks to its ultra-modern design, which not only gives it a very sleek look that's quite pleasing to see, but also allows it to easily blend in with the rest of your home décor, no matter what your choice of furniture is.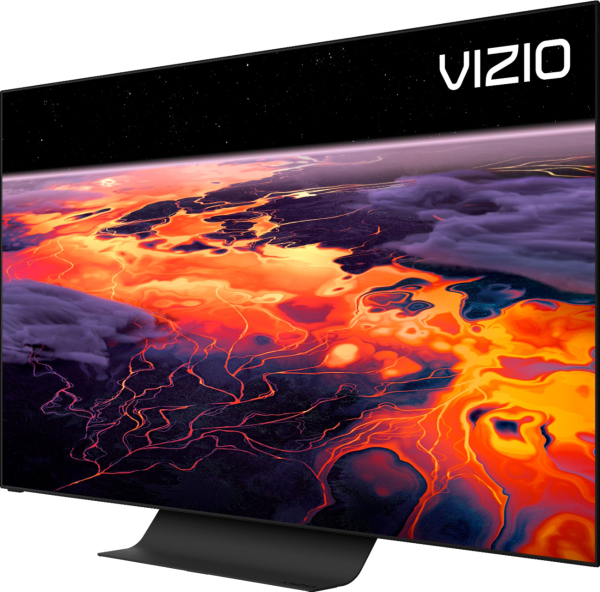 Additionally, if we take a moment to look at the TV from one of its sides, the TV's body is also quite thin, and that basically means that the whole TV won't take up too much space between the front of your countertop all the way to the TV's backside, which will be staying close to the wall.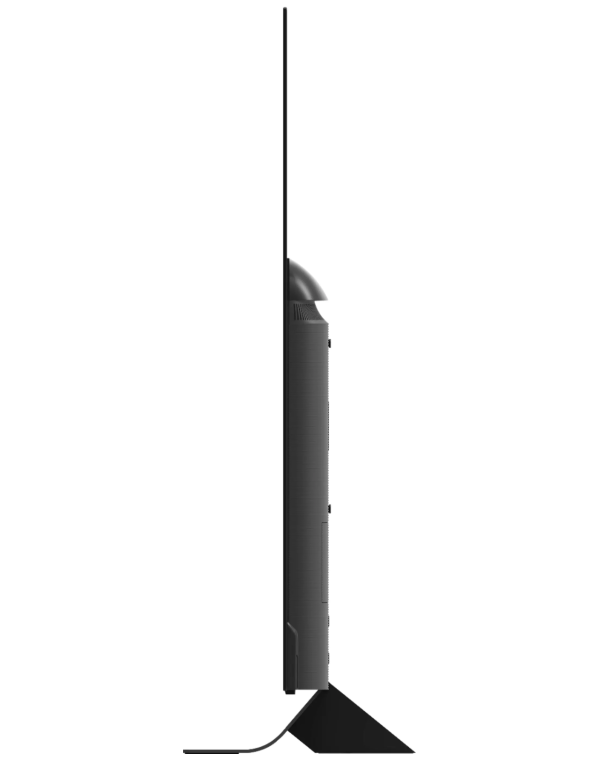 Now, if we take a closer look at the VIZIO OLED65-H1's minimalist design at a more detailed level, other than its simple aesthetics, this latest-generation of the company's OLED 4K HDR Smart TV maintained a similar design to the company's last OLED models, and so, just like older models, it still features a gorgeous matte-grey bezel throughout its entire body.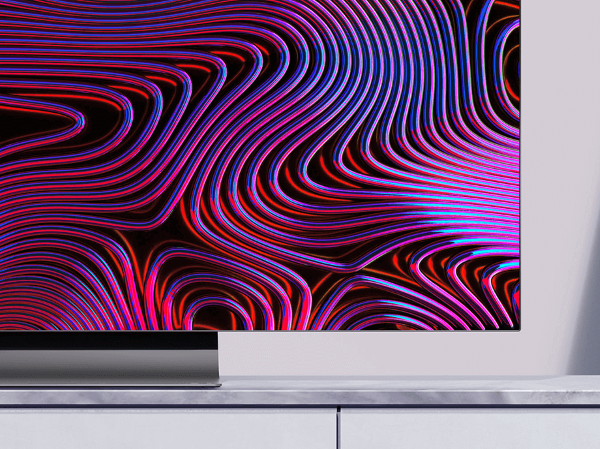 Moreover, if we have a closer look at its Non-Adjustable Base, the TV's dedicated stand is reasonably large, taking up exactly 21.26 inches in width and 11.29 inches in depth, meaning that it will provide the TV with a lot of stability.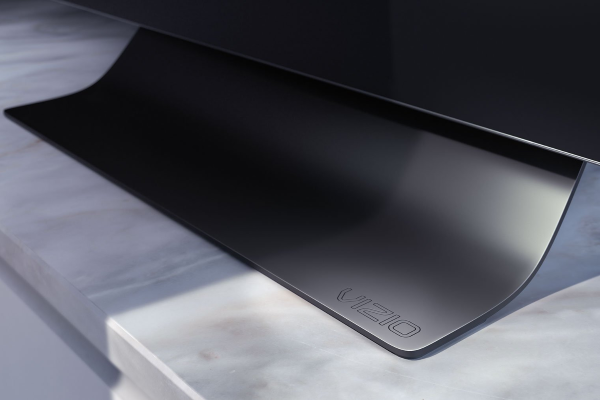 Lastly, just like many other of VIZIO's latest released Smart TVs, you'll also be pleased to know that their brand-new OLED65-H1 can also be wall-mounted if you'd like to have it hanging on a wall.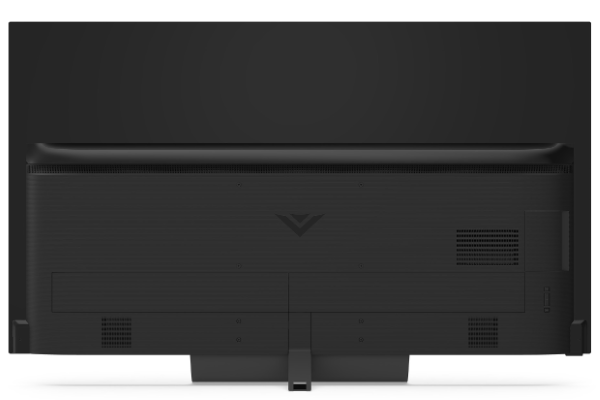 That can be easily achieved thanks to all of its central removable bolts, which after removed, will allow you to have this Smart TV wall-mounted by attaching it to a 400 x 200 millimeter VESA mount (keep in mind that while the TV only supports a 300 mm by 200 mm mount setup, this specific mount still supports those mounting-dimensions too, so they're fully-compatible with one another).
TV SCREEN & PICTURE QUALITY
The VIZIO OLED65-H1 Smart TV comes equipped with a built-in 65″ screen (64. 5" diagonal) that supports an image resolution of 3840 x 2160 pixels. With its image displaying over 8 million pixels (which is around 4 times the resolution of 1080p), you get a true 4K Ultra HD resolution at a maximum refresh rate of 120Hz (which can be set at different values, starting from 40Hz all the way up to 120Hz). Thanks to these different basic features, you can always enjoy all of your content at a breathtaking level of detail.
For its Image Processing, this Smart TV utilizes a powerful IQ Ultra Display Processor, which allows the Smart TV to deliver an even better picture processing than any older models, while also providing the Smart TV with a more intelligent 4K upscaling engine – meaning its UHD Upscale Engine Spatial Scaling Engine which runs together with a UHD Codec Support VP9 and HEVC (H.265) – that will display all of your favorite content in an astonishing 4K Ultra-HD quality.
Now, let's talk about the TV's overall Picture Quality, which is most likely everyone's most asked question when it comes to recently released Smart TVs, and in my personal opinion, one of the most important things to consider when buying a new TV for your home.
So, let's break down the OLED65-H1's Picture Quality into the main different categories to consider.
Color Settings
Now, when it comes to the Smart TV's picture color, this OLED Smart TV works based on its OLED Ultra Color Spectrum Technology, which basically helps to bring to life a billion intense colors of every shade, hue and tone.
Thanks to the TV's state-of-the-art OLED technology, its picture-quality stays perfectly beautiful and breathtaking from any angle, and that goes for whether you're looking at it from across the room, standing off to the side of the TV, or even when sitting super close up to its screen. Utimately, its OLED Ultra Color Spectrum Technology is what allows this OLED Smart TV model to deliver its image with a cinematic-like color intensity.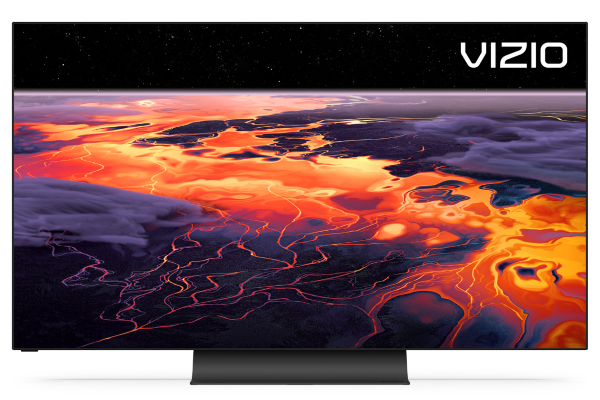 For those looking to boost the TV's Color Settings even further, all you have to do is to enable its Dolby Vision Calibrated HDR Setting by simply turning off its Motion Blue Reduction (Motion Blur Smoothing) all the way to 0, and that will make this Smart TV capable of displaying a wider spectrum of colors and detail.
Black Levels
As you can most likely tell, the Black Levels on this Smart OLED TV are simply impressive. Since this is an OLED TV, when it comes to the Black Levels of its Picture Quality, whenever you turn the TV Off, you'll obviously be getting true black.
Now, that's obviously not the whole story when it comes to a TV's different levels of black tones and/or black colors. You also need to have several good gradients that will smoothly lead into dark greys and then slightly into brighter greys, which, to put it simply, is pretty much the Shadow Detail that your TV's screen can offer you.
So, it's important to note that this OLED TV might struggle a slight bit with ultra-dark content (very dark scenes in movies and or TV/shows, etc.), as the TV's Black Level's quality is quite dark, all the way to the point where if you don't have all of your living room's lights turned off and your window blinds pulled down (or curtains closed) you may have trouble seeing the image, and I don't just mean the smaller shadow details in a scene. Ultimately, for really, really dark scenes, you might end up having trouble seeing the image in general. So, with that said, keep that in mind and try to get a reasonably dark room (no lights on or windows opened) before watching darker movies / shows.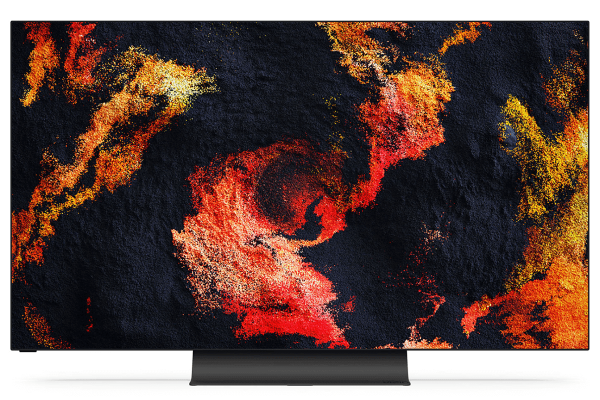 Nevertheless, since the TV features exactly 8 million self-illuminating pixels that work together to create deep levels of contrast, the TV's Black Levels still bring you reasonably deep black levels that ultimately help the TV to create a stunning depth with great contrast levels.
Brightness & Max Nits Value
Sitting on the opposite side of the TV's Black Levels, we have its Brightness (or brightness levels). It's important to note that the TV's out-of-box Calibrated Picture Preset doesn't allow the TV to get that bright, as the TV will measure around 400 neats (peak) in HDR, and just close to 300 nits (around the 290's value) in SDR. That's not a huge difference between HDR and SDR.
However, with a few small adjustments to some of the TV's Picture Settings, you can dramatically influence just how bright the TV gets, and with those same adjustments, you are also ensured to get a better balance between the TV's Black Levels and its Brightness Levels. So, here's that tip.
By going to the TV's Picture Settings, you can find it's Luminance Adjustment Setting, where you can boost it from its default level of 60 (which is what gets you 400 nits at the start) all the way up to 100. Turning this value up to 100 will help you max out the TV's brightness levels.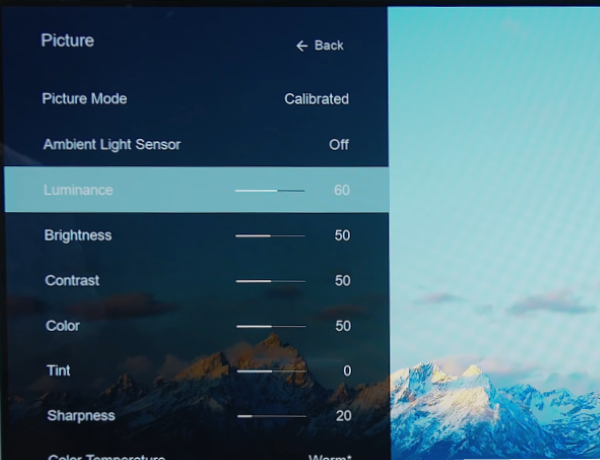 Not only that, but you should also open the TV's Advanced Picture Settings, where you'll be able to find its Peak Luminance Setting, which should be set to High if you're looking to get a higher brightness level for the TV's screen (this will get you around 400 nits for SDR and around 650 nits for HDR).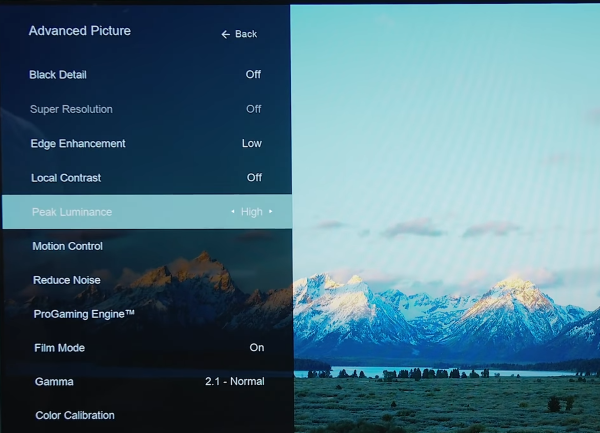 After these Picture Settings are adjusted accordingly, you should be able to have the TV make every single detail pop-out better, instead of getting those "more high-level" details lost in light or dark areas of its image.
Other Supported Features
Lastly, while Dolby Vision HDR makes this Smart TV capable of displaying a wider spectrum of colors and detail, this next-gen Smart TV also features support to HDR10, HDR1010+ and HLG high dynamic range formats, which will ultimately transform your content with exceptional 4K detail via 4K UHD and the already mentioned Dolby Vision HDR, bringing you a dramatic imaging with an awesome level of brightness, contrast, and color.
Picture Quality for Gaming
On the topic of this Smart TV having a 120Hz panel, let's talk about how "Gaming-friendly" this recently released OLED Smart TV model actually is.
To be clear, while it still doesn't have every single "fancy" new feature that you can find on the "super-high-end" Smart TVs (you know… the really, really expensive ones), it still features an eARC port, so you're ultimately able to send audio to a TV that originates from cable, satellite, streaming or source devices to be sent to an AVR or sound bar through a single HDMI cable. This ultimately ensures the simplicity of your connectivity setup while also ensuring that the original audio can be experienced without any issues.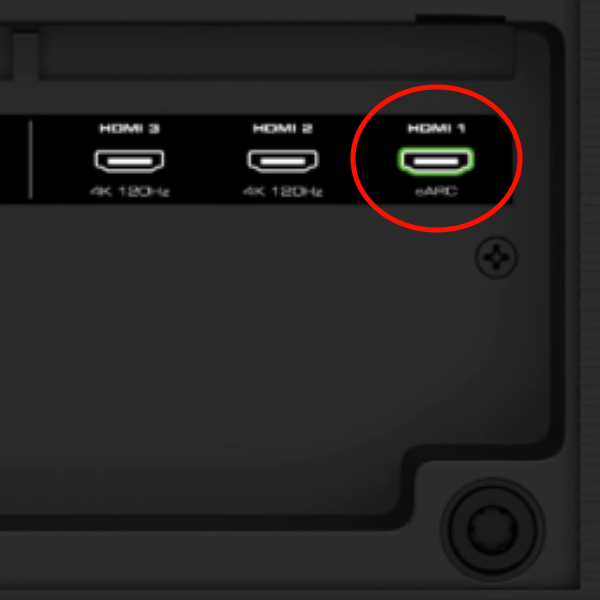 This eARC port does support Auto-Latency Mode, which basically means that the Smart TV will go straight into Auto Gaming Mode, which is basically activated via VIZIO's ProGaming Engine (if you will), while also supporting AMD FreeSync, which automatically elevates console gaming with a fluid and artifact-free performance at virtually any framerate.
Yes. You've heard it right… ANY framerate. What makes that possible is the Smart TV's revolutionary built-in IQ Ultra Display Processor (meaning its previously mentioned powerful Display Processor), which basically helps the Smart TV to fine-tune any individual pixels as well as to more intelligently reduce image-noise and enhancing fine details for a remarkable picture performance.
That said, this eARC port also supports Variable Refresh Rates, which is amazing for a TV at this price-point. Now, the TV's Gaming Mode will top out at around 4K 120Hz resolution (obviously due to the Smart TV's 120Hz panel), but I still believe that you'll still get a fairly great gaming experience, especially when accounting for the supported Variable Refresh Rate feature.
Still, I'd aso like to point out that you're required to do some other adjustments within your PlayStation 5's Settings Menu to achieve a 120Hz refresh rate. With the right adjustments to all of your Video Settings (TV's Picture Settings and your consoles Picture Processing Settings), you can have very smooth and reasonably fast graphics that help to diminish stutter, tearing and video lag, allowing you to ultimately enjoy a next-level 4K performance that runs at 120 fps, with HDR tone mapping, variable refresh rate, and Dolby Vision HDR.
By having both VRR (Variable Refresh Rate) and AMD FreeSync, this 2021 Smart TV model is guaranteed to bring you a next-level gaming experience that simply won't leave you disappointed.
AUDIO QUALITY
Now we'll have a quick discussion about the VIZIO OLED65-H1's Audio Quality. To keep it simple, this OLED Smart TV just comes equipped with two (x2) built-in 30-watt speakers. As you probably expect, these two small built-in speakers will obviously not meet any audiophiles' expectations, but while these are obviously not a top-in-class addition to this model, they still offer you a fairly decent sound quality to accompany its astonishing display specs.
Overall, things will all sound great, and can reach quite loud sound levels if you configure the Smart TV's sound settings to do just that.
Nevertheless, keep in mind that at very-high volume-settings, higher pitch sounds might suffer with some occasional sound distortion. There's one more thing that I'd like to mention, and that's the fact that since this Smart TV just packs two (x2) built-in 30-watt speakers, this model won't really offer you an astonishing bass performance.
Fortunally, VIZIO actually makes the most affordable high-performance soundbars that you can currently find available on the market. Check out all of the company's currently avaialble soundbar models via this link.
With that said, unless you're just really watching some the news, or some random TV shows during your lunch time or something similar to that, I'd really recommend that you get even Vizio's most basic soundbar (or any of the company's higher end soundbars) to ultimately accentuate the Smart TV's sound quality.
On that note, feel-free to check out our past review to the VIZIO 2.1 Sound Bar System.
Still, aside from those two things, the VIZIO M65Q8-H1's built-in 30-watt dual speakers can still produce a decent audio quality for your content. Just remember that if you're trying to get really awesome sound-quality and sound-effects for any movie or TV show so that you get the best experience overall, you should definitely match this Smart TV with a better audio system than the TV's built-in one.
One last Pro-Tip; if you're simply decide to use the Smart TV's built-in pair of 30-watt speakers, I suggest that you go into the TV's Audio Settings and Turn Off the Virtual Surround Sound, as that should make a big, big difference.
INTERFACE & CONNECTIVITY
Moving on to the Vizio M65Q8-H1's interface, on the back of the TV we can find quite a big collection of ports, which are divided into a row of right-facing connections and downward facing ports.
One great thing to point out here is that, just like our review to the VIZIO M65Q8-H1 Quantum 65″ 4K HDR Smart TV, I'm once again quite glad to see that the company kept a very similar design for its OLED65-H1 Smart TV's interface.
While your originial unboxing might have you think that the TV's interface-design will have some of its ports looking to be virtually hard to reach regardless of how you have the Smart TV set up, that's really only a trivial issue, as most people will usually just set up their TV once (meaning the original time they unbox it), and only then will occasionally figure out that they need something changed so that any newer devices that they aquire later on can also be connected to their Smart TV set up.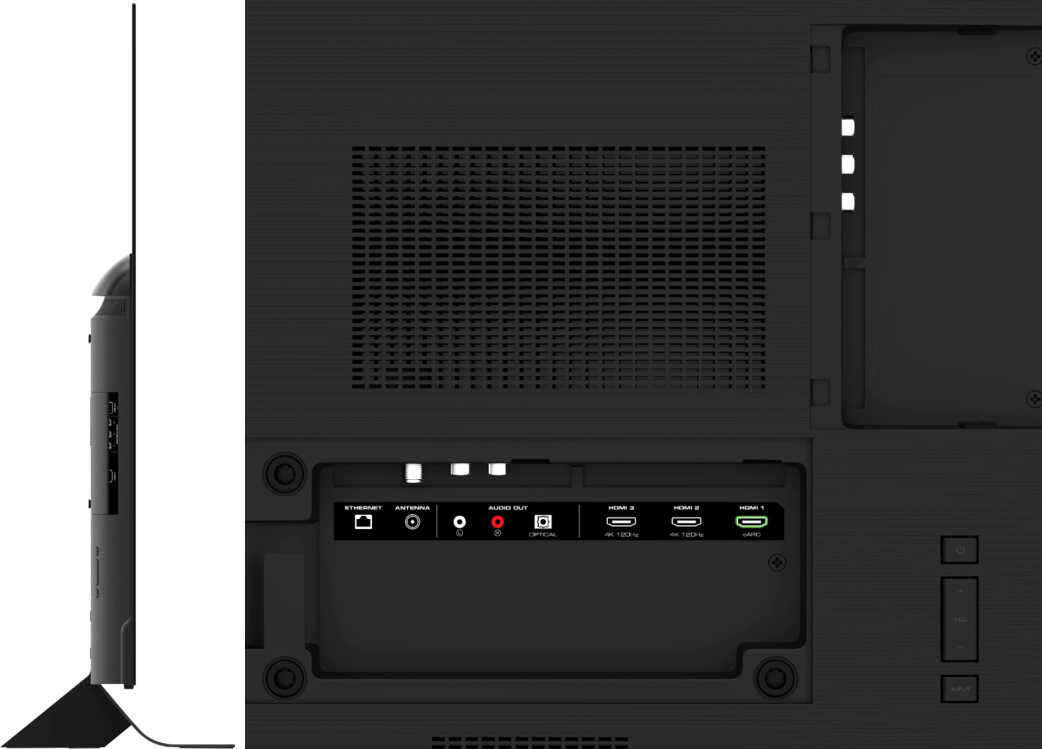 Now, finally onto the Smart TV's interface. Starting with its HDMI ports, the VIZIO OLED65-H1 Smart TV comes equipped with a total of four (x4) different HDMI ports (one on its side panel and three more on its bottom panel), and from those, one even features a audio-return channel (eARC) support for simple connection of soundbars (which, as mentioned earlier, is also great for gaming).
There's also a single USB 2.0 Port for connecting a flash drive or powering a dongle, as well as an optical connection for older digital surround-sound systems. Additionally, this Smart TV also integrates a RCA stereo jack, which allows users to plug in any speakers. Moreover, you also get a connection for HD antennas, which is a a very special feature that was only reintroduced on some of Vizio's latest Smart TVs from 2019 and 2020.
Lastly, for network connectivity, the TV also comes equipped an Ethernet LAN port and also features Wi-Fi connectivity, supporting the most common wireless standards (802.11ac Dual Band).
On a side note however, I'd like to point out that this OLED Smart TV does not offer Bluetooth connectivity, which sadly means that you won't be able to connect wireless headphones to it without recurring to some sort of plug-in adapter. That being said, while this OLED Smart TV model is not designed to output audio over Bluetooth, you can still opt to purchase a Bluetooth transmitter and have it connected to this Smart TV to listen to your content over any Bluetooth-enabled audio devices.
THE TV REMOTE
Next, let's talk about the VIZIO M65Q8-H1's included remote, which certainly features a distinctive look and feel, and as such, you might either love it or hate it.
Starting with the remote's design, this TV remote features the standard rectangular design that's found in most TV remotes, but contrarily to most standard TV remotes, its oval profile is what makes it super comfortable for anyone to actually hold it.
The remote's body is mostly made of hard plastic, making it somewhat durable; at least while you're holding it, of course, as these TV remotes are not meant to be dropped on the floor anyways. But still, its durable body should help to protect the remote's internal components from the occasional accidental drop.
Now, for the remote's button layout (meaning the button's setup/configuration), its button layout is very, very simple, which makes me very happy every time I look at it.
Right at the top of the remote we can find special control buttons that will instantly trigger some of the Vizio M65Q8-H1's Smart TV's functionalities, like Vudu, Netflix, Amazon's Prime Video, Xumo, Hulue and Redbox buttons.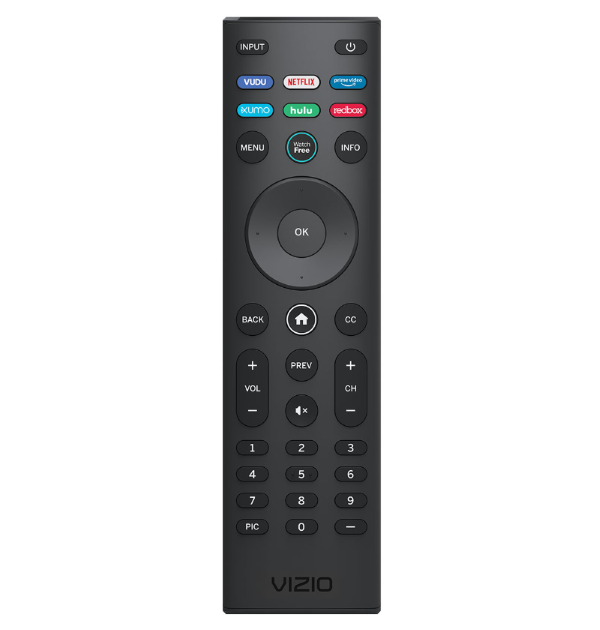 One of my favorite buttons, which I really enjoy having on the remote, is none other than the remote's included Input Button (integrated right at the top left of the remote), and the same goes for the Menu Button, which for the latter, can take users directly to the Smart TV's picture settings so that you never have to go through the Smart TV's On-Screen Menu.
Additionally, there's also a large circular directional pad (changed from a square-shaped pad from the previous models of 2019 and 2020), which is located in the perfect spot, meaning right at the center, just between all of the remote's channel and volume controls.
This not only includes the Next Channel and Previous Channel Buttons, as well as the Volume Increase and Volume Decrease Buttons, but also the Sound Mute Button, the Channel Info Button (now moved from the bottom right to the top right), and more.
Lastly, at the very bottom of the remote we can find all of its numbered buttons, which can be used to accurately go to any TV channel.
In case that you don't really "love" the remote's button configuration – which can be actually considered to be quite a serviceable design – you can instead opt to use the VIZIO M65Q8-H1 Smart TV's proprietary VIZIO SmartCast Mobile App.
THE SMARTPHONE COMPANION APP – VIZIO SmartCast Mobile App
Speaking of which, the VIZIO SmartCast Mobile App is available to download for free for both iOS and Android devices. Basically, this is one other great way of controlling your VIZIO M65Q8-H1' Smart TV, as the App even comes with an integrated digital remote control that can be used virtually via your Smartphone.
As such, all of the VIZIO M65Q8-H1's physical remote's buttons are also replicated on your Smartphone's touch screen, and so, you're ultimately given full control of the TV set.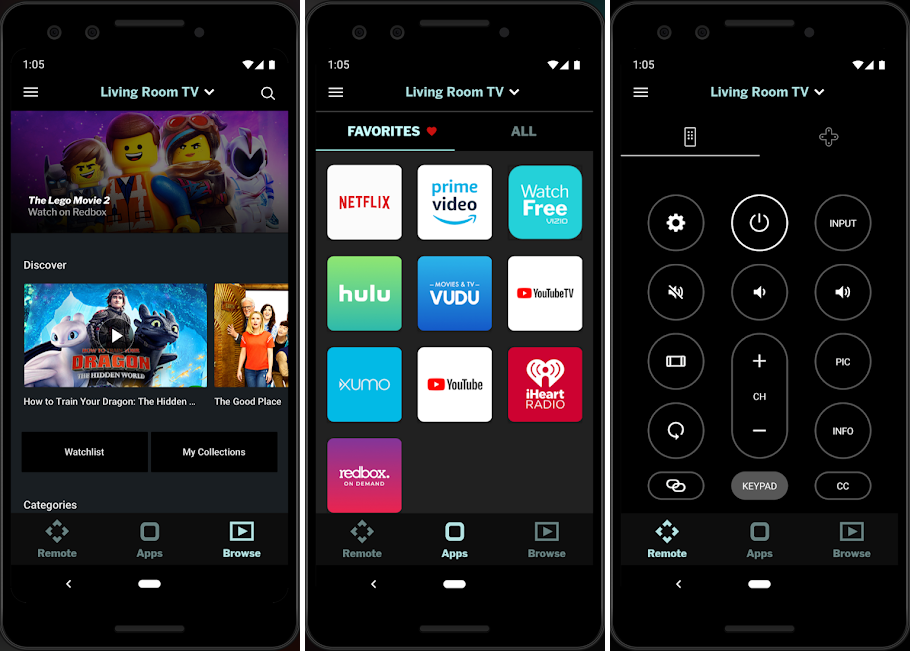 Furthermore, the VIZIO SmartCast Mobile App also includes many top-tier streaming services (like Netflix, Amazon's Prime Video, Disney+, YouTube, and more), as well as many casting options that end up making it easy for you to either share your favorite content straight to the Smart TV or to ultimately enjoy that same content directly on your phone.
OTHER NOTABLE FEATURES
Smart Cast 3.0 – Compatible with tons of Streaming Apps & Streaming Services
The company's renowned and Award-Winning Smart TV system, which is simply called Vizio SmartCast (now running on version 3.0) will most likely be your number one "go-to" right at the VIZIO M65Q8-H1's home screen, as this system (or HUB) works like a smart TV solution that ultimately brings you more of the entertainment you love, and that's easily achieved thanks to the Smart TV's Apple Airplay 2 support, as well as thanks to the fact that the Smart TV also features Chromecast Built-In.
With Apple AirPlay and Chromecast built-in, you can conveniently share your pictures, slide shows, and presentations wirelessly, either by doing that directly from your phone, from tablet, or even from you computer directly to the Smart TV's huge screen.
Since the VIZIO M65Q8-H1 is compatible with tons of streaming services (just like its predecessors), you can conveniently browse from any of your favorite ones, and this includes Netflix, Hulu, Amazon's Prime Video, and more.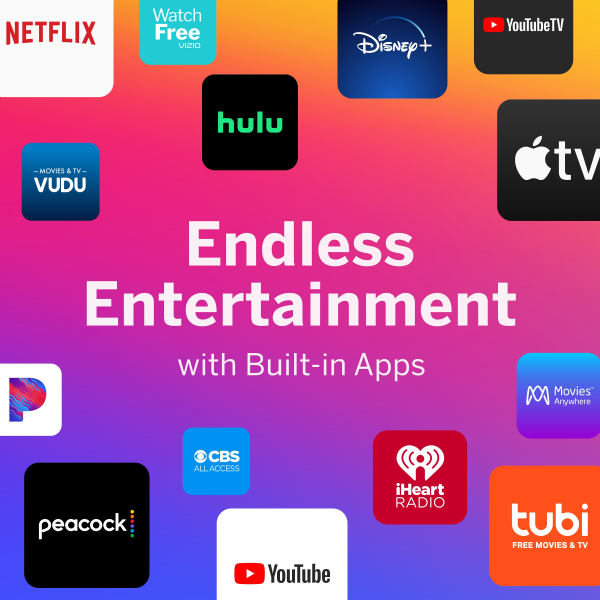 Furthermore, you can also enjoy free and unlimited TV from over 150 channels with VIZIO Watch Free, and these include the all-famous NFL Channel, a fubo Sports Network channel, a ion PLUS channel, as well as USA Today and Fox's NEWS NOW, a LEGO channel (perfect for younger children), or even the TasteMade channel (which works as a global, digital food and travel network for millennials to explore different cuisines from around the world).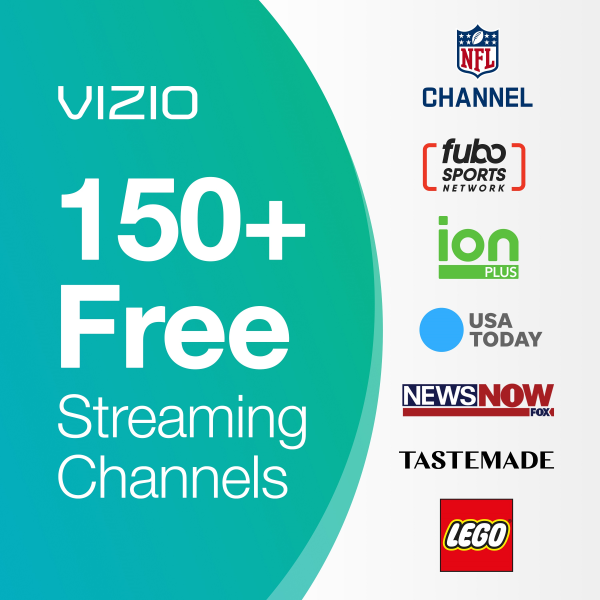 Ultimately, the VIZIO M65Q8-H1's Smart Cast 3.0 Smart TV System will allow you to easily select any of those services straight from the included remote (or App) right to your VIZIO M65Q8-H1 Smart TV so that you can enjoy any of those services' popular TV shows and/or movies.
Support to Apple Airplay 2 & Chromecast
As mentioned just before, this next-gen Smart TV also features both Apple AirPlay and Chromecast built-in.
That will ultimately allow you to conveniently share your pictures, slide shows, and presentations wirelessly, and that can be done right from your phone, from tablet, or even from your computer directly to the Smart TV's huge screen.
Voice Assistant Support
Additionally, for any Smart Home fans, the VIZIO M65Q8-H1 Smart TV also features support to Voice Commands for the most popular voice assistants such as the Google Assistant, Siri, or even Alexa-enabled devices, which will allow you to easily turn the TV On and Off, as well as to activate and control your favorite Streaming Apps, and much, much more.
This will make actions like streaming, controlling, and sharing much easier than with manual controls, as no extra streaming devices or remotes are needed.
As such, the Vizio M65Q8-H1 also ends up working as a great Smart Home companion, with voice control support for 2020's most commonly used Voice Assistants (Siri, Alexa, Google Assistant).
All you have to do is literally power On the Smart TV and you'll instantly be able to stream any Apps as well as pretty much anything else simple and easy-to-remember hands-free Voice Controls.
SET UP / INSTALLATION
The folks at VIZIO were also nice enough to have already recorded a full Set-Up tutorial for their new OLED Smart TV Series, which includes the OLED65-H1. You can check out that video embedded below:
FINAL THOUGHTS
The VIZIO OLED65-H1 is a 65" 4K HDR Smart TV that features ultra-vivid color tones from up to a billion colors, as well as great shadows and brightness levels, all coming with extreme details in a 4K Ultra HD quality.
With this high-end Smart TV you can easily improve your viewing experience for your favorite content, as you're guaranteed to get a breathtaking picture-quality for any of your favorite streaming services, including Netflix, Hulu, Amazon Prime Video, and more.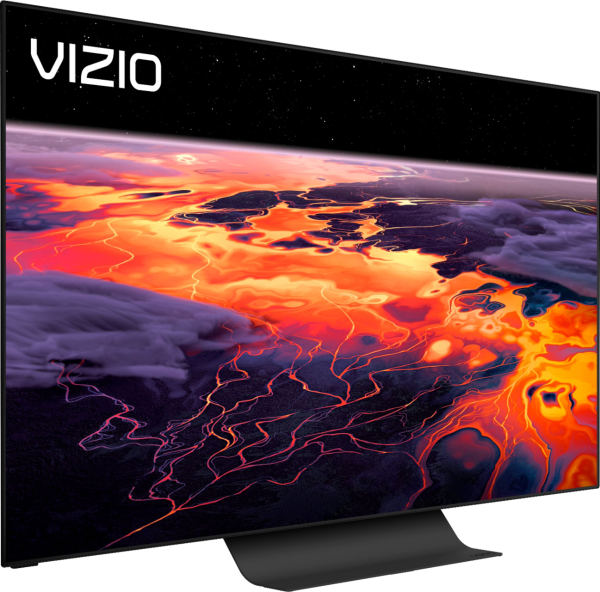 Furthermore, with support to HDR Gaming at 120fps, the TV's built-in eARC port makes this Smart OLED TV very "Gaming-friendly".
All that makes the VIZIO OLED65-H1 the perfect entertainment centerpiece for any family that's enthusiastic about their Smart Home.
If you're interested in buying the Vizio M65Q8-H1 Smart TV, each unit is currently discounted from its normal price of $749.99, now going for just $1,999.99 each. You can order yours online, directly from Vizio's official USA shopping page, which you can access via this link.