Playing board games with the rest of your family is not only a very fun activity, but also allows you to strengthen the bonds you have between each other as well as to create a lot of fun and memorable moments. So, if either you or your family (or even everyone together) have been getting tired of playing some of your old-school boards games (like Clue, Monopoly, Risk, Scrabble, and even Battleship) and you're now on the look for a brand-new board game to bring all the fun back to your family game nights, then consider trying a game from a multi-award winning company like Semper Smart Games' brand-new and Blobby's Pizza Math Card Game.
Blobby's Pizza is a fun and strategic math cards game that is played between different cute pizza-eating monster cards, where you have to eat your way to the highest bill, and get better at fractions, decimals and percentages!
However, while that task might first sound somewhat easy, even the best math-heads will have to keep their eyes on their pizza pies, because you never know when another player's monster will be trying to steal your pizza.
Overall, this game allows players of almost all ages (recommended from 8 years and up) to learn essential STEM math, including fractions, decimals and percentages, all in a very easy and super fun manner and without you even realizing it.
HOW DOES THE GAME WORK?
To put it simply, the main goal behind this monster pizza eating contest and math-cards game is basically to eat your way to victory by simply completing whole pizzas out of Pizza Slice Fraction Cards and tabulating them on your guest check. In other words, the highest bill wins.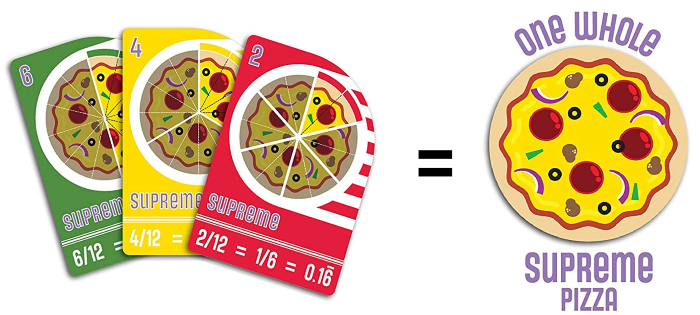 The game's Pizza Menu consists of 4 pizza types (Cheese, Pepperoni, Veggie and Supreme), which all come with varying price values.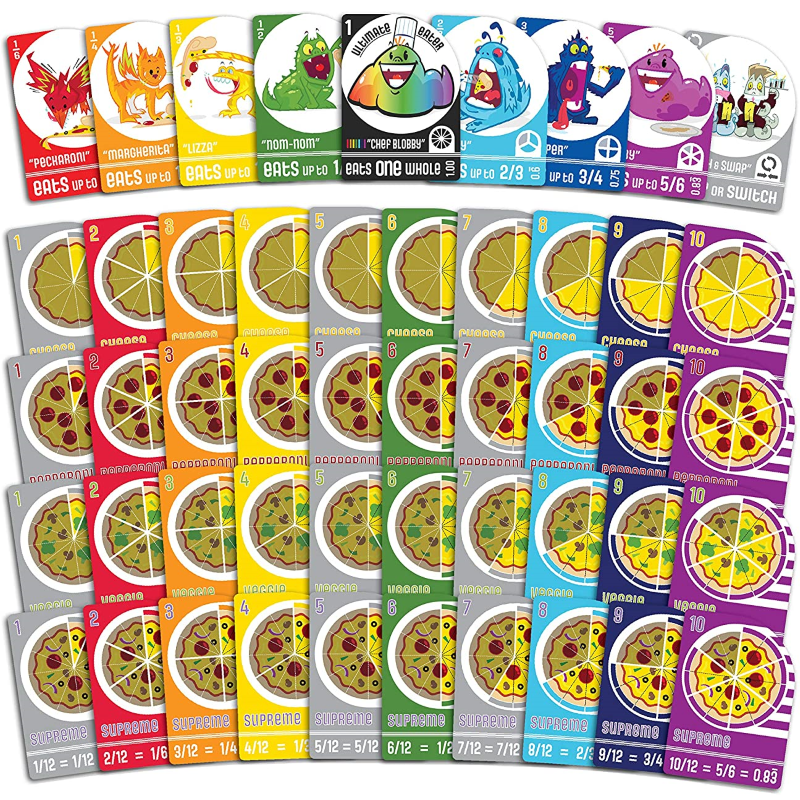 The whole game consists of a total of 128 playing cards, which mainly include 11 different Pizza Slice Fraction Cards (with different faction values) of 4 different Pizza Types, 7 different Colored Monster Card Types that are supposed to be used to eat different fraction sizes, as well as 3 Swap & Switch Squid Waiter Cards that can either be used to swap your own plate with someone else's plate or alternatively, to swap the game's order between Clockwise and Counter-Clockwise.
You also get 8 Tax and Tip Cards (for a more advanced play-style that also brings percentages to the game's math-based strategy problems), and for that game mode, you also get a Tax and Tip Percentage Learning Aid Card.
The game's Pizza Fraction Cards come color-coded by fraction value, and each color also corresponds to a Monster's Card Color, meaning that each Monster can only eat Pizza Slice Fraction Cards from that color (meaning from that same fraction value) during each turn.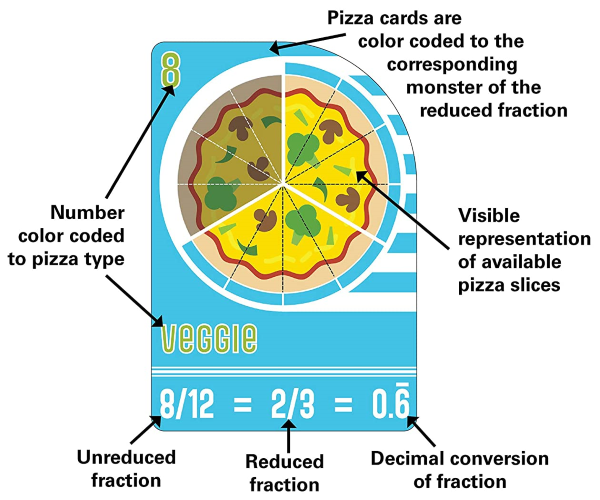 Each of these Pizza Slice Fraction Cards comes with several text-written features that can both help to enhance your group's game-play as well as the card's and the game's own education value. These text-written features include a Number Color Code that matches a specific Colored Monster Card (found at the top left) as well as a Description of the Pizza Type that that card matches to.
Then, at the right side of each of these Pizza Fraction Cards, we also have a visible representation of this card's total value in pizza-slices. Lastly, at the bottom of each Pizza Slice Fraction Card, we also have an Unreduced Fraction Value, as well as the Lowest Reduced Fraction value that that Unreduced Fraction Value matches, and also the Decimal Conversion Value of that Fraction.
Additionally, the game's set also comes with a realistic Restaurant Guest Check Score Pad that allows you to keep track of your bill, along with 6 pencils for you to take all of your notes.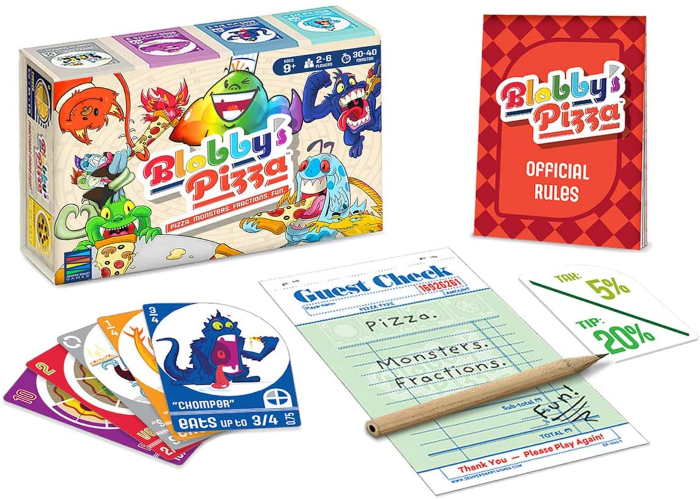 Each purchase also comes with three (x3) downloadable bonus games that are perfect for younger ages, as well as more advanced games that are great for older players to play and quickly learn ratios and percentages.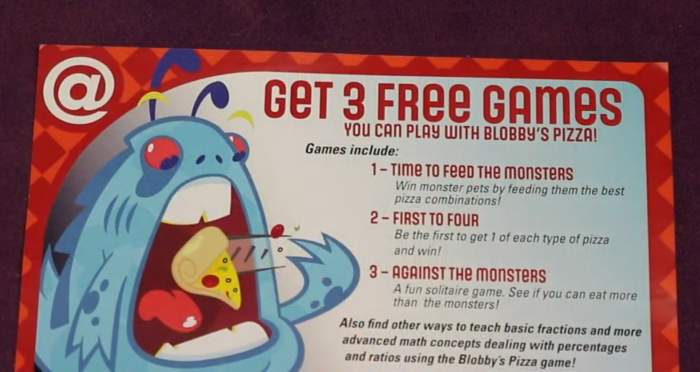 HOW TO PLAY?
Now that we've got the basic concepts out of the way, know that to starting playing Blobby's Pizza Math Card Game, you're basically required to your use Pizza-Eating Monster Cards to steal Pizza Slice Fraction Cards off of other players' tables, all while you also try to protect your own Pizza Slice Fraction Cards from other players' monsters.
Players can steal one or several cards that are either EQUAL or of LESS VALUE than the fraction value that their Pizza-Eating Monster Card can eat.

That said, you'll have to use Pizza Slice Fraction Cards from your plate and table to build up each of your "starting-off fractioned pizzas" all the way up to a full pizza pie, but it's important to remember that you should only place Pizza Slice Fraction Cards that you're willing to lose on your table (as opponent's monsters might be able to eat those cards).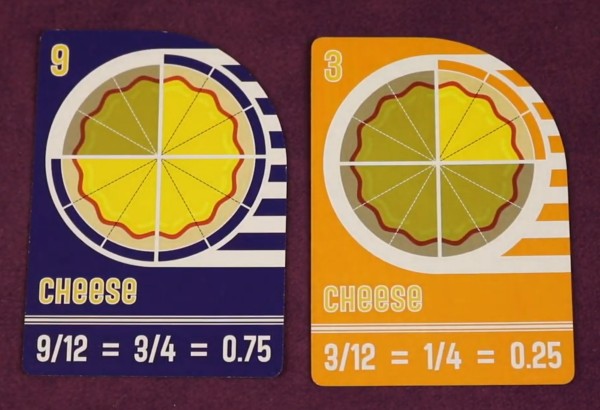 Not only that, but you also have to watch out for the absent-minded Squid Waiters, as opponent-players that send any of their Swap & Switch Squid Waiter Cards to your table to swap your plate with someone else's plate can ultimately end up messing with your monster's pizza-dining plans!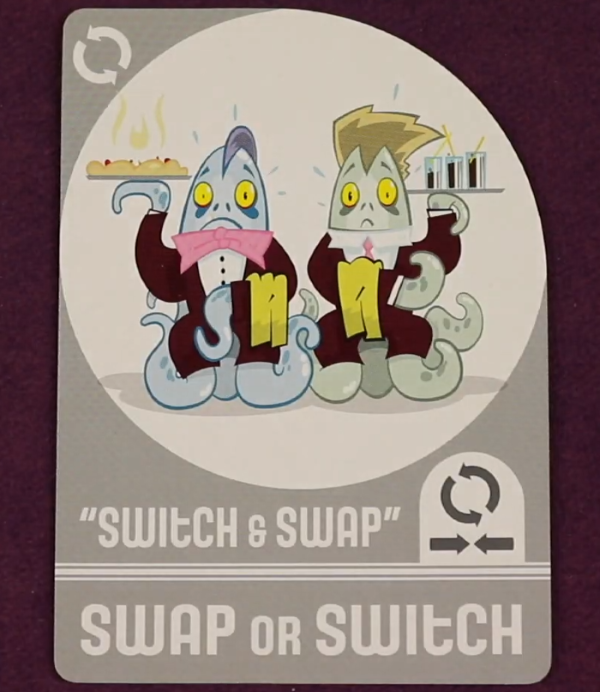 And you'll also have to remember that these cards can also be used for swapping the game's order between Clockwise and Counter-Clockwise.
Lastly, there's also a unique and very special Monster Card called "Chef Blobby" that can only be played when at least one of each differently colored Monster Cards has been played.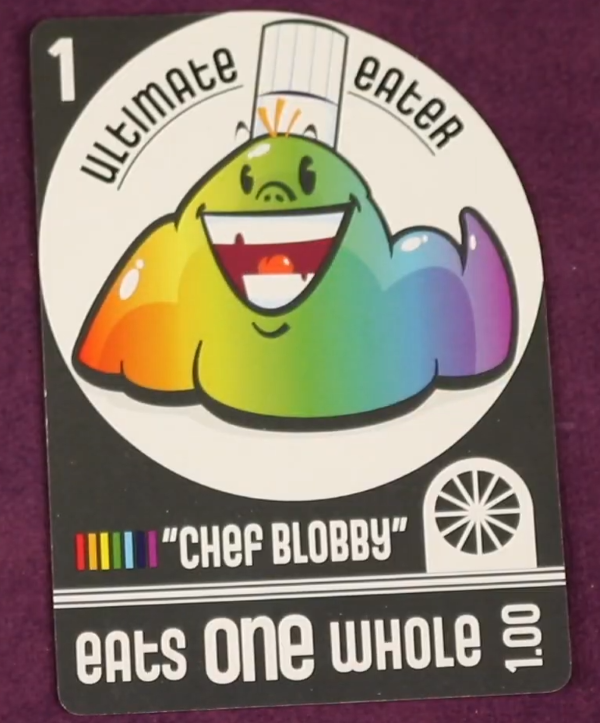 Once this card is played, the player that used this card is able to effectively end the game.
FINAL THOUGHTS
Blobby's Pizza is a fun and strategic math-card pizza eating game that is played between different cute monster player characters, where you have to eat your way to the highest bill, and get better at fractions, decimals and percentages!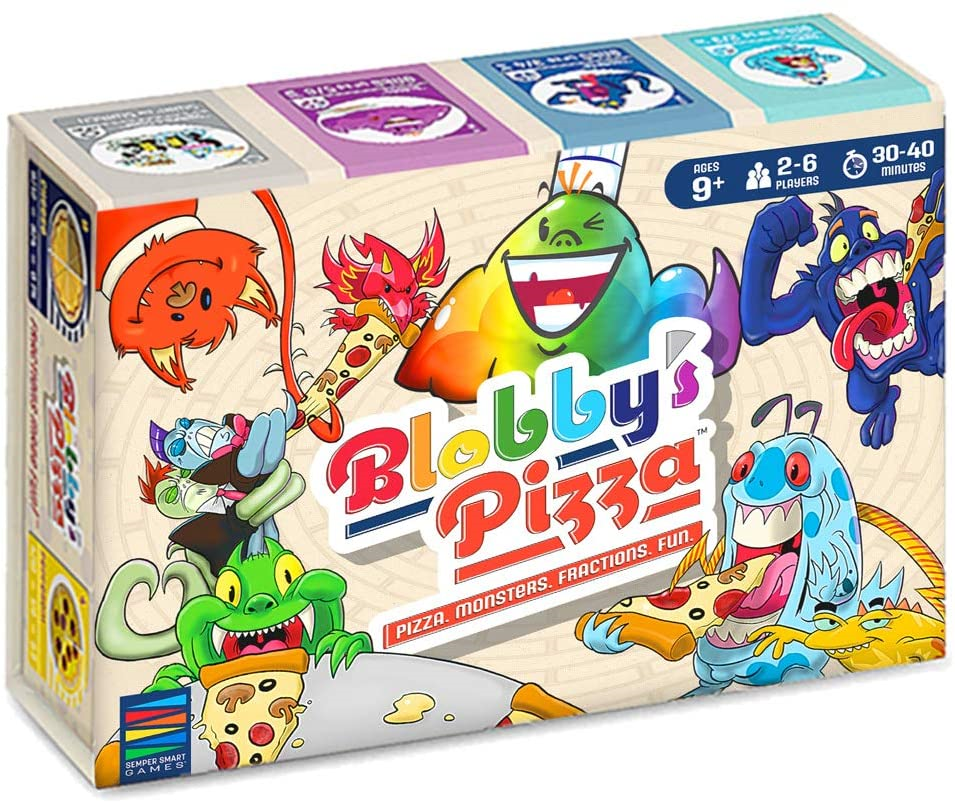 Speaking from my own "parental-opinion", this game is perfect for any kids of ages 8 and up, and it's also a blast for any parents that are looking for a fun and reliable way of helping their children to master essential math calculations that include fractions, decimals and percentages, all without the little ones in the family even realizing that's happening.
If you're interested in buying it, each set is currently going for just $22. You can order yours online right now, directly from Semper Smart Games' official shopping page, or alternatively, directly from the company's corresponding Amazon page.