While learning about something new by reading books usually tend to be interesting, sadly, it isn't always that fun. Sure enough, small pictures on educational books give kids a simple idea about a subject, but in comparison, 3D visualizations would ultimately offer children a funnier, more engaging, and much more exciting experience. With that said, forgot all about buying stacks of kid-friendly books that offer an introduction to different subjects, and instead, consider getting your kid(s) a Merge Cube.
The Merge Cube is an App-Enabled AR- and VR-powered Smart Cube that can be used both for teaching and learning, as it allows kids to hold virtual 3D objects in their hands.
In other words, the Merge Cube is an award-winning STEM tool that empowers students to learn in a brand-new and super-innovative way like you've never seen before. Basically, this Smart Cube allows students of all ages to interact with digitally created virtual 3D objects and educational content in AR, thus offering them an entirely new way to learn about STEM (Science, Technology, Engineering, and Mathematics) by simply having them interacting with the cube's digitally created world.
With the Merge Cube, students can explore a galaxy in the palm of their hand, hold fossils and ancient artifacts, explore a DNA molecule, investigate the Earth's core, dissect a virtual frog, hold and share their own 3D creations, and do many, many more exciting 3D observations that ultimately allow them to have a better understanding of many different subjects.
So, now that we got your curiosity and attention, join us on our Full Review of the Merge Cube, where we have a more detailed look at this awesome App-Enabled AR- and VR-powered Smart Cube and check out its design, how it works, and see just about everything that it has to offer you (in terms of educational content, that is).
DESIGN & SPECS
Starting with the cube's design, the Merge Cube features a reasonably compact and fairly lightweight body that ultimately makes it easy for students to hold it hand. That said, the cube measures just 2.68 inches long by 2.68 inches wide by 2.28 inches tall, and the cube only weighs 6.1 oz.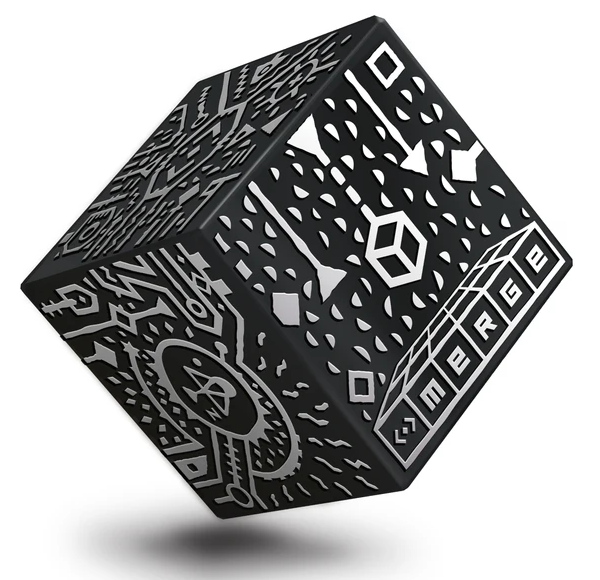 Additionally, the cube features a reasonably durable construction, as this Augmented Reality Smart Cube device is mainly made of foam.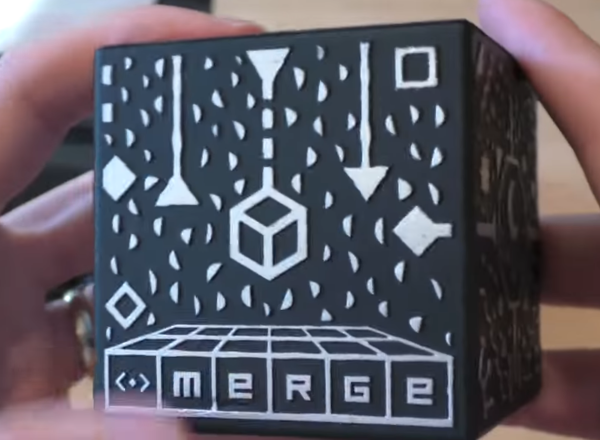 Now, it's important to note that the cube's inexpensive, yet ingenious design is very, very simple, as there are absolutely no batteries or even any charging required.
Nevertheless, don't let the cube's simple body fool you. Integrated direclty onto the cube's design, we also have these differently shaped small patterns, which are exactly what ultimately allows this AR- and VR-powered Smart Cube to have diffrent virtual 3D objects mapped to its six different faces.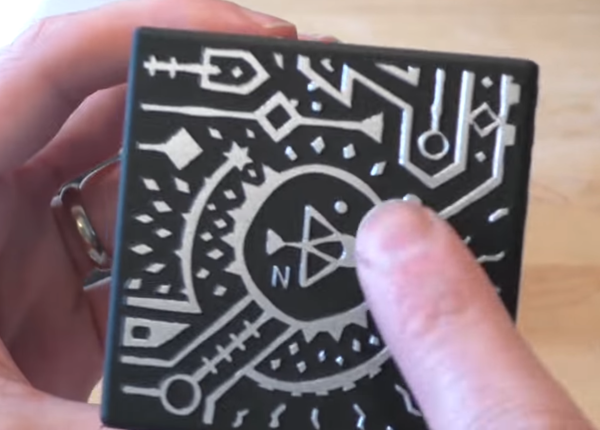 To put it simply, those same patterns ultimately allow the cube to transform itself to just about anything that you can think of.
HOW DOES IT WORK?
So, now you're probably wondering about how the whole system works. The way this AR- and VR-powered Smart Cube works is by simply connecting it to its Smartphone App, which can be downloaded for either a Smartphone or a tablet.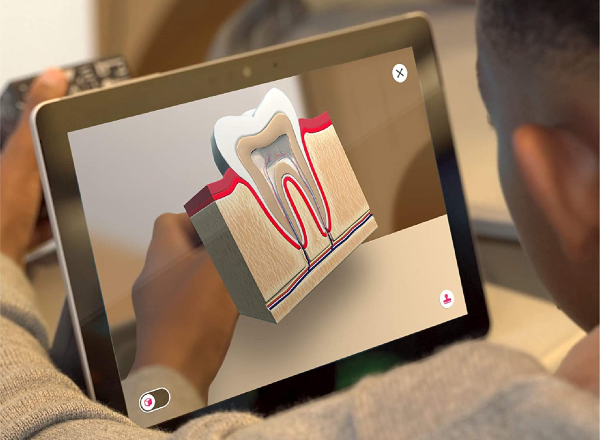 After turning on the App, all that there's left to do is to point your smart device's camera at the Merge Cube to watch it transform itself into a 3D Virtual Object thanks to its AR and VR Mixed Reality Technology, thus having the cube creating a digital "hologram" of the object your studying and trying to learn more about, which you can easily hold within your hands.
Once you've set up the Merge Cube's App and you're selected study-object is created, you can touch and interact with the cube's created virtual 3D object.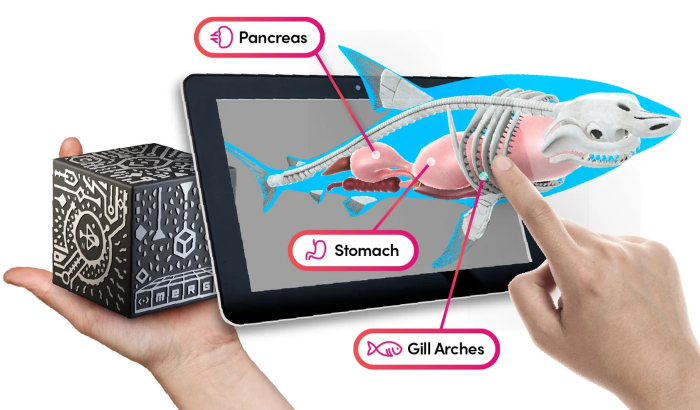 Embedded below you can find an example of the Merge Cube being used for an Anatomy VR Demo:
The Merge Headset
Alternatively, for those looking to get even more out of the cube's AR and VR functionalities, you could ultimately get the Merge Headset, which ultimately offers you a true Augmented Reality experience by working together the Merge Cube.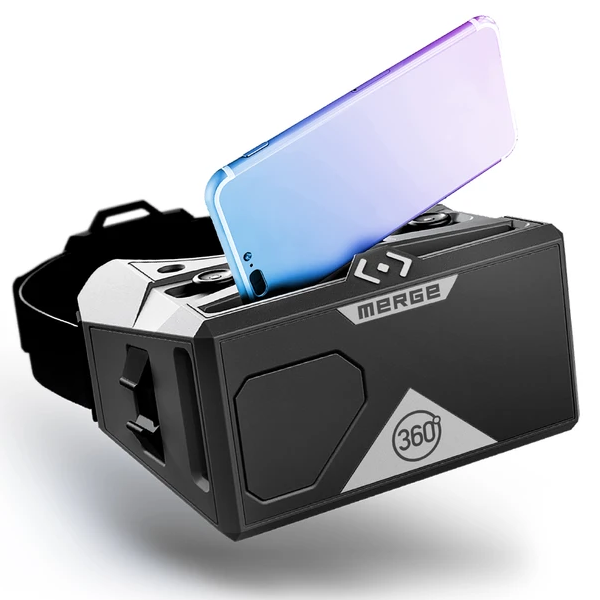 Best of all, unlike many VR Headsets that are currently available on the market, these aren't really that expensive, coming at a very low and super affordable price of just $50.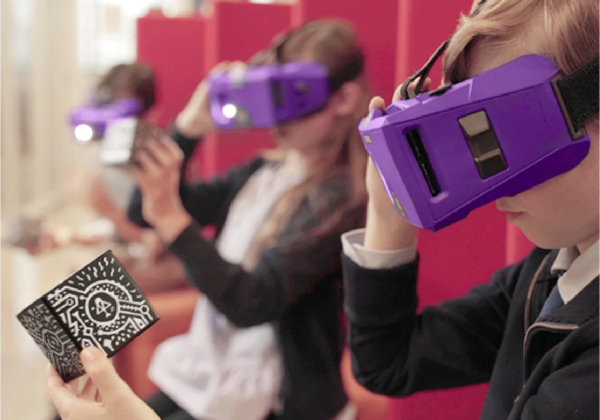 Just like the cube, the Merge Headset features a very solid construction, as it is also meade of a comfortable and rugged foam that ultimately ensures the headset can easily fit any face, while also ensuring that the headset itself is capable of easily withstanding your typical "everyday" bumps and/or any unexpected / accidental drops.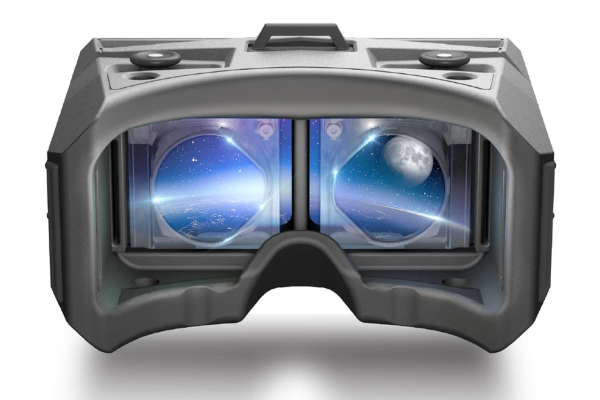 Lastly, thanks to its super simple and minimalist design, the headset is also fairly easy to clean.
MAIN USE CASES
Teaching At School
Thanks to the Merge Cube's ultra-affordable price, schools can purchase a larger set of these App-Enabled AR- and VR-powered Smart Cubes and use them in classrooms to keep their students engaged with the cube's many different hands-on activities, allowing them to learn and explore in amazing new ways!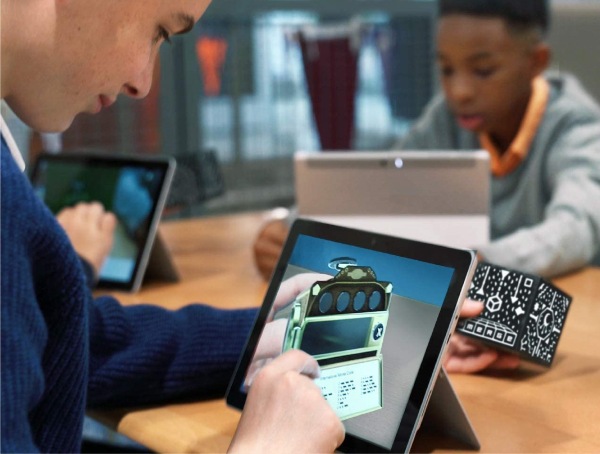 Learning from Home
Not only that, but for schools that have adpoted a remote learning experience, teachers (or even parents) can also use the Merge Cube to teach their students (or their kids, for the parents' case) about STEM (Science, Technology, Engineering, and Mathematics) in an innovative and entirely new AR- and VR-powered way.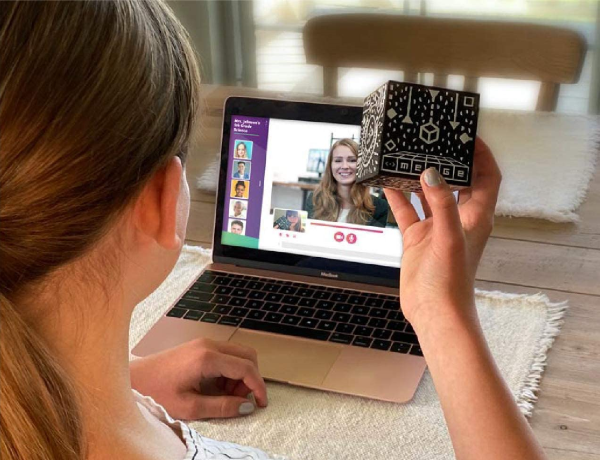 THE SMARTPHONE COMPANION APP – The Merge EDU App
So, as said before, to use the Merge Cube with your personal smart devices (Smartphone or tablet), all you have to do is to download and open the Merge EDU App (discussed in detail right ahead), which can be download for free for both iOS and Android devices.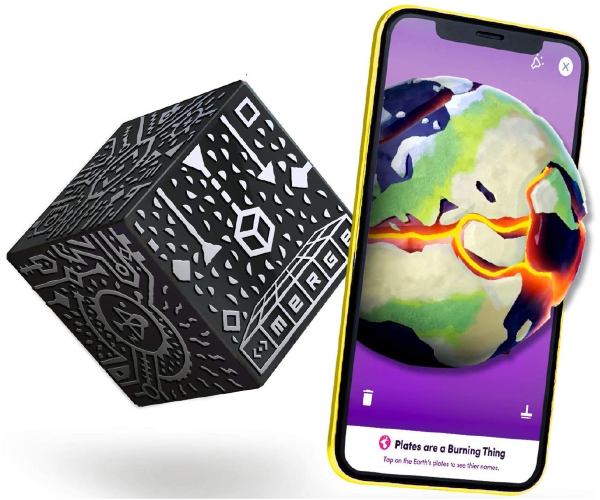 The Merge EDU App can easily keep students engaged in science and STEM with its available 3D objects, which offer simulations that students can touch, hold and interact with.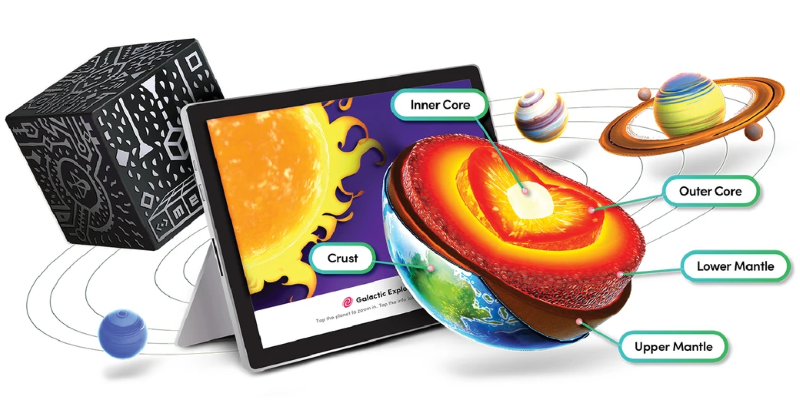 Now, it's important to note that while the Merge EDU App is free to use – as it comes with a free-trial that offers you a limited amount of free STEM and Science content – getting additional content and features for the cube's full learning experience with its virtually created 3D objects (meaning the holograms) will require you to purchase a subscription.
That said, by purchasing a subscription, you'll ultimately have access to 100 different interactive science simulations that allow students learn effectively about each subject, as they can touch, hold and interact with each of those subjects' virtual 3D objects.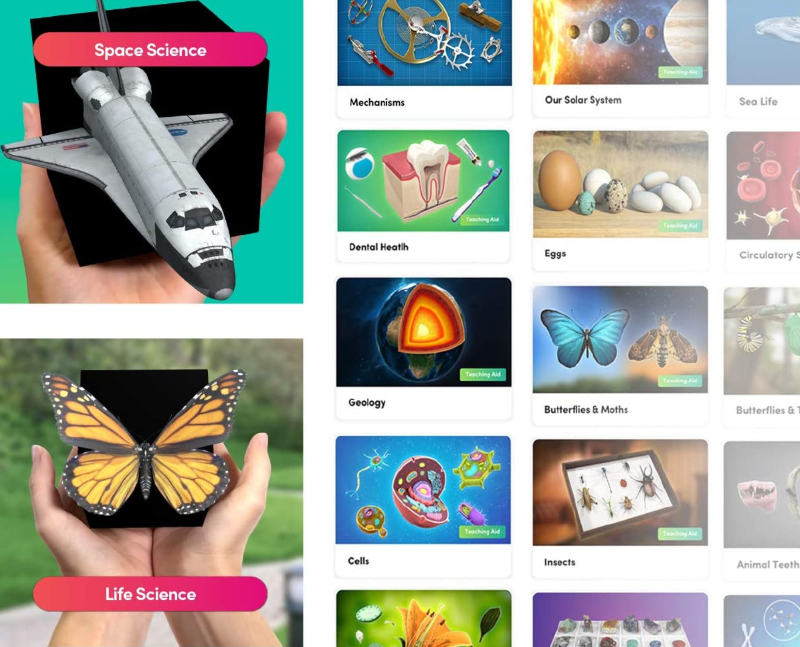 Still, I can tell you with 100% certainty that the App's Subscription Based Service is very, very worth to consider getting, as subscribing to this service will provide your kid(s) with the equivalent of $10,000 worth of teaching aids, and that ultimately makes the Merge Cube one of the best currently available STEM tools that allow students to learn effectively, both at any time and anywhere.
Additionally, the Merge EDU App also allows students to upload, view and share user-created 3D object, which can all be created directly on the Merge Cube, and that ultimately allows students to discover problems quicker and iterate faster so they can create better and better designs.
Last but not least, the Merge Cube also works with several different free-to-download Game Apps which offer your kids fun and engaging brain-puzzle games that they can play for hours on end, for which they can have fun with while developing and improving their critical thinking ability.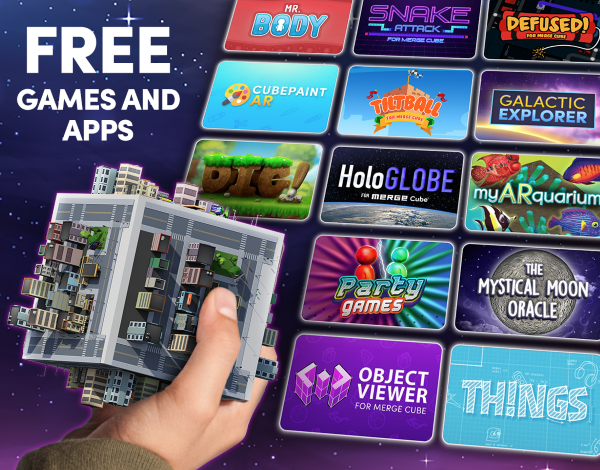 FINAL THOUGHTS
The Merge Cube is an App-Enabled AR- and VR-powered Smart Cube that can be used both for teaching and learning, as it allows kids to hold virtual 3D objects in their hands.
Overall, the Merge Cube is simply one of the best STEM-leanning tools that you can currently find available, as it allows allow students to learn effectively about many different subjects by having them interacting with digitally created virtual 3D objects for their educational content of choice, which can include Biology, Anatomy, Engineering, the Universe, and much, much more.
If you're interested in buying the cube, each unit is currently going a very affordable price of just $19.99. You can order yours online right now, directly from Merge's official shopping page, or alternatively, you can also get it directly from Amazon, if you prefer to do it that way.
For those looking to purchase the Merge Headset, you can get your very own pair for just $49.99 a pop. Order yours now directly from Merge's official shopping page, which you can access by clicking the provided link.