If you travel internationally and to your favorite destination, then one of the best investments that you can make is in a Universal Travel Adapter. With such a universal adapter, you will be able to plug any appliance into any outlet without worrying about voltage and plug type shape. However, there are plenty of things to consider before making this purchase. Read on for information on how adapters work and the best way to find the best travel adapter!
Has 2AC Ports
Traveling can be stressful because of unreliable connections, long travel, and jet lag. Add to it the numerous items you'll need when traveling in a foreign nation, such as multiple adapters for your electronic devices and chargers. For people who find themselves constantly asking where they can charge their electrical devices, choose a travel adapter that has 2 AC ports, 1 US and 1 Universal.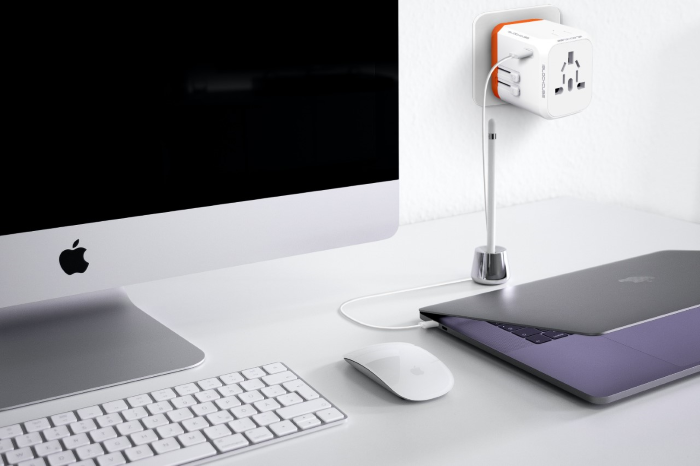 This feature will allow you to charge two electrical gadgets that require plugging simultaneously. Plus, you won't have to worry about if your gadget has a US style plug just like your hairdryer, or hair curler because with a US AC port you can safely plug it wherever you are in the world.
Travel Adapter's Size Matters
It is best to purchase a travel power adapter that is small enough to easily fit into your carry-on bag or suitcase. Most international outlets are not as close together as American ones, so you need an adapter that will allow for ample room between plugs and avoid blocking other sockets with bulky adapters.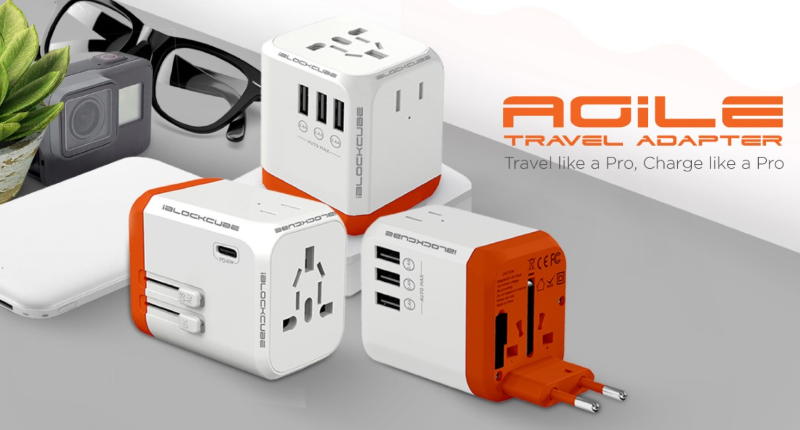 It is also important that the adapter is lightweight. You will be bringing this item with you to your destinations, so it is best to get the smallest and lightest adapter that still offers all the features that you require.
Should be durable
A compact travel power adapter should ideally be able to work for your entire trip, and then some. You never know when you might decide to extend your stay in another country or city, so best not take the chance that it won't! It is best to purchase an adapter with a replaceable fuse if such a feature exists. This will ensure that if the fuse blows, you can replace it with a new one and continue using your adapter.
The best travel power adapter and charger are also best when their durability lasts long enough to be used on many trips over several years. You want to consider how durable or well-made it is before purchasing any universal power plug adapters online.
Maximum Power Output of the Travel Plug Adapter
Look for a Universal Travel Plug Adapter and Charger that can deliver high power. The most popular power adaptor on the market can deliver 25-30 watts of power. Choose a portable adapter with larger maximum power output, such as 45W or more. This will give the exact current that your laptops and cellphones demand, as well as the ability to power gadgets that require more power.
Apart from that, this amount of current allows fast charging of devices. Which gives you the ability to fully charge your devices in less than 30 minutes.
Devices Compatibility of the Travel Plug Adapter
When traveling, you will undoubtedly want to bring your laptop and other devices with you. If these products come from the US or Canada (or wherever it is that you live), then they may not be compatible with international outlets.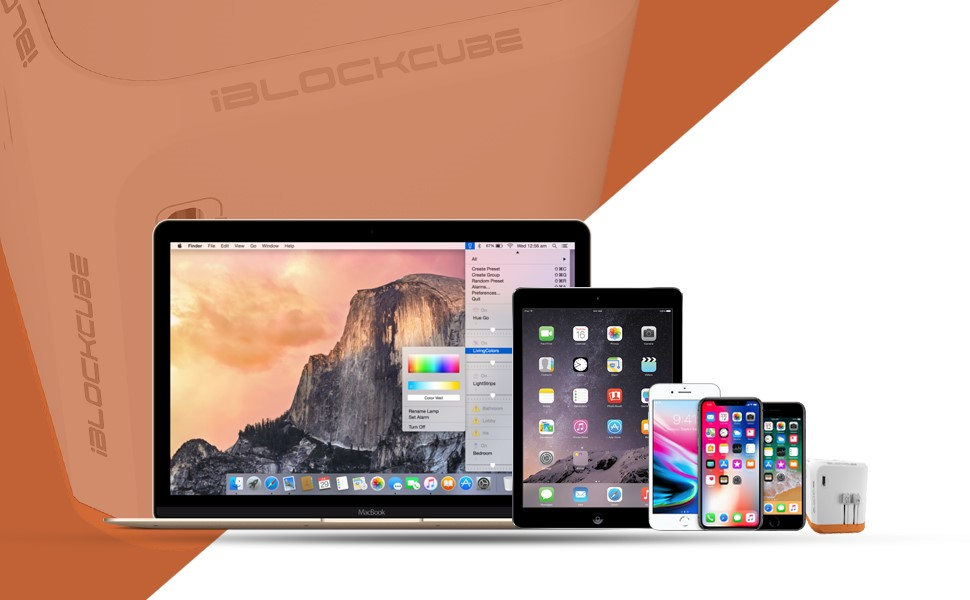 It would be best for any traveler to do some research on the maximum wattage output of his/her travel adapters before bringing them abroad. Products such as laptops may require more than 100W while appliances like curling irons only need 25-30W. You don't want to get stuck in another country without adequate charging capabilities!
Aside from that, the types and shapes of wall sockets vary by country. Your device's plug may not fit the wall socket in the country you are visiting because of its form and kind.
Remember to select a compact travel adapter charger that is universally compatible and capable of supporting the power requirements of your gadgets.
Number of USB Ports
Best travel adapter chargers are now equipped with USB ports for charging your USB devices such as phones and laptops. If you have devices that charge via USB ports instead of standard outlets, then this is a must-have feature for your best international charger.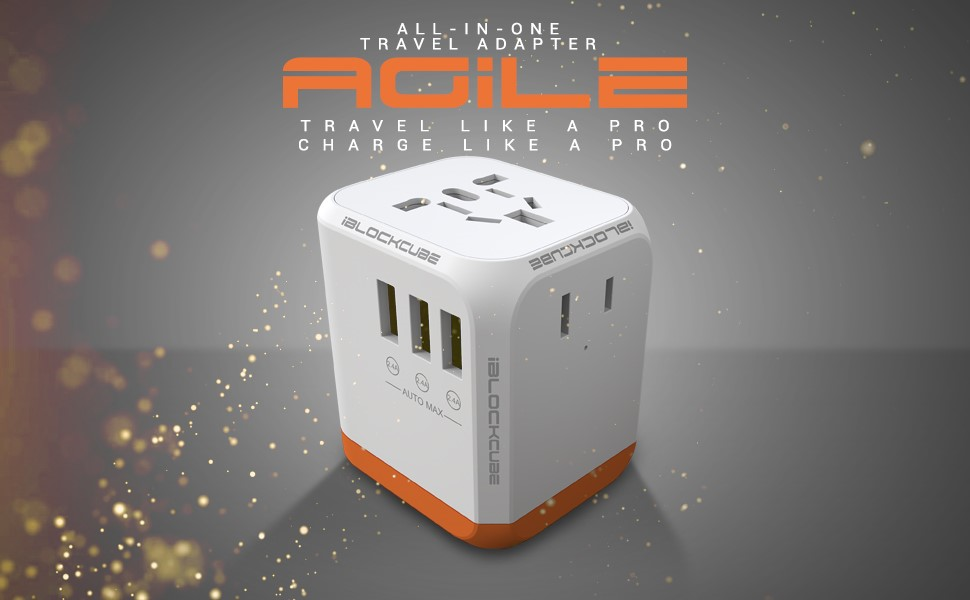 I highly recommend you choose a travel plug adapter with more than 5 USB ports. This allows you to plug more than one device into your travel adapter! With this USB charging port feature, there won't be any need for multiple adapters hanging from outlets!
The Different Kinds of Outlets
Best international travel adapters are designed to fit the outlets of at least 150+ countries. Keep in mind that different regions have different kinds of outlets, so you will need an adapter with interchangeable plugs for each region where you plan on visiting!
For example, the US has flat pronged and both vertical and horizontal angled ones. Some best international adapters also come with the best universal plug adapter that fits all kinds of outlets.
If you are planning on traveling to various regions, then the best international chargers must have interchangeable prongs for each region where you will be going!
Number of Plug Types it Supports
The best travel adapter has various kinds of plug types that it supports. Make sure to check the list for all the regions where your travel adapter can be used!
Choose an adapter with as many connector plugs as possible to cover different countries and regions. This is especially important if you plan on traveling extensively outside North America.
The best international travel adapters are universal in that they can support a variety of power outlets, but you should choose one with the greatest number possible to make your life easier!
Surge Protection of the Travel Adapter
If you have devices with high power requirements, then your travel adapters must be equipped with surge protection to protect these expensive appliances from damage due to fluctuations in the current.
Safety Certification of the Travel Adapter
The best travel adapter also comes with safety certifications. It must have an Underwriter's Laboratory (UL) certification to ensure the product is safe for use. Furthermore, it should have a CE mark approved by European standards, you are sure of its quality and safety features in terms of design, manufacturing, testing, marking, packaging, etc.
Choose a universal travel adapter that has all these additional features mentioned above! You can read more about this on the product's website.
The Best Universal Travel Adapter in the Market?
There are many travel adapters on the market, but I highly recommended the Agile Universal Travel Adapter. This ultra-compact, lightweight, durable travel adapter has a maximum power output of 45W, which provides devices with the exact current they need even if these require high power. It also can charge your devices 2.5x faster than the regular type of charger. Apart from that, it has 2 AC ports (1 Universal 1 US), 1 USB type C port, 4 USB ports allowing you to charge 6 devices simultaneously.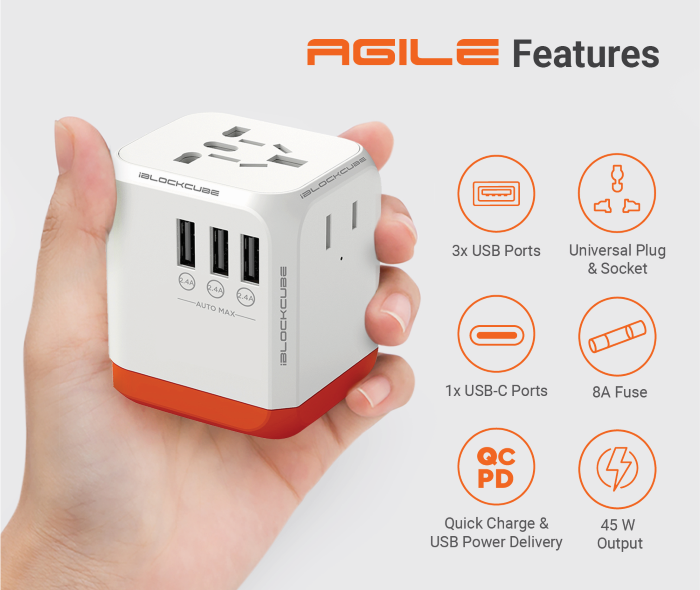 On top of that this small yet incredible travel adapter is made of a fire-resistant PC and has a built-in 10 A fuse that protects your electronic devices from a power surge, overcharging, or overheating. It is made with sliding safety covers to protect children and your pets from being electrocuted when not in use.
What sets Agile apart from other travel adapters in the world? Agile Travel Adapter has 2 AC Ports (1 US and 1 Universal). With two AC ports, it allows you to charge your electrical devices with plugs at the same time! One of these charging outlets is universal, so you can say goodbye to those varying country cables and adapters.
In addition, the US AC port allows you to power electrical devices compatible with US Type sockets. It also has a universal power pass-through meaning its own plug will continue to function even when one of its ports is used — no need for an additional cord or adapter!
So what are you waiting for? Visit https://agile.iblockcube.com/ today and take advantage of their early bird promo!