ROKU has announced their newest partner, the Ultimate Fighting Championship. The new UFC Channel is available in the Roku Channel Store for customers to add to their Roku experience and take advantage of live PPV events streaming in HD, as well as a full library of Vault and free content. The announcement adds to the variety of sports content to choose from on the Roku platform including MLB.TV, NBA Game Time and now UFC
In addition, the Roku SDK now features HTTP Live Streaming, which allows ROKU to seamlessly integrate partners who want to deliver live events (UFC, MLB.TV, and more to come) on the Roku platform and reach over a half million customers and counting.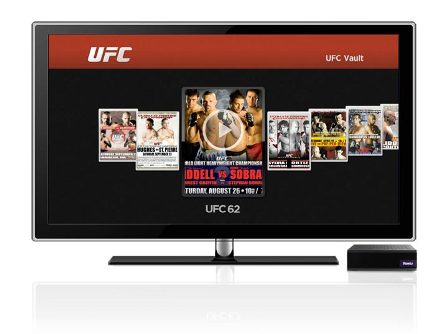 Here's the press release…..
Las Vegas, NV (USA) – For the first time ever, just as UFC® light heavyweight rivals Rampage Jackson and Rashad Evans enter the Octagon™ and touch gloves, Roku users all over the country will be able to see what happens next and who emerges the winner of this ultimate grudge-match live on TV via their Roku streaming video player.
The world's largest live Pay-Per-View event content provider, the Ultimate Fighting Championship®, and Roku, Inc. today announced a multi-year deal to feature all major UFC events on Roku, starting with UFC 114: Rampage vs. Evans taking place Saturday, May 29 live from the MGM Grand Garden Arena.
"We are always looking at the latest technology and the newest ways to bring the UFC experience to our fans," said Dana White, UFC President.  "Roku is another way for fans to get more UFC and watch all of the UFC events live and in HD, starting with UFC 114 on Saturday, May 29th."
"The Roku player is capable of delivering amazing live events, in HD, on the TV. We are excited to be UFC's lead partner in bringing the total UFC experience – from live events and classic fights to insider previews, countdowns, and training coverage – to fans everywhere, whenever they want it," said Anthony Wood, founder and CEO of Roku, Inc. "The new UFC channel joins a growing list of major streaming content services for the TV that started first on Roku, including Netflix, MLB.TV, and Amazon Video On Demand – further strengthening our position as the leader in delivery of premium streaming content."
In addition to UFC 114 and future live fights, Roku users will also have access to the UFC® Vault™, the world's largest collection of archived fights, as well as live access to UFC pre-fight events including the official weigh-ins, and pre-and-post fight press conferences, hosted by White.
First introduced in May 2008 as the original Netflix player, the affordable Roku streaming player is a little box that allows you to instantly stream tons of entertainment on your TV—without a PC. Roku's rapidly expanding library of instant entertainment includes over 50,000 movies and TV shows, live sporting events, music, and more. Roku players start at just $79.99 for the standard definition model and $99.99 for the HD model. For more information on Roku and the UFC channel, visit http://www.roku.com/ufc.
About UFC 114: RAMPAGE vs EVANS
At UFC 114, two former Ultimate Fighting Championship® light heavyweight champions get a chance to let their fists do the talking. After multiple back-and-forth verbal exchanges on the 10th season of The Ultimate Fighter®, Quinton "Rampage" Jackson and "Suga" Rashad Evans are set to headline UFC 114, presented by THQ's "UFC Undisputed 2010" and live from the MGM Grand Garden Arena in Las Vegas on Saturday, May 29.
Ultimate Fighting Championship® – www.ufc.com
ROKU: http://www.roku.com.
Published on May 18, 2010