Are you ready to be a Zillionaire?  The Zillionaire Personal Savings Machine is a fun new gadget from Zillionz . It's interactive, customizable and lets you keep track of your savings goals.
The Zillionaire makes money management and allowance maintenance fun and easy for everyone.  It enables users to set up customized savings programs (up to 3 different accounts), view your balance in any bank at anytime, set up deposit and allowance reminders, create passwords and more!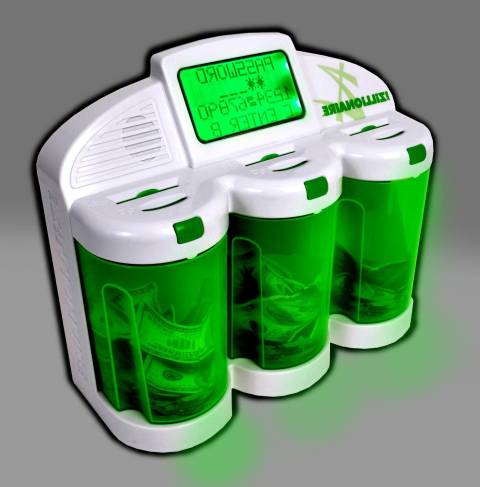 It also features a touch screen display, automatic coin reading and security alerts and alarm.  Here's the release from Summit…….
WHAT ARE YOU SAVING FOR?
Summit™ Toy's Zillionaire™, the newest Zillionz addition,
helps kids become financial wizards
Birmingham, AL – October 2010 – Getting one's finances in order is at the top of most parents' lists. So why not show kids how to become fiscally responsible with a fun-to-use money management tool? Summit™ Toy, known for developing innovative, creative toys with a learning twist, is introducing the newest addition to the popular Zillionz line: the ZILLIONAIRE™ personal savings machine.
The Zillionaire walks parents and kids through easy setup with on-screen guidelines. Parents can create three different accounts per child, one account for three separate kids, or specialized accounts for the whole family. To help busy parents foster their child's financial acumen, the Zillionaire includes an allowance reminder feature.
"Kids of all ages take tremendous pride in saving up their own money," explains Melvin Wells, Vice President of Sales. "The Zillionaire makes money management and allowance maintenance fun and easy for kids and parents."
This state-of-the-art interactive and customizable personal savings machine encourages and helps young money managers to handle money matters and set financial goals while having fun! With a push of a button, kids can set up a customized savings program, create a personal password, view their savings balance, and set up deposit reminders in pursuit of a particular financial goal. The bill and coin slots accept real money, making it easy for kids to make deposits and pump up their bottom line.
Designed for kids five years and up, the Zillionaire will be exclusively available at Toys R Us fall 2010. Approximate retail price is $49.99. For more information about Zillionz and Summit Toys, visit www.summittoy.com.
About Summit Products, LLC.
Founded in 1995, award-winning Summit Products, LLC has grown significantly since then, developing 12 brands and over 400 unique products that span several different categories from outdoor play products, to musical instruments and water powered toys. Among these brands are Youniverse, Backyard Safari, Boom Blaster, Zillionz, Spray Racer, Barrel Blaster, Nickelodeon, Spider-Man 3, Hidden Gems, Moto Headz, Beverly Hills Puppy Club and Garden Girlz. Summit is a leader in the charge to improve toy safety and is one of a select few companies that have a representative member on the Toy Industry Association's Safety Standards & Technical Committee.  Named the winner of the Birmingham Business Journal's "Fast Track" award for six of the 9 years it has been offered, Summit continues its growth by sticking with innovation, reputation, speed to market, integrity, superstar team members, execution, and quality.