Lockly says the new Secure Plus door lock is the "World's most advanced smart lock". At $250, the Lockly Secure Plus offers many of the now mainstream features we expect from a modern deadbolt, such as Bluetooth connectivity, smartphone app control and access codes for friends and family. But there are a couple of standout features that separate this smart lock from others. An integrated fingerprint scanner allows you to conveniently unlock your door should you forget your phone, and for additional security, Lockly's digital keypad switches the position of access keys each time someone approaches your front door.
Design
Available in a choice of Satin Nickel or Venetian Bronze, the lock certainly looks the part, with a reassuring combination of style and heft. Along with Bluetooth and smartphone control, Lockly's large digital touchscreen, fingerprint reader and support for traditional metal keys ensures ease of access for family and friends.
The keypad/keyhole combo certainly adds height to the lock (7.05 in. / 179 mm x 2.01 in. / 74 mm), meaning it's not small, but it's no eyesore. The rear of the lock, housing four AA batteries, is typically boxy like competitors and again, taller than most (7.4 in. / 188 mm x 3.15 in. x 80 mm). Clad in the same metal finish as the front face, it looks large when hung on the door, but at least has a premium finish.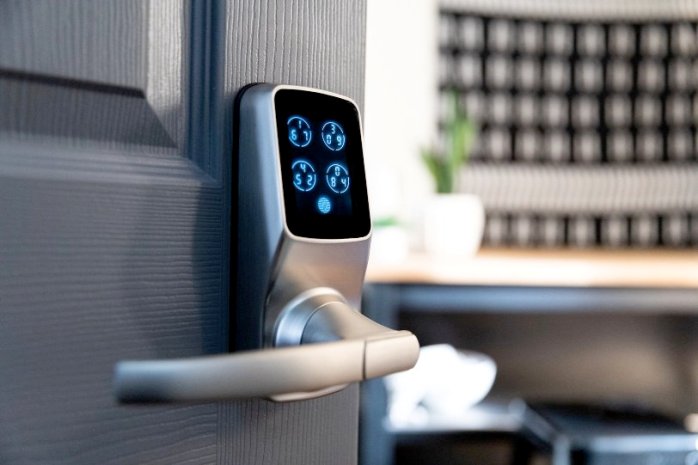 Accompanying the two sides of the lock you'll find keys, screws, a deadbolt, door strike and a lot of 3M adhesive tape to secure Lockly's front face during installation. It also ships with supplied adhesive tape to stabilize when mounting, which is pretty straight forward, requiring about 15-minutes for installation.
You also need to set up a Lockly account, and each lock ships with an individual activation code, printed on a wallet-friendly card in Lockly's Quick Start Guide. You'll need this code to pair your phone with the lock over Bluetooth, and once that's entered, you'll then set another admin code. It's one of the most comprehensive account security protocols around, but well worth it for the security it provideds.
The Lockly app is easy to use with the now-traditional large round button toggling the deadbolt. We found Bluetooth connectivity to be stable and responsive, with the deadbolt activating within a couple of seconds from cold.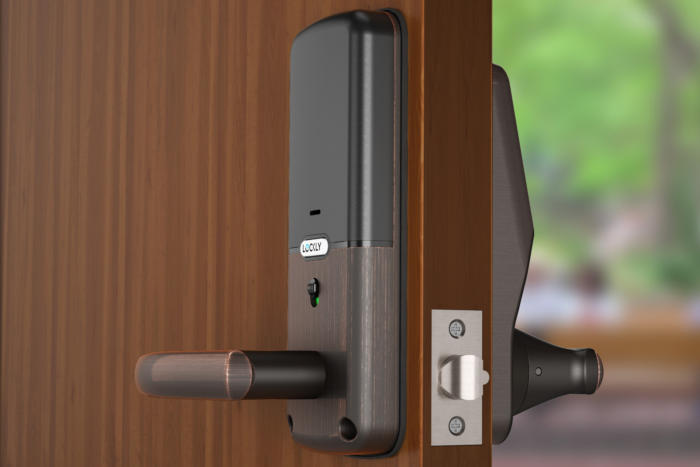 One cool aspect of Lockly is the versatility and ease with which access could be made available to family and friends. Regular users can be configured in the app with a 6-8 digit PIN access code sent to them via email. This access code allows them to download and configure the Lockly app on their own phones for use with the lock.
Alternatively, time-limited eKeys and one-time access codes and offline numeric codes (to be used with the digital keypad) can be issued to guests. Whether you need to provide regular access to the house cleaner, one-day access to the babysitter, or an emergency code for the next-door neighbor, you're covered. Should you need remote access to the lock, an $80 Wi-Fi hub is on the way next month.
Biometric access is a feature not commonly found on many smart locks, but Lockly's side-mounted reader works very well. Fingerprint registration, using a combination of the smartphone app and the lock's reader, takes a minute or two to set up, with five successful scans required for completion. From there, simply place a finger on the reader and you're in. No need to remember your keys or your phone, and if you're worried what will happen should the lock lose power, a 9V battery placed on pins at the bottom of the lock provides an emergency boost.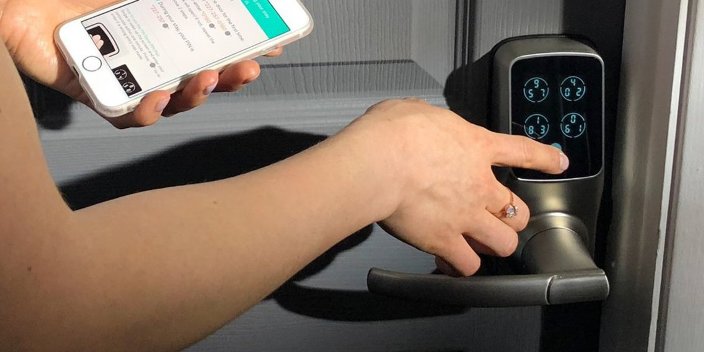 Elsewhere, Lockly delivers secure peace of mind through now common features like user configurable auto-locking (up to 300 seconds), a detailed log of user access and, of course, randomized display of pin numbers on the lock's screen. This novel feature ensures that anyone spying on you when you enter your access code can't guess the code by noting the areas of the screen you press. An insight perhaps lifted from Hollywood rather than a serious issue in your local neighborhood, but one that works well.
Bottom Line
Lockly Secure Plus boasts a lifetime warranty on exterior finishes and two-year's protection on electronic components. It's one of the best warranties available in the smart lock market today.
Overall, Lockly Secure Plus is a worthwhile contender in the smart lock market. It's versatile and ease of use, and it also has a great and sturdy design. At $250, and with versatility and some novel features, Lockly Secure Plus is a nice addition to a home. If you need a lock packed with access features, it offers style, value and security.