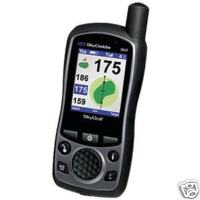 The SkyGolf SkyCaddie SG5 is for serious golfers who want advanced features, a large color display and a long-lasting rechargeable battery. Advanced Swiss-engineered GPS technology providea unmatched reliability. The SG5's patented IntelliGreen® technology enables golfers to measure the full depth and shape of the green from any angle and shows distances for all targets and hazards on any of SkyGolf's many thousands of professionally mapped courses.
At 5.5 oz, the buttons on the SkyCaddie SG5 are easy to operate. Navigation is done using one of the seven main buttons on the front of the unit. A 4 way scroll pad with the look and feel of a golf ball is used to scroll (up/down/left/right), this is especially helpful when navigating through the lists of targets. A bright LCD allows users to use it both indoors and out.
Flawless in its operation, it is extremely simple to use and provides more data and
information than any golf GPS device of used to date. It's rechargeable lithium battery lasted about 15.5 hours in my test.  My favorite feature is the "Mark Ball" button. The SG5 will tell you how far you've hit the ball, so your game can be measured and improved accordingly.
Not only is the SG5 a miraculous, hand-held gadget for great information, it is an
invaluable training tool. I strongly recommend this!  ($429.95, www.skygolf.com)