eNcipient, creator of the world's first iPhone case featuring a Drop-Catch Tether™, is pleased to introduce the new VOi! Lorem™ for iPhone 3G and 3GS. VOi! (Italian for You) is the first iPhone case designed with you in mind. Combining personalized style, protection, and function, eNcipient has created the most revolutionary iPhone case yet.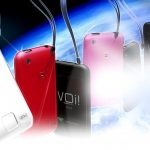 VOi! Lorem is a durable snap-fit case that features full access to all ports. VOi! offers a one of a kind Drop-Catch Tether providing a safety feature you won't find on any other iPhone accessory. The inner case Luxury Liner provides impact protection while holding your iPhone securely in place. With a super-tough interchangeable trim ring, VOi! allows its users to mix and match 4 different colors for style and creativity. Why worry about dropping your iPhone, when you can prevent the inevitable "slip of hand" all together?
You can Mix and Match AXENT Ring™ with four colors (Obsidian, Fireside, Phantom Mist, and Sudden Blush) to choose from, each with durable snap-fits. The VOi! Lorem is available for $24.95, screen Protector (optional): $5.95 eNcipient's VOi! Lorem cases are available directly from eNcipient's website: www.4VOi.com.