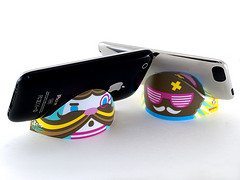 Prop up Your iPhone and iPod touch with 12 unique, playful Designs Widget Factory, LLC, the creators of the worlds thinnest iPhone and iPod touch stand, iBend, has announced its newest collection the iBend Artist Series, featuring 12 new, out-of-the-box designs and cool looking graphics for a more personalized and colorful mobile video viewing experience.
Weighing in at less than 1 gram and thinner than a few sheets of paper, the iBend is the most travel-friendly iPhone and iPod touch solution for hands-free viewing and sharing on-screen mobile entertainment in the landscape position. When not in use, just slip it in your wallet or behind any protective case for quick storage and easy access.
The Artist Series was designed by three renowned artists from New York, California, and Canada. Each was responsible for creating two Artist Series packs (two iBends per pack), which resulted in12 new artistic expressions
for iPhone and iPod touch users.
The Artist Series and the iBend Classic, available in Black and White, all come two to a pack and can be purchased for $7.99 and $4.99, respectively, at www.myibend.com.