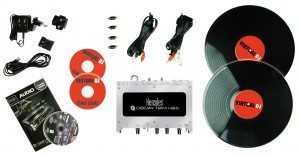 Hercules, the computer DJ entertainment specialist, unveils the DeeJay Trim 4&6 + Scratch Starter Kit, a timecode DJ mixing kit. This kit is for DJs who want to get started mixing with timecoded records and CDs, and DJs already mixing on their computer who already own vinyl turntables or scratch-capable CD players.
The Deejay Trim 4&6 + Scratch Starter Kit allows you to mix with timecoded vinyl records and CDs. The Deejay Trim 4&6 audio interface includes the new VirtualDJ® 6 LE Timecode software, along with 2 timecoded vinyl records + 2 timecoded CDs, and a set of cables to connect vinyl turntables and scratch-capable CD players to the audio interface.
With the Deejay Trim 4&6 + Scratch starter kit, you can use an analog mixer and 2 vinyl turntables or 2 CD players (featuring jog wheels that can be used for scratching) to control the mixing of music files stored on a computer. The VirtualDJ 6 LE TC software reproduces the actions made by DJs using their vinyl records or CDs, and applies the actions in real time to their digital music files which allows the DJ to control music track and speed playback as well as the position in the track.
The benefits for DJ's include being able to use the same equipment to mix both digital audio files and standard vinyl records/CDs and having instant access to their entire digital music library stored on their PC or Mac®.  The size and precision that comes with mixing on vinyl turntables or the jog wheels of CD players makes for a very portable and efficient system. It also allows DJ's to apply different mixing techniques to their digital audio files that they use with their vinyl records or CDs, for different types of scratching.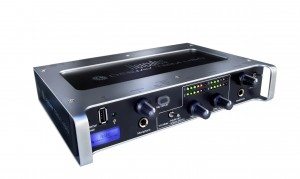 The DeeJay Trim 4&6 USB Audio Interface (sold separately or combined with the Scratch Starter Kit) was built for advanced DJ's who already have a DJ control surface but no audio interface. This professional audio interface not only provides you with an extra USB hub that protects music from power fluctuations on the USB, but it also allows you to connect DJ gear to USB ports such as an external hard drive, USB key, and a USB mouse. The advanced, digital interface features:
4 Input channels, with VU-meters and adjustable pre-amplification via 2 handy knobs (1 per stereo input) for precise control of volume, attenuation of certain powerful sound sources such as some CD players and amplification of certain weak sound sources such as vinyl turntables
2 Different modes: 4/4 mode – 4 line/phono input channels, and 4 output channels, (4 RCA outputs at -10dBv to connect a mixer or hi-fi system, two 6.35mm mono jacks at +4dBu to connect a PA system) and a 2/6 mode (2 input channels, and 6 output channels),
An integrated USB 2.0 hub with 3 ports, powered by an included power adapter, to connect an external hard drive or USB key
A microphone input with talk-over function
A headphone output
A sturdy steel body, capable of standing up to the most intensive use
The essence of technology and connectivity, the DeeJay Trim 4&6 perfectly meets all DJ requirements, while offering exemplary stability. The DeeJay Trim 4&6 is compatible with Windows® 7, XP and Vista (32-bit & 64-bit)/WDM and ASIO, as well as Mac OS 10.4 & 10.5.
The DeeJay Trim 4&6 separately is available for the suggested retail price $249.95 and combined with the Scratch Start Kit will be available starting mid-December, 2009 for the suggested retail price $299.95.  For more information visit www.hercules.com.