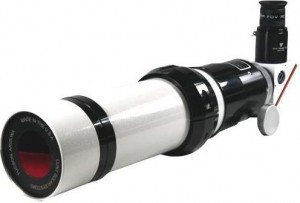 Lunt Solar System's LS60T/HA/PT Pressure-Tuned Solar Telescope (what a mouthful) is a 60mm solar refractor with high resolution Hydrogen-alpha solar viewing at an affordable price. The Lunt LS60T/HA/PT shows you much more of the living Sun than ordinary glass or Mylar white light solar filters that show only sunspots, actually 50% more solar detail than the competitive 40mm solar refractor.
How does it achieve this you ask? Instead of heavy duty filters to avoid serious reflective light, Lunt's LS60T/HA/PT uses air pressure to tune the etalon, the filter that safely reveals most surface details.  Most astronomers would trade distance for detail.
The Lunt LS60T/HA/PT consists of a 500mm focal length 60mm aperture f/8.33 refractor with an integrated Hydrogen-alpha solar filter. The two-part filter uses an internal etalon behind the objective lens and a 6mm blocking filter built into the standard equipment 1.25″ star diagonal. There is also an infrared reflecting window (Energy Reflecting Filter or ERF) early in the optical path to remove unwanted heat from the system. A tuning mechanism built into the system lets you center the passband precisely on the H-alpha line for maximum contrast, as well as perform off-band observations of Doppler-shifted disk features to determine whether they are moving towards you or away from you.
The Doppler True Tuning technology increases the pressure inside its sealed air chamber and the etalon housing contained within it. This changes the way light refracts as it passes through the elaton, producing very clear and 3-dimensional clarity.
The scope's singlet objective lens is fully multicoated. It is not necessary to use an achromatic doublet in a small solar scope to correct for chromatic aberration in the violet end of the visible spectrum. Solar scopes are designed to observe only a single wavelength of red light at the opposite end of the spectrum.
The Lunt LS60T/HA/PT uses a dual-speed Crayford focuser with a 10:1 reduction ratio for precision focusing on the smallest of solar details. Large ribbed focusing knobs make it easy for you to reach a precise focus, even if you are observing in the dead of winter while wearing gloves or mittens.
You can use virtually any 1.25″ eyepieces with the 60mm Lunt solar refractor. A 15mm Plössl will give you 33.3x and about a 1.5° field, giving you plenty of dark sky background around the solar disk to show off the prominences. The Lunt LS60T/HA/PT comes with a clamshell-type mounting ring with 1/4″-20 thread holes that will let you mount the scope directly on a photo tripod for a quick peek at the Sun. You can also mount the clamshell ring on a dovetail plate and install it on an altazimuth mount with slow motion controls for easier extended observing and tracking of the Sun. A foam-lined hard case is standard equipment for transporting and storing your Lunt scope.
The Lunt Solar System LS60T/HA/PT Pressure-Tuned Solar Telescope is the first solar scope that uses air pressure, and is a pioneer to an economical new approach to serious high resolution Hydrogen-alpha solar viewing. ($1500, www.luntsolarsystems.com).