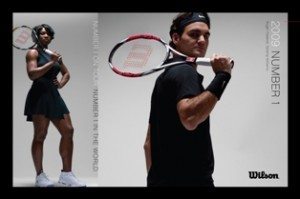 Wilson, the #1 brand in tennis, ends the year as #1 in both the men's ATP World Tour and women's Sony Ericsson WTA Tour.
With his Wilson K-Six One Tour racket, Roger Federer held on to the #1 spot by winning the Barclays ATP World Tour Finals in London, England. Federer made his 8th consecutive appearance in the year-end championships and is the first player to finish in Top 2 for 7 straight years. The top ranking solidifies Federer's tremendous success of 2009. By winning the French Open title in June, Federer became the 6th man in history to win all four Grand Slam titles in his career. One month later, he won a record-breaking 15th Grand Slam title at Wimbledon, where he collected his 6th championship at the All England Club.
Earlier this year, Federer returned to the top spot and has now been #1 for a total of 258 weeks. By finishing 2009 as #1 in the world, he becomes just the second player, after Ivan Lendl in1989, to reclaim the top slot since the rankings began in 1973. Federer's continued success and ongoing record breaking just confirms his title as the Greatest Of All Time.
With her Wilson K-Blade Team racket, Serena Williams won the season-ending championship for the second time in her career. The world #1 defeated her sister Venus 6-2, 7-6 to win the Sony Ericsson Championships in Doha, Qatar.  2009 has been an incredible year for Serena as this marked her 35th career singles title and the 3rd for the year. She won her 10th and 11th Grand Slam singles titles, the Australian Open and Wimbledon. Serena is the only woman to win two Grand Slam crowns this season and also won 3 Grand Slam doubles titles with Venus at the Australian Open, Wimbledon and US Open.
Wilson continues to provide for the tour on all levels and is proud to have such strong athletes at the top. Wilson's products contain the latest technology and are the highest quality to support the best players in the world. With four new proprietary Wilson technologies, the enhanced control of the Wilson [K]Factor combines the highest level of technology to bring you the best tennis racket on the market. The [K]Factor picks up where the Wilson nCode nSixOne Tour 90 left off. Building on the nanotechnology platform that began with Wilson's top selling nCode line, [K]Factor now takes the process to the next level by introducing Karophite Black, a breakthrough structure created when bonding Carbon Black, Graphite and SiO2 together at the nano level, creating a denser and stronger racket matrix.
This nanotechnology process links billions of carbon fibers together before heatshaping, thus eliminating mocroscopic voids that create stress points in other carbon fiber rackets. Wilson then adds exclusive frame engineering technologies to produce the comprehensive [K]Factor Tennis Racket Series. These adjustments, made at the molecular level, significantly strengthen and enhance the stability of the overall carbon matrix, while the unique frame engineering provides greater control, with comfort and a large sweet spot. (www.wilson.com)