Enter and experience a world of euphoria and let the Purple Haze laser projector help you get the party started. This Purple laser projector features 3 mode selections for music auto projection, manual control and DMX mode.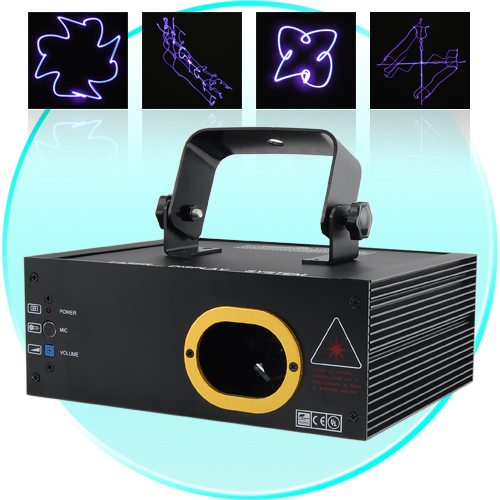 The Purple Haze laser projector can be sound activated so that the laser light patterns move along with the music. The internal micro-stepping motor scanner with extra wide scanning angle and high speed microprocessor control gives you the high-level performance you would expect from professional laser projector. The Purple Haze laser projector is perfect for parties, disco, balls, dances, raves, bars, nightclubs even in your living room for the best chill out "session" while listening to your favorite lounge music, such as Buddha Bar.
Located on the front of the Purple Haze laser projector is the volume control, MIC and the power indicator. To increase the sound sensitivity of the laser projector, just use a star screw driver to adjust the volume control, the MIC will then interpret sounds differently and the cutting-edge internal sensors will display one of dozens of re-programmed patterns onto an external surface.
Further-more, located at the rear are two DMX ports, one DMX in and one out. These ports can be connected using DMX cables (not included) to a compatible DMX lighting control unit, which allows you to control the laser patters while DJing. The Purple Haze laser projector Digital Multiplexing (DMX) feature, allows the user to control the inbuilt patterns of the projector through the use a DMX lighting control unit.
This Laser projector can be mount anywhere that suits your needs, and it is adjustable to easily be aimed at the area you wish to highlight, whether it is the wall, ceiling or floor. With an adjustable bracket suitable to allow installation on walls, ceilings and floors, this is perfect for installation in any indoor environment. The CVLC-G163 is in stock now and available at an incredible factory direct wholesale price from Chinavasion.