RadarGolf Ball Tracking System, which uses an embedded RFID tag in the balls and a compact hand-held device which locates the golf ball.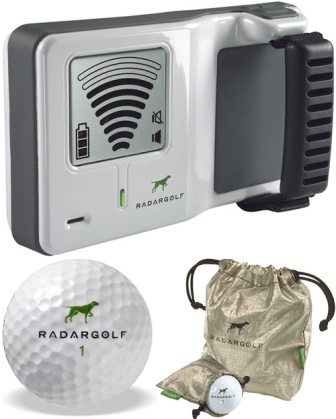 The handheld unit "beeps" when pointed at the ball and is effective at a distance of 40 to 125 feet. The tag is extremely small and is built into the ball at the time of manufacture. The tag could be easily included in any commercial golf ball though until that happens, you'll need to use RadarGolf's proprietary balls which conform with U.S. Golf Association rules.
"Golfers tell us they see our system for finding golf balls as a way to improve their score rapidly and get more satisfaction and enjoyment from the game," said Steve Harari, CEO of RadarGolf.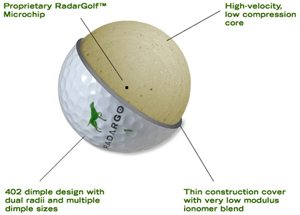 "By minimizing lost ball penalties, we estimate that the average golfer will improve per-round scores by an average of two to four strokes. Golf course operators and manufacturers also stand to gain from a faster pace of play and more total rounds played."
The Ball Positioning System—or BPS—uses advanced electronics to enable the handheld to transmit a specific radio frequency (RF) signal. When this signal reaches a RadarGolf, the ball returns a separate specific RF signal. The handheld receiver is tuned to "listen" for the signal from the ball. An LCD provides visual feedback and an audio tone allows you to hone in on your lost ball. You will receive stronger feedback as you get closer to your ball.[adsense]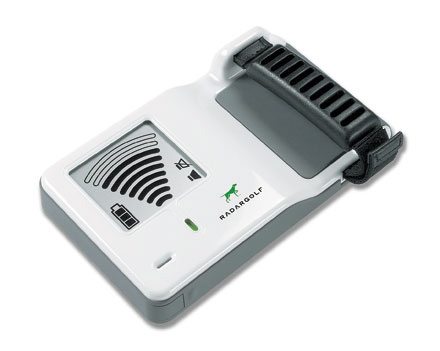 The handheld will locate all RadarGolf balls (in your pocket, golf bag or golf cart for example). It is critical that you keep all RadarGolf balls shielded from detection. Place all spare balls in the Shield-It pouches. The pouches are made with a special metallic fabric that blocks radio frequency signals and allows you to find only your "ball in play" when searching. Use the large pouch in your golf bag to store a dozen balls and the small pouch in your pocket for one ball.
The The RadarGolf™ Ball is USGA conforming and meets all USGA specifications for size, weight, distance, initial velocity and symmetry. It has been thoroughly tested for durability and performance parameters including carry, distance, roll and dispersion accuracy. The embedded microchip is so small that it does not affect the performance of the ball in any way. The chip has no power source and will last as long as the ball.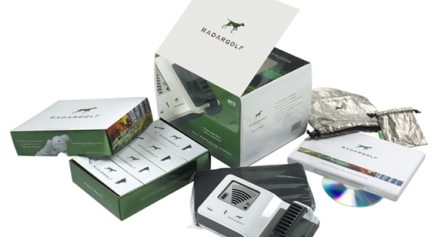 Central to this technology is a microchip that is embedded in the core of the ball during the manufacturing process. The microchip in the ball acts like an antenna that receives and returns the signal back to the handheld. The handheld transmits the signal to the ball within a directional detection pattern (beam width). The beam width moves with the handheld as you sweep your extended arm.
The RadarGolf System with BPS technology will detect balls behind trees, bushes, grass, rocks, and so on. The detection range can vary depending on the terrain on which the ball lies. ($200, www.radargolf.com) (video courtesy of intheholegolf.com)