Putting your kids on a leash and dragging them through the mall is so last century…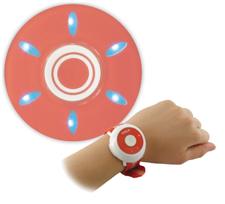 Today you can get a digital wireless child tracker device.
The Levana Digital Wireless Child Tracker "comes with a watch that your child wears and a receiver that you wear. Simply clip on the receiver using the attached belt clip and you can track your child using a digital signal. If your child moves too far away, an alarm on the receiver will sound. With three different range settings, you can specify the distance your child can go before the alarm sounds."
You can even find your wayward child by watching the blinking LED light on your watch. Remember that old game "Hot or Cold?" This does the same thing: the LEDs blink faster when your child is close and slow down when he or she is farther away.
Now you don't have to be leashed to your children to know they're okay when you're out in public.
$120  [Via]