Finish company Suunto offers a golf watch which measures and processes data collected by its wearer, such as shot distance and score, and can suggest club selection too. All shot measurements and data collected on course can be downloaded to a home computer for analysis and storage, and historical data can be uploaded to the watch when playing specific courses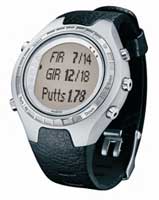 Suunto is the world leader in sports wrist-top computers, beginning its company selling high quality compasses prior to WWII and evolving into a sports technology company thanks to the enormous success of its diver's compasses. As more technology was miniaturized, Suunto began building more sophisticated watches incorporating pressure gauges, depth gauges, GPS capability and packed more and more features into smaller and smaller products. Then docking units were added and software which analysed the information captured by the watches and now there is a wide array of Suunto wrist-top computers available for everything from diving to sailing, orienteering to mountain climbing.
The Suunto G6 Pro is for golfers striving for a better and more consistent performance, Suunto G6 is an invaluable tool for reducing your handicap. Monitor your shots as you play, and then analyze your round with the included SGM (Suunto Golf Manager) PC software to identify the areas of your game that need improvement.
[adsense]
Suunto G6 Pro enables you to practice and perfect your swing. After each swing, you can check its tempo, rhythm, backswing length and speed. The feedback you get from Suunto G6 helps you consistently repeat your best shots, developing muscle memory to remember only the good shots. After the session, you can analyze your overall consistency.
When you return to the course with your new improved skills, Suunto G6 gives you more time to focus on your game by simplifying the scorekeeping process. With four game types to choose from, both your own and your opponent's score can be easily kept – without the need for messy paperwork.
Suunto G6 Pro contains an internal sensor that measures various aspects of your swing. In the Practice mode you can see how long the exercise took and how many swings you took. Suunto G6 provides information on the tempo, rhythm, backswing length and speed of each swing. You can also check out the average and deviation values of the different measurements.
[adsense]
In the Test mode, you take series of shots with the same club and then check your consistency index straight from the wristop computer. This gives you an indication of your golfing muscle- memory. You can also see the degree of variation in your shots.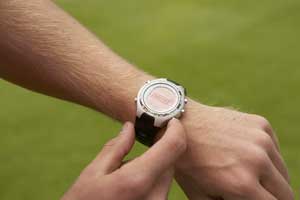 Suunto G6 Pro allows you to choose four different game types and constantly updates the leader during the round to allow players with different handicaps to compete seriously. Out on the course, Suunto G6 registers statistical data (Fairway hits, GIRs, Up&Downs, Sand Saves, Putts and Penalties), and displays the results and history of played games.
You can store your 10 favorite courses in the memory, and the Suunto G6 Pro will calculate your handicap for a given course. Suunto Golf Manager (SGM) PC-software and USB-cable allows you to download data to the software for a deeper analysis of the swing and game data collected. SGM enables you to store your games and courses in the memory, keep a scorecard and define your individual club lengths. You can review the played games and analyze your problem areas. You can also view graphs that display the development of the key stats (GIR, FIR, putts etc.). (Around $400, www.suunto.com)