National Defense contractor Lockheed Martin also makes PC products.  The new IronClad™ "PC on a stick" USB drive offers military-strength security for your mobile computing.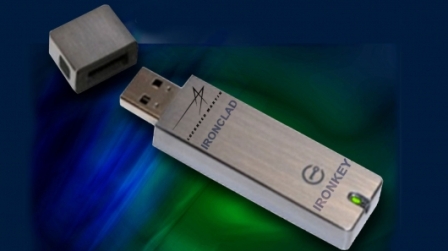 The IronClad™ shrinks a laptop's hard drive, including the entire operating system, software applications, and files, onto a fully encrypted flash drive that delivers hardware-level protection against today's most insidious malware threats.  Plug it into just about any computer or laptop in the world, and have instant, secure access to your personal desktop and files.
The IronClad technology runs the operating system directly off of the flash drive, meaning the your files never touch the hard drive of the borrowed computer, and the device leaves no trace that it was ever there.
"Imagine leaving the office at the end of the day and, instead of slinging a laptop bag on your shoulder, you tuck a flash drive the size of a stick of gum in your pocket," said Charles Croom, Lockheed Martin's Vice President of Cyber Security Solutions. "With IronClad drives, employees who need to work at home or on travel, or field operatives who deploy around the country or around the globe, can carry not just their files but their entire computer on a three-inch USB drive. We've built a smart network around each drive, so IT managers have round-the-clock control of and visibility into the status and security of every device."
Steve Ryan, senior vice president at IronKey said, "USB storage devices are rendered relatively useless without the proper authentication and security precautions in place. IronKey is a security company first and foremost, and IronClad drives leverage IronKey's highly secure architecture design. We are very pleased to be working with Lockheed Martin to deliver this trusted, secure product with hardware-only password checking, secure virtual desktop and remote management capabilities."
[adsense]
IronClad technology works by integrating advanced features at the hardware, software, and network levels: Rugged, Secure Hardware: Built on IronKey's proven secure USB drives, each IronClad drive includes at least 8GB of 256-bit encrypted storage, wrapped in a rugged, water- and shock-resistant metal casing.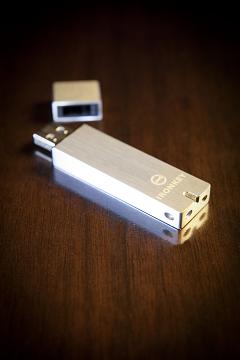 The IronClad™ lets you run your entire desktop, from the operating system to specific applications and files, directly off of the USB drive. Built-in advanced virus protection lets you plug into any shared or public computer with confidence.
Each IronClad™ drive is a node on a centrally-managed network that lets IT organizations control security policies, keep watch on each drive, and carefully manage the applications that can or cannot be installed on the drive.
Croom noted that IronClad technology is envisioned as a key component of an organization's cyber security strategy. "Data at the 'edge' – carried by your mobile employees on laptops and smart phones – is significantly harder to physically protect than the data inside the walls of your building," he said. "The enterprise management tools built into each IronClad drive make it significantly easier to monitor, control and manage your cyber security profile. We envision this system as a key component of any IT organization's smart, layered cyber security architecture." (www.lockheedmartin.com/products/IronClad)