PayPal has released version 2.0 of its Send Money application for iPhone. You can now send, receive and manage your Paypal on the fly with a few additional features.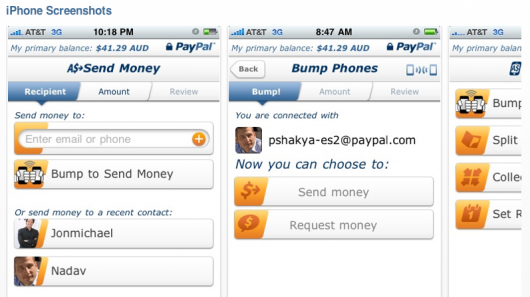 First the "Bump", a feature where iPhone users can physically bump phones to transfer money from one account to the next.  Split Check calculator and the Collect Money function, which politely prompts debtors to pay up, are 2 other add-ons that really make sense for the mobile professional trying to keep up with eBay payments and the like.
With Bump, users can put two iPhones together and funds are quickly transferred between their PayPal accounts. The Split Check feature is a hassle-free way to allow users to divide and quickly reimburse each other for the cost of a meal, including a tip, for up to 20 people.
Collect Money allows users to request money from multiple people for a joint gift, concert tickets, and more. Using PayPal Send Money app, users can forward gifts of money on the spot for birthdays, Christmas, to charities or any other worthwhile cause.
[adsense]
"Today, you leave the house with three critical things: your phone, your wallet and your keys," said Frerk-Malte Feller, managing director, PayPal Australia. "PayPal Send Money lets consumers access their wallets through their phones. Because with PayPal, the wallet lives in the cloud, the mobile phone is just one device customers can use to access it."
The new PayPal Send Money app also incorporates a feature where users can set reminders for recurring payments and manage their PayPal accounts all from the iPhone. There is also a currency calculator for international transactions and 15 different languages. PayPal Send Money requires a PIN or password for every transaction to help prevent unauthorized use.
PayPal says its new Send Money app comes at a time when smartphone sales have leapt past 172.4 million units in 2009 (according to a Gartner study in 2010), and consumers worldwide are expected to spend $119 billion by 2015 through their mobile phones (from an ABI Research study released in February this year). PayPal mobile transactions have increased nearly six-fold, from $25 million in 2008 to $141 million in 2009.
The application is now available to download for free at the Apple iTunes store online or the Apple App Store from any iPhone or iPod Touch. PayPal Send Money is also available for Android phones and Blackberries.
Published on March 18, 2010