The Bosch 11211DVS 7/8th" SDS Rotary hammer does a lot, and has superb ergonomics.  The grip and trigger mechanism are well integrated, especially the front grip, and long enough to accommodate different body styles.For a rotary hammer, design is especially critical during overhead and down-drilling operations, where fatigue can quickly become a factor.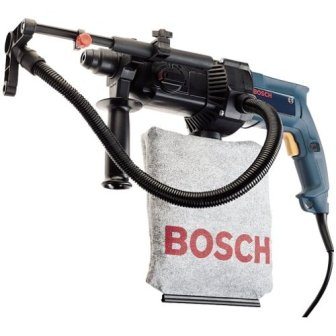 The tool's vario-lock positioning is great; it gives you 36 different working angles to choose from so you can modify the tool to fit the application. Likewise, the hammer offers three operational modes: hammer only, rotation only, and hammer with rotation. The dust removal system, which does a great job of keeping the mess to a minimum, is a plus.  It literally works as a vacuum, and collects the mess in the onboard bag….not typical for a hammer drill.
This is a tool for the ages. Not only can it suck up dust and those tiny bits of debris that the drill bit leaves behind, but it can also hammer, or hammer and drill at the same insuring that you'll breach just about anything you put your bit to.
You can find it at Amazon for $356.
Published on May 6, 2010