The Sears Blue Tool Crew is bringing customers another great reason to shop for tools with Sears. Consumers can now shop sears.com for a full line of products from Hitachi, including lithium-ion drill/drivers, power saws, routers, work lights and more. With a reputation for superior design and unsurpassed durability, the power tool collection from Hitachi brings another innovative brand to Sears' tool department.
"We're excited to add Hitachi to the roster of tools available from the Sears Blue Tool Crew," said Steve Light, senior vice president tools and hardware for Sears Holdings. "The Sears Blue Tool Crew is committed to delivering innovative tools at an exceptional value and the addition of Hitachi helps us deliver on that promise. Hitachi's innovative designs and durable features, including their lithium-ion tools backed by a 10-year warranty, are a perfect addition to Sears' collection of more than 30,000 tools from more than 400 national brands."
Hitachi's high-powered HXP lithium ion battery technology reinvents the way the world uses cordless power tools. Up to 40 percent lighter than standard Ni-Cad and Ni-Mh batteries with three times the battery life, the HXP battery is the power behind Hitachi's 18-volt 1.5Ah Lithium Ion 1/2-inch Compact Pro Driver Drill. Featuring an 18-volt Lithium Ion slide battery, the Compact Pro Driver Drill delivers professional power in the most compact, lightweight and ergonomic tool body on the market: 7.7-inches long and only 3.5 pounds.
The HXP battery technology is also featured in Hitachi's Micro Series, which provides superior results in a smaller package. Offerings in the Micro Series include the 12-volt Peak 3/8-inch Lithium Ion Micro Driver Drill and the 3.6-volt Lithium Ion Screwdriver. Hitachi's lithium ion tools are backed by a 10-year tool warranty.
Hitachi also offers exceptional cutting power through a variety of saws featuring Hitachi's adjustable Laser Marker System, which delivers exact alignment and predictable blade placement for perfect cuts every time. The 10-inch Compound Miter Saw with Laser Marker is the lightest saw in its class, offering the ultimate in form and function. The aggressive design is coupled with a powerful 15-Amp motor, vibration-reducing horizontal handle, and Hitachi's exclusive laser marker system.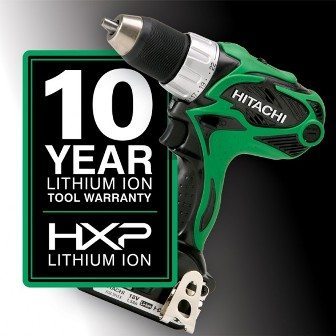 Sears Blue Tool Crew: Anywhere, Anyplace, Anytime
Sears and the knowledgeable specialists from the Sears Blue Tool Crew have access to America's largest tool selection among national home improvement retailers, and provide the expert advice and service you need both online and in-store.
"The Sears Blue Tool Crew has more touch points than ever for customers to interact with our team," said Bill Kiss, chief marketing officer tools and hardware for Sears Holdings. "From our Click-to-Call feature online and 1-877-4BLUCRW call center to our social media channels that bring our fans and followers the latest Blue Tool Crew news, we've created the outlets that allow us to better connect with today's customer."
However you choose to shop, the Sears Blue Tool Crew has the resources to assist you.
At Sears.com, the Click-to-Call feature connects you with a Sears Blue Tool Crew member who is ready to answer all your tool questions. Just submit your phone number online and you'll get an immediate call back. You can also contact the Sears Blue Tool Crew direct at 1-877-4BLUCRW and speak to a team member.
About Hitachi
Hitachi Power Tools (Hitachi Koki USA, Ltd) offers an extensive line of professional grade power tools and accessories for woodworking, metalworking, drilling and fastening, concrete drilling and cutting, outdoor power equipment products as well as a complete line of pneumatic nailers, staplers, compressors and collated fasteners. From headquarters in Atlanta, GA, and satellite offices in the United States and Canada, Hitachi Power Tools supports over 4000 retail locations carrying Hitachi tools and over 1000 authorized service centers. Hitachi Koki USA, Ltd. is the North American division of Hitachi Koki Japan, a subsidiary within Hitachi Ltd. For more information on Hitachi Power Tools, please visit www.hitachipowertools.com. Hitachi, Ltd. (NYSE: HIT / TSE: 6501), headquartered in Tokyo, Japan, is a leading global electronics company with approximately 400,000 employees worldwide. Fiscal 2008 (ended March 31, 2009) consolidated revenues totaled 10,000 billion yen ($102.0 billion). The company offers a wide range of systems, products and services in market sectors including information systems, electronic devices, power and industrial systems, consumer products, materials, logistics and financial services. For more information on Hitachi, please visit the company's website at http://www.hitachi.com.
Published on May 12, 2010