O2 UK have officially confirmed pricing for the Dell Streak Android MID, which will arrive on their network tomorrow in both 16GB and 32GB flavors.  As with The Carphone Warehouse, the Streak will be available from free with a new £25/month agreement; however, that's if you're taking out an O2 data-only plan.  If you want voice service, meanwhile, you'll be looking at £35/month minimum if you want a "free" Streak.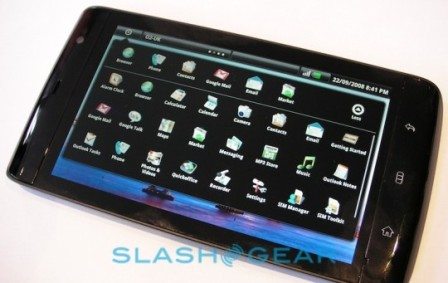 Both 18- and 24-month regular voice agreements are available, with the cheapest being 24-months for £30/month; however then you'll be paying £149 for the 16GB Streak or £249 for the 32GB version.  O2 also offer "Simplicity" tariffs, with either 30-day or 12-month contracts, though then you're looking at £349 or £399 for the 16GB and 32GB models respectively.
The Dell Streak has a 5-inch WVGA touchscreen, Android 1.6 with Dell's own UI – and an upgrade to Android 2.2 promised for later in the year – together with dualband 3G/UMTS, WiFi, GPS and a 5-megapixel autofocus camera.  More details in our hands on.
Via : Slash Gear