The iHome's iA100ZE is an app-enhanced, Bluetooth-enabled FM radio alarm clock for iPad, iPhone and iPod touch. There's a free iHome+Sleep app download from iTunes, which offers custom alarms, sleep stats, social media alerts, weather, overnight news and more. You can adjust alarms, snooze times and EQ settings via the easy touch interface. Coveted Bongiovi Digital Power Station circuitry provides real-time digital signal processing that makes MP3s shine. There's also a convenient Sync button that syncs the clock to your iPhone to set the time, which is always up to date using available cell phone towers.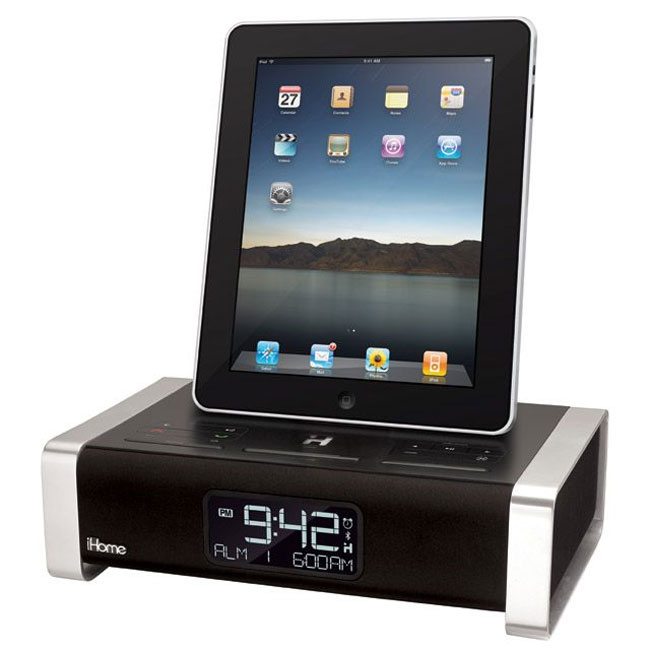 The audio device should put out good sound for a bedroom alarm clock, at least that's been my experience with iHome products. And for what I think the price might be, (maybe around $199), this could be a winner.  Pricing has not been announced, but the iHome iA100ZE will be available shortly.
Here are some specs….
[adsense]
Wake or sleep to iPad, iPhone, iPod, app alarm
Start or end your day just the way you want it to sound
Universal dock to charge and play iPad, iPhone or iPod while docked
Enjoy your music while keeping your iPad, iPhone or iPod fully charged
Bongiovi Digital Power Station technology
Real time digital signal processor constantly scans audio and restores details lost in today's compressed audio formats
Custom alarm and nap settings
Use the iHome + Sleep app to tailor your alarm and nap settings for any time or frequency to suit your lifestyle
Syncs clock time to always-current iPhone time settings in seconds
Specially designed high-end driver delivers pure, crisp audio
Listen to music wirelessly, use as a speakerphone, control and sync iA100 and iHome+Sleep app
Tune in and memorize up to 10 favorite FM stations
Bass, mid range, treble, 3D  sound and Bongovi DPS controls let you customize your sound
Lets you sleep in a little or a lot with snooze time between 1 and 29 minutes
Gradual Wake and Gradual Sleep
Gently increased/decreased alarm/sleep volume eases waking and sleep, duration can be programmed with the app
Published on July 27, 2010