ITG-WideView is the worlds first video glasses to offer true 16:9 wide screen display as well as wireless operation. The WideViews really outrank other video glasses I've looked at.  The screen shows significantly more real estate, and you can tell right when you put them on.  The clarity, color and depth of the picture is stunning as well.  Enjoying what looks like HD is a treat, and with the stereo headphones in, sound blasts like a 100 speaker digital dolby system coming from all around.
With its support for the latest video and multimedia formats, and 2GB of built-in memory, this is the only device that gives you a movie experience that rivals the theater.  And best of all, you can take it anywhere. It also features a Micro SD memory card slot for up to 32GB of extra storage per card, which means you can store a lot of video on this miniature movie theater.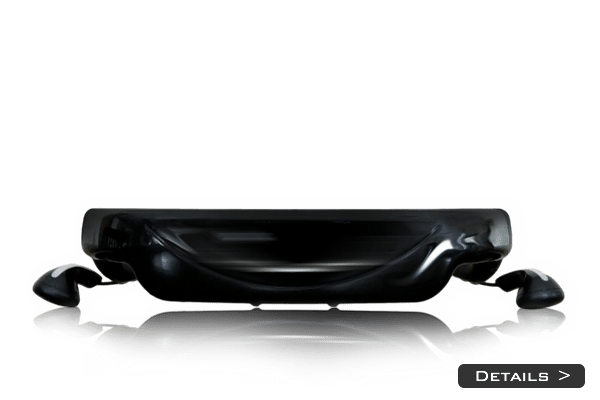 The ITG Wideviews mimic a 62″ wide screen display, and as mentioned, the crisp picture, vibrant colors, along with dynamic stereo sound is really something to experience. The ITG-WideView is also one of the lightest video glasses around, weighing in at a slight 3.5oz. The feathery-light weight is important because it allows you to wear it for extended periods of time, say during an Indiana Jones marathon.
A Built-in media player and browser makes viewing your multimedia easy and fun, with tools to rotate images, bookmark ebook and text, apply sound effects and other cool stuff.
Just connect the ITG-Wideview to your computer using the included USB 2.0 cable, and drag n' drop your video clips, movies, images, music or even txt eBooks into the built-in storage, or your microSD card.  Just like transferring files to a USB memory stick, its easy to select your favorite genre for playback on the Wideviews.  The ITG-WideView will also charge the rechargeable built-in battery when connected via USB.
[adsense]
Finally, the ITG-WideView video glasses render mutimedia digitally, have built-in memory, and the glasses use one of world's smallest memory cards. This means you are no longer restricted to wires and external devices.
Here are the specs…….
62inch 16:9 wide screen virtual display
Crisp , radiation-free LCD panel
Enjoy movies, music, photos and favorite books everywhere you go
Built-in 2GB flash memory for mega storage and play of media files
USB interface allows easy and high speed file uploading
Sleek ergonomical design,
Comfortable and light weight
Light weight as low as 70grams
Support multimedia video format like Mpeg, AVI, RM, RMVB, FLV
Super dynamic quality sterero sound effect
Memory Card Slot: Micro SD card slot, support max 32 GB
Videos: AVI. Mpeg, Real Media, Dvix, RMVB, FLV (Flas Videos) and more…
Music and Audio: MP3, WMA, Flac, APE, and more…
Images: JPG, BMP, GIF and more..
Text/Ebooks: TXT
The ITG-WideView Video Glasses sell for around $299.  www.itvgoggles.com
Published on July 27, 2010