Barnes & Noble has announced their new color Nookcolor eReader, complete with 16 million colors that is. The new NOOKcolor ereader sits somewhere between the familiar e-ink offerings and a full-blown tablet with its 7-inch, 1024 x 600 color touchscreen, Wi-Fi connectivity (but not 3G), a slimline design which measures 0.48-inches thick and weighs at under a pound and a price point which will challenge competitors on both sides of the fence at $249.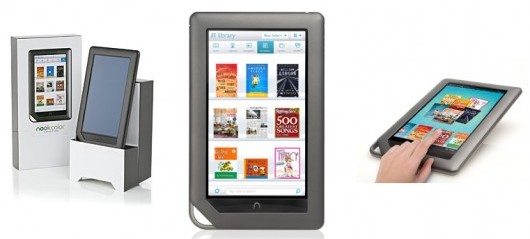 The Android-based NOOKcolor has 8GB of space (expandable to 32GB via a microSD slot), a microUSB port, an audio player which supports MP3 and AAC files, MP4 video playback and Microsoft Office files can be viewed and edited. Sound output is through a standard headphone jack or a built-in (mono) speaker and battery life is at 8 hours without using Wi-Fi.
The clear advantage of a color e-reader isn't about book reading.  It's the ability to read magazines and surf the web in color, which brings us to the all-important screen. Barnes & Noble says its backlit 7-inch VividView Color Touchscreen delivers "reduced glare and optimum brightness for reading indoors or outside." The 1024 x 600 resolution is delivered at 169 pixels per inch (PPI) and the viewing angle is a wide 178-degrees. The device also caters for six text sizes, works in portrait and landscape modes and background colors and line and margin spacing can be customized.
The NOOKcolor also gets social with a "LendMe" App, which allows you to view friends digital libraries and request to borrow a title through Facebook and email. Being Android based, Barnes & Noble is also encouraging developers to get involved through its NOOKdeveloper program.  The Nook now has a key differentiating factor from the biggest player on the market, Kindle. You can pre-order the NOOKcolor for $249.  Shipping will begin around November 19.