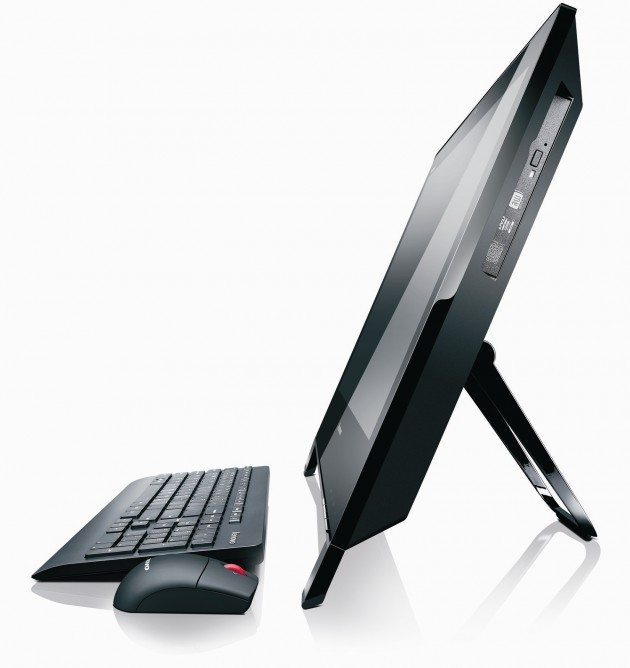 IBM's Lenovo division has just introduced a new family of all-in-one PCs called the Edge family, following up on their successful M90Z series. With up to quad-core Intel Core i7 configurations available and at just 3.18-inches thick including the frame stand at the rear (or 2.5-inches thin if you care not to consider such trifles), the ThinkCentre Edge 91z is a more powerful and slimmer than an iMac.  Lenovo's "Do Machine" has been earmarked for small businesses and users looking to save some table-top space, and will be available in a number of configurations.
The 21.46 x 16.31 x 3.18-inch ThinkCentre Edge 91z all-in-one desktop computer will have a 21.5-inch, 1080p high definition LED Infinity display with optional touchscreen panel and front-facing controls, a 2 megapixel web camera with built-in microphone, and a wall-friendly VESA mount. It will come pre-loaded with Lenovo Enhanced Experience 2.0 for Windows 7, that's claimed to boot 30 percent faster than non-optimized models, and can be loaded up and ready for action in just 20 seconds if an optional 80GB solid state drive is chosen. Otherwise, there's up to 1TB of 7200RPM HDD storage available.
The computer comes in low power Core i3 (up to 2.7GHz), Core i5 (up to 2.8GHz) and Core i7 (3.3GHz) processor options on an Intel B65 chipset, with support from up to 8GB of DDR3 system memory. There's either integrated Intel HD or discrete AMD Radeon HD6650A graphics with 1GB of dedicated video memory available, and integrated Realtek ALC269Q audio, which feed sounds to a pair of 3W stereo speakers. Other options include 150W or 180W internal power supplies, a spill-resistant wireless keyboard that tucks neatly under the unit when not in use, and a Blu-ray/DVD optical drive combo.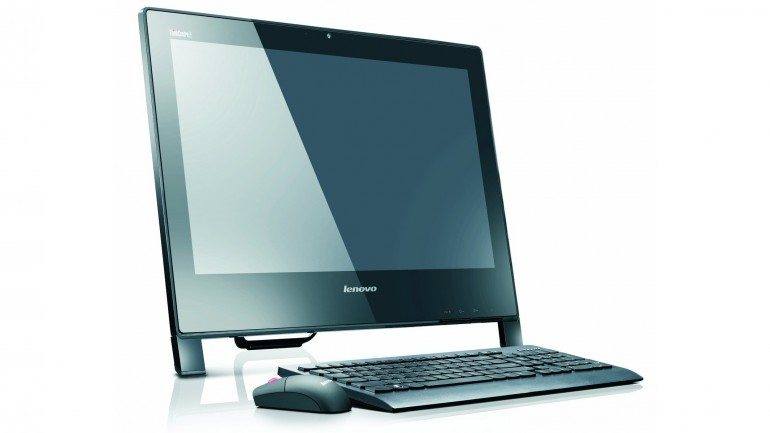 Connectivity includes 802.11b/g/n Wi-Fi, plus there's optional Bluetooth via USB dongle, Ethernet, a 6-in-1 media card reader and four USB 2.0 and two USB 3.0 ports – positioned four at the back and two at the side. HDMI output is joined by a VGA input, which allows the unit to be used as a display monitor.
The new Edge 91z is set for a July release at an estimated starting price of $699.  With a price like this, IBM could be selling tons of these.  Plus, the new quad-core Core i7 is perhaps Intel's fastest processor to date. I had a chance to test that processor, and everything about a computer becomes enhanced….speed, graphics, performance, efficiency.  It's a treat. 
The new Edge family's modern design is sure to attract not just the office user, but the homemaker at home who wants to put this bad boy on the kitchen counter.  It can also double as a pretty stellar TV with an optional TV tuner.  
Finally, The Edge 91z has all the built-ins you could ever want… plenty of USB ports, a DVD/RW drive, HDMI out, etc.  And as I said, Lenovo has priced this puppy to sell.  Granted you're only going to get the i3 for the $699 price-point, but for a few hundred more, you could soup this baby up into a small business powerhouse.