Now available in a Mac version, the Logitech K750 Wireless Solar Keyboard…batteries not needed ever again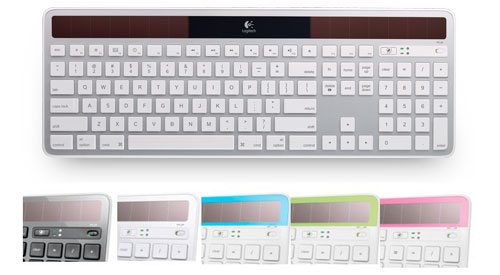 While Logitech's K750 Wireless Solar Keyboard for PC has been flying off the shelves, Mac users have been left in the dust with this cool "green" accessory, until now.  Just announced is the Wireless Solar Keyboard for Mac.
The K750 or Mac features an identical design and comes in five colors.  The magic behind this product is that there is no need for batteries.  It has onboard solar cells that power the keyboard using ambient light in the room – no direct sunlight is needed. When fully charged, it can work in total darkness for three months.
A solar power app is also available for download that gives you at-a-glance information about battery levels, and will alert you when you need more light.
Featuring 2.4 GHz wireless connectivity, the K750 for Mac is a full-size keyboard featuring a number pad and a layout designed specifically for Mac users. It's eco-friendly too, boasting PVC-free construction and a fully recyclable box.
The Logitech Wireless Solar Keyboard K750 for Mac will be available later this month for $59.99. You can pre-order it now at www.logitech.com
Check out the video review….
http://youtu.be/5hafV8m45rE