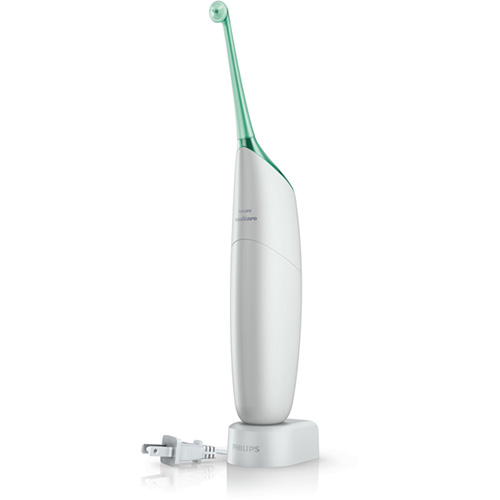 Flossing your teeth has always been paramount to good dental care, but seriously, how important is it? Dental professionals these days tell us that cleaning between the teeth is essential to good tooth and gum health.  Yes, I know.  It's a pain.  So Philips has introduced a new member to its Sonicare range of dental care products that dislodges interdental plaque and bacteria with rapid bursts of air and water. The cordless Sonicare AirFloss is about the same size as a standard electric toothbrush and features an angled nozzle with guidance tip for precision placement.
Star Rating:


Cost: $76-$89.99
Where to Buy: [amazon_link id="B004Y9AINC" target="_blank" container="" container_class="" ]Amazon[/amazon_link] 
Philips says that its new Sonicare AirFloss can remove up to 99 per cent more dental plaque from between teeth than brushing alone. The lithium-ion battery-powered device works by sending quick blasts of pressurized air and water droplets through an angled nozzle towards the teeth at anything up to 45 mph, forcing plaque and bacteria out from their respective hiding places. Benefiting from one button operation, it's said that the whole mouth can be spring cleaned in less than a minute.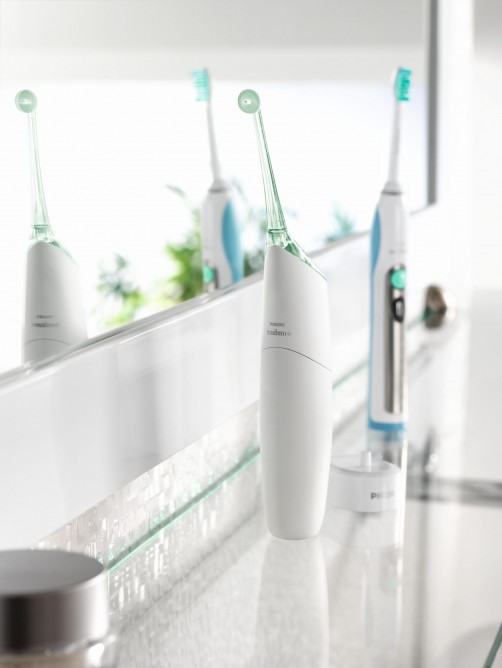 The power button also includes a charge level indicator light, which blinks when the battery needs some juice. The cordless handle is compatible with other Sonicare charging cradles, like the Sonicare FlexCare+, and a full charge lasts about two weeks of once-a-day use. The built-in reservoir holds two teaspoons of water, and the system uses less than one teaspoon of water for two full cleaning sessions.
It has an easy-to-grasp, ergonomic handle and thin, angled neck for the hard-to-reach places.  In the handle portion of the unit, there's an on/off button. There's also a reservoir for about two teaspoons of your favorite mouthwash or water, and I have found that it uses about one teaspoon of water/mouthwash per use.  It's easy to position between teeth and there's a mouse-like clicker that you press to activate the slim, slightly angled nozzle.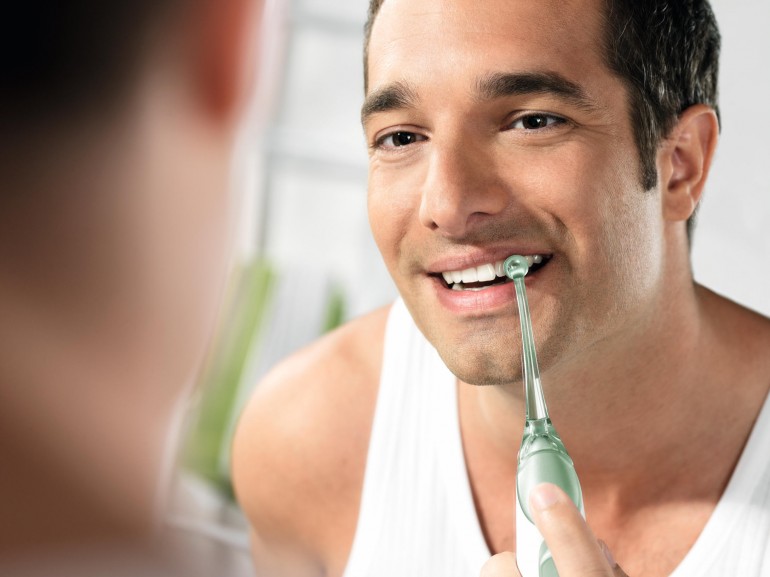 The feature I like most is the ability to point and click with one hand, which means you're free to walk around the house while AirFlossing. What research has shown so far is that it improves gingival health by reducing gingival inflammation (independent of plaque/biofilm removal).
When I used it for the first time, I activated the microburst feature, and I was surprised as it certainly means business. It essentially shoots a small jet of liquid through any gap between your teeth which, I imagine, over time forces out just about anything that may be lurking.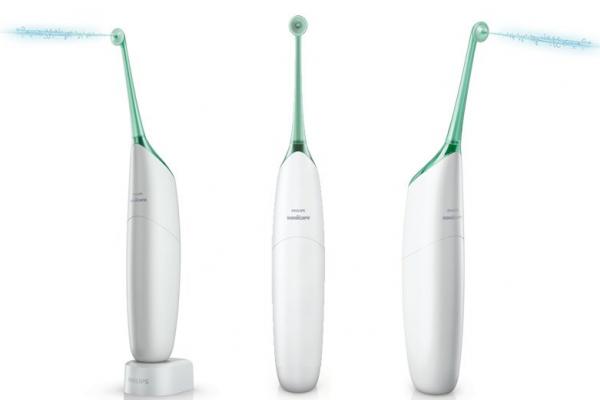 I have to say I felt it working straight away and the process was much quicker than manual flossing, plus it felt like a more thorough flossing experience although I would recommend keeping your mouth closed when using the AirFloss. Also, you may need to practice using this so you don't shoot mouthwash too near the back of your throat.
The website for the [amazon_link id="B004Y9AINC" target="_blank" container="" container_class="" ]AirFloss[/amazon_link] also says it lasts around two weeks between charging which sounds about right, based on my current experience, and the AirFloss has an auto power-off mechanism when not in use for a few minutes which helps conserve the battery. To recharge you just need to pop the AirFloss onto its stand.
The nozzle will need replacing over time but you get two per pack so they should last some time.  Overall, I found the AirFloss to be more effective, in my particular case, than regular flossing
The Sonicare AirFloss is available now for a recommended retail of $89.99.  Amazon has it on sale for around $76, [amazon_link id="B004Y9AINC" target="_blank" container="" container_class="" ]HERE[/amazon_link]
Check out the video…